Food & Drinks
Top 10 Places To Enjoy Claypot Chicken Rice Around KL & PJ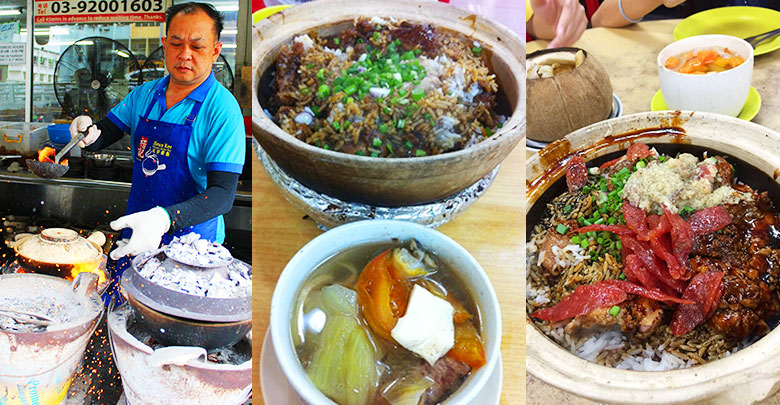 Claypot chicken rice is one of Malaysia's hearty and comforting meals usually enjoyed during dinner. A good Claypot chicken rice comes with well cooked rice, nicely marinated chicken, Chinese sausages and salted fish. Good news for you is there is no shortage of delicious Claypot chicken rice all around Kuala Lumpur and Petaling Jaya.
So today, we have compiled a list of what we think are the best Claypot Chicken Rice around KL & PJ that deserves your attention. Maybe you'll find a new favourite place by the end of this list.

Here's our Top 10 Places To Enjoy Claypot Chicken Rice Around KL & PJ.
1. Wei Ji Claypot Chicken Rice @ Setapak
You can find Wei Ji Claypot Chicken Rice opposite of Mun Yee Primary School in Setapak. It is a one of the lesser known and cheapest claypot chicken rice in KL. The price is affordable at RM 7.50 for a single portion and can feed up to 2 pax. The rice comes with huge succulent chunks of chicken breast and Chinese sausages. They also serve soup, vegetable dishes and chicken feet here.
Address: 74, Jalan Mawar, Taman P Ramlee, 53000 Kuala Lumpur, Wilayah Persekutuan Kuala Lumpur
Operation Hours: 5pm – 10.30pm
2. Heun Kee Claypot Chicken Rice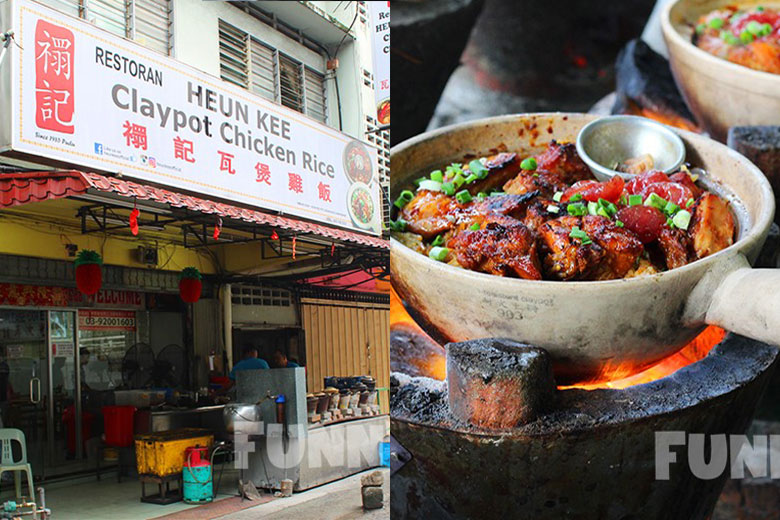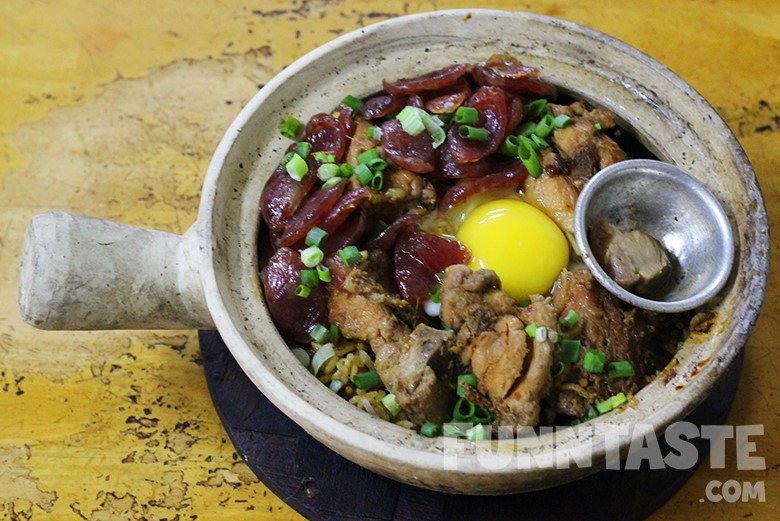 Tucked carefully under a bridge near the Pudu wet market, this legendary claypot chicken rice has been around for more than 30 years. Heun Kee still uses the old school charcoal stoves to cook their rice, giving it that extra oomph in flavour. Their standard medium portion, which comes with chicken meats and generous amounts of chinese sausages, is enough to share between two people.
Address: 59, Ground Floor, Jalan Yew, Pudu, 55100 Kuala Lumpur
Operation Hours: 11am – 9.30pm, closed on every 1st & 3rd Thursday of the month
3. Claypot Chicken Rice @ 168 Coffee Shop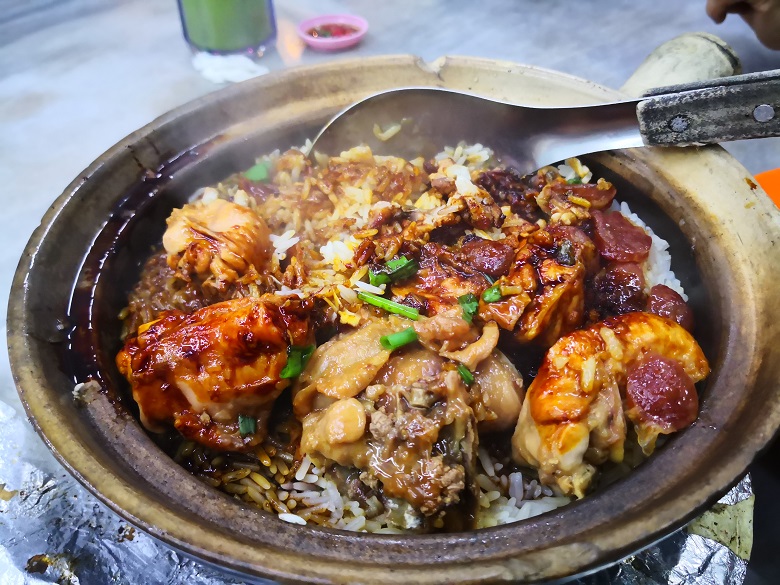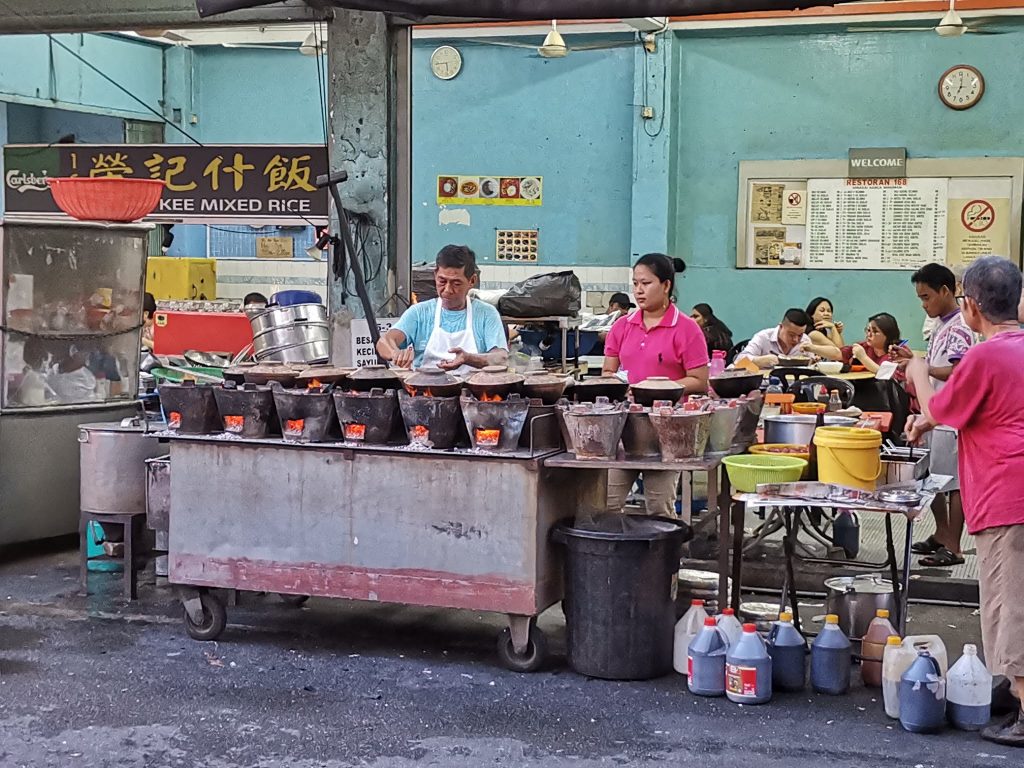 Located at the side of 168 coffee shop, this stall has been operating since 1980 (without a signage) and the owner is still only cook all the claypot dishes. He uses "old rice" to give it a much firmer and crunchier crust to the rice when charred. His chicken is topped with minced garlic sauce and then added to the rice. He also uses pork lard to give the chicken rice an extra boost in flavour. Hmm it sounds divine, doesn't it?
Address: 414, Jalan Pudu, Pudu, 55100 KL
Operation Hours: 5.30pm – 10.30pm
4. Claypot Chicken Rice @ Kedai Makanan Kim Poh, Segambut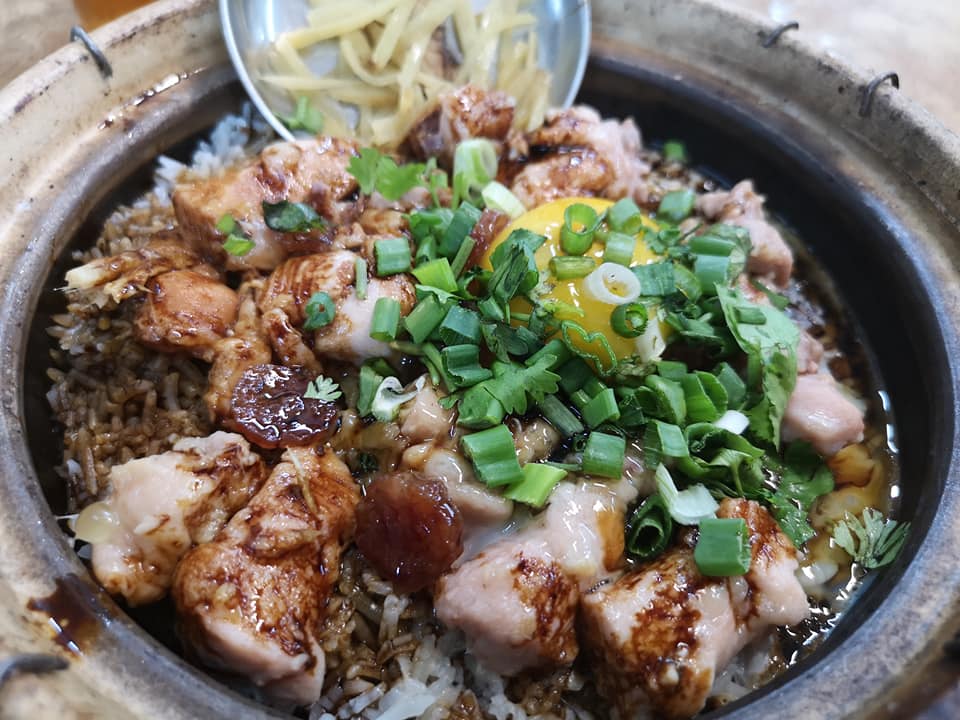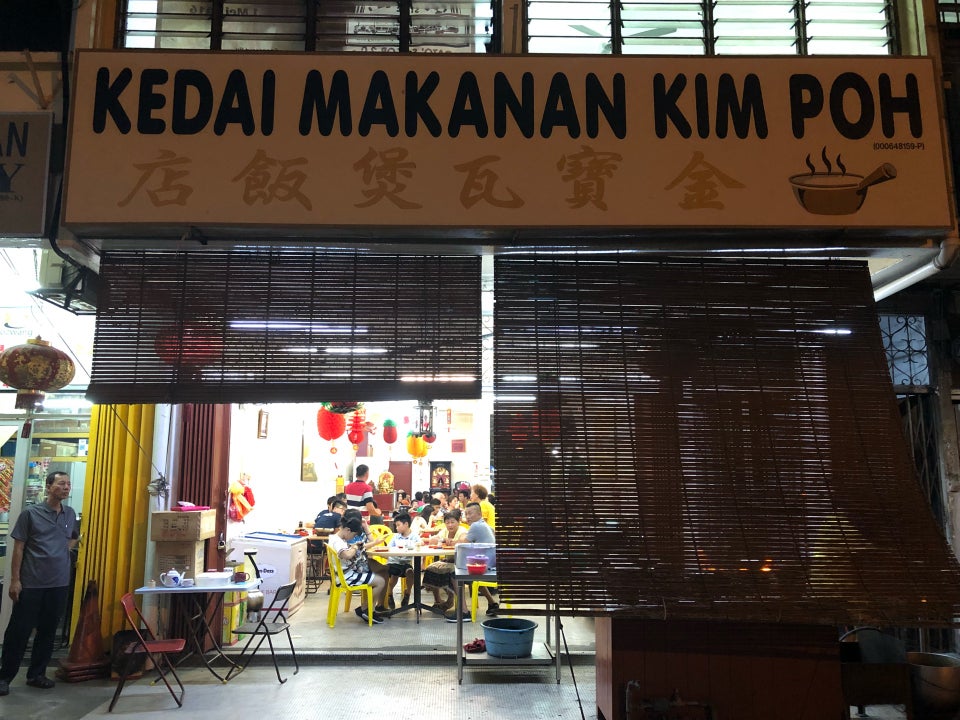 Kim Poh only sells one main dish in the restaurant, which is claypot chicken rice. They use charcoal stoves to cook their rice here to maintain that original Kampar taste. A standard claypot chicken rice comes with juicy chicken chunks and chinese sausage. Every claypot comes with a tiny plate of shredded ginger and salted fish, for diner to mix together before consuming. You also get to choose your desired chicken part while ordering.
Address: 7, Persiaran Segambut Utara, Taman Segambut, 51200 Kuala Lumpur
Operation Hours: 11am – 3pm, 6pm – 9.30pm
5. Hong Kee @ Petaling Street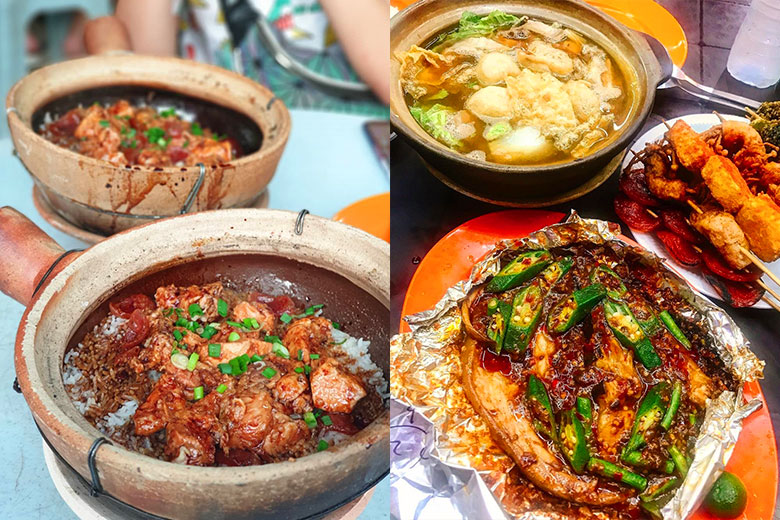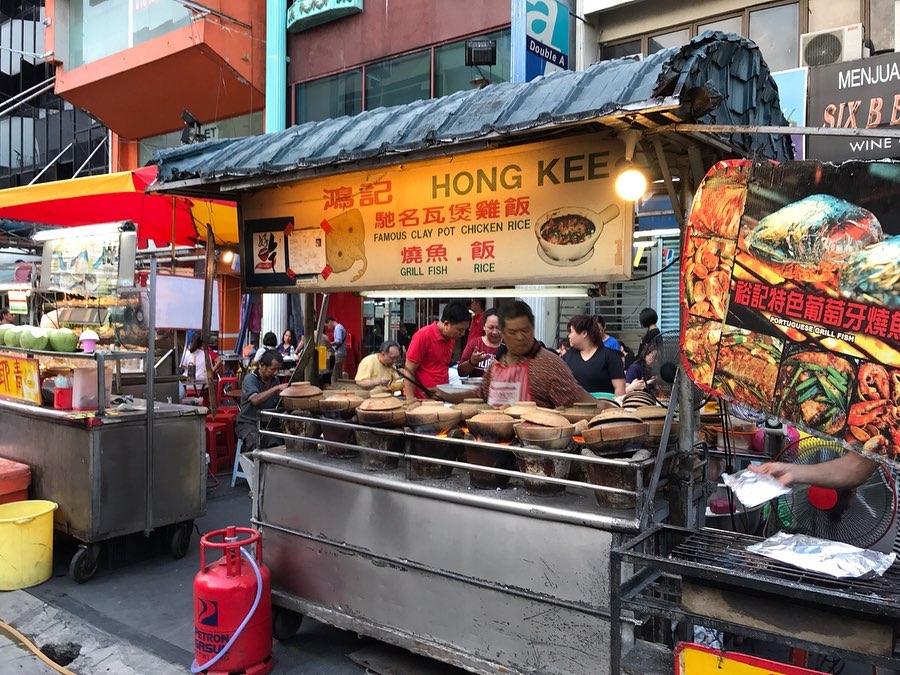 Hong Kee Claypot is one of the must try food when you're are Petaling Street. You can find delicious claypot chicken rice and Portuguese grilled fish here at this roadside stall. Each of the claypot rice is prepared and cooked individually using charcoal stoves. Make sure to stir your rice and chicken so that you can get those yummy rice crusts at the bottom. It will make you keep coming back for more.
Address: 83, Jalan Sultan, City Centre, 50000 Kuala Lumpur, Wilayah Persekutuan Kuala Lumpur
Operation Hours: Mon – Sat 4.30pm – 10pm, Sun 6pm – 10pm, closed on Wednesdays
6. Choong Kee Kampar Claypot Chicken Rice @ Damansara Jaya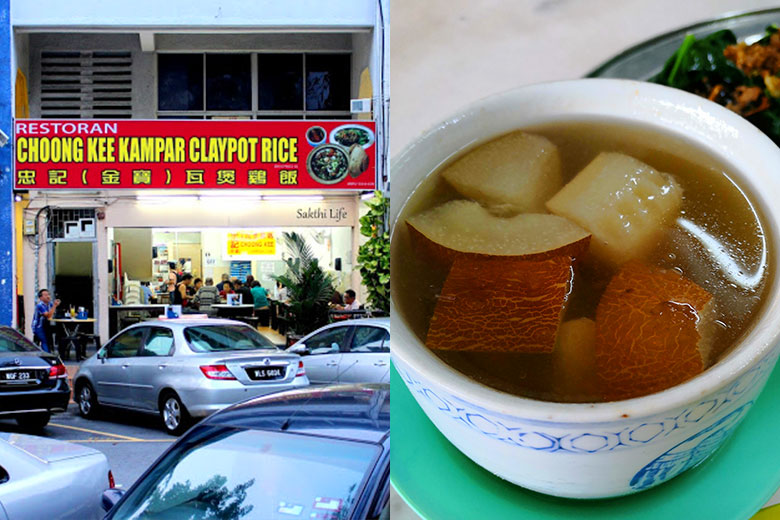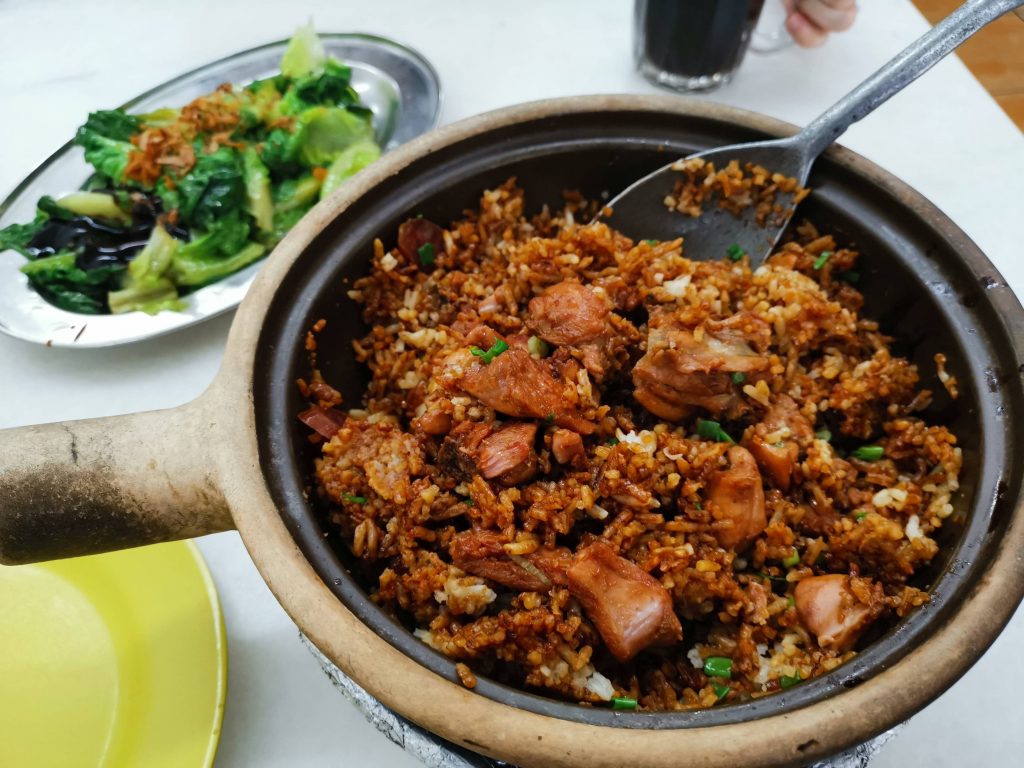 This shop started out as a humble stall before becoming a full-fledged restaurant. Their claypot chicken rice has all the yummy qualities of a good claypot chicken rice. Their rice is well cooked and fluffy with charred rice crust to give that extra crunchy texture. Their chicken meat is tender and well seasoned. You can opt to have your rice without salted fish here.
Address: 80, Jalan 22/25, Damansara Jaya, 47400 Petaling Jaya, Selangor
Operation Hours: 11.45am – 2.30pm & 5pm-9pm, closed on Wednesdays
7. Charcoal Claypot Chicken Rice @ Jalan Ipoh
This claypot chicken rice in front of a 7-11 has won the hearts of locals and attracted many tourists over the years. Located in Jalan Ipoh, this stall has no signage and no name. It is run by a husband-and-wife duo for the past 30 years. Their claypot chicken rice is simple and absolutely satisfaying. They cook the rice until it's just right so it doesn't have the rice crusts like most stalls. He also uses a special dark soy sauce that makes the taste of his claypot chicken rice stand out.
Address: Jalan Batu Ambar, Taman Kok Lian, 51200 Kuala Lumpur
Operation Hours: 10am – 6pm, closed on Wednesdays
8. Keong Kee Claypot Chicken Rice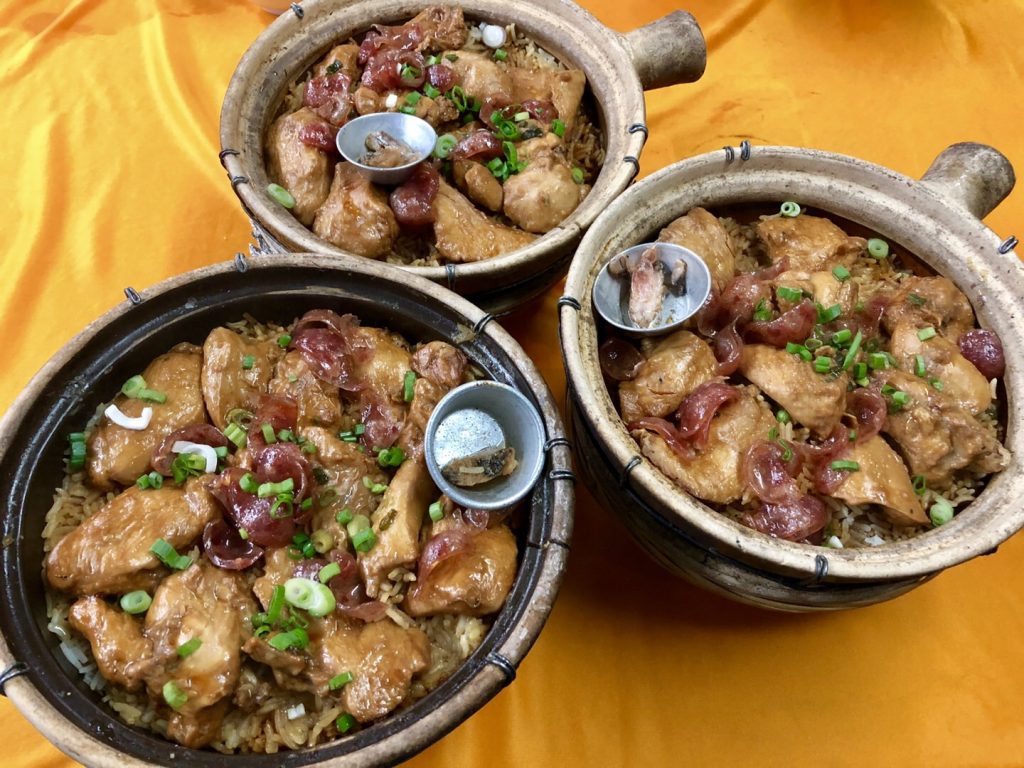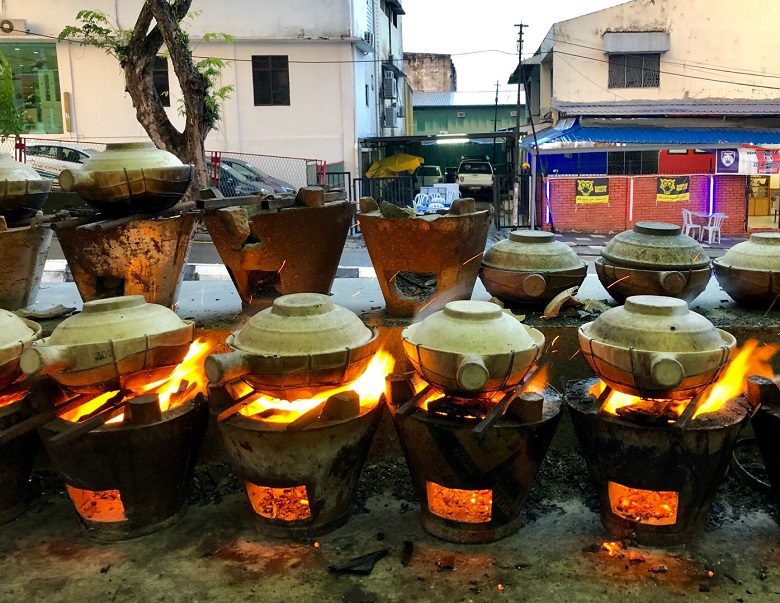 This place is a familiar place for most of the locals here as they would have eaten this while they were growing up. Kheong Kee Claypot Chicken Rice has a very simple setup but they have upheld their reputation as one of the older names here. Their chicken is marinated before it is put into the claypot with the rice. Their salted fish is placed on top of your rice separately when it is served to you. So, dig in and taste the nostalgia.
Address: Jalan Ayer Panas, 53200 Kuala Lumpur. (From Jalan Genting Klang to the entrance of Air Panas, opposite Perodua Showroom, behind Penglai Tea Room)
Operation Hours: 5.30pm – 10pm, closed on Mondays
9. Shi Yue Tian Claypot Chicken Rice Shop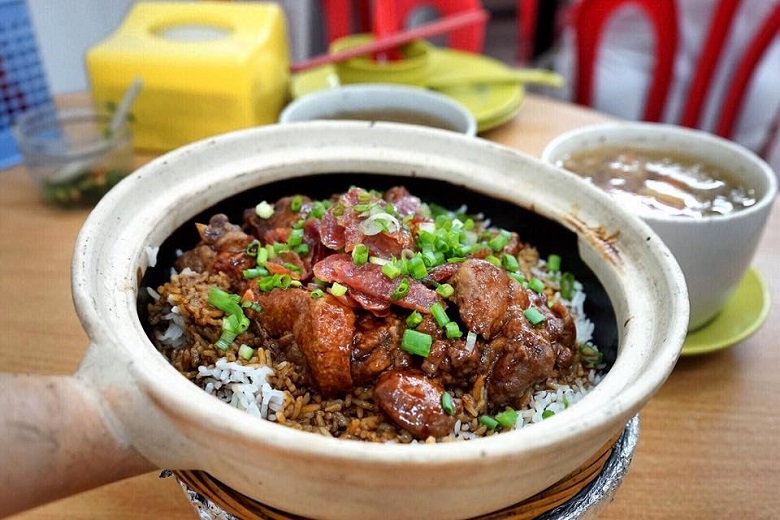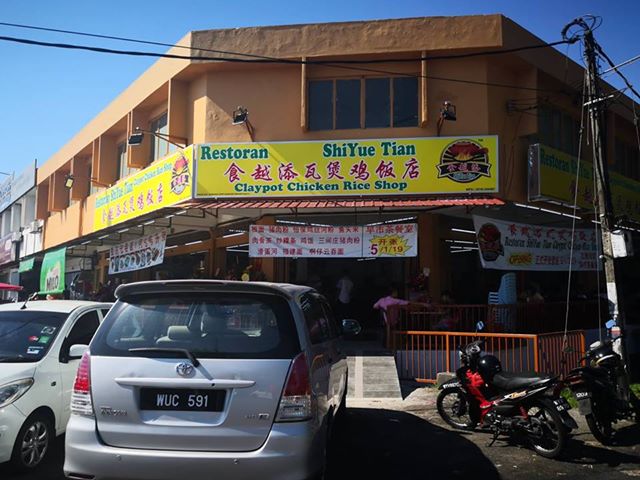 Shi Yue Tian Claypot Chicken Rice Shop has a legacy for more than 25 years in Puchong! When you are served your claypot chicken rice, you will be immediately enticed by the smell of rice and salted fish. Their standard claypot chicken rice is a good portion of chicken, chinese sausages, a ladle of ginger paste, salted fish and spring onions on top of hot fluffy rice. Make sure to mix your rice well to get to the rice crust that is stuck on the bottom of the pot! You can try their boiled soups too to go with your rice!
Address: 11, Jalan 23, Taman Bukit Kuchai, 47100 Puchong, Selangor
Operation Hours: Sun – Fri 1.30am – 3pm, 5pm – 10.30pm, Sat 5pm – 10.30pm, closed on Fridays
10. Veng Soon Claypot Chicken Rice
Claypot chicken rice is well marinated soy sauce chicken cooked with freshly cut spring onions and fluffy rice. Sometimes some places add in salted fish for that extra favour. Veng Soon serves theirs with a side of shredded ginger. Most people order a side of steamed or stir fried vegetables for that extra crunch with their chicken rice. Remember to try their herbal chicken soup in coconut. It is fragrant without being too overwhelming, going so well with the chicken rice.
Address: F19, Jalan Pasar 1/21, Pj Old Town, 46000 Petaling Jaya
Operation Hours: Mon – Sat: 11am – 2pm, 5pm – 9.30pm | Sun: 5.30pm – 10pm, closed on Tuesdays