Food & Drinks
Top 10 Hottest & Best Street Burgers To Try In KL & Selangor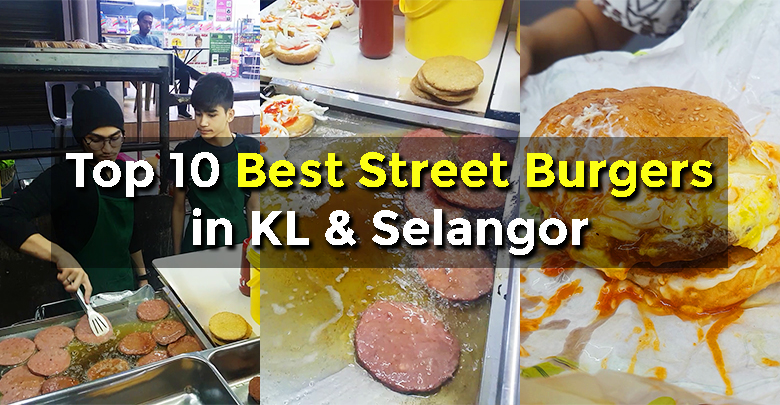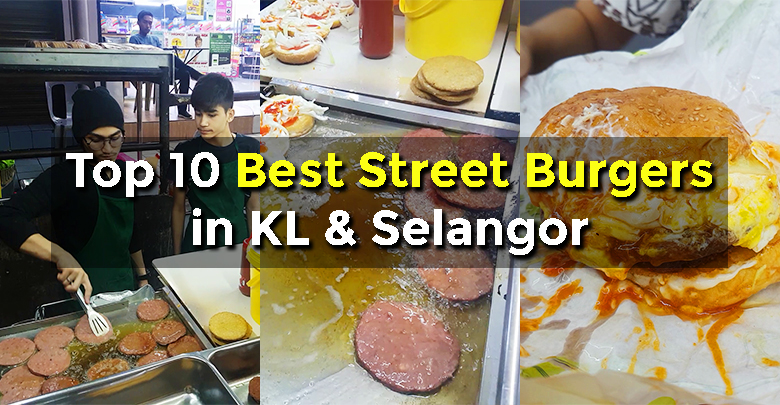 Nothing beats having a juicy, smothered in sauce kind of burger for supper. Especially when it is the local Ramly burger stall you can find at every nook and corner of your neighbourhood.
These humble burger stalls has created their own style and put their own spin to the burgers which we can't seem to choose from. So here's a list of these humble burger stalls you can find in your area.
1. Brader John Burger @ Damansara Uptown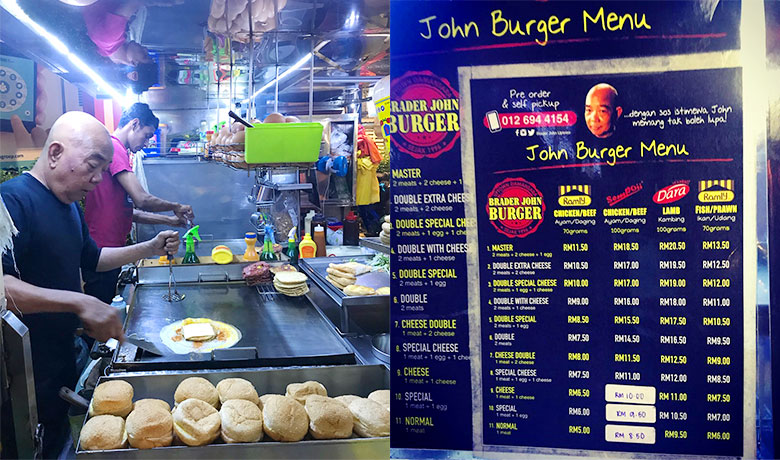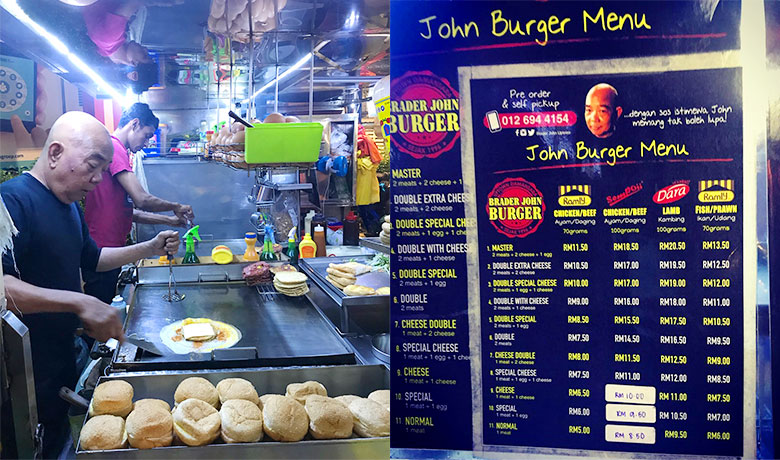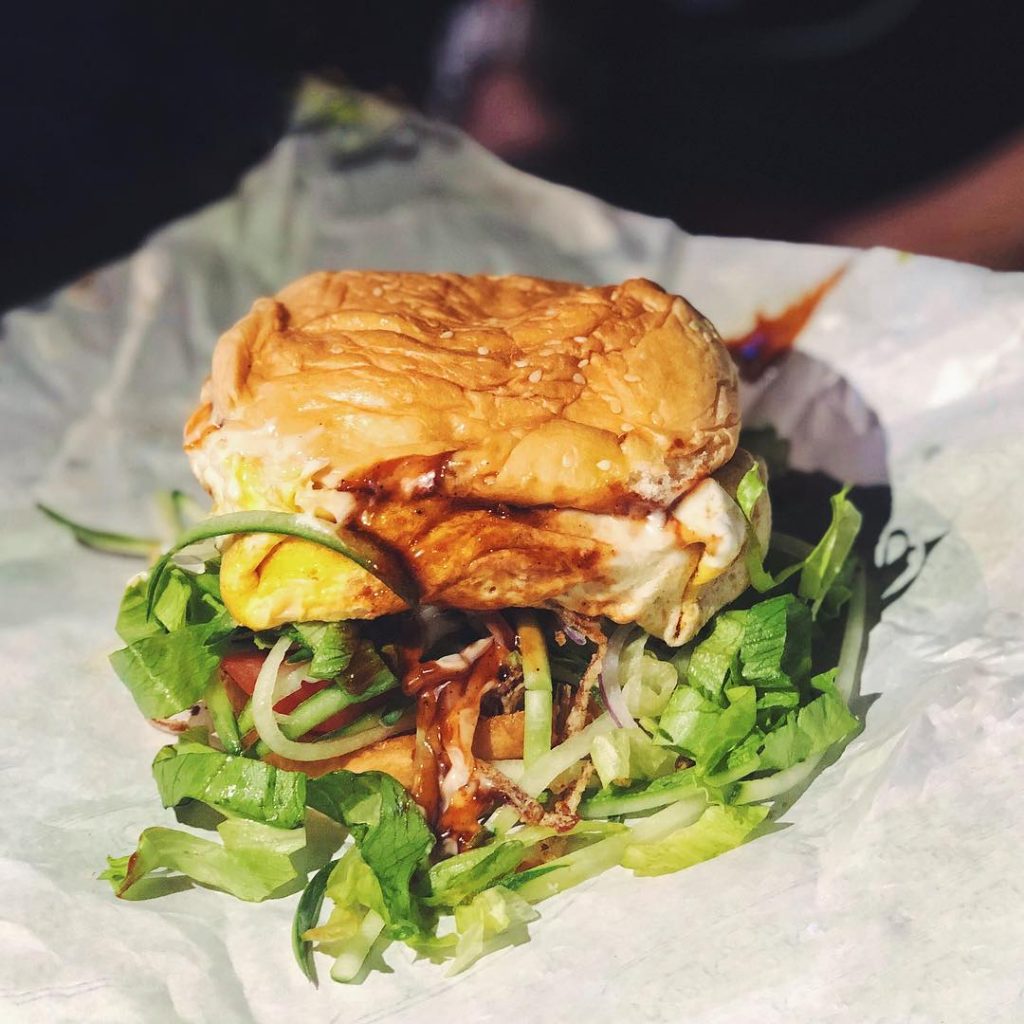 This local household name burger stall is famous for their variety of local burgers and sausages. All drizzled in its signature "special sauce" be sure to enjoy what Brader John has got to offer. He has created several stations to smoothen the process of serving his customers better. So make sure you don't forget to try out the burgers he's got to fulfil your late night burger cravings.
Hours: Mon-Fri 10pm-4am, Sat 10pm-5am, closed on Sundays
Address: Jalan SS21/58, Damansara Utama, Petaling Jaya
2. Burger Baek @ Bandar Sunway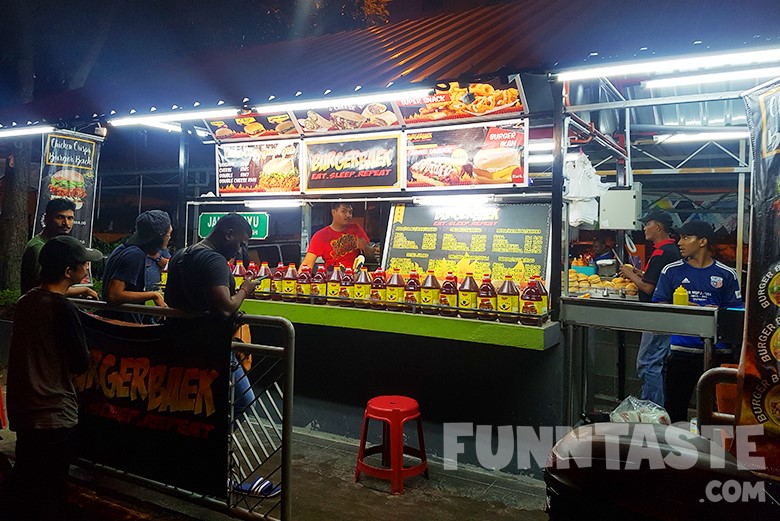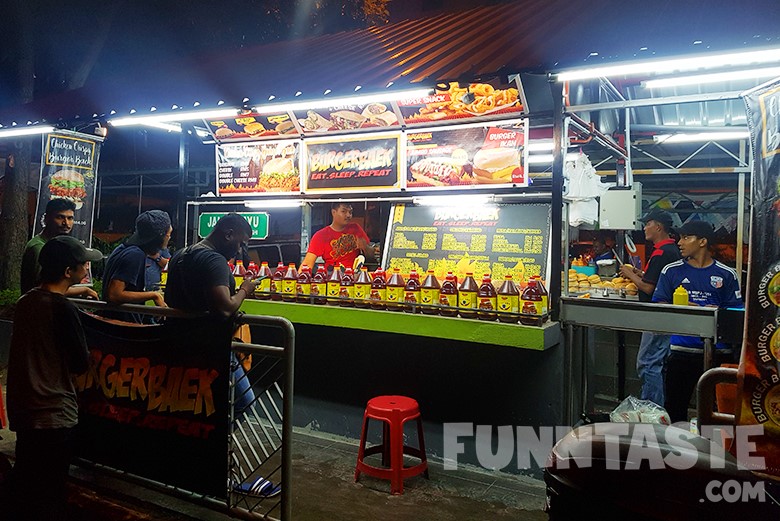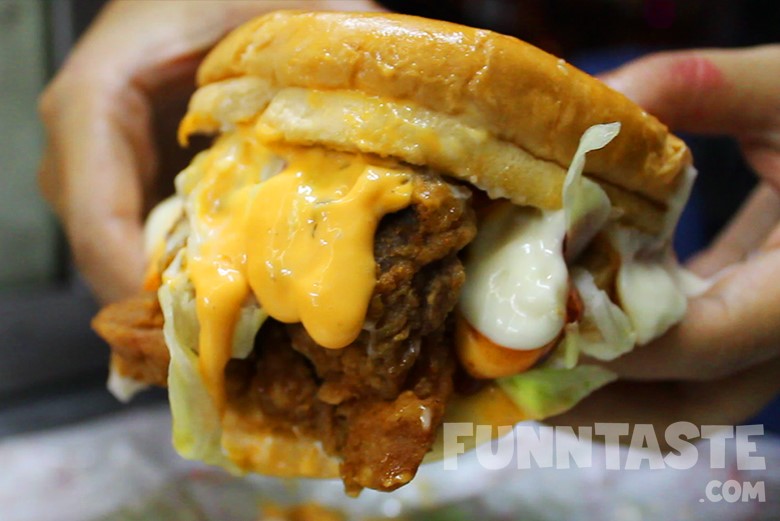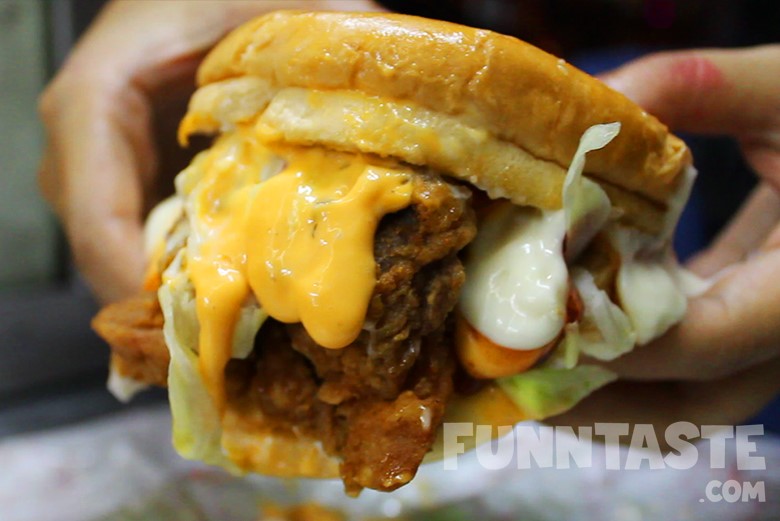 It all started 15 years ago when Angah started selling these burgers that soon turned out to be one of the most well known stall in town. His crowd pleaser, the Crispy Chicken Burger Baek is basically a deep fried chicken thigh that is drizzled with their in-house cheese sauce, chilli sauce and mayo. And oh, it's only RM4 per burger, pretty affordable isn't it?
Hours: Mon-Sat 5.30pm-4am, closed on Sundays
Address: Jalan PJS 8/14, Bandar Sunway, 46150 Petaling Jaya
3. Street Grill Burger Bakar @ TTDI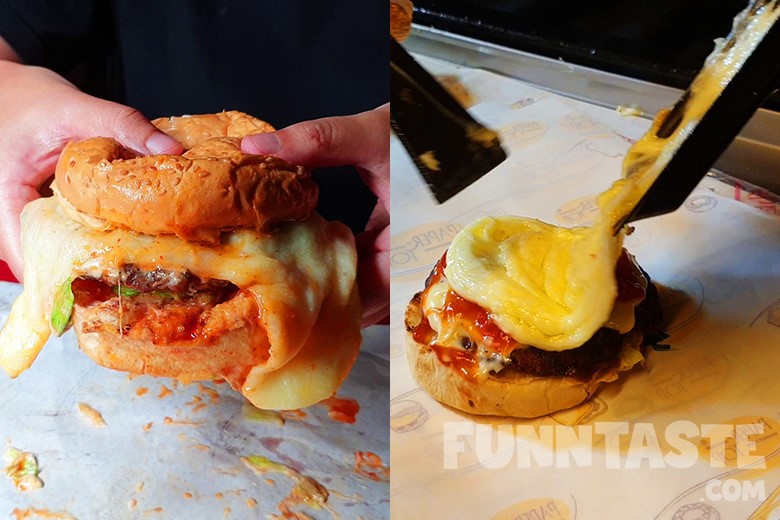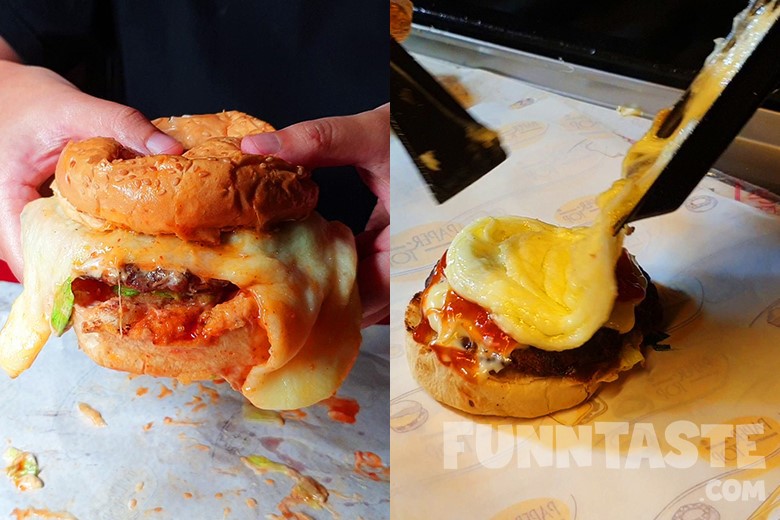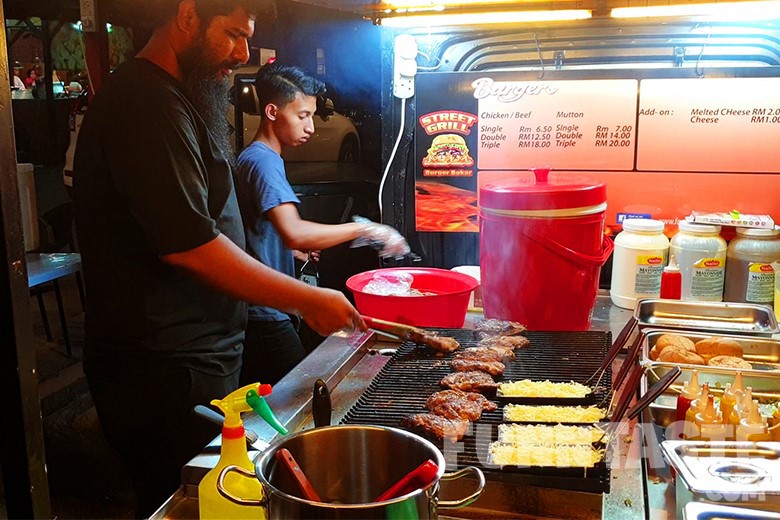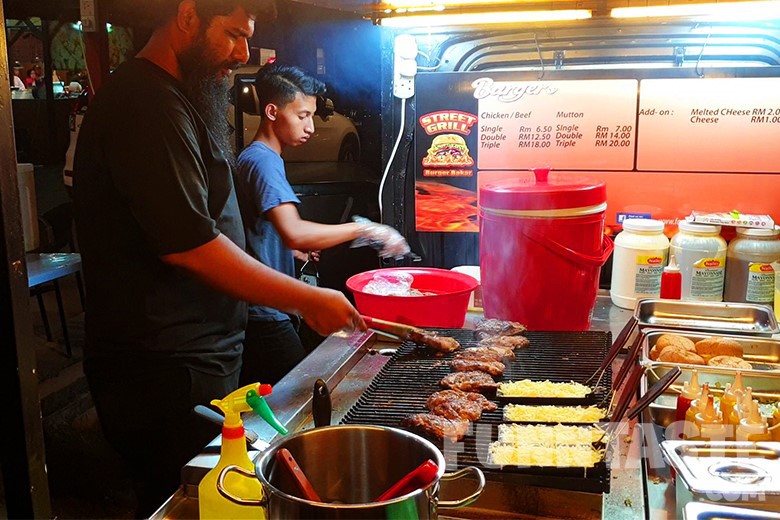 Located in a food truck in Rasta TTDI, this Penang-born burger branched out to KL since last year December. The patties are all homemade by Chef Abu, which means you wouldn't get those cheap and frozen Ramly Burger patties. Once it's cooked and removed from grill, the patty will then be slathered with huge amount of melted cheese, so good!
Hours: Mon-Sun 5.30pm-12am
Address: TTDI Jalan Datuk Sulaiman, Kuala Lumpur

4. Sixty Bites Burger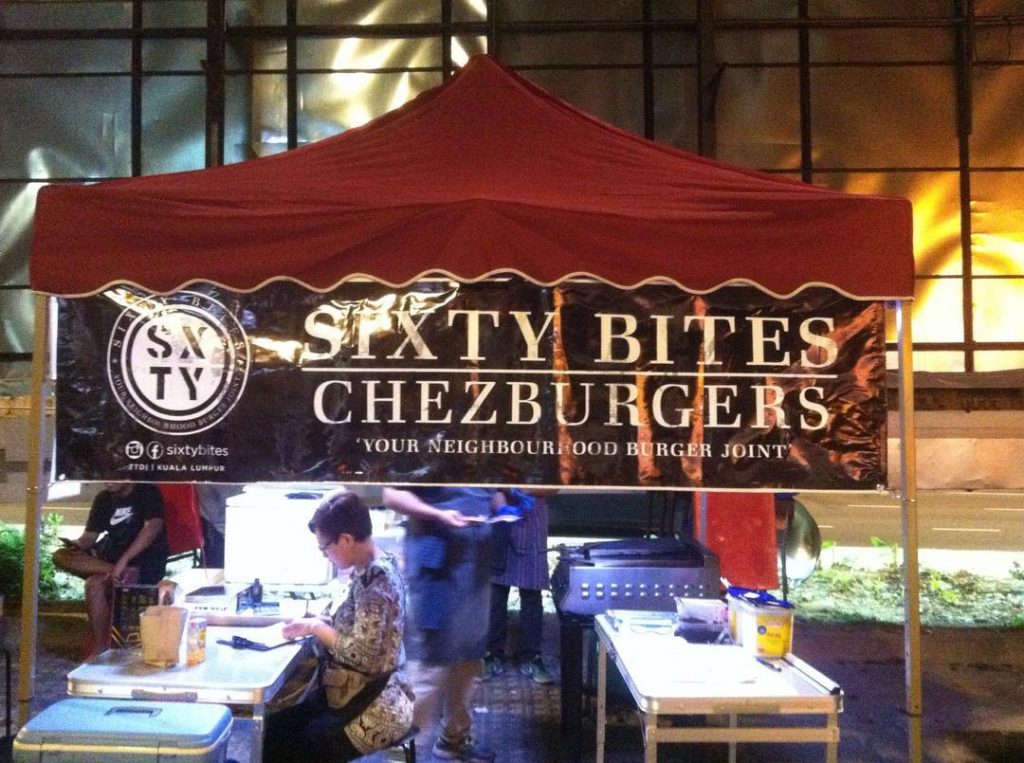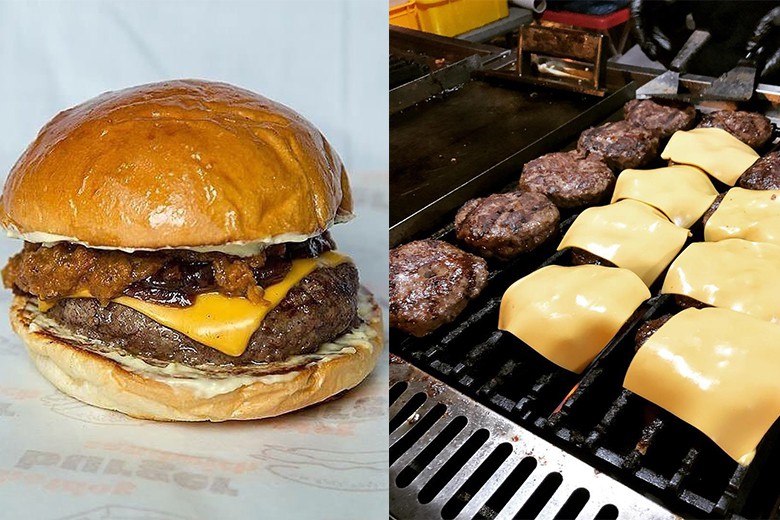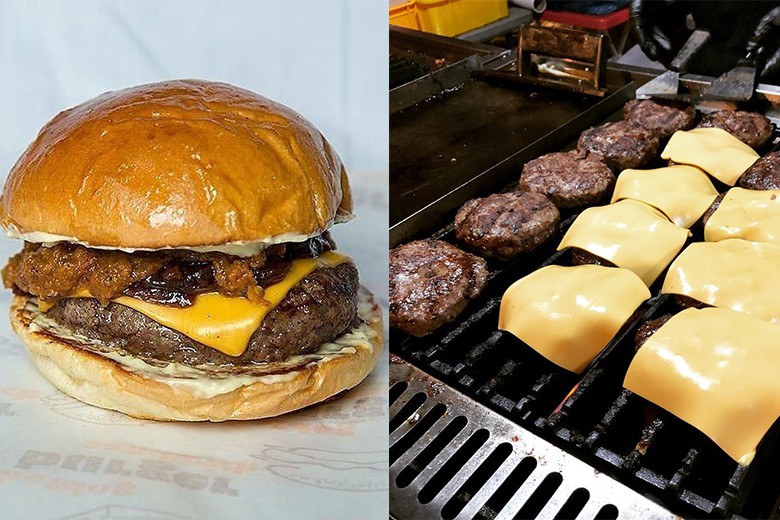 No doubt if TTDI is your local lepak spot, you might have come across Sixty Bites. It is the same row where you can find La Famiglia and Cowboys Food Truck. With over 15 years experience in the hotel and F&B line, the chef has created a simple but delicious menu for everyone to try. Their patties are all homemade so be sure to taste that rich, juicy flavour from the meat.
Hours: Mon-Sat 7.30pm-12am, closed on Sundays
Address: Pinggir Zaaba, Taman Tun Dr. Ismail, Kuala Lumpur
5. Mike's Charbroiled Burgers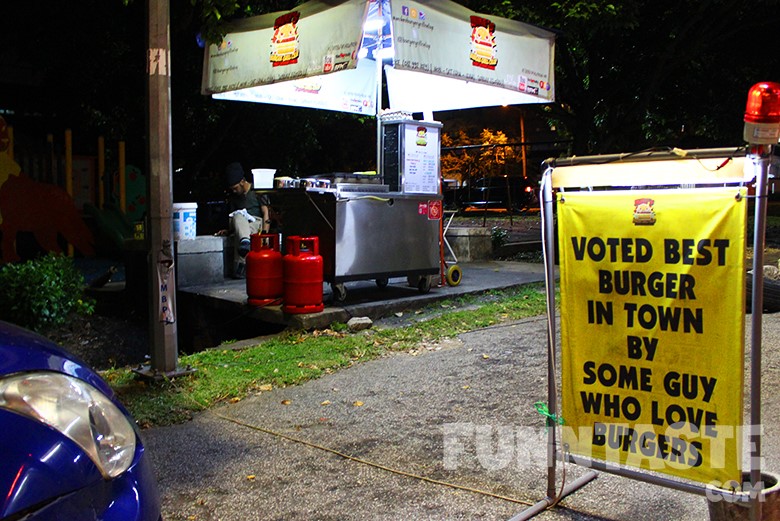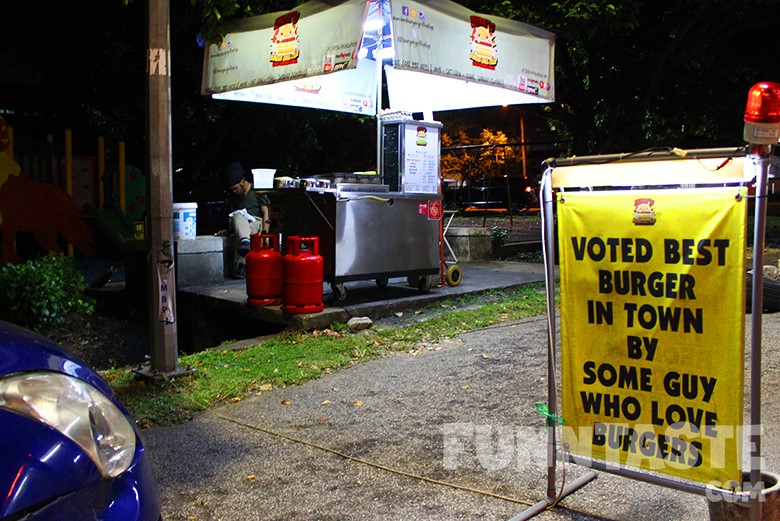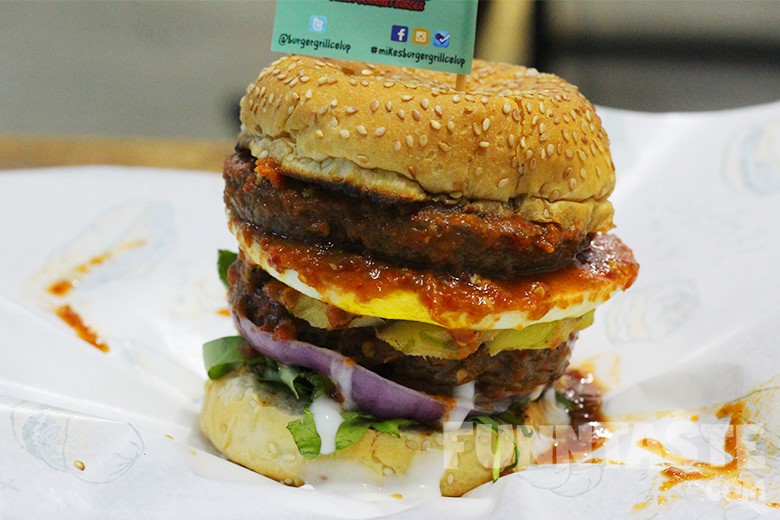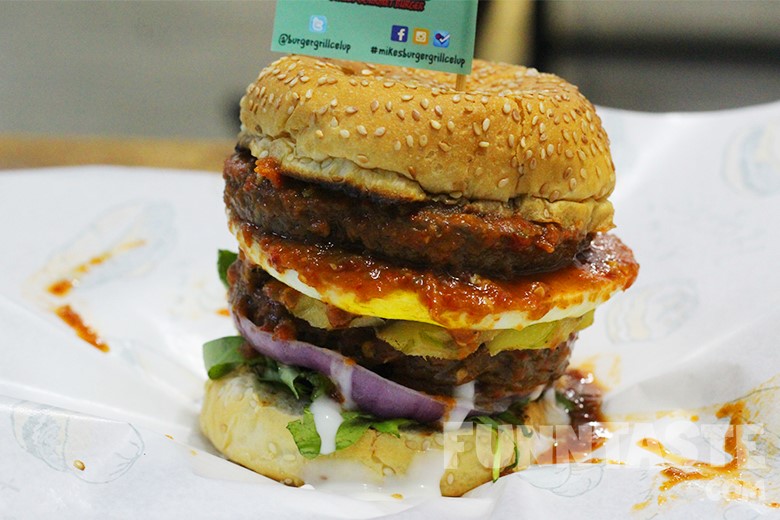 The messier, the better: this is what you want from a burger. Their best seller would be the unique Kangkung Sambal Belacan burger. You can even smell the burger by its name. It may seem as an odd combo but it actually tastes good. The burger consists of two chicken patties doused over with their kangkung sambal belacan maximising the spice level to the highest top.
Hours: 6pm-12am, closed on Sundays
Address: Jalan 14/48 (Off Jalan 222), Section 14, 46100 Petaling Jaya
6. BiG Lava Burgers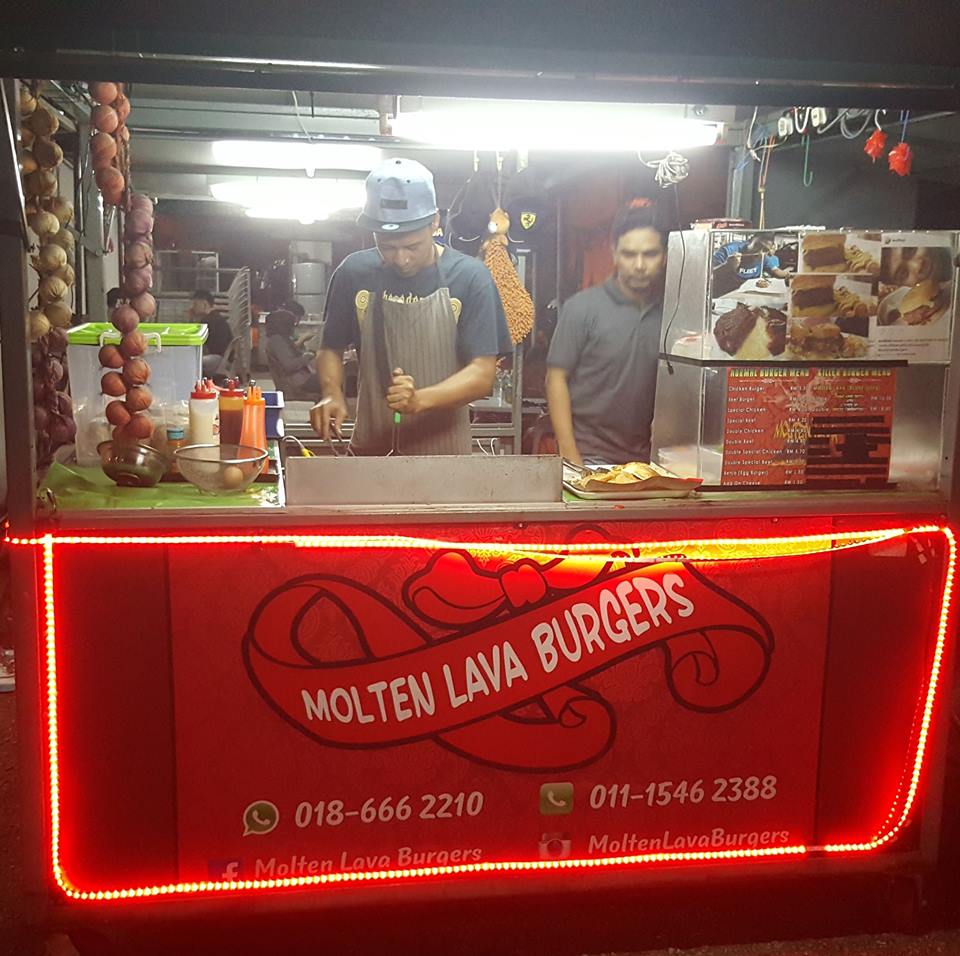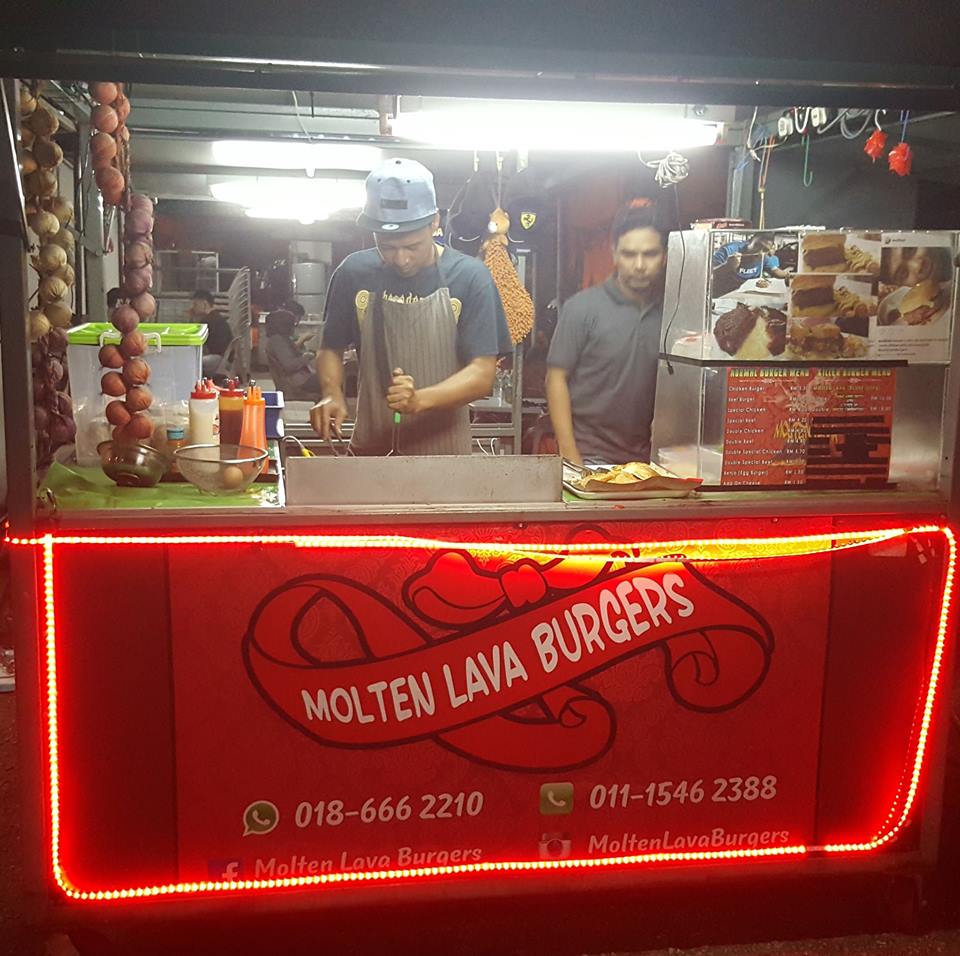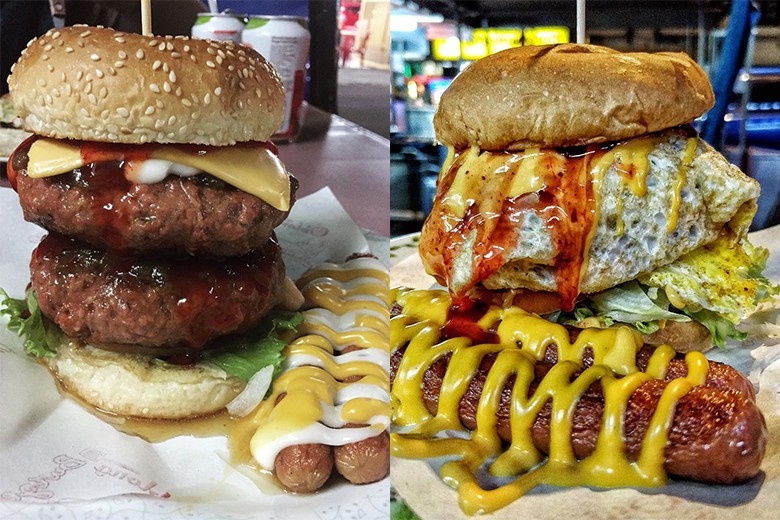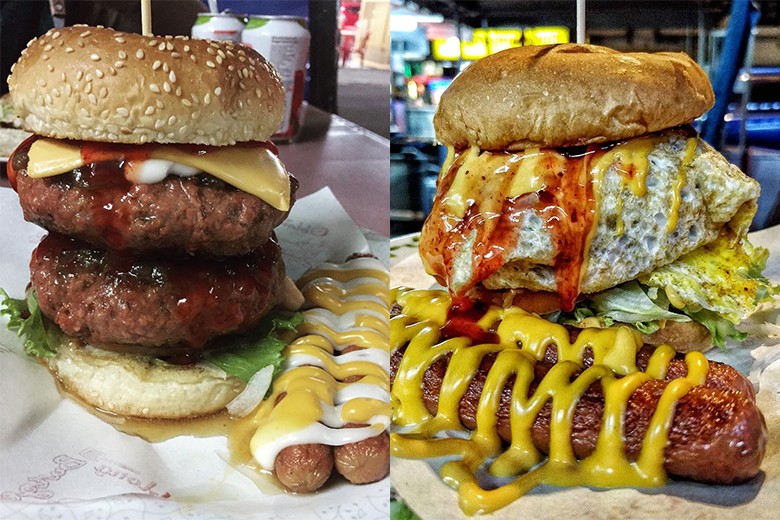 Emphasised on the BiG, this juicy burger is known for their thick homemade patties with stuffed cheese fillings. If you are a cheese lover, then this is the right stall for you. The cheese oozes out from the patty as you bite into it giving you a taste of cheese paradise. You can opt for either beef or lamb and if you want to make it into a set meal with a soft drink and two extra sausages, then you just say to pay an additional RM3. What a steal!
Hours: 7pm-11.30pm, daily
Address: 28, Jalan Medan Midah, Taman Midah, 56000 Kuala Lumpur
7. Burger Bakar Abang Burn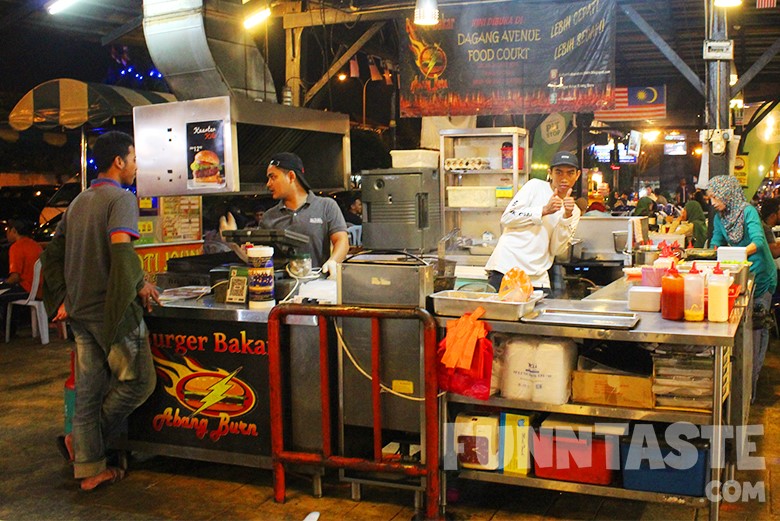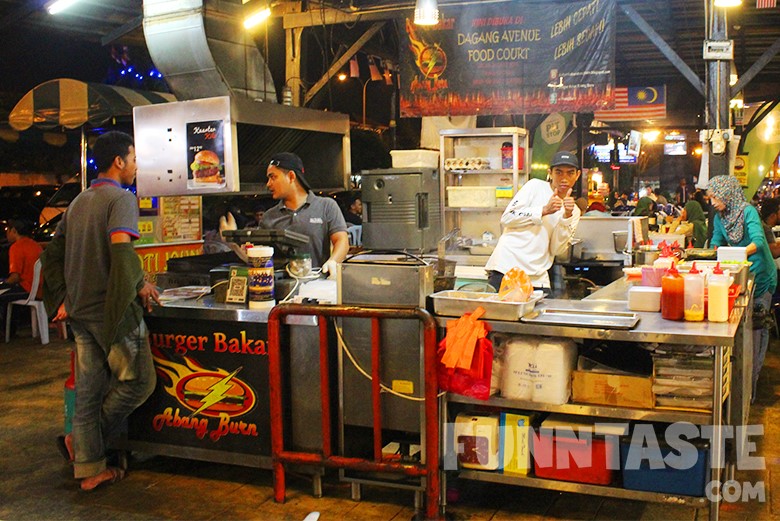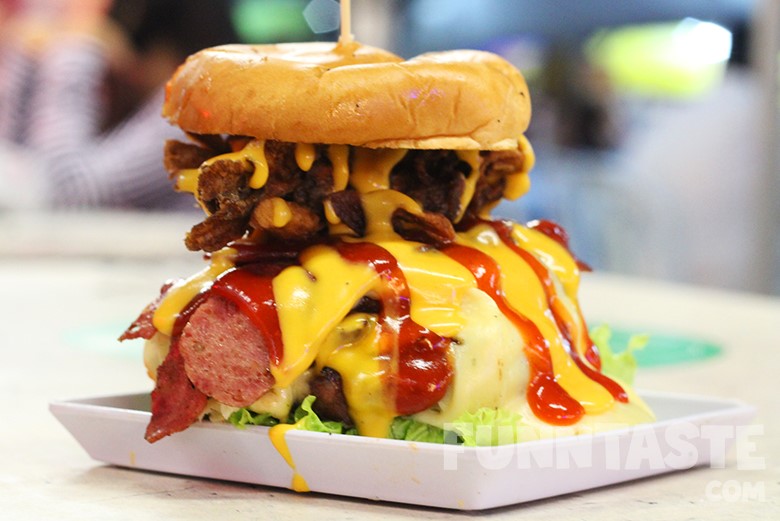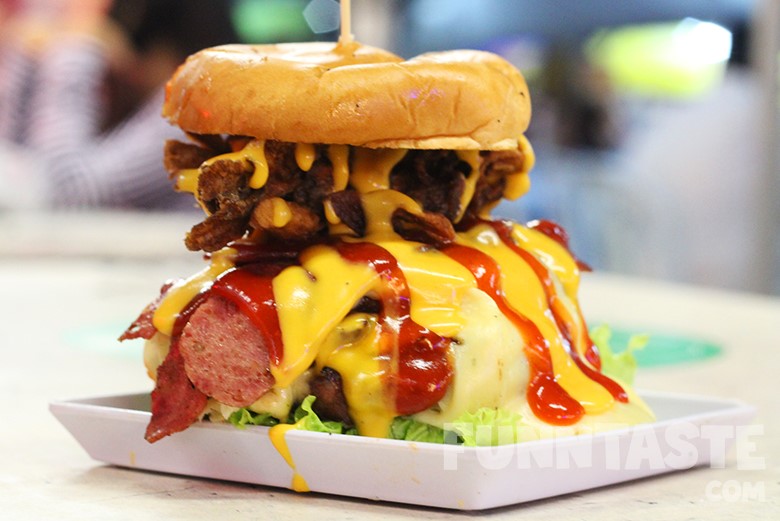 With over eight franchises all over Klang Valley, Abang Burn is definitely marking his territory in every part of the city with his take on Ramly burgers. His menu is spit into two categories: original and premium. While the original is just basic, don't forget to try out their Aligot Cheese Balut, Burger Ayam Goreng and the Burger Tower (a 5-patty burger).
Hours: 6.30pm-12am
Click here for its full locations.
8. Daily Burger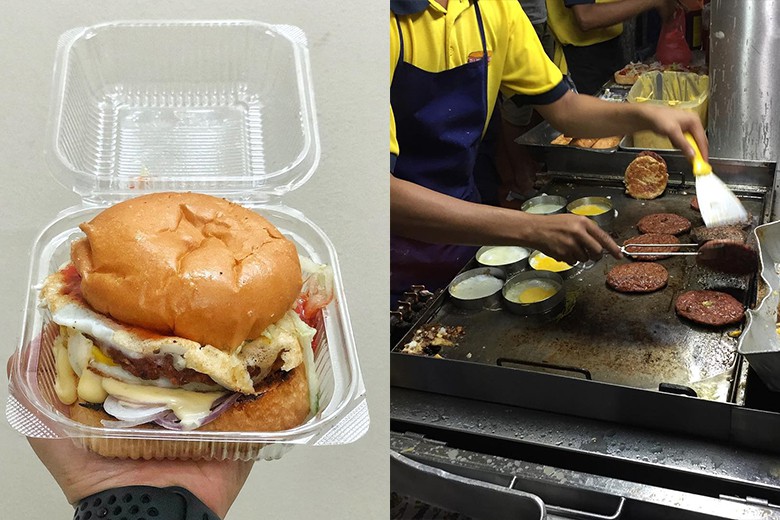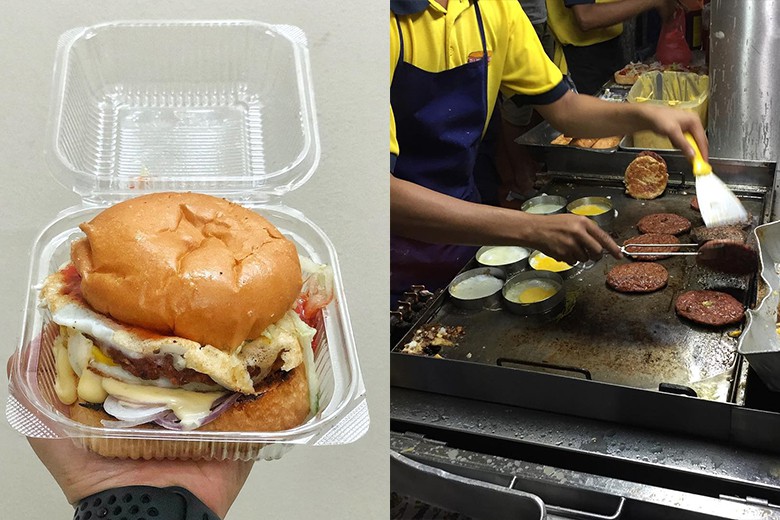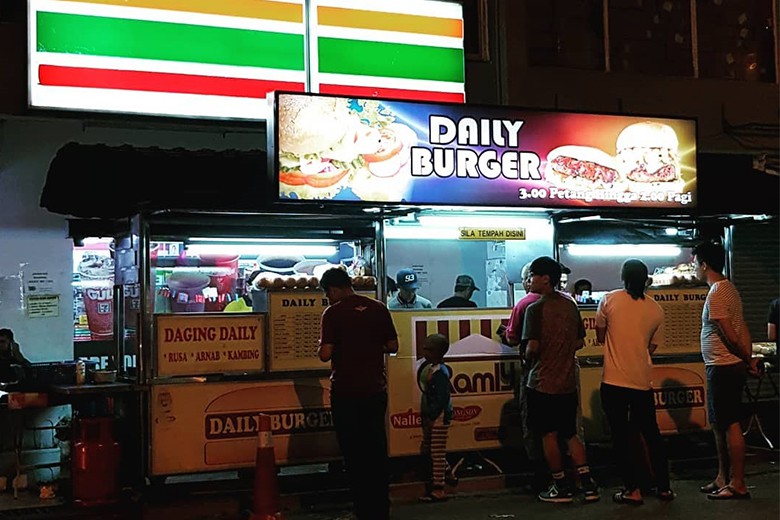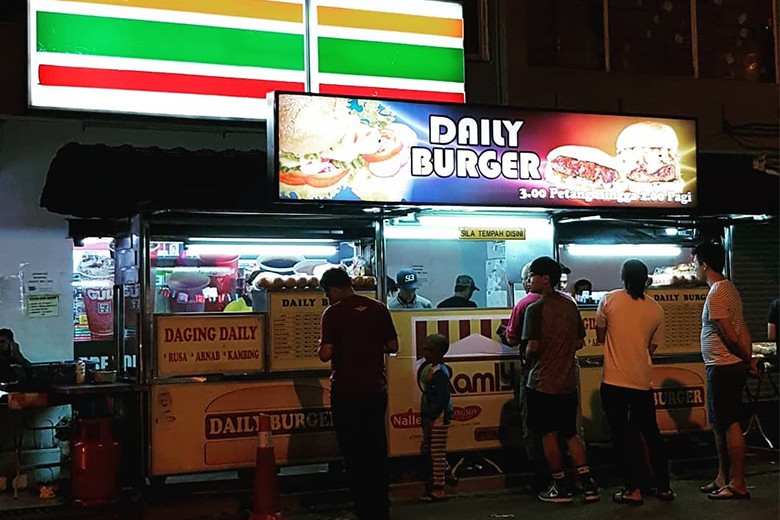 Located in front of 7-11, Daily Burger is a local favorite spot for hungry late night dwellers in Gombak. They are just as good as any famous ramly burger stalls around. Unlike your typical Ramly Burger eggs aren't wrapped around patty as its serve on top. Also, do expect unconventional Ramly Burger ingredients such as pineapples.
Hours: 3pm-2am, daily
Address: Jalan SG 1/11, Taman Sri Gombak, 68100, Batu Caves
9. OM Burger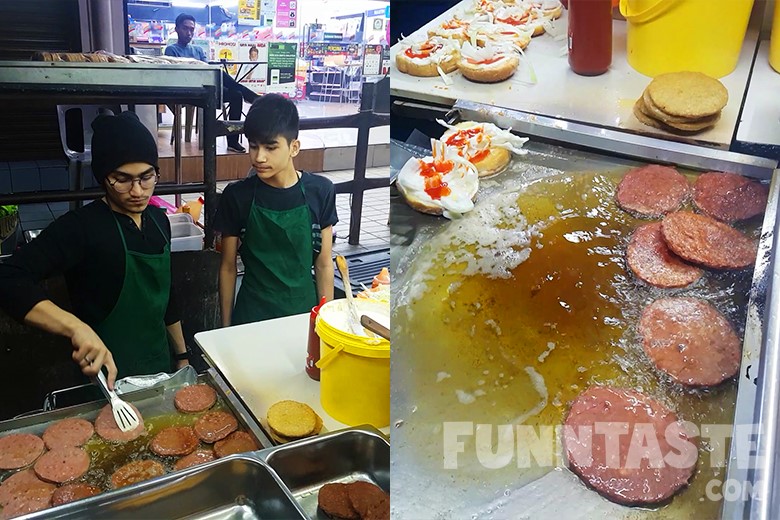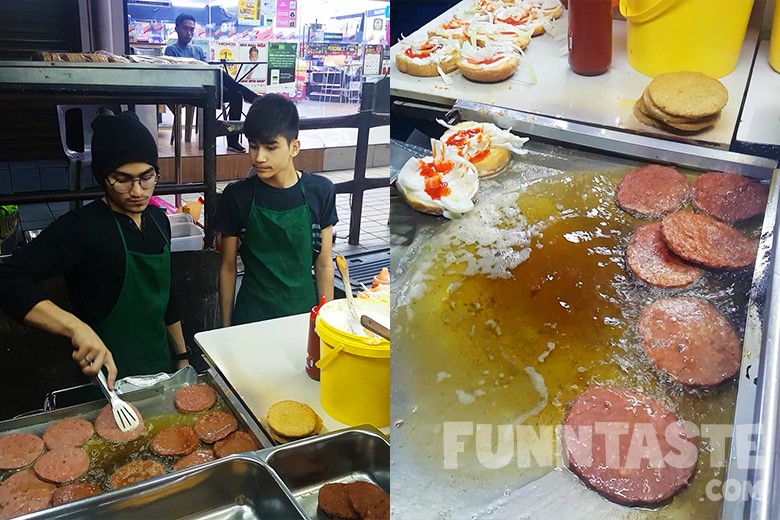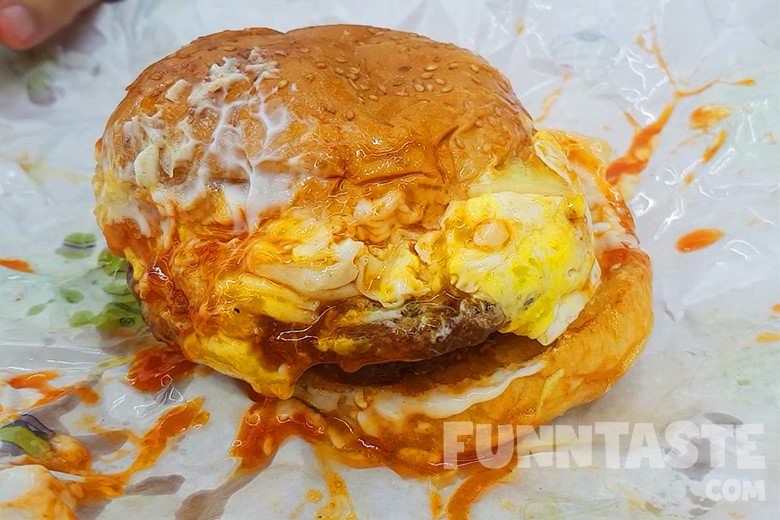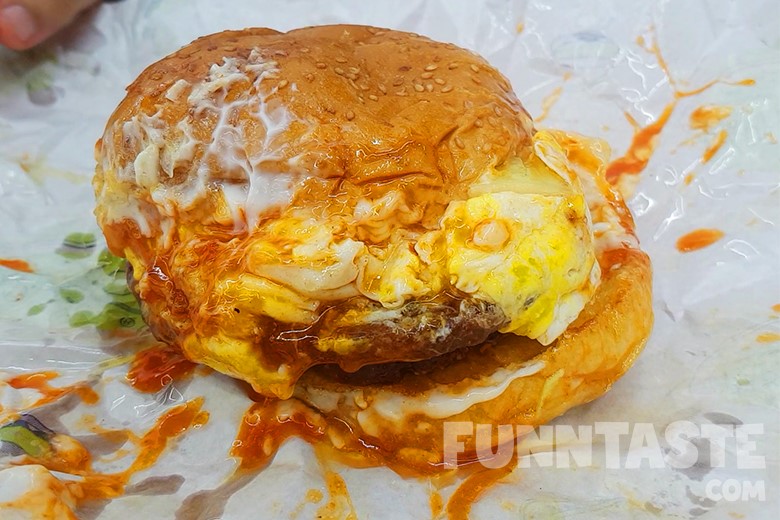 OM Burger has been operating for over 20 years and has created a household name around town. Although the stall is called OM Burgers, but the locals seems to call is Burger Sampah due to its sloppiness. You can say the burger resembles the ol' classic Sloppy Joe. With an extensive menu and affordable pricing, enjoy what they have to offer with localised and halal chicken, beef and lamb patties.
Hours: 7pm-5am, daily
Address: 7-11, Jalan Ayer Kerja Lama, Ukay Heights, 68000 Ampang, Selangor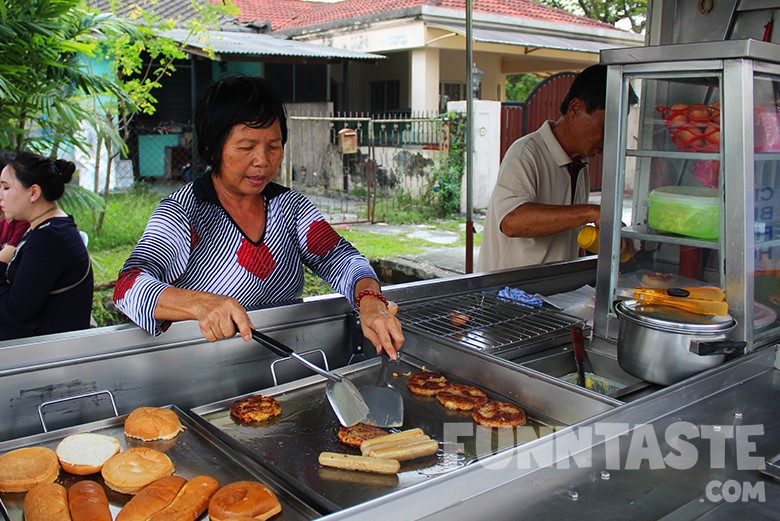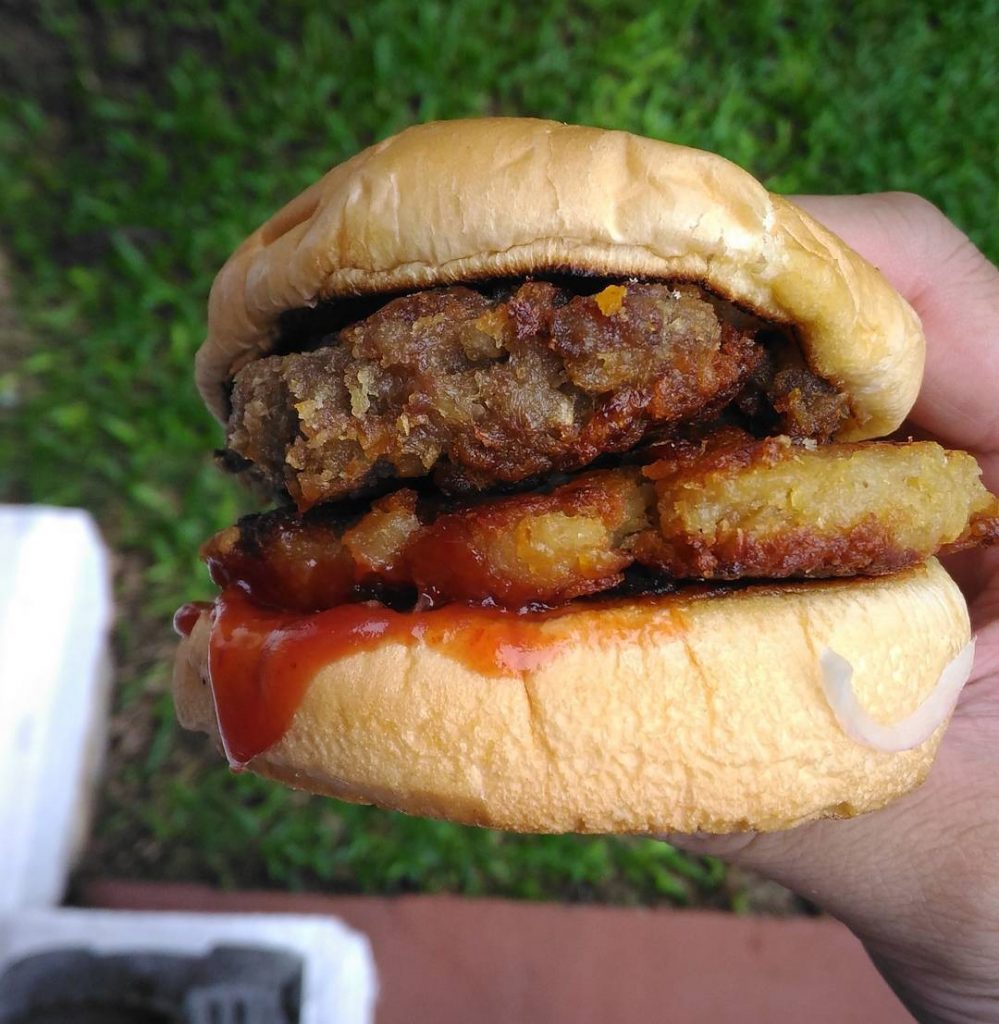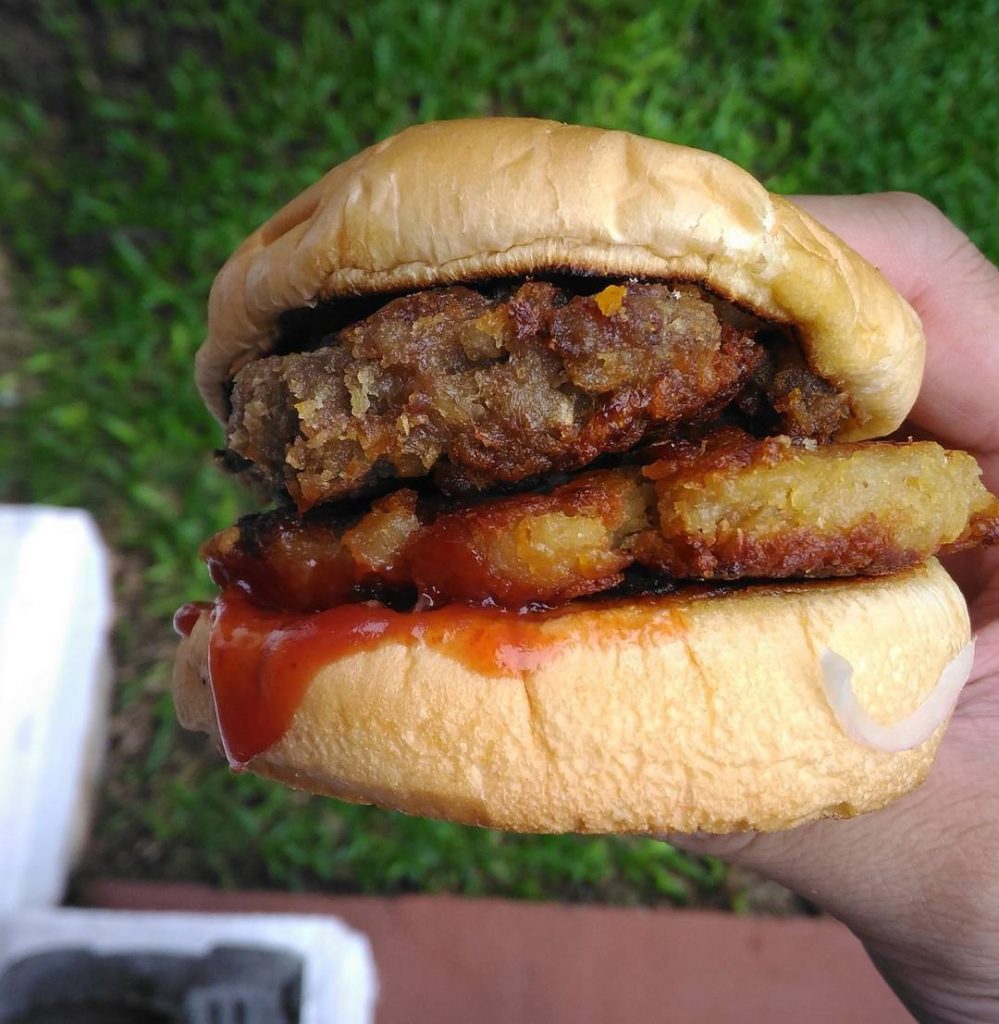 This legendary burger food truck has been around for over 40 years that offers Chicken Burger, Beef Burger, Filet O' Fish, Crab Burger and Hot Dog on their menu. Every patty they flip are all homemade and grilled in butter making it super fragrant and succulent. You can opt to take away like usual or if you prefer to "dine in" then you can enjoy it, "al fresco" style.
Hours: 12pm-4.30pm, daily except for Mondays
Address: 152, Jalan 14/29, Seksyen 14, 46100 Petaling Jaya, Selangor