Things To Do
Celebrate School Holidays At Sunway Velocity Mall With Germ Buster Motion Sensor Game & Win Free CASH Vouchers!
Update on March 17, 2020 12.25pm: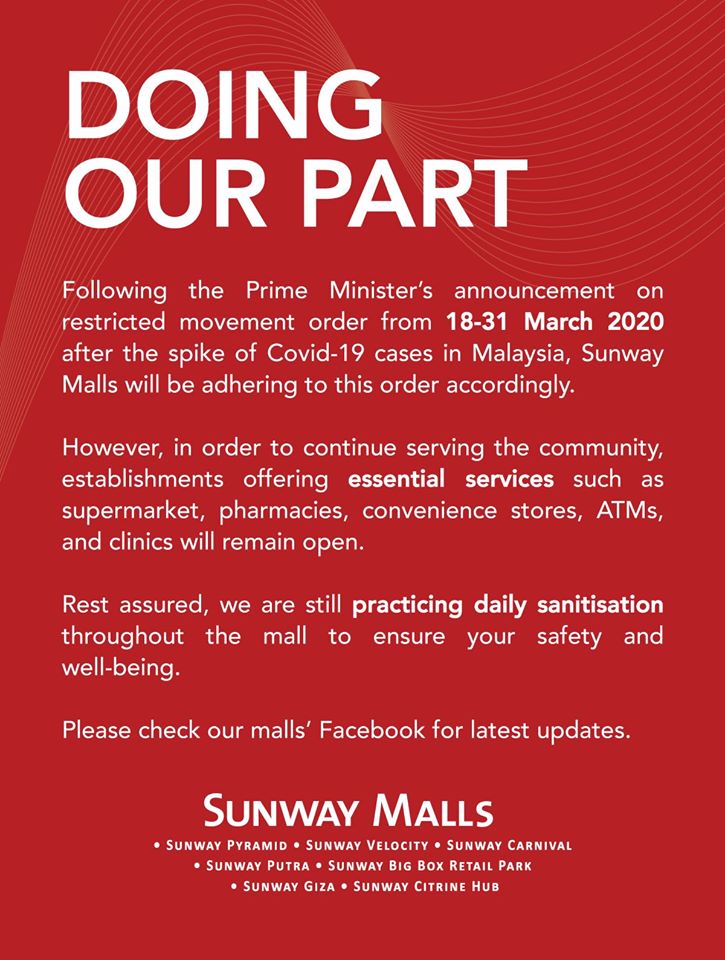 School holiday is in the air again! To all parents, not sure how to spend the holidays with your children? Anxious about having them in the house and afraid they might make a mess?
If you're looking for a fun-filled place to spend a day out with your children, head over to Sunway Velocity Mall in Cheras for an entertaining and fun day.
From March 11 to March 22, visitors of Sunway Velocity Mall may enjoy a plethora of fun-filled activities through their holiday campaign "MARCH" More Fun School Holiday Campaign.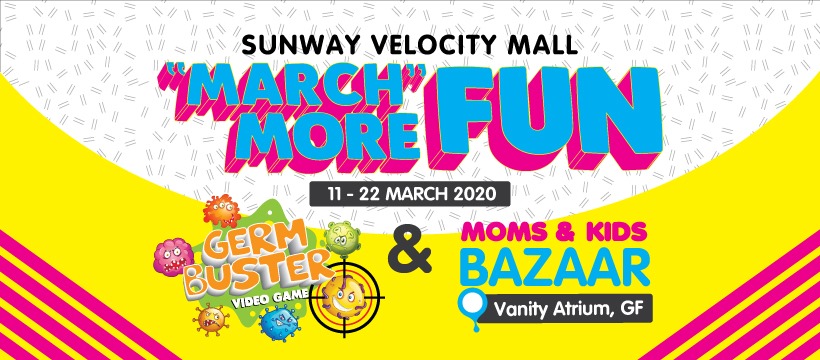 Here are some of the games and promos parents can expect!
Disclaimer: Images used for illustration purposes only.
1. Interactive Germ Buster Motion Sensor Game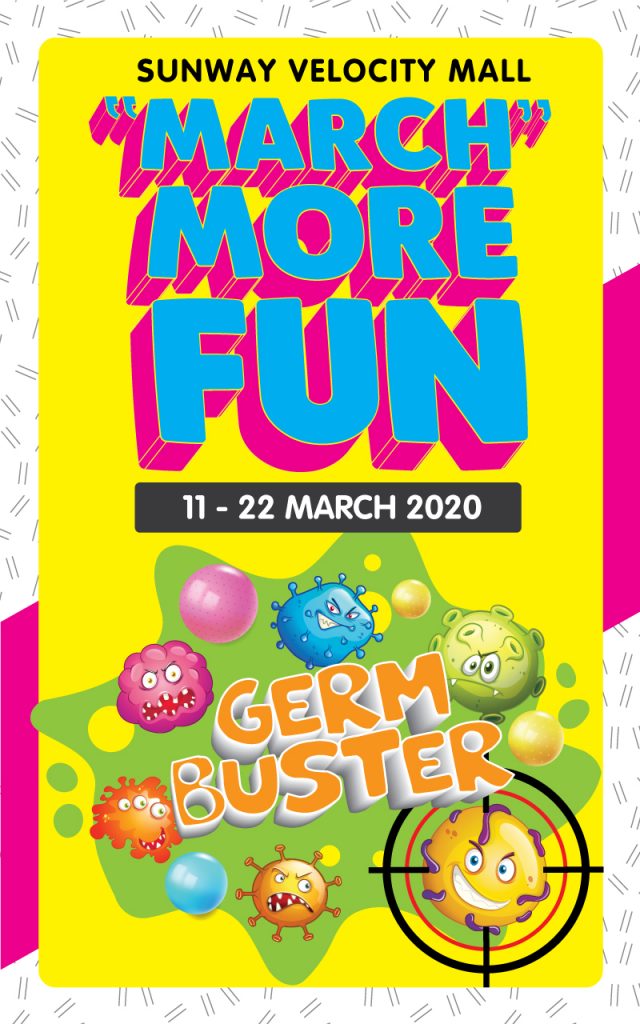 Sunway Velocity Mall has come up with an educational interactive game named Germ Buster, so that parents and children can learn more about good hygiene in an exciting way. It is always a good idea to let your children have some fun physical movement to sweat it off.
2. Score above 50 points at to redeem RM20 cash vouchers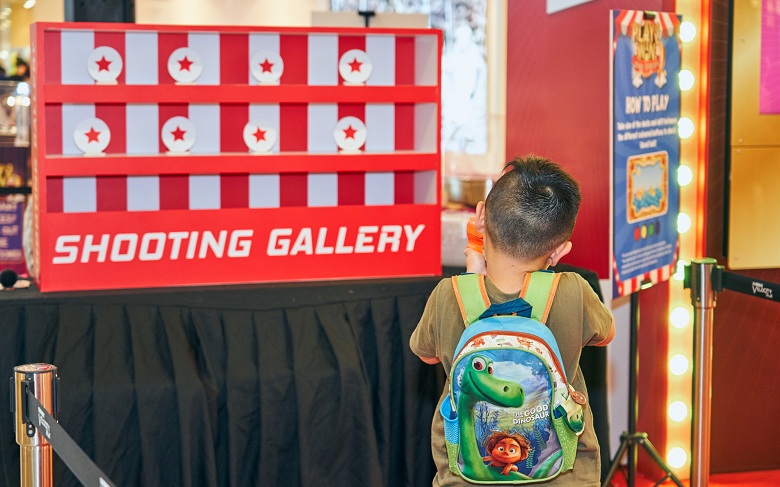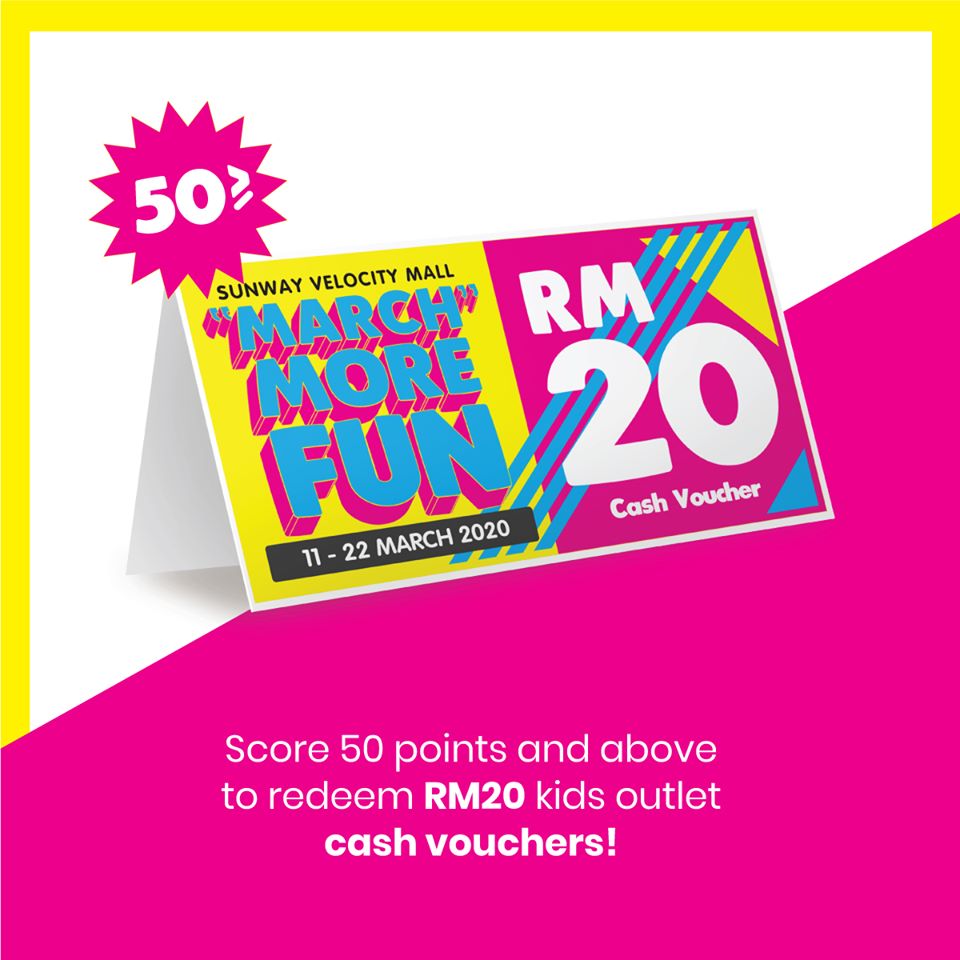 If you score over 50 points during the game, you can win RM20 Kids outlet cash vouchers* without any minimum spending required. However, if you score below 50 points, you will still walk away with attractive discounts voucher from participating outlets.
All you need to do is bring your children to play the Germ Buster Motion Sensor Game to win these vouchers.
The RM20 Kids outlet cash vouchers can be used at any of the following Sunway Velocity Kids tenants such as Mothercare, Bath & Body Kids, Annakku, KidzB, kOkO BLOCK, Hippopo, Baby Spa & Wellness, Chicco, Poney, Toys 'R' Us, Gymboree, 123 Bake, and Cotton On Kids.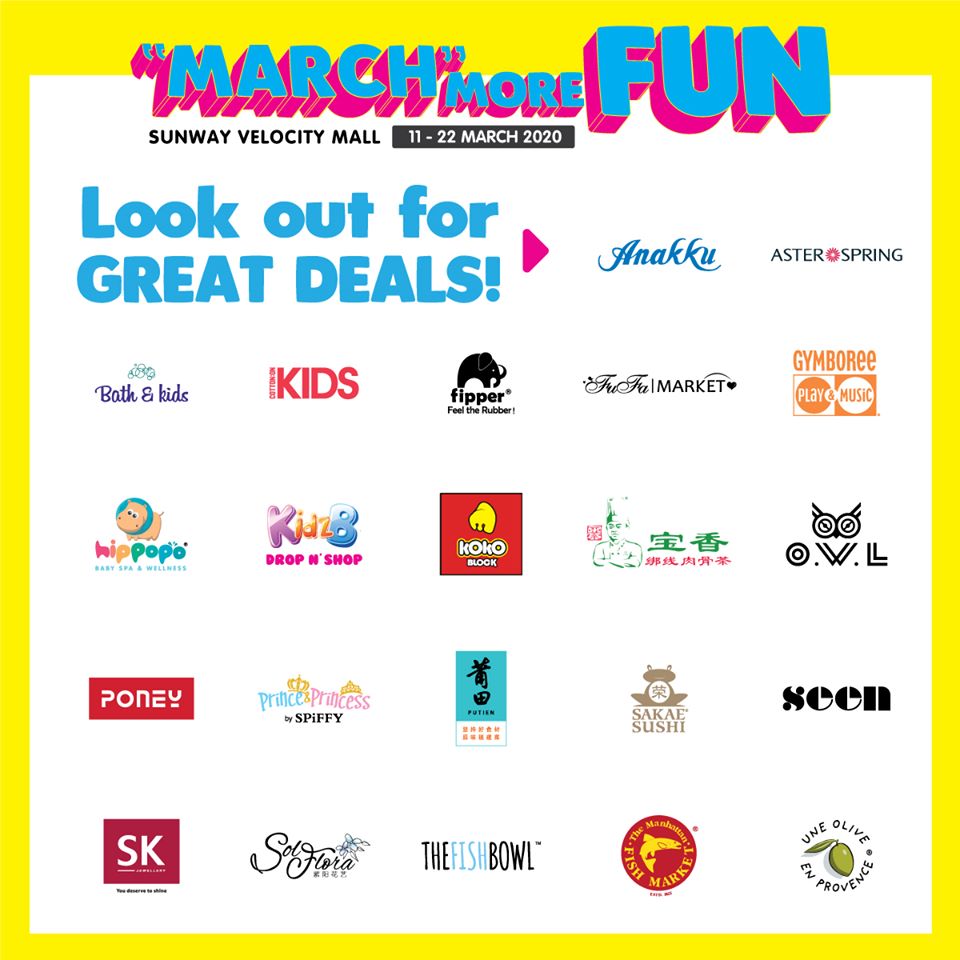 3. Exclusive Perk for VeloKiddie Members! Receive RM30 worth of kids tenants cash vouchers and a cat plushie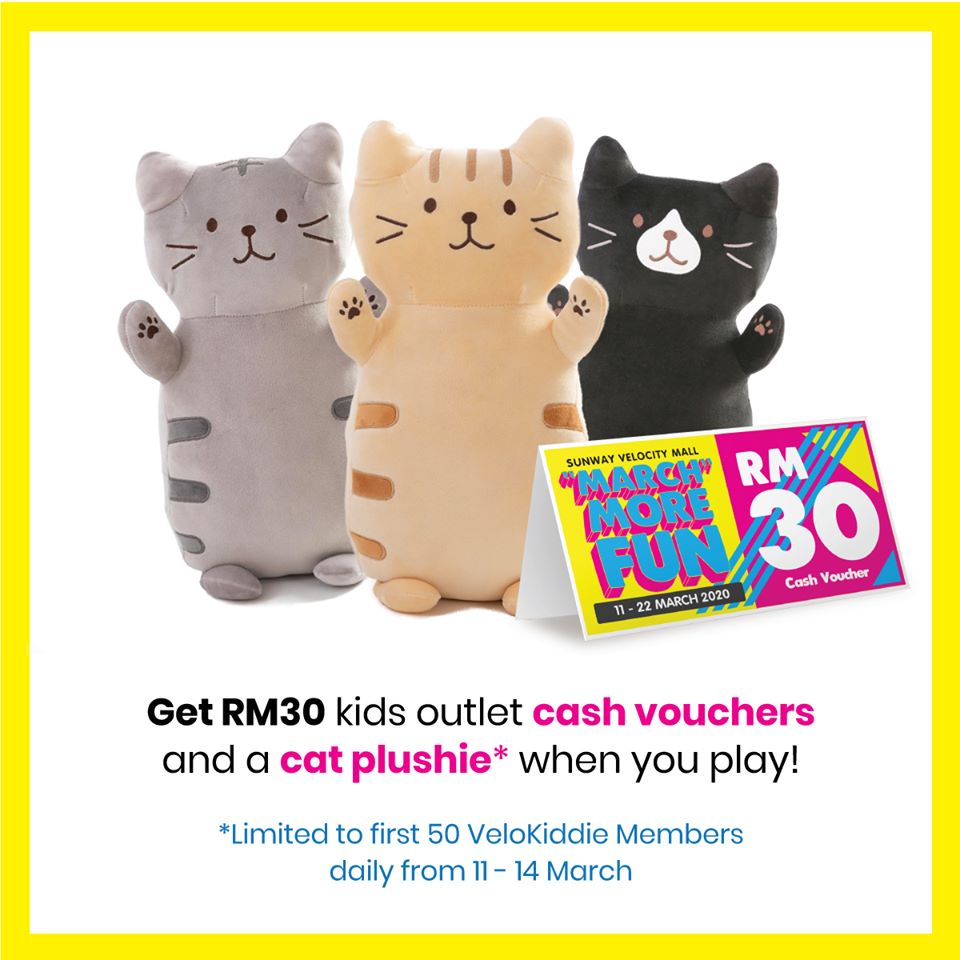 4. Moms & Kids Bazaar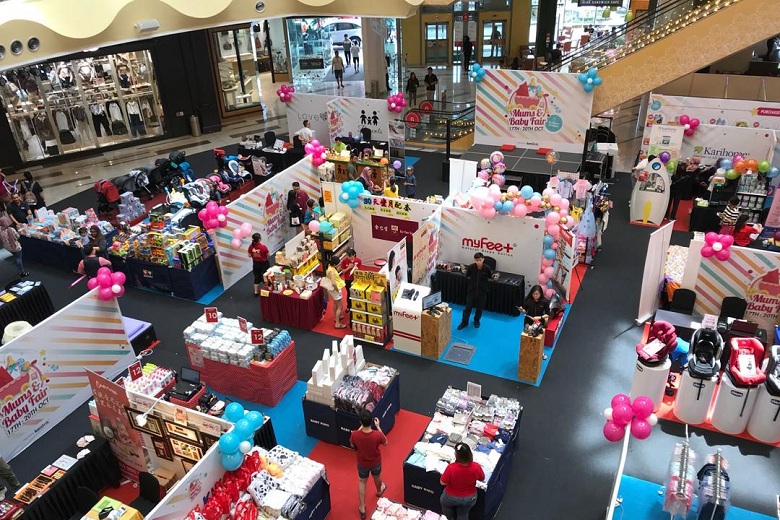 While you're there taking the Germ Buster Motion Sensor Game challenge, visit the Moms & Kids bazaar surrounding the area to get your kids their favourite items and also sign them up for edutainment classes at promotional prices!
Brought to you by Sunway Velocity Mall, the details as per below: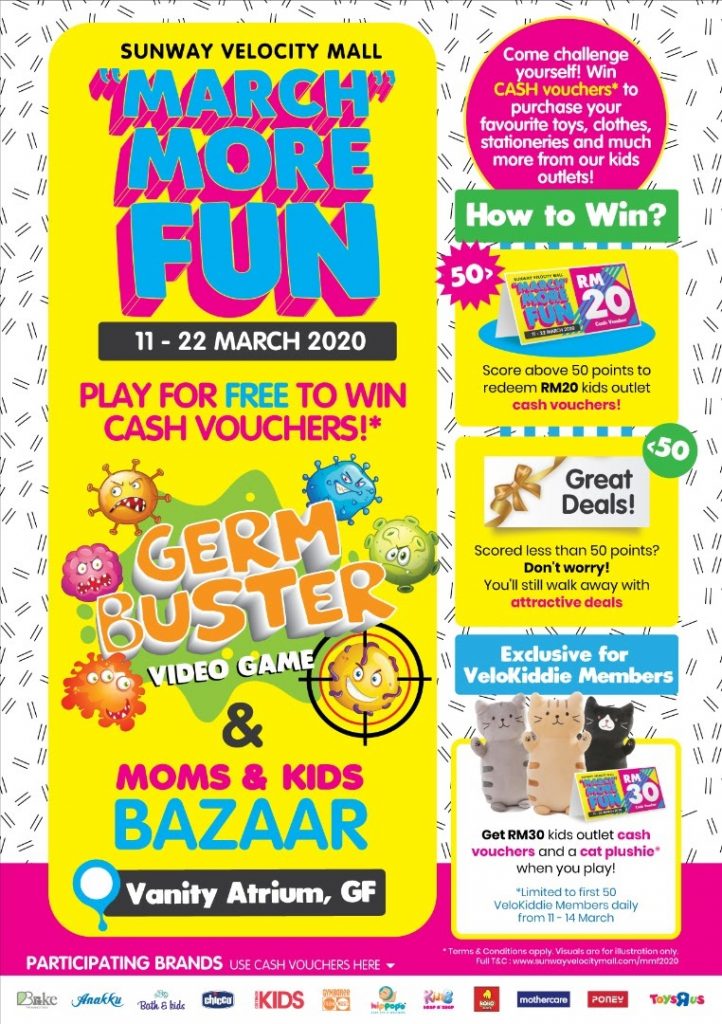 Date: March 11 until 22, 2020
Venue: Sunway Velocity Mall, Vanity Atrium, Ground Floor
Time: 10am to 10pm
Do visit Sunway Velocity Mall for a hassle-free holiday. A fun and productive time for all family that they will be sure to love.
For more details, visit to Sunway Velocity Mall Facebook page at facebook.com/SunwayVelocityMall/
This article is written in collaboration with Sunway Velocity Mall.