Food & Drinks
12 Best Street Food In Brickfields, KL Every Foodie Must Try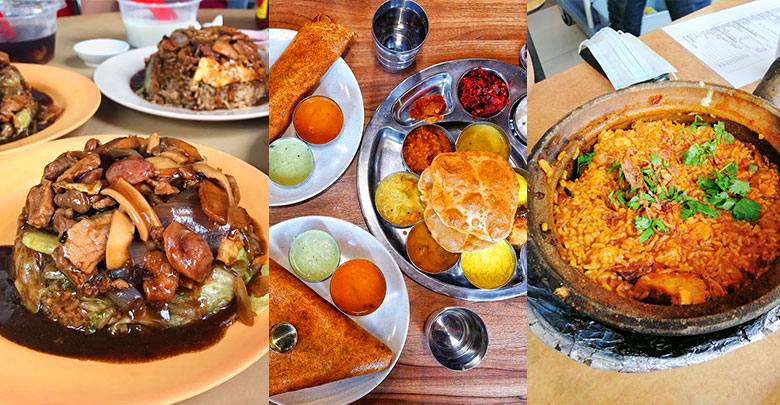 Brickfields is situated in a busy area within the KL Sentral area, making it a famous destination for many travelers, tourists and food lovers. With that, the areas has a wide variety of stalls and restaurants with different cuisines to cater to the ever flowing crowds of people that demand for the local and the international.

Needless to say, Brickfields is a hot spot for delicious food and today we are unveiling the 12 Best Street Food In Brickfields Every Foodie Must Try.
1. Om Pot Briyani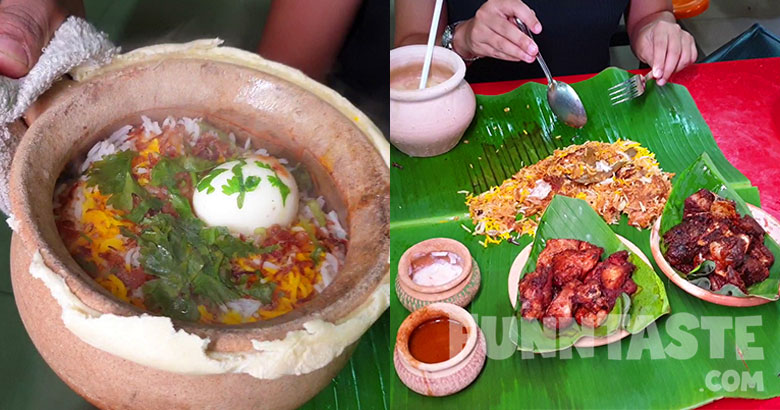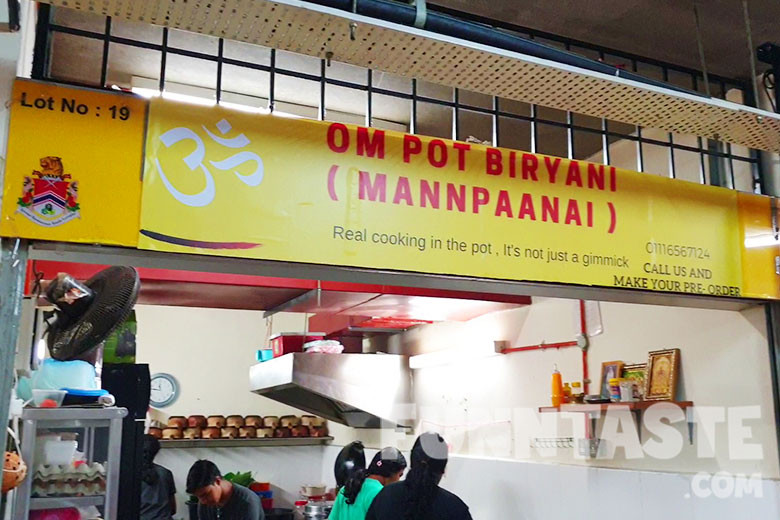 Located in a hidden food court in Brickfields, Om Pot Briyani is a stall run by 5 sisters in Brickfields. Their stall is always busting during the day, serving you delicious biryani dishes in mud pots. Their must try are their Mannpannai Chicken Dum. Their chicken meat is marinated with 25 different herbs and spices and then later cooked in the same marination with basmati rice and biryani seasonings. Can you imagine what all those flavors would taste like?
Address: Lot 19, Medan Selera Kompleks TLK, Brickfields, 50470, Kuala Lumpur
Operation Hours: 12pm – 10pm, closed on Mondays
2. Mr Chiam Pisang Goreng & Fritters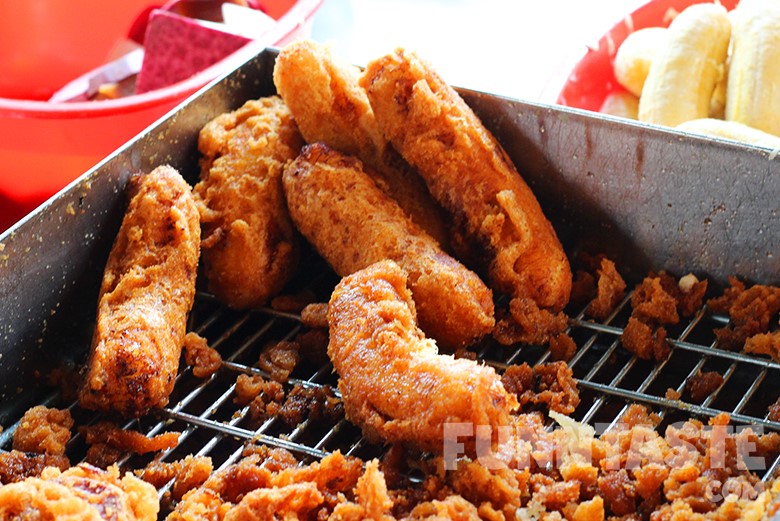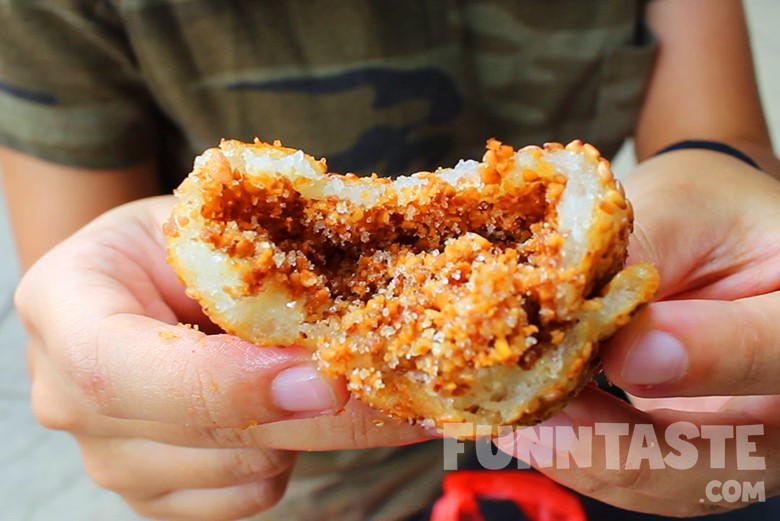 Mr Chiam Pisang Goreng is a humble store operated by a father and son duo next to YMCA in Brickfields. They are best known for their fried banana fritters which are peeled and fried on the spot. They also have sesame balls, kiuk bakul (sweet rice cake fritters) and curry puff. Everything is freshly made because they sell out pretty quickly.
Address: Opposite YMCA, Brickfields, KL
Operation Hours: 12pm – 6pm
3. Lawanya Food Corner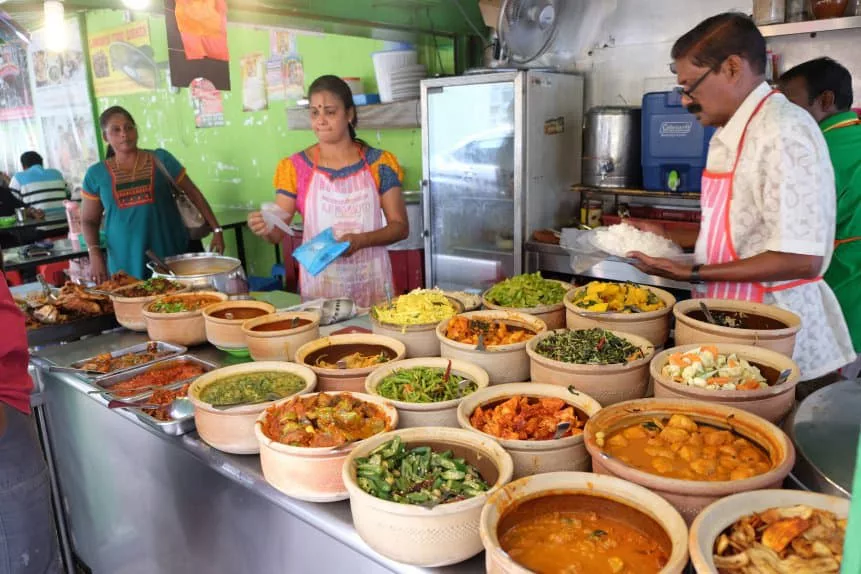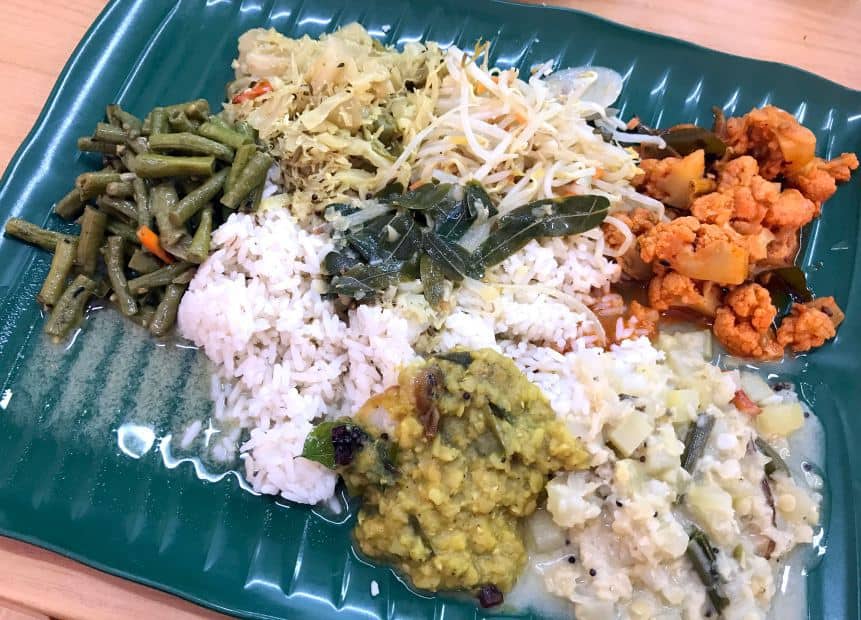 Don't be fooled by its low key appearance, Lawanya Food Corner has been in operation for more than 30 years. They served over 20 types of meat and vegetarian dishes here, all out on display ready for you to choose from. With the beautiful colours from the meat and vegetables with the aroma of the curries, it is so tempting to take a portion of each dish. Lawanya is open from early morning and they serve nasi lemak, roti canai, thosai and chapati. Lunch starts at around 11am.
Address: 1077/ 50470,, 8, Jalan Scott, Brickfields, 50470 Kuala Lumpur
Operation Hours: 5.30am – 5pm, close on Sundays
4. Peter Pork Noodle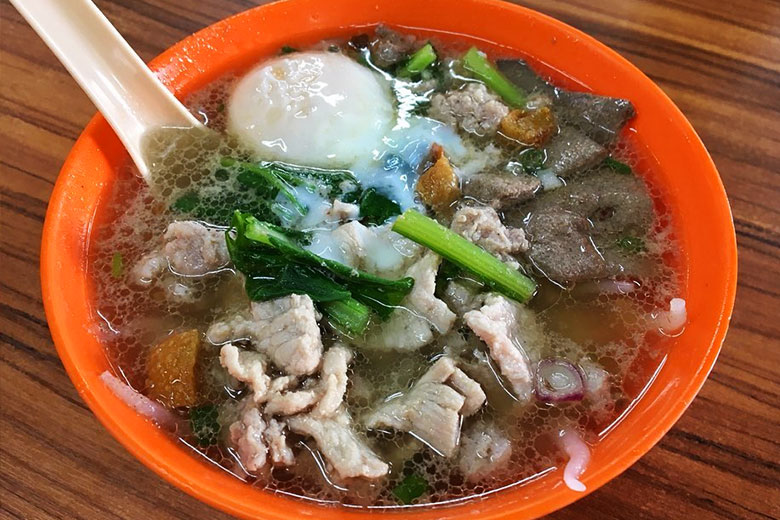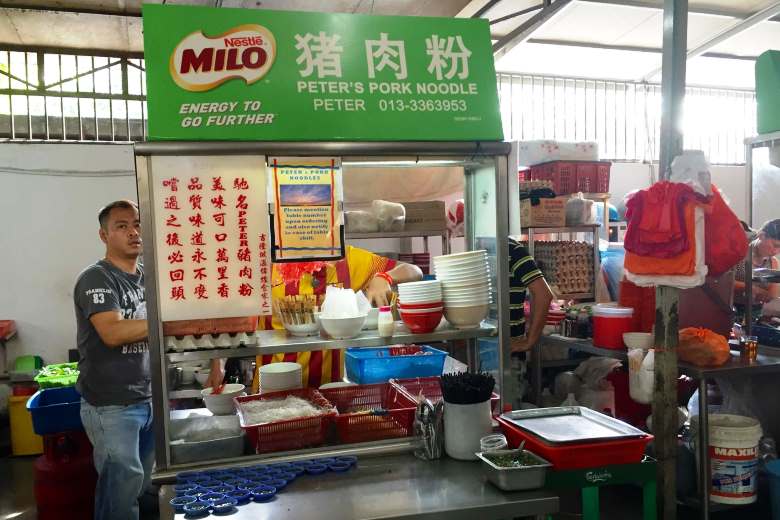 Peter Pork Noodle is one of the stalls inside Money's Corner Food Court in Brickfields. You get to have the option to have the dry noodles or soup noodles. Both noodles comes with minced pork, sliced pork, pork innards, some vegetables and fried pork lard in the soup. You can also opt to add an egg in it if you like, it goes so well with their clear broth.
Address: 144A, Jalan Vivekananda, 50470 Kuala Lumpur
Operation Hours: 7am – 2.15pm
5. Vishal Food & Catering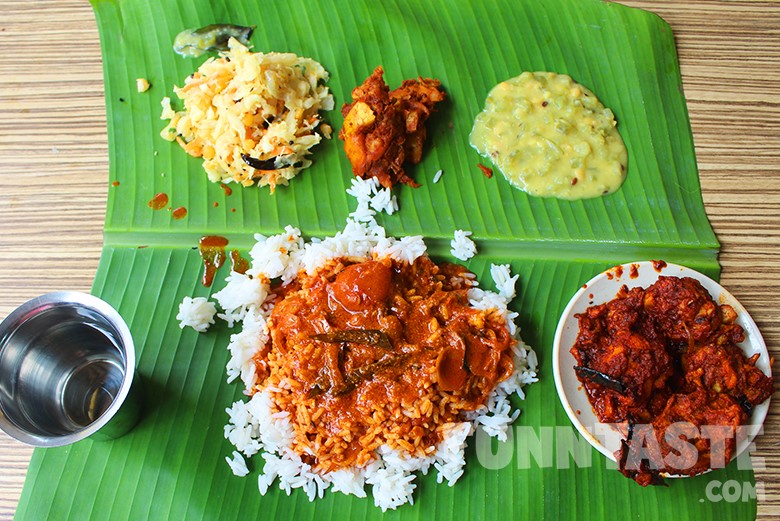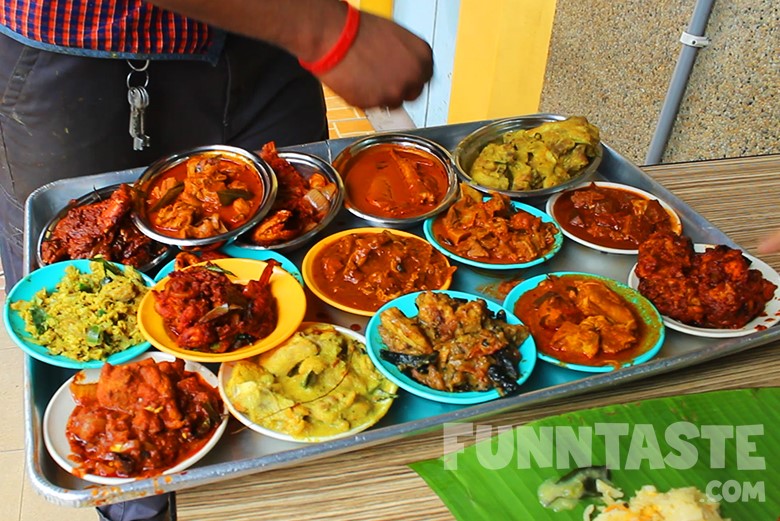 Vishal Food & Catering is one of the recognized Banana Lead Rice places in KL. A typical banana leaf rice is refillable rice with an three vegetable sides. You get to 'banjir' your BLR in their three curries: dhal, chicken curry and their fish curry. Make sure to have your rice with their chicken varuval. It is tender with layers of flavors from the spices. Remember to come early to grab a seat as they get extremely busy especially during lunch hours.
Address: 22, Jalan Scott, Brickfields, 50470 Kuala Lumpur
Address: 7am – 10pm, daily

6. Sami's Corner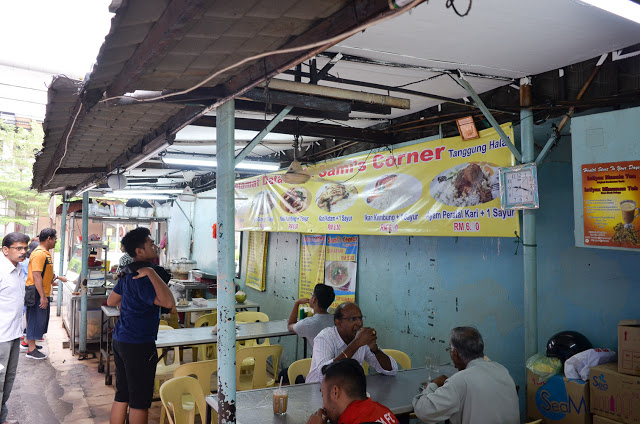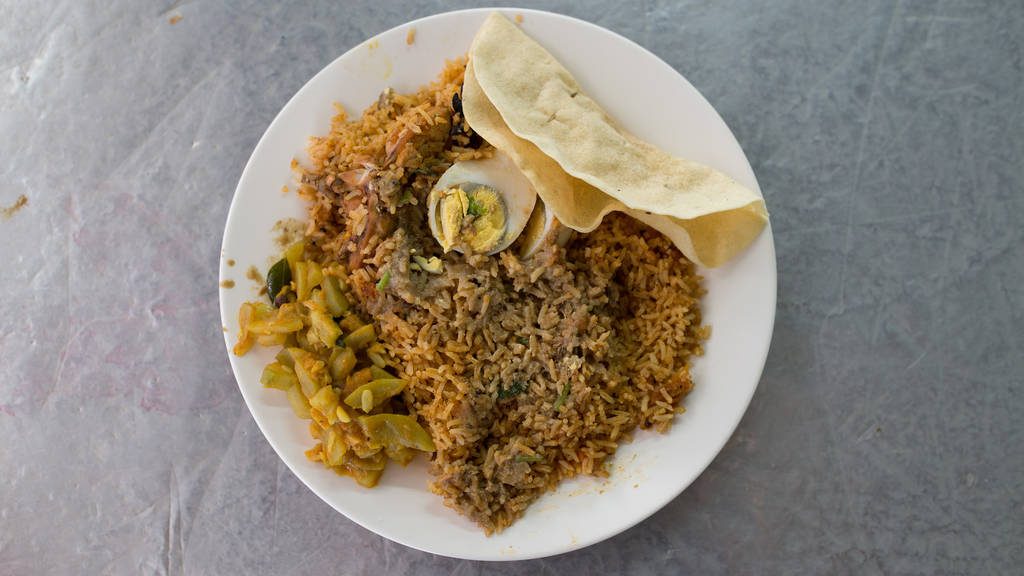 Quaintly tucked in between ancient alleys, Sami's Corner serves one of the most affordable biryani in this area. One of the favorites here is the chicken biryani. You can choose to have it with a wide variety of vegetables and side dishes. Do note that the biryani is only available on Sunday. On the regular days, they serve roti canai, chapati, idli and more.
Address: 194, Jalan Sambanthan, Brickfields, 50470 Kuala Lumpur, Federal Territory of Kuala Lumpur
Operation Hours: Open 24 hours
7. Sin Kee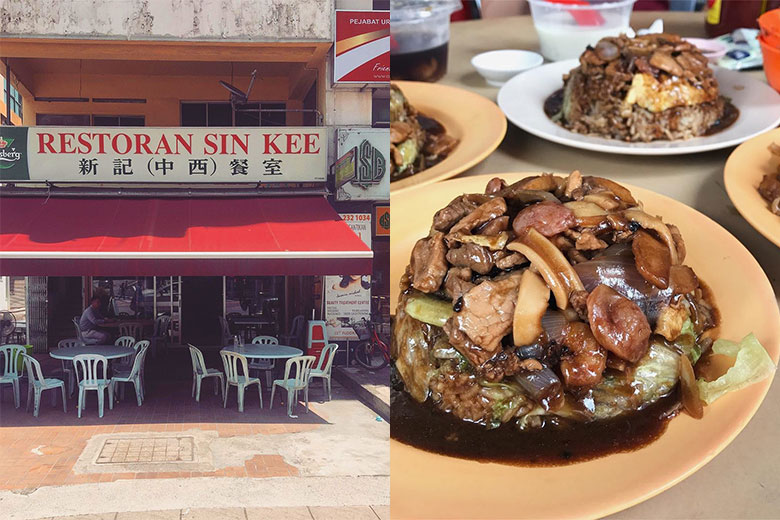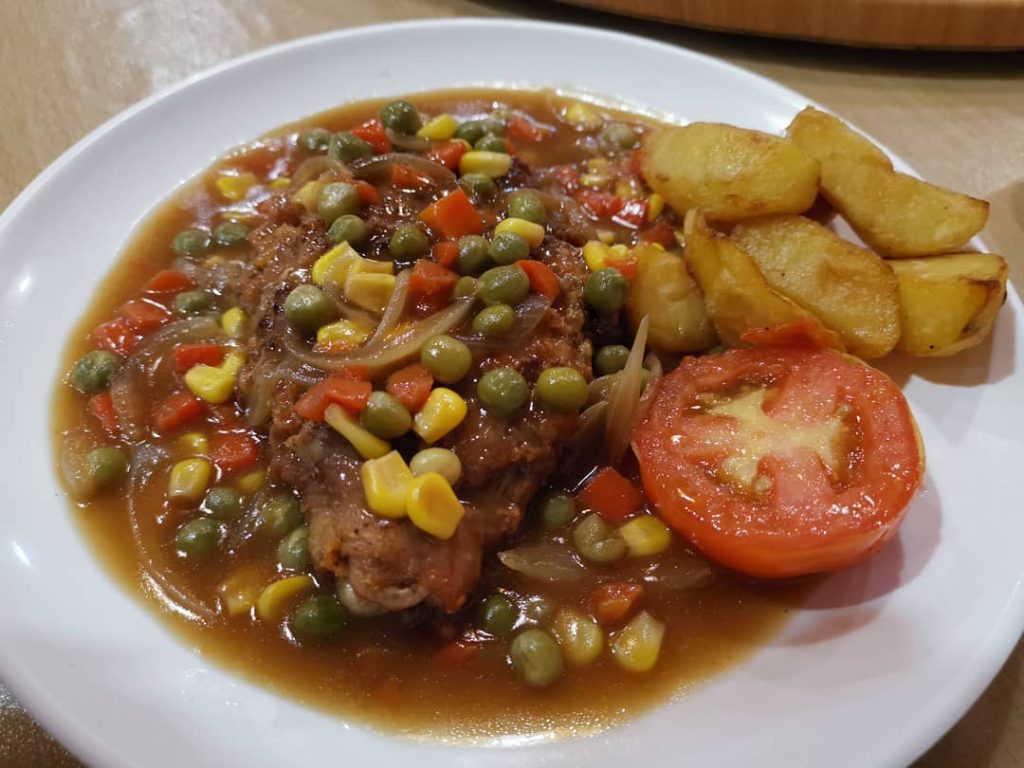 Sin Kee is located in the middle of the hustle and bustle of Brickfields. With an operation history of more than 50 years, it has garnered a lot of loyal customers who stay by their favourite dishes here. One of them is the Hainanese Chicken Chop. It comes with a deep fried crispy chicken, drizzled in sauce, and topped with grean peas, baked beans onions with a side of fried potatoes. Another signature dish is their Steam Rice, also known as "Mun Fun". Almost every table had a plate of this.
Address: 194, Jalan Tun Sambanthan Brickfields, 50470 KL
Operation Hours: 12pm – 2.15pm, 6pm–9.15pm, closed on Mondays
8. Yarl Restaurant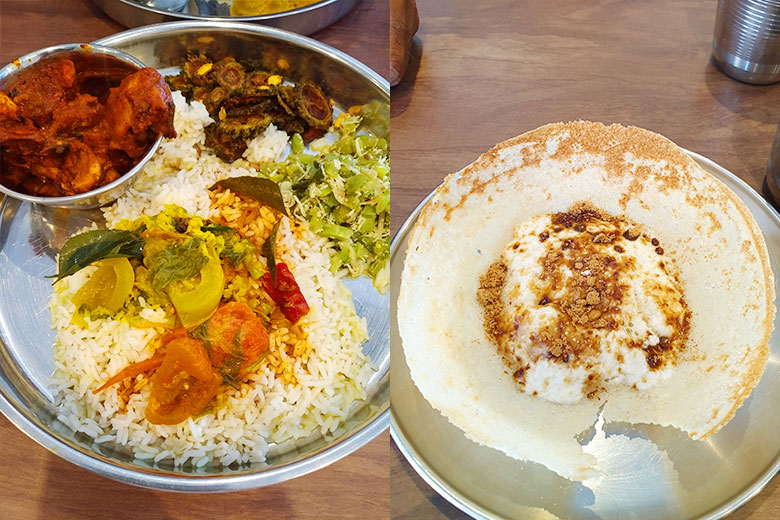 If you are feeling a little bit adventurous, you can hop on over to Yarl Restaurant for some authentic Sri Lankan food. They used to operate from a sidewalk stall 10 years ago before expanding to a proper brick and mortar shop. Their specialty is their wide arrange of rice dishes, which lets you pick from over 15 different types of vegeterian dishes and 8 types of non-vegetarian dishes. It goes well with rice and their house dosai. If you have room to spare, do try their sweet and delicious apam.
Address: 50, Jalan Padang Belia, Brickfields, 50470 Kuala Lumpur, Wilayah Persekutuan Kuala Lumpur
Operation Hours: 7am – 10pm, daily
9. Mr Naan & Mrs Idly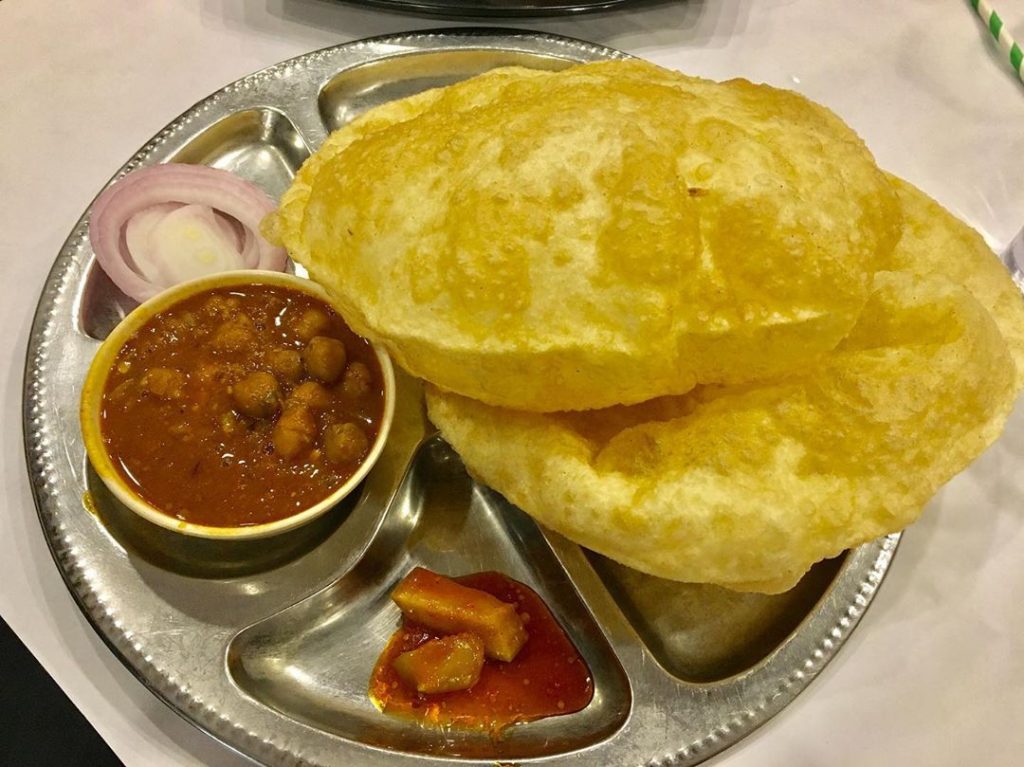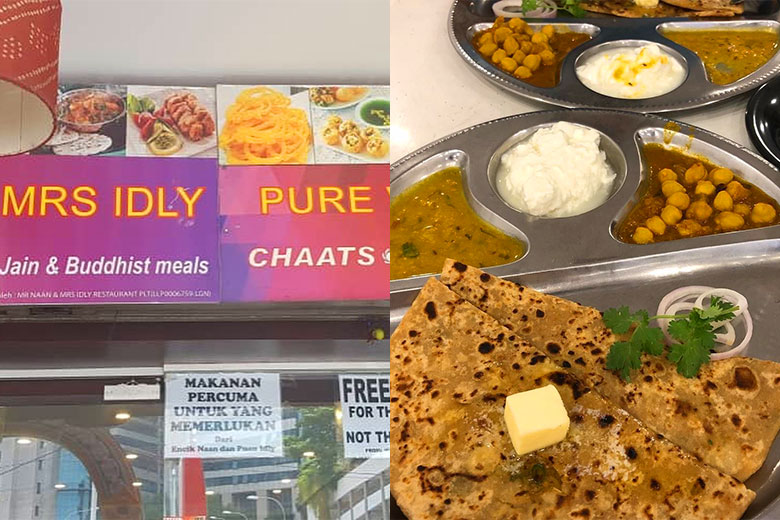 This entry is for all our fellow vegetrians. Mr Naan & Mrs Idly is best known for their North and South vegetarian Indian food. The best part is that they offer vegan options. Their menu is huge and full of options for every flavour that you can expect. Each dishes are unique from each other but still packed with flavors from the spices and ingredients that they use. If you are in the area, you should definitely check this place out.
Address: 190, Jalan Tun Sambanthan, Brickfields, 50470 Kuala Lumpur, Wilayah Persekutuan Kuala Lumpur
Address: 11am – 11pm, daily
10. Ah Keong & ABC Cendol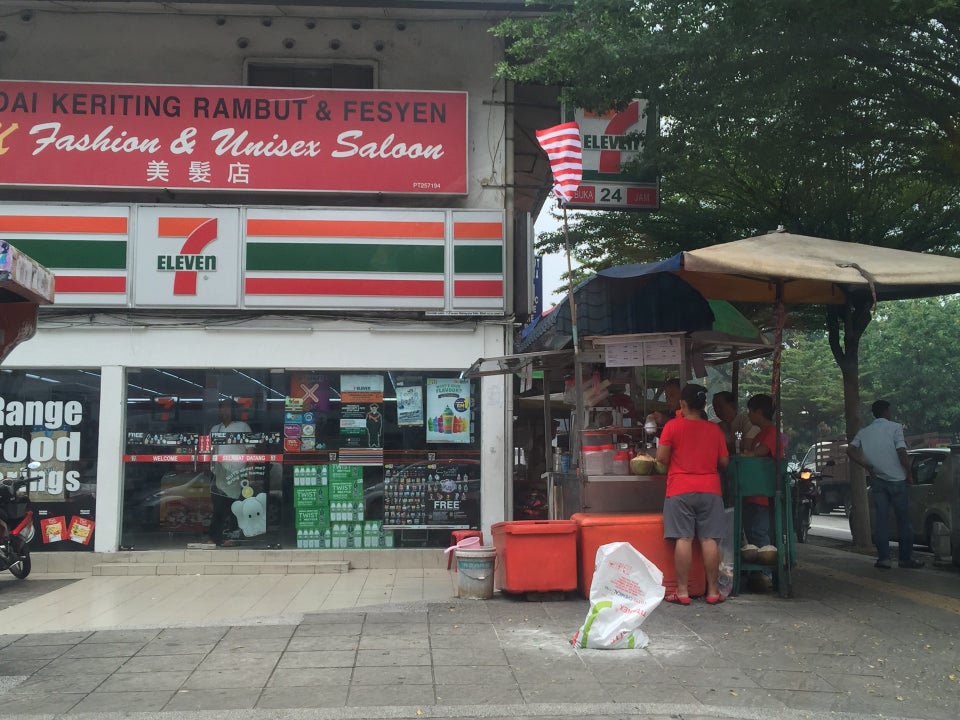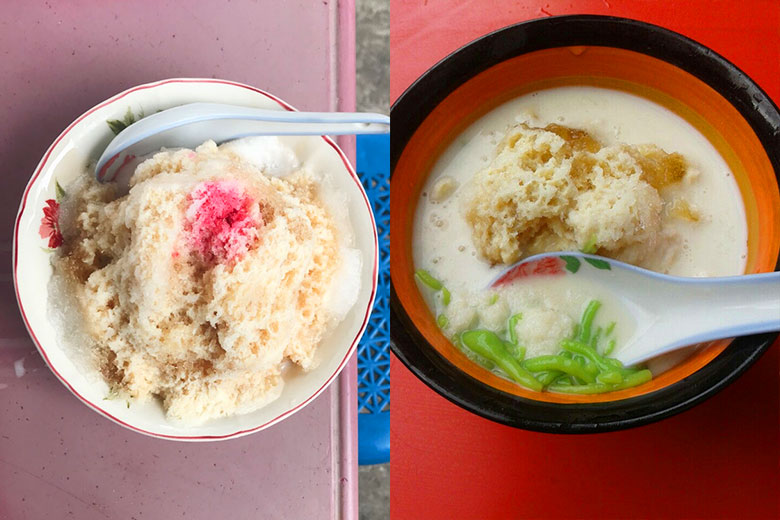 Ah Keong's ABC & Cendol stall is another long-time favourite on this list. You can probably tell by the line that is always at their stall. As their name suggest, they are best known for their ABC. The ABC ice is finely shaven with a good amount of topping like corn, red beans, cincau, green jelly, syrup, gula melaka with cendol. They also have coconut juice and iced cincau drink if you want another options for drinks here. Perfect for our warm tropical weather
Address: 21A, Jalan Padang Belia, Brickfields, 50470 Kuala Lumpur
Address: 8.30am – 4pm, daily

11. MTR 1924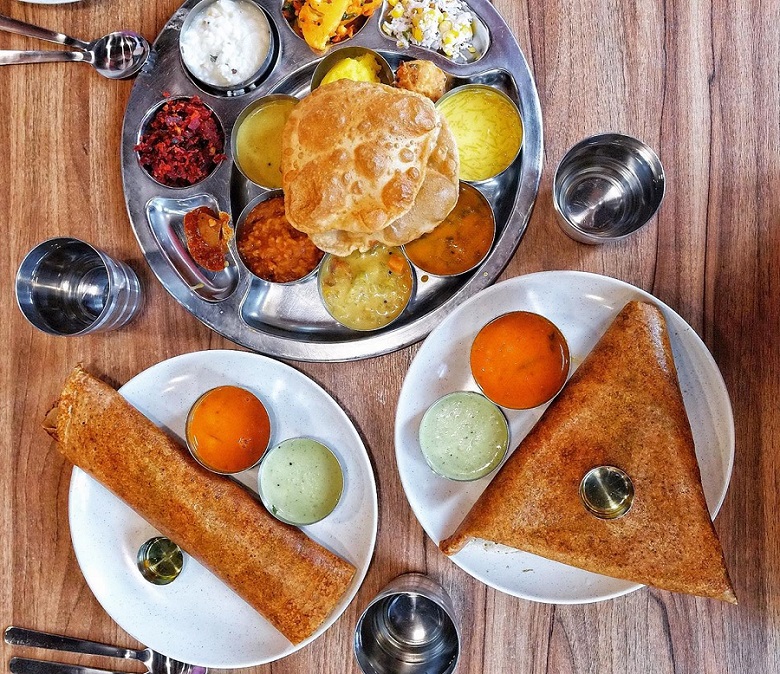 Mavalli Tiffin Room, famously known as MTR, is a nearly 90 year old business that took its roots in Bangalore, India. Best known for their South Indian cuisine, MTR aims to maintain their food's authenticity by importing spices and ingredients all the way from India. When you are here, you have to try their masala dosa, it is a crispy rice batter pancake that is filled with velvety potato stuffing. Dip it in their ghee that is imported from Bangalore. For maximum flavors, you can also add on the green chilli chutney and lentil sambar.
Address: 69, Jalan Thambipillay, Brickfields, 50470 Kuala Lumpur
Operation Hours: Weekends: 8am–3:30pm, 5–10:30pmWeekdays: 8am–3:30pm, 5–10:30pm
12. Seni Sattisorru Claypot Curry Rice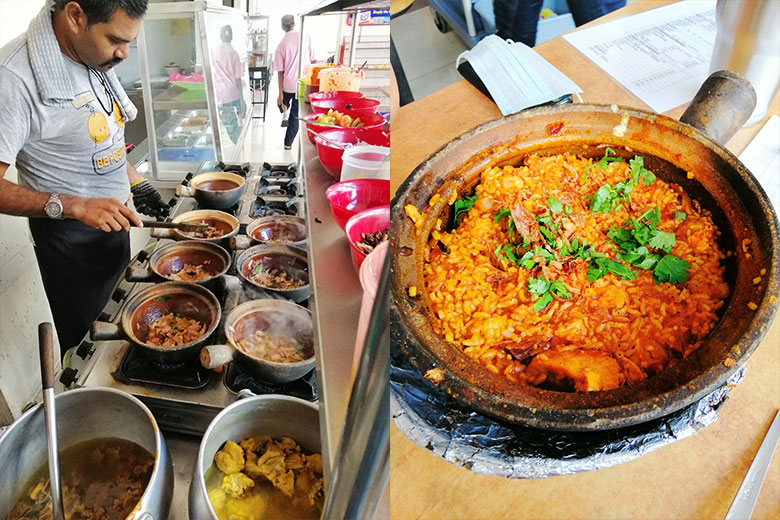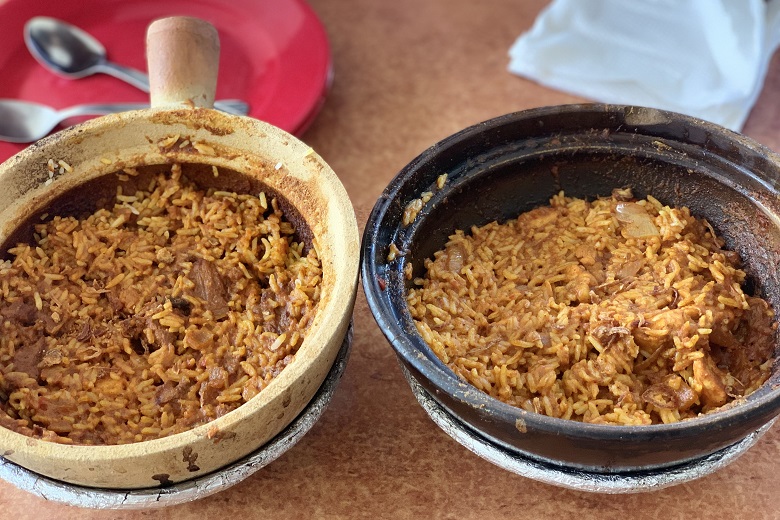 This Indian-styled claypot curry rice is hidden in the heart of Brickfields. This place is one of the rare gems because of the exotic choices they have – monitor lizard and wild boar. Each curry rice is cook to order to maintain its quality and flavor. After you choose your meat of choice, it is put in the claypot with creamy masala paste, pinapple, onions, Indian spice and rice. You can opt for less spicy version if you have a low heat tolerance.
Address: 148, Jalan Loke Yew & Persiaran Jubilee, Pudu, 55200, Kuala Lumpur
Operating Hours: 6PM – 11PM, closed on Tuesdays