Food & Drinks
3 Restaurants In Marina Bay Sands To Try Impossible Food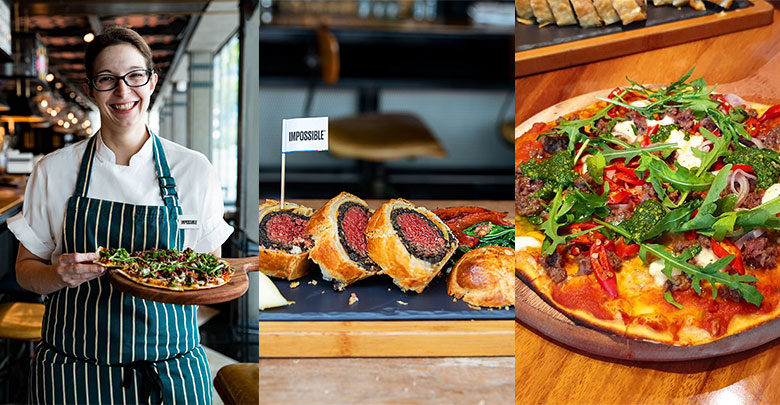 Impossible Food 2.0 is finally launching in Singapore, with Marina Bay Sands among the first to launch this initiative.
For the uninformed, Impossible Food is a company that creates plant-based substitutes for meat and dairy products. The new upgrade—Impossible 2.0 contains no gluten, cholesterol, animal hormones, or antibiotics. In fact, they look and taste just like the actual meat, although they are made from a combination of ingredients such as soy, potato, nuts, tempeh and more.
According to the press release, Impossible 2.0 uses heme from the protein soy leghemoglobin, the iron-containing molecule that produces the "meaty" flavor of beef, thus contributing to a reduction in animal cruelty
Marina Bay Sands has unveiled the Impossible 2.0 across three of its celebrity chef restaurants. These three restaurants are among the first eight restaurants in Singapore to serve dishes incorporating the plant-based meat.
Adrift by David Myers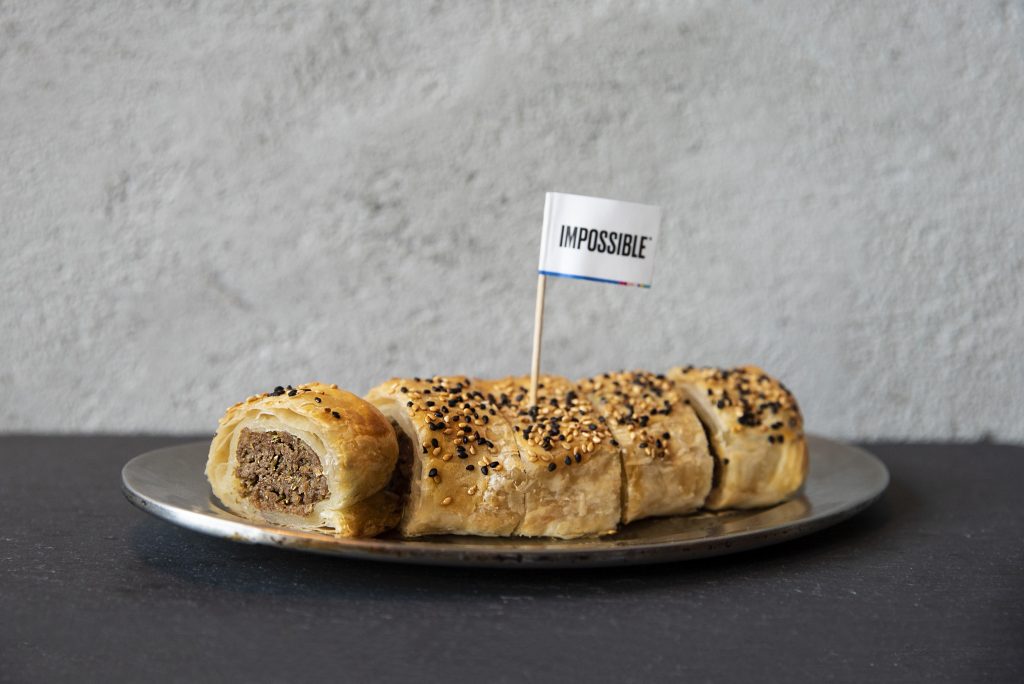 Australian executive chef Wayne Brown reimagines Aussie comfort food with The Impossible™ Sausage Roll (S$14++).
The juicy plant-based sausage, which is served with Adrift's house-made tomato ketchup, is spiced with fennel, nutmeg, garlic and onion, is encased in a layer of French puff pastry and baked to golden perfection.
Bread Street Kitchen by Gordon Ramsay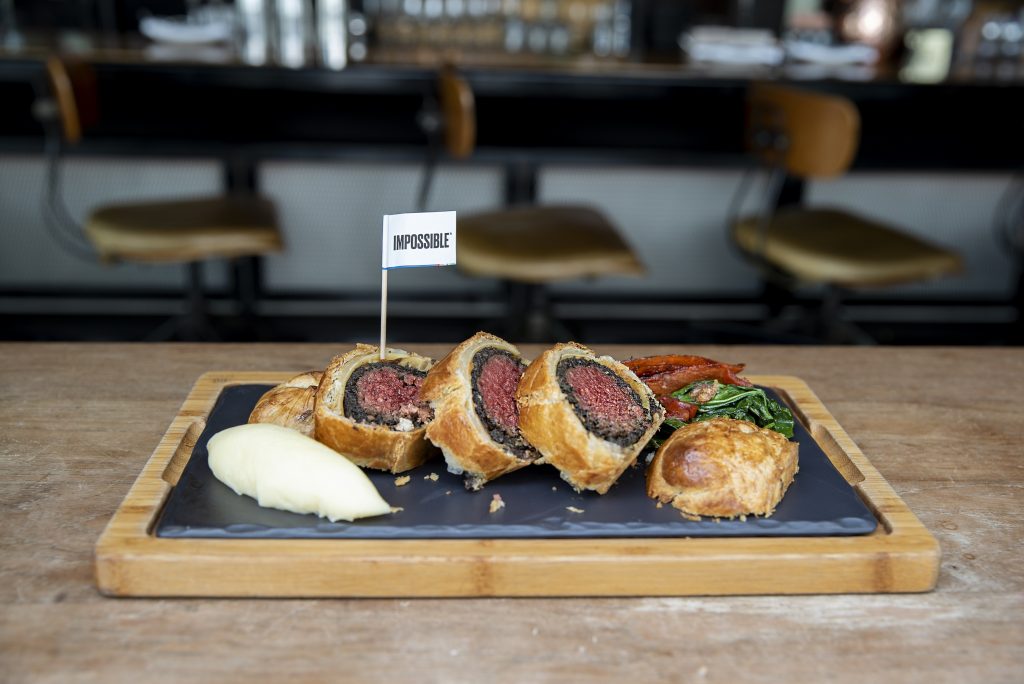 Executive chef Sabrina Stillhart has created three Impossible dishes. The Impossible™ Flatbread (S$24++), The Impossible™ BSK Burger (S$25++), and The Impossible™ Wellington (S$39++).
Our favourite dish is The Impossible™ Wellington, a creative twist on Bread Street Kitchen's popular Beef Wellington. It features a juicy seared plant-based meat centre, enveloped in layers of herb crepe, savoury duxelles, and finished with a crisp crust baked to perfection.
CUT by Wolfgang Puck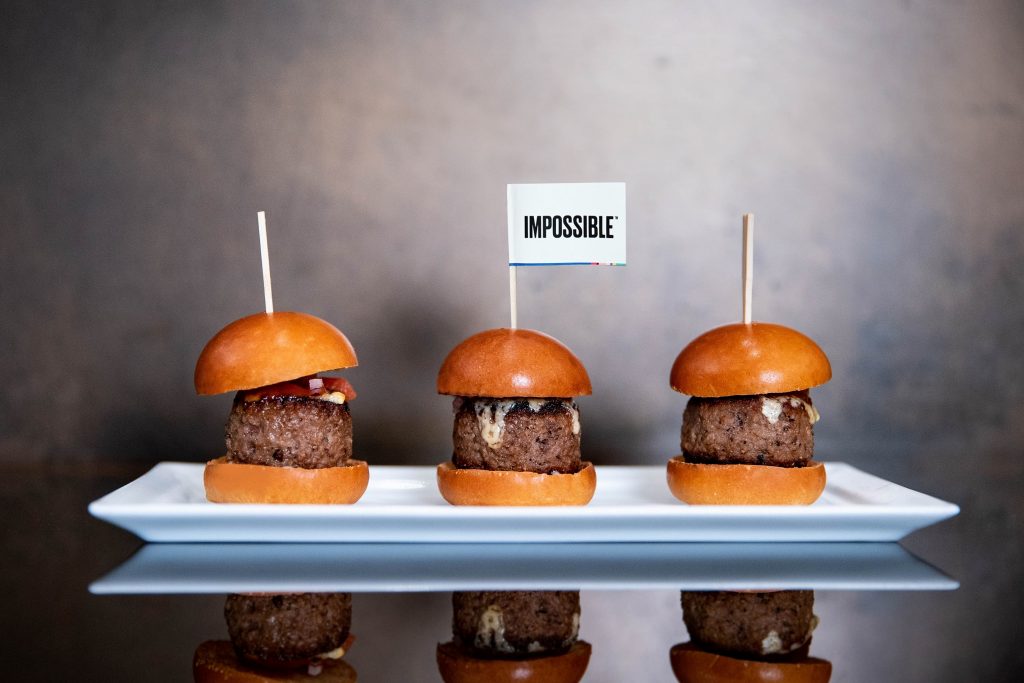 At modern steak restaurant CUT, executive chef Joshua Brown presents The Impossible™ Sliders (S$18++ for three pieces), a remake of the restaurant's signature Mini Kobe beef sliders.
The bite-sized meat patty is lightly seasoned and grilled to medium-well doneness, served with smoked shallot jalapeno marmalade, garlic aioli, ketchup, house-made sweet pickles, and sandwiched between two mini brioche buns.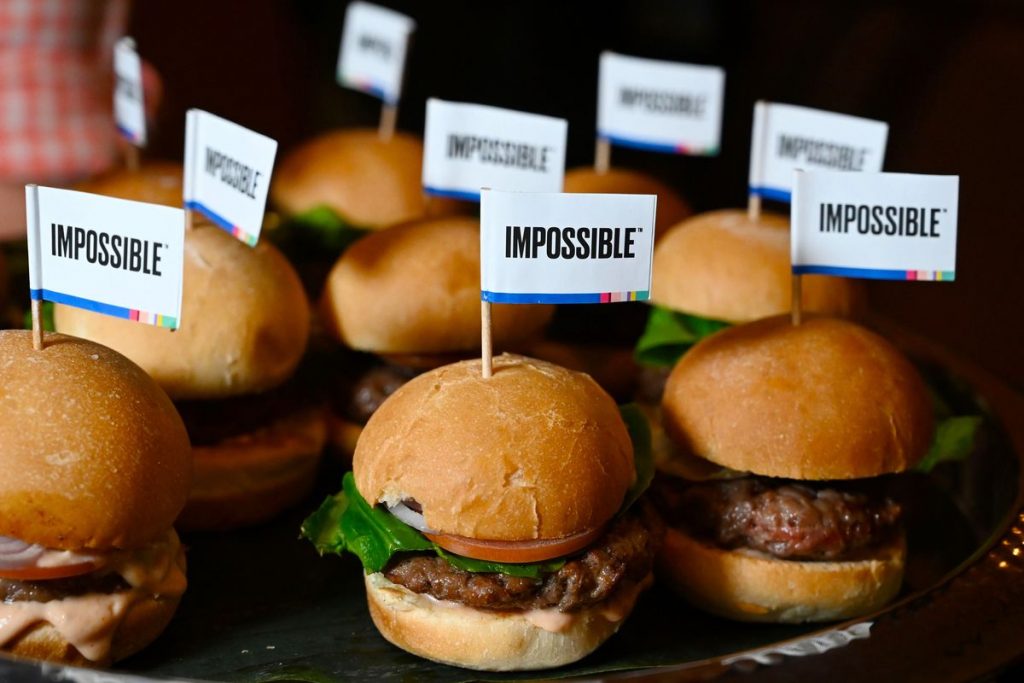 Impossible Foods are not just another vegan protein patty; they are also perfect for meat lovers who are looking to offset their meat intake, while still enjoying the flavours of beef. You'd be surprised to find out that these Impossible Food patties are filled with the same flavours you'd find in meat!
Read also: Top 5 Things To Do In Little India, Singapore