Once upon a time, lobsters were considered a meal for the poor as it was abundantly available and high in protein, making it an easy meal for them. However in today's world, lobsters have garnered quite the reputation by being one of the most sought after luxury meal in high-end restaurants.
Lobsters are well-known for their juicy flesh and the only way to have it is to have it fresh. If you've got a lobster craving, let us break down the Top 10 Best Lobster Places in KL & PJ Every Seafood Lover Must Try to get your craving fixed in more ways than you can imagine.
1. Kay Steak & Lobster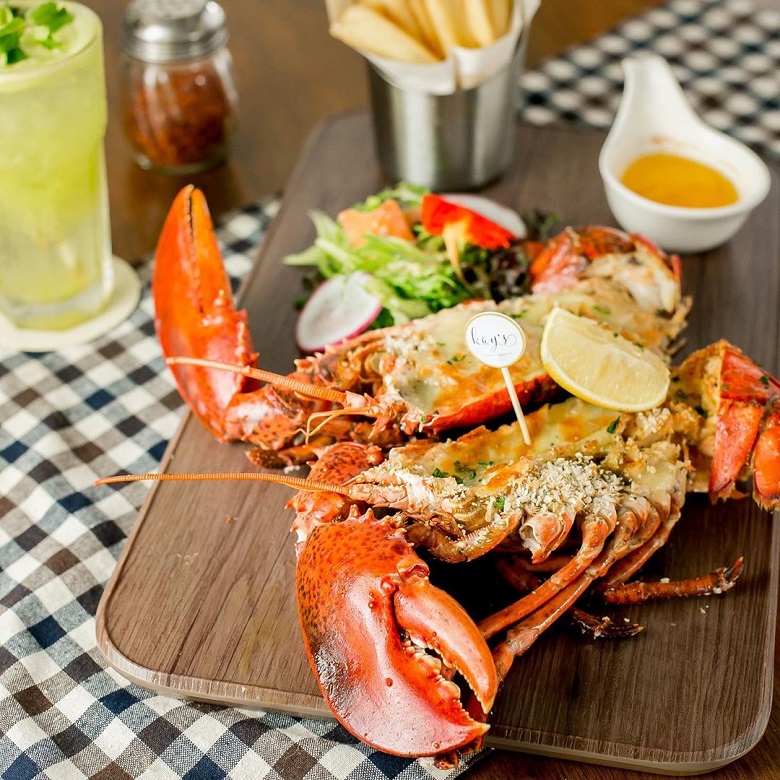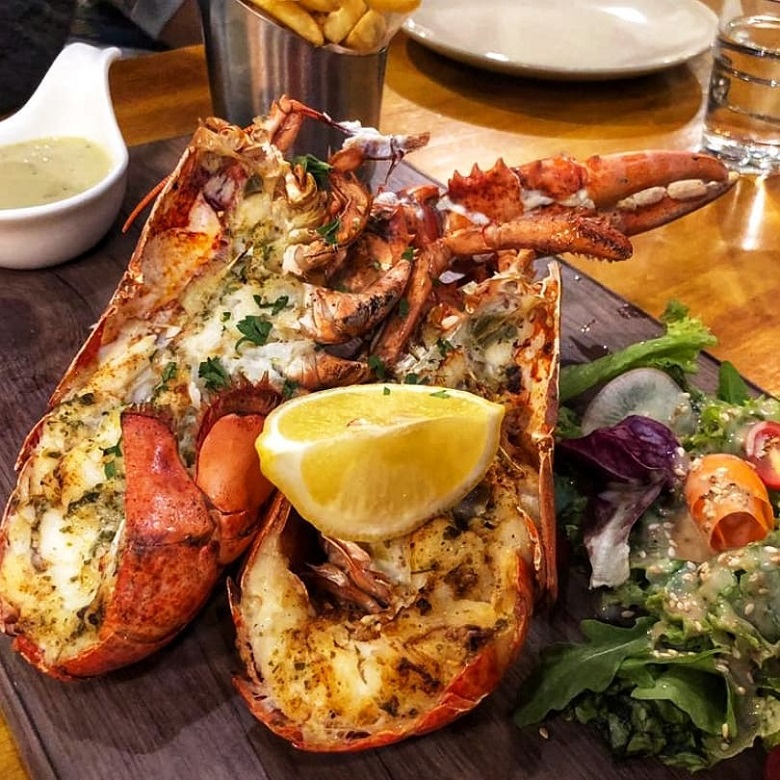 The name of this place is an obvious giveaway of their signature food item. Their seafood is freshly flown and served in three flavours. Alternatively, the classic lobster roll is also a good selection. Juicy chunks of delicious lobster meat served in a toasted bun sounds heavenly. You can never go wrong with a classic lobster roll as it's simple and yet so tasteful. Pay them a visit to give your taste buds a treat!
Address: 12A-G Jalan Putra Mahkota 7/6B, Putra Heights, Subang Jaya, 47650 Selangor
Operating Hours: 5pm – 10pm (Mon-Fri), 1pm – 10pm (Sat-Sun)
2. Red Lobster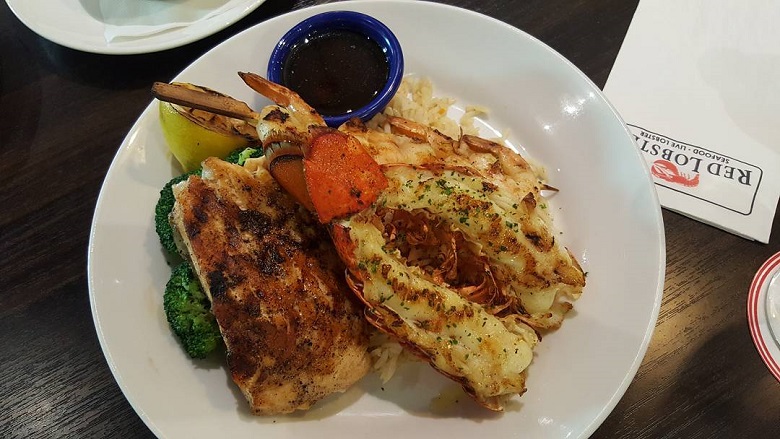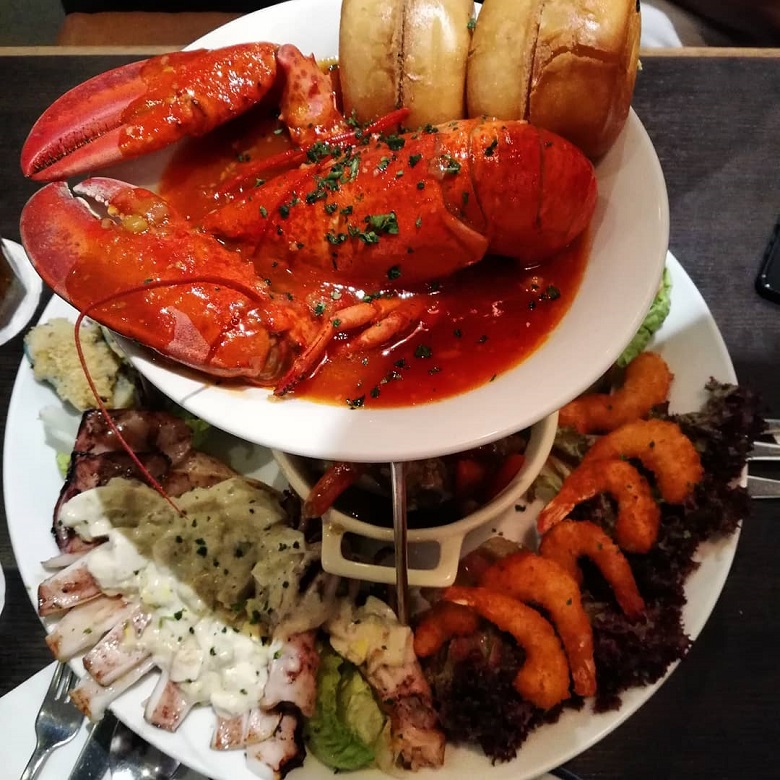 What started as a single, family-owned restaurant in Lakeland, Florida is now an International company in 9 different countries including Malaysia. Just like their massive reputation, you're spoilt for choices with their extensive lobster dishes. Lobsters are served as starters, soups, mains, and even combos. They serve their signature whole lobsters in 4 types or paired with either the seafood option or the meat option. There's also lobster pizza or even better, get the Lobster & Shrimp Mac N Cheese. The cheesy goodness paired with delicious chunks of lobster is a sin worth committing.
Address: The Curve, G88, Ground Floor, Jalan PJU 7/3, Mutiara Damansara, 47810, Petaling Jaya, Selangor
Operating Hours: 11am – 10pm (Daily)
Address: Quill City Mall, G-01 & 02, Ground Floor, Quill City Mall, Jalan Sultan Ismail, 55100 Kuala Lumpur
Operating Hours: 10am – 11pm (Sun-Thurs); 10am -12am (Fri, Sat & Eve of Public Holidays)
Address: AEON Mall Shah Alam, G-08 & G-09, 1, Jalan Akuatik 16/64, Seksyen 13, 40100 Shah Alam, Selangor
Operating Hours: 10am – 10pm (Sun-Thurs); 10am – 10.30pm (Fri-Sat)
3. Caffeinees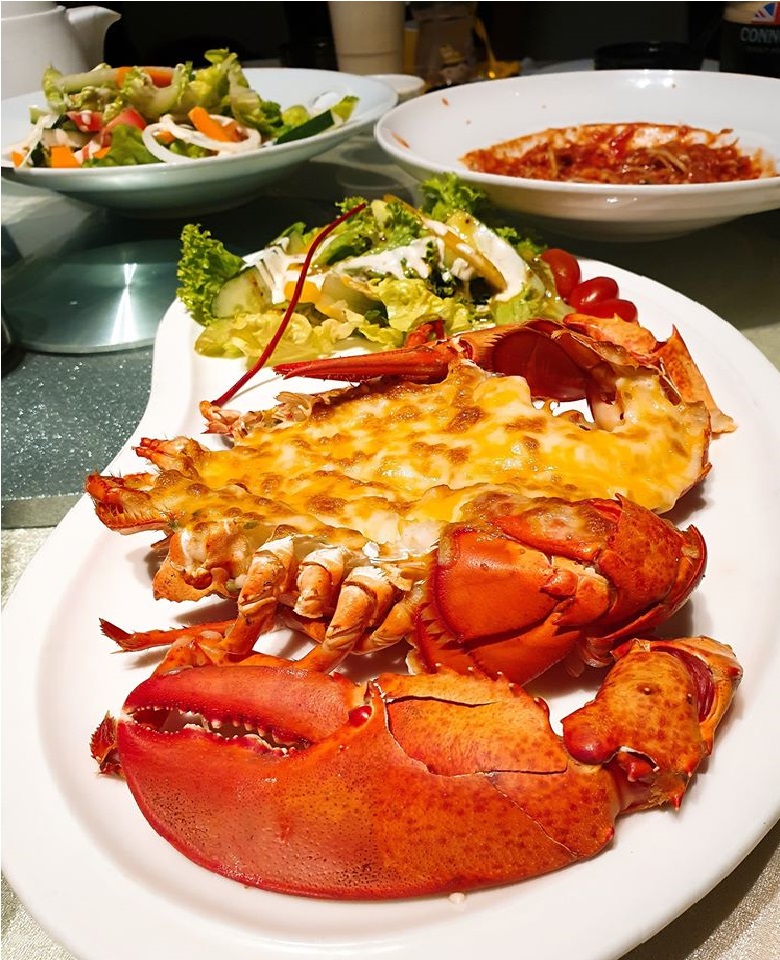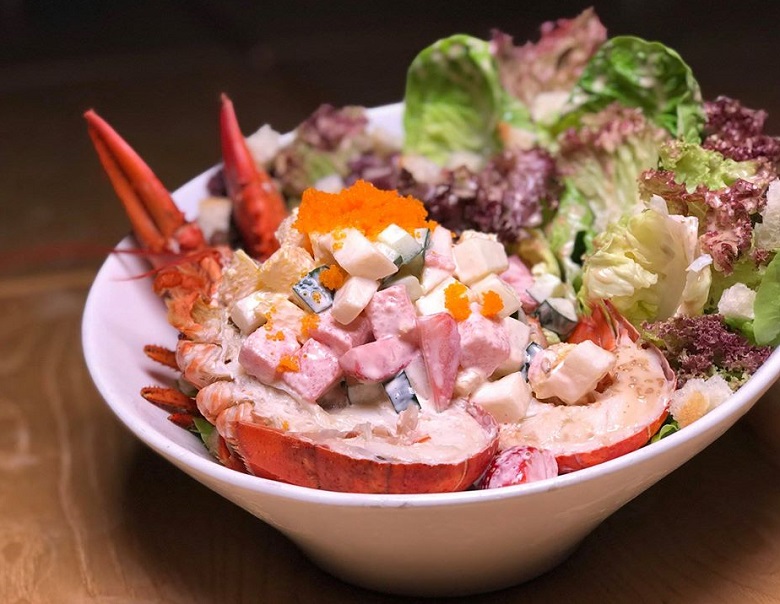 Started out as a humble coffee joint in 2006 is now a successful cafe restaurant. It's unique for its cosy garden ambiance and the vast array of the menu. The lobster choices themselves are overwhelmingly varied. Their giant lobsters should be booked 2 days prior and it's subject to availability. For their whole lobsters, there are 8 different flavours available and they also offer half lobster with your choice of sides. If you're a pasta person, then you can try the Lobster Pasta in 4 different flavours. Finally, there's the Lobster Mountain Dish that is best shared with a large group.
Address: 16, Jalan Kampung Pandan, 55000 Kuala Lumpur
Operating Hours: 10am – 3am (Sun-Thurs); 10am – 4am (Fri-Sat)
4. Naughty Babe Dirty Duck (Non Halal)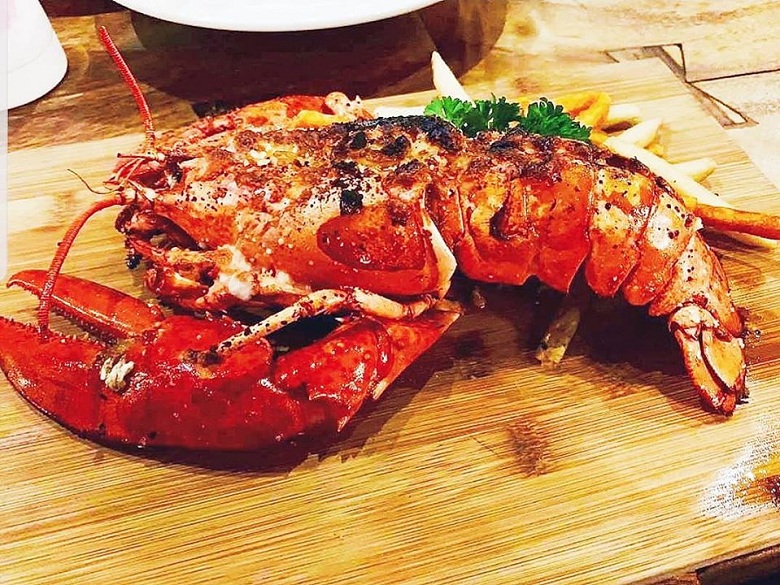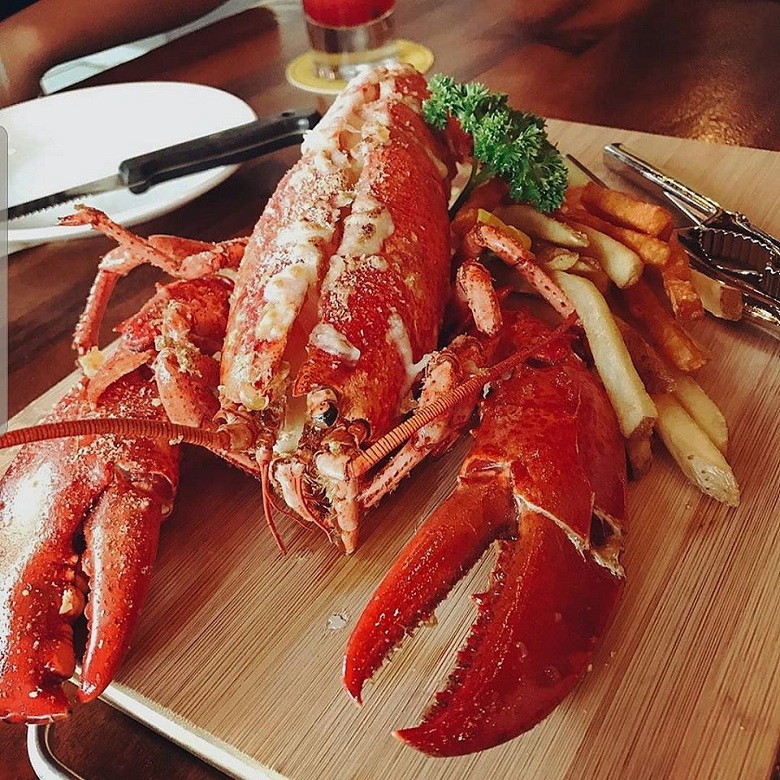 This casual European fusion restaurant is popular for its pork and duck dishes thanks to the obvious giveaway of their name. However, we've also got another rising star to acknowledge and that is their lobsters. They serve whole lobsters in two styles and also baby lobsters. A pasta option is also available by tasting their flavourful lobster accompanied by squid ink pasta. All these choices will get you to make frequent trips to ensure you've tried them all.
Address: Desa Sri Hartamas 42, Jalan 25/70A, Desa Sri Hartamas, Kuala Lumpur
Operating Hours: 12pm -12am, daily
Address: Waterfront @ Desa ParkCity FF-21, First Floor, The Waterfront @ Parkcity, No.5 Persiaran Residen, Desa Park City, Kuala Lumpur
Operating Hours: 10am – 11pm, daily
5. The Lobsterman Homarus Americanus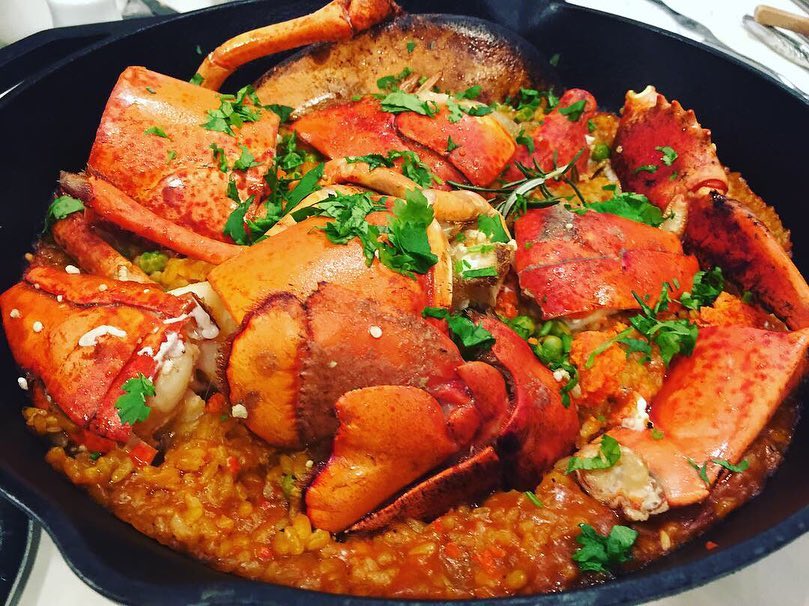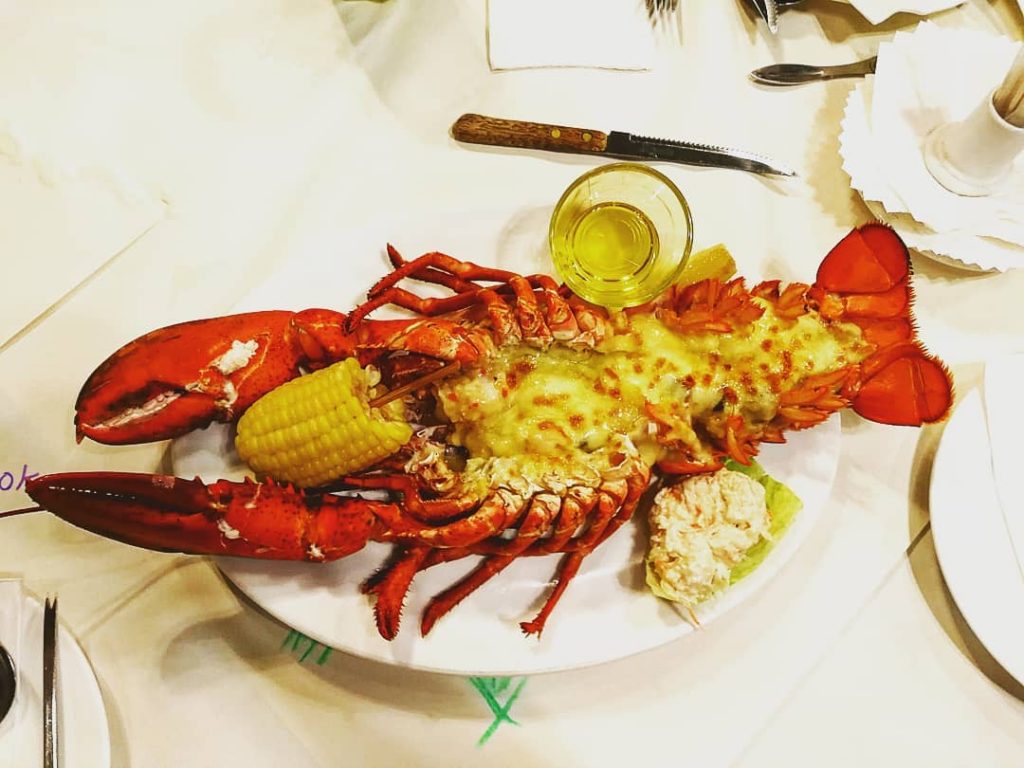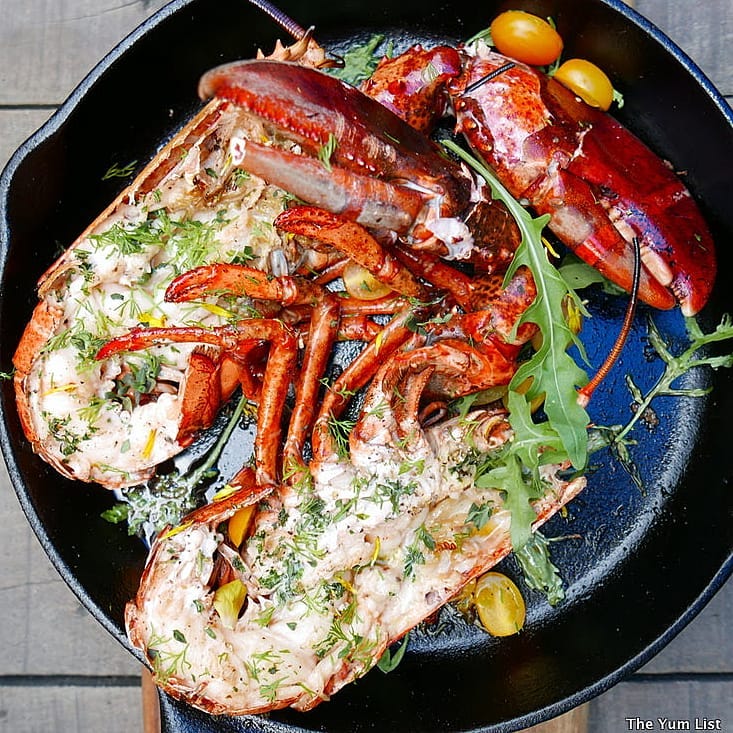 The Lobsterman is one of the pioneers of lobster specialty restaurant in Malaysia founded in 2001. Located in SS2, they only use Homarus Americanus lobster which is easily identified with their signature gigantic claws. Lobsters are priced according to weight from 550g, 800g and 900g. The best part about Lobsterman is you can have it prepared in many different styles. For instance, Japanese (soup or sashimi), American (charboiled or stuffed), French (with tarragon and butter, baked) local Malaysian style (porridge, braised yee mee, steamed, XO sauce and more), Indian (curry), Thai (Tom Yam) and lots more.
Address: 53, Jalan SS2/30, 47300 Petaling Jaya
Operating Hours: 11.30am – 2.30pm, 5.30pm – 10.30pm (Closed on Mondays)
6. Southern Rock Seafood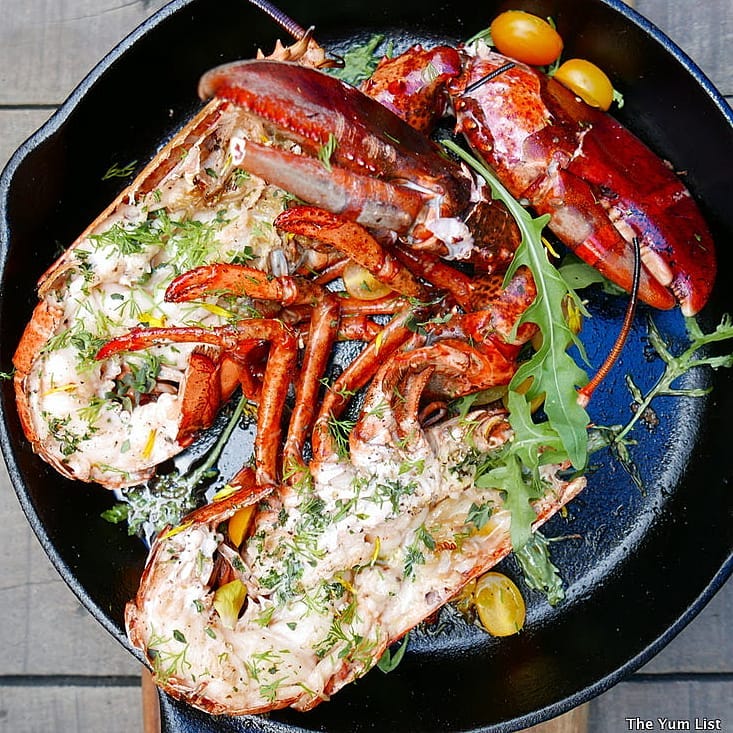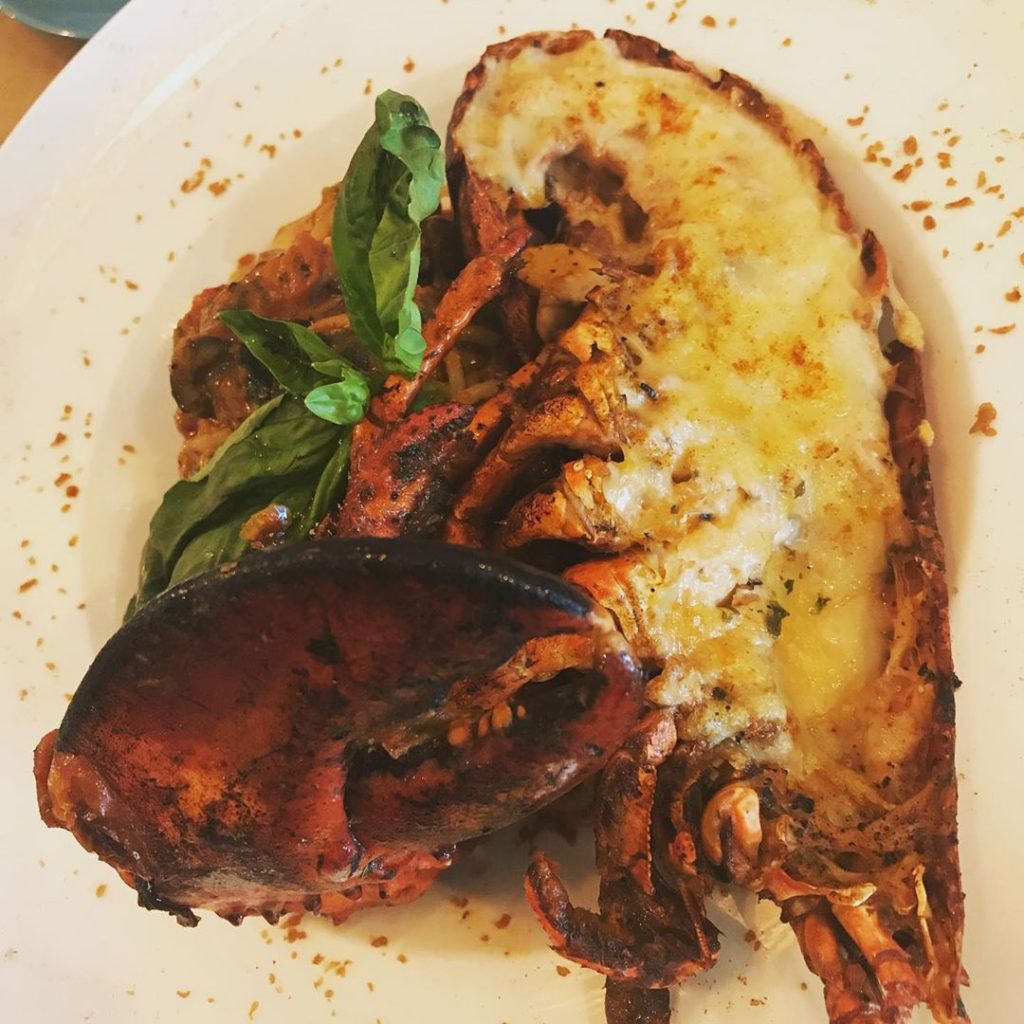 Southern Rock Seafood has been operating for more than 12 years, and it's easy to see why. The restaurant was founded by an Adelaide native who saw a market in KL for importing high-quality fresh seafood from Australia. They've got quite a seafood selection, such as oyster, petuna ocean trout and Atlantic salmon, lobster and more. There are four cooking methods for you to choose from – Thermidor (Classic Stuffed & Parmesan Topped), Grilled (with red pesto sauce), Steamed or served it cold. Regardless which method you pick, you can truly savor the freshness and sweetness of the lobster meat minus the frills.
Address: 32-36, Jalan Kemuja, Bangsar, 59000 Kuala Lumpur
Opening Hours: 11am – 10pm, Daily
7. Lobbee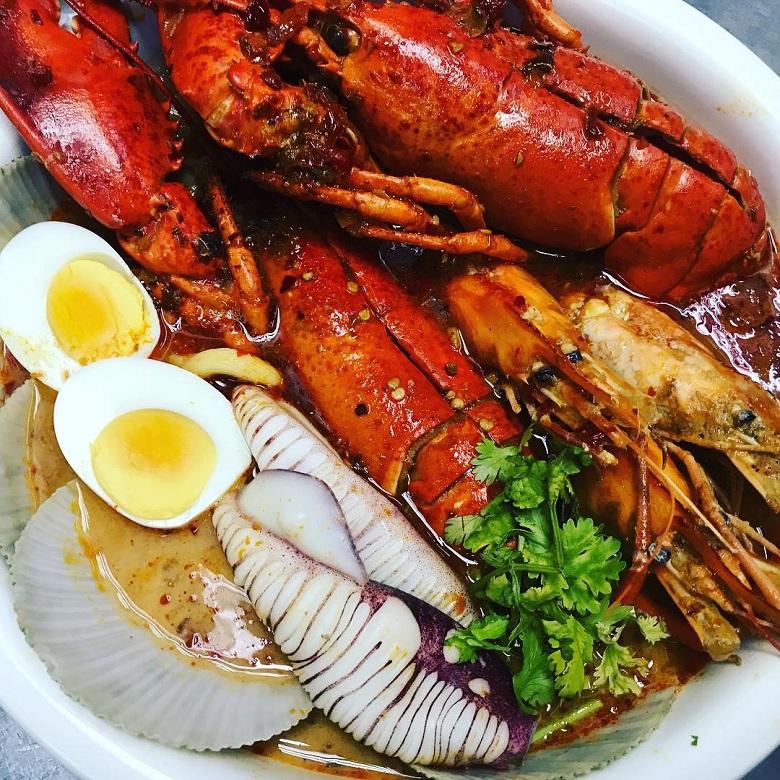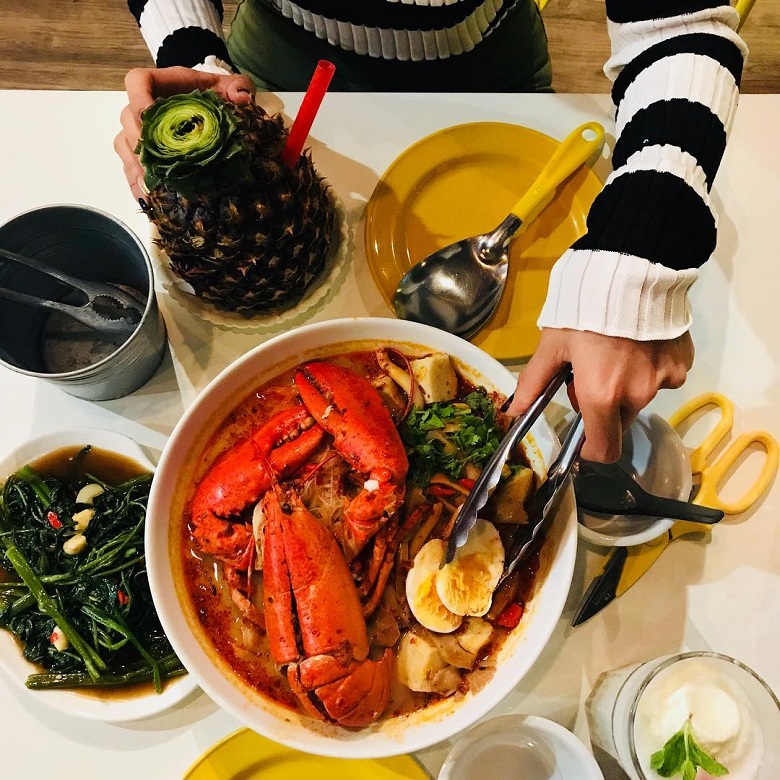 With everyone competing to offer the best Lobster dish, Lobbee takes the high road and comes up with a dish that hits you right at home with the familiar flavours of Thailand's iconic dish, Tom Yum Soups. The Lobster Combo Noodle is served with a Boston Lobster cooked to perfection and is paired with your choice of carbs – Thai Instant Noodles, Rice Vermicelli, Kuay Teow, Bread Flat Rice Noodles and Steamed Rice. One dish but so many good memories. Add this experience to your memories by stopping by for this hearty dish.
Address: Empire Damansara, LG-07, Empire Damansara, Jalan PJU 8/8A, Damansara Perdana, 47820 PJ, Selangor.
Operating Hours: 11.30am – 9.30pm, close on Mondays
Address: Publika, D2.G3.3A, Ground Floor, Block D2, Publika, Solaris Dutamas, 1, Jalan Dutamas, 50480 Kuala Lumpur
Operating Hours: 11.30 am – 9.30 pm: Tuesday – Sunday (Closed on Mondays)
8. Fierce Curry House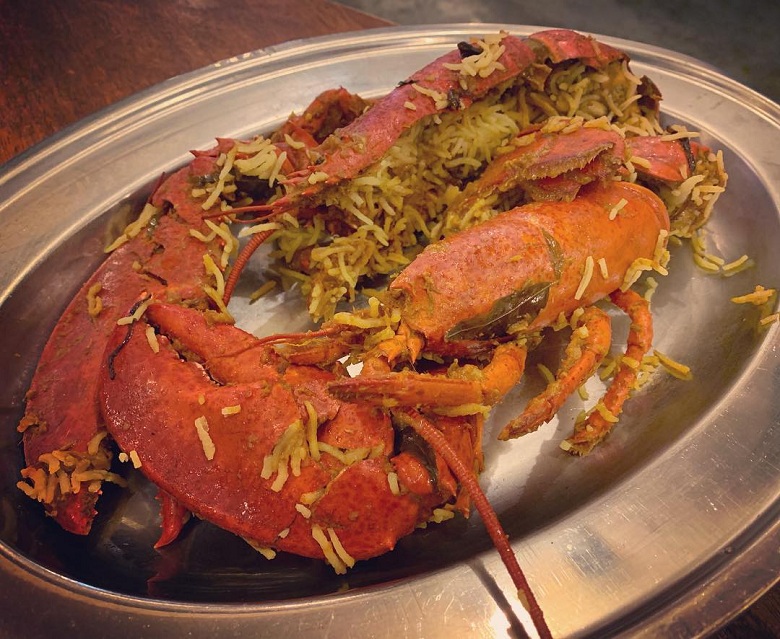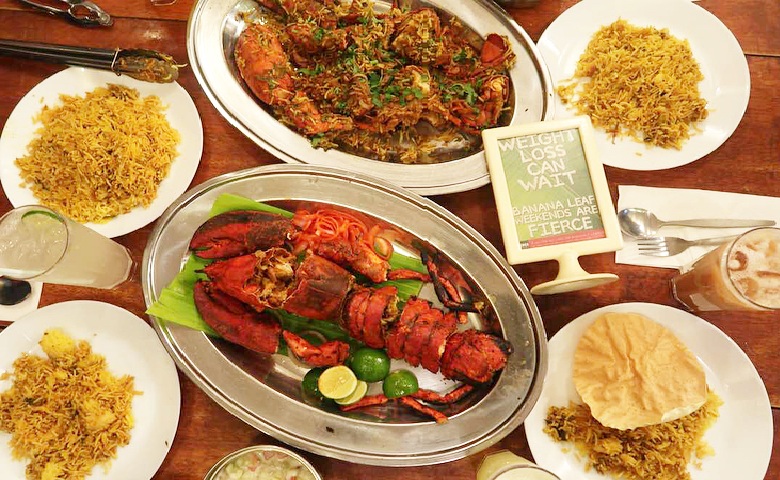 You've seen Western and you've seen Thai. Now, let's make way for the Indians and applaud their creativity in highlighting their signature dish with this popular bad boy, Lobsters! Introducing the Lobster Briyani because almost anything goes well with rice. This dish has to be reserved 24 hours prior so that the lobsters are freshly prepared to achieve its succulent taste. The star of the dish is the lobster and therefore the rice does not overpower it making it the perfect combination of an ideal briyani.
Address: 16, Jalan Kemuja, Bangsar, 59000 Kuala Lumpur.
Operating Hours: 12pm – 10pm
9. Lemon Garden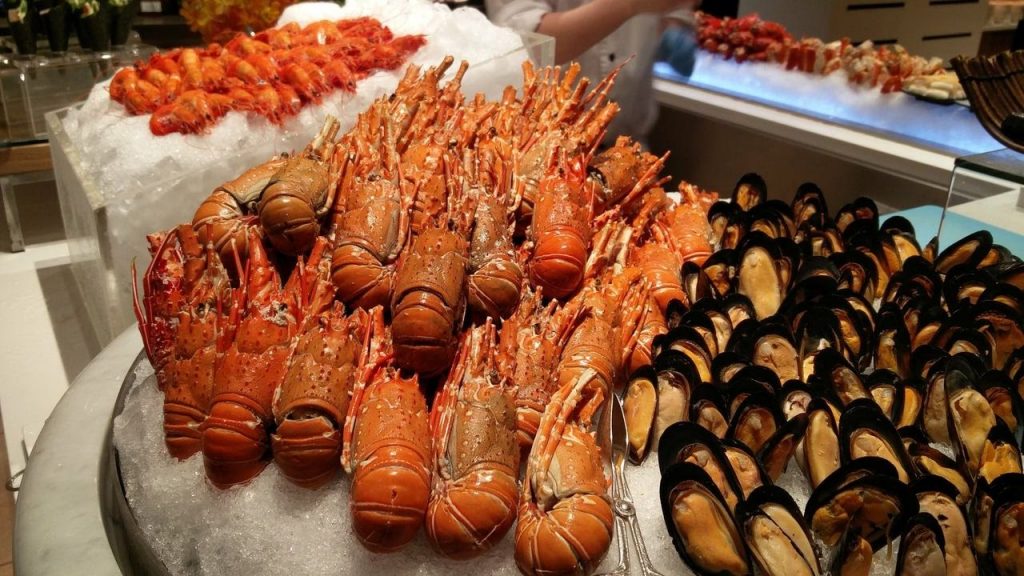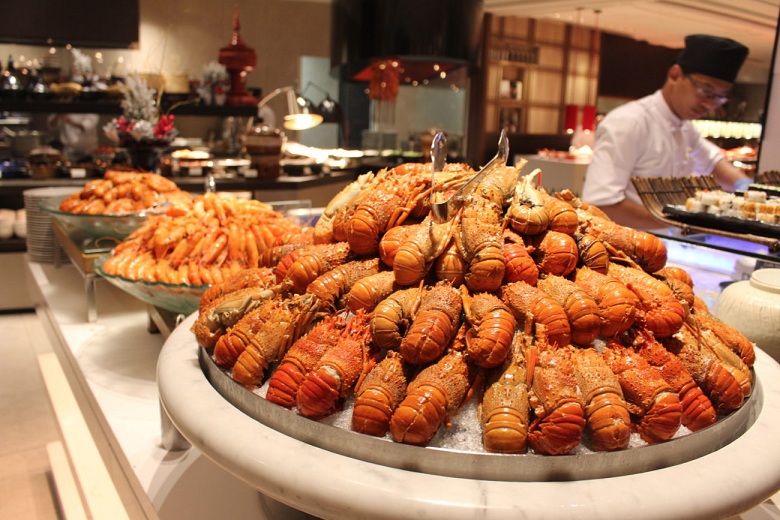 Located in the Shangri-La Hotel, this restaurant serves the ultimate buffet spread for any occasion. Be it breakfast, lunch, hi-tea or dinner, you're in for an absolute treat. From Asian to Western, to desserts, the buffet spread is endless and we only wish that we could sample it all. Exciting news for Seafood lovers is to check out the amazing fresh seafood buffet that serves huge lobsters, prawns fresh mussels and oysters. The Seafood Night Buffet is only available on Friday and Saturday night, so make sure you quickly make that reservation for the extravagant gastronomical affair.
Address: Lobby Level 11, Jalan Sultan Ismail, 50250 Kuala Lumpur
Available for:
Dinner, daily – from 6pm to 10pm.
RM158 nett per person.
Lunch, Friday to Sunday only – from 12pm to 3pm.
RM128 nett per person.
10. Ombak Kitchen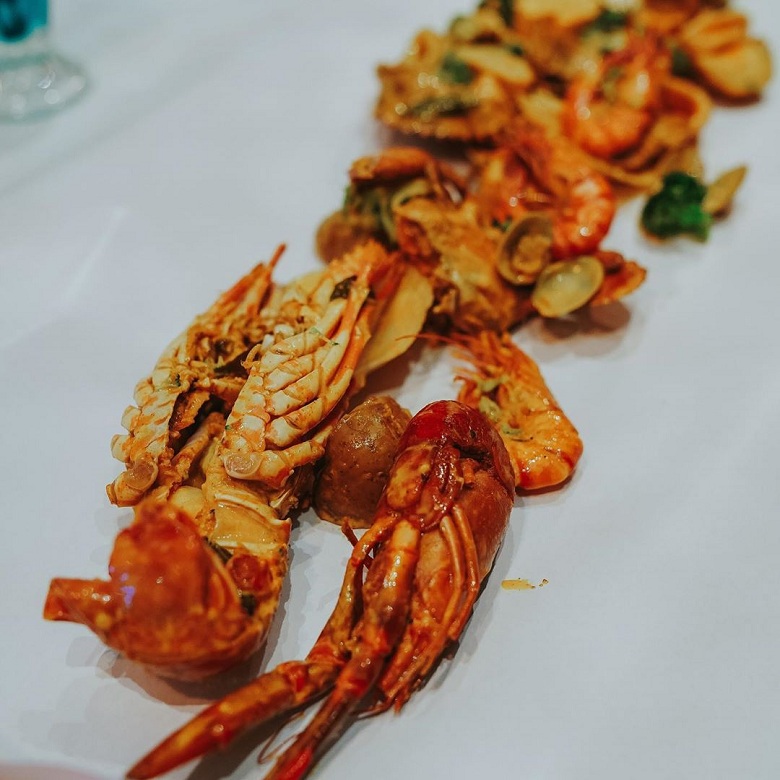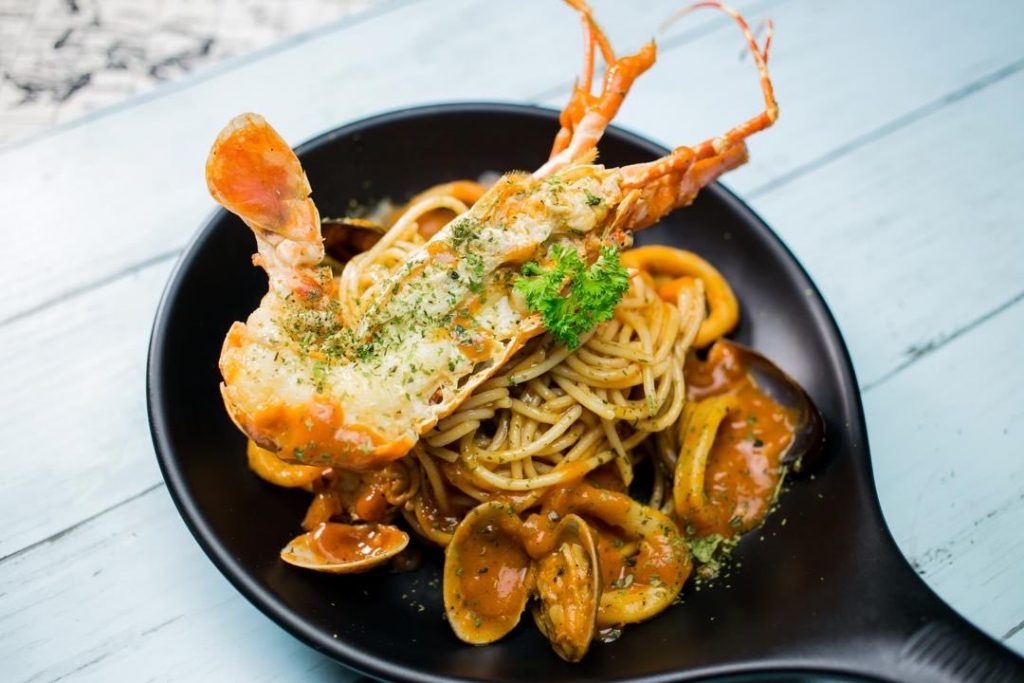 Last but not least, this joint encourages their patronage to enjoy their food the only way best, with their hands. You can sample their lobsters as the main dish or pair it with your choice of sides. Of course, they serve seafood platters but there's also the option of enjoying the seafood a la carte such as to pair with pasta. The combo and a la carte option are served in 5 different sauces. Also, did I mention that you can choose between 2 different lobsters? You can either choose the Canadian Lobster or the Rock Lobster. And regardless of your choice, the cooks will prepare it to your utmost satisfaction. 
Address: Bukit Jelutong, NO.5.G.01 D'vida Business Centre Jalan Bazar U8/100, Bukit Jelutong 40150, Shah Alam
Operating Hours: 4pm – 10.30pm (Mon-Fri), 11am – 10.30pm, (Sat-Sun & PH)
Address: Bangsar, 12, Lorong Ara Kiri 2, Lucky Garden, 59100 Kuala Lumpur
Operating Hours: 12pm – 10.30pm, Daily