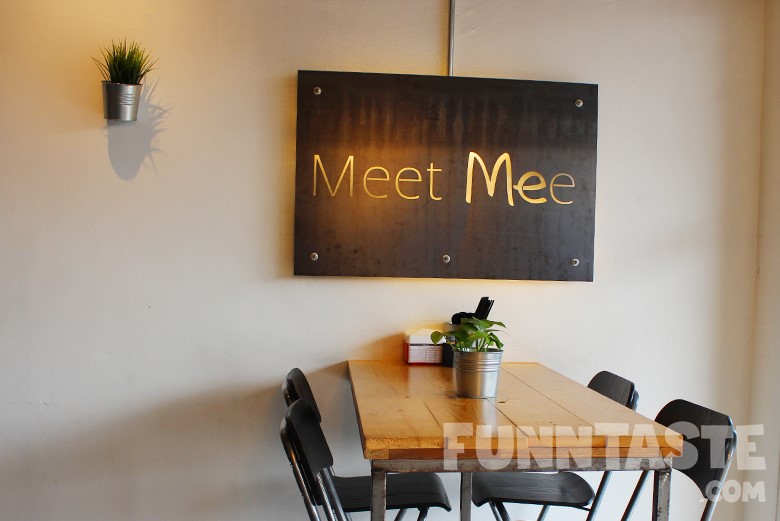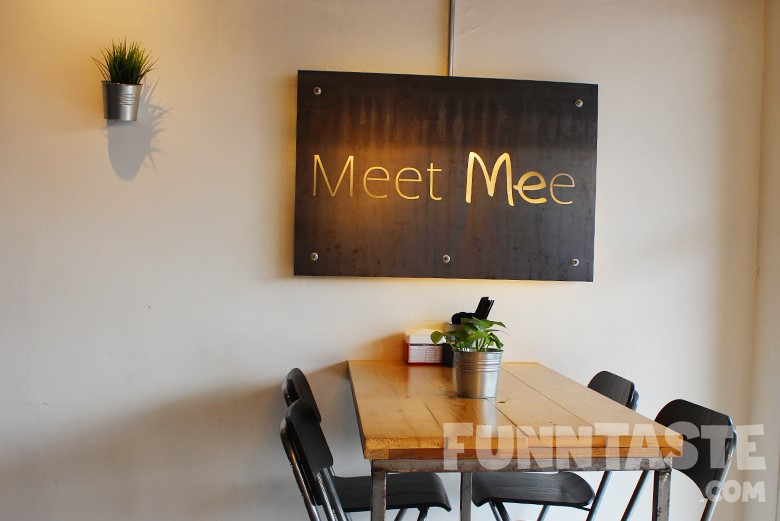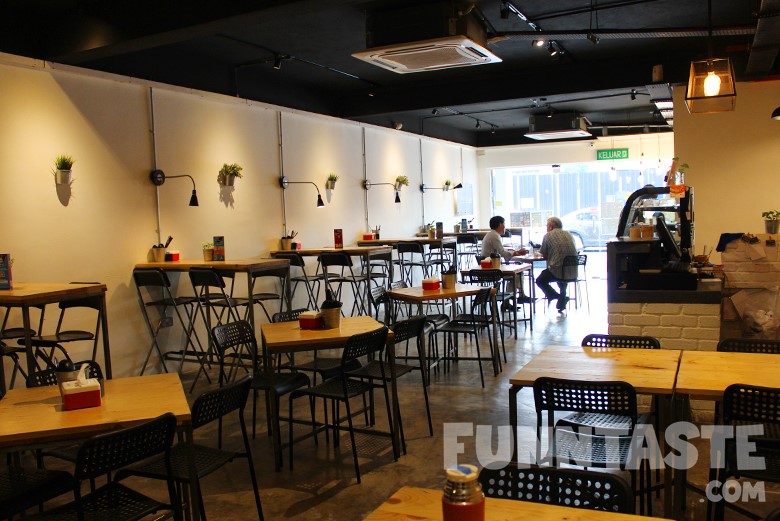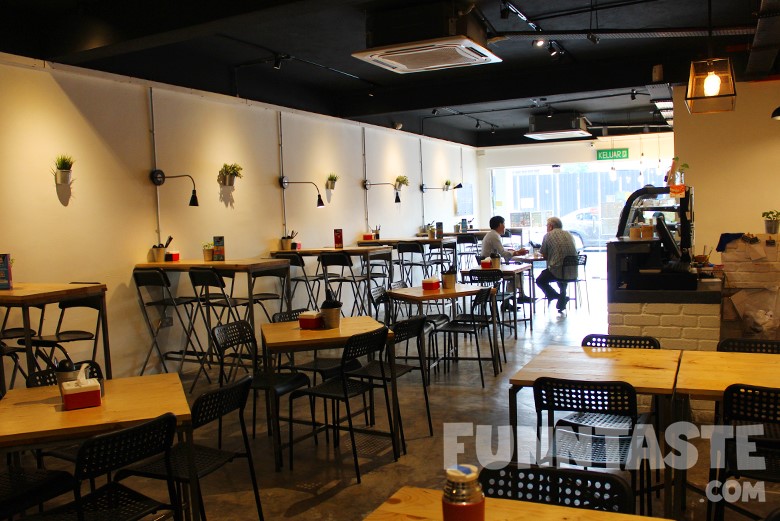 Meet Mee Noodles Café is probably the coolest traditional pan mee restaurant in the Klang Valley. This charming eatery exudes a laid back ambiance through its dark plastic chairs, wooden tables and welcoming decors.  Aside from serving pan mee, Meet Mee also incorporates cakes, coffees and an array of unconventional beverages.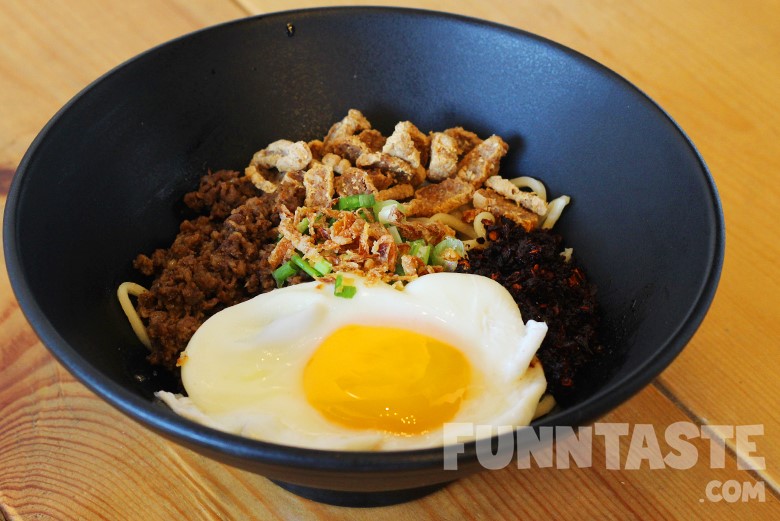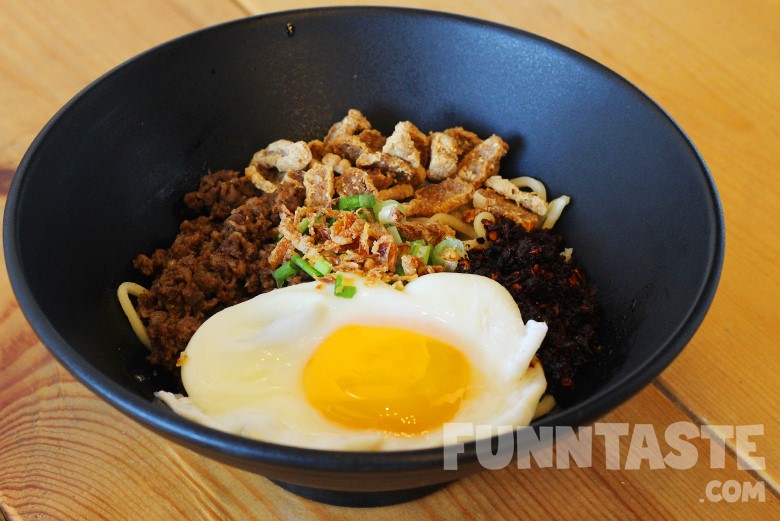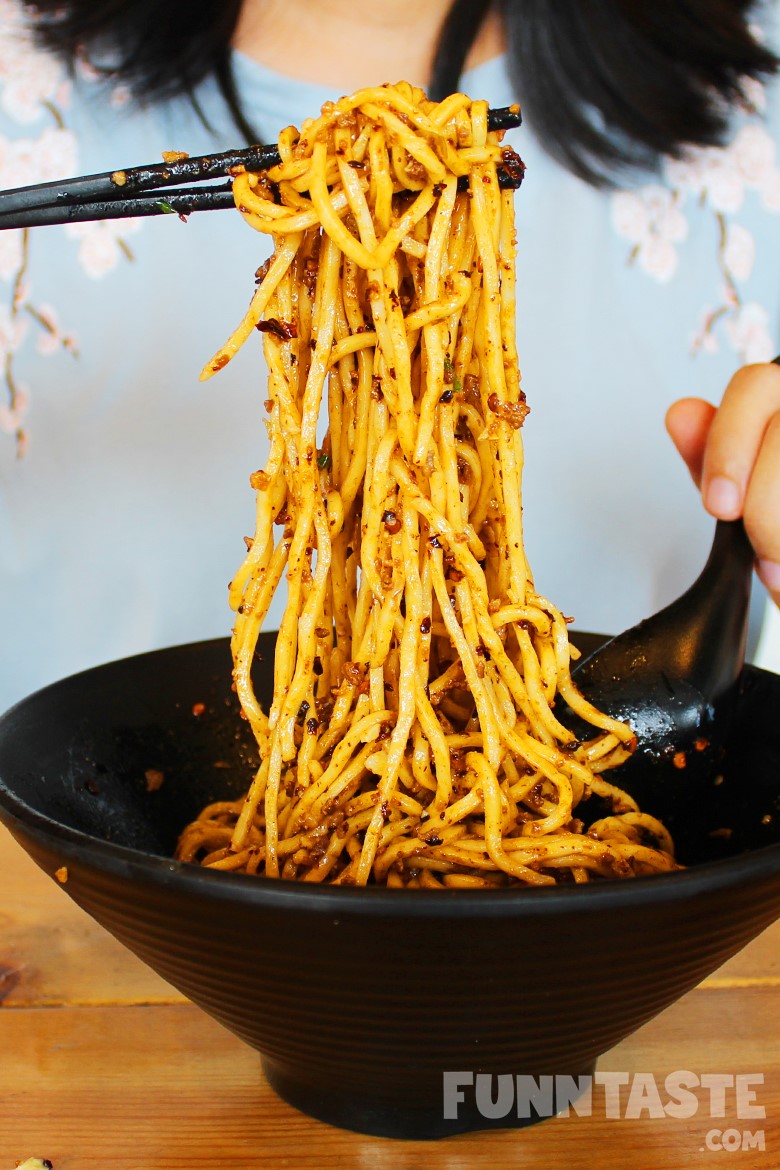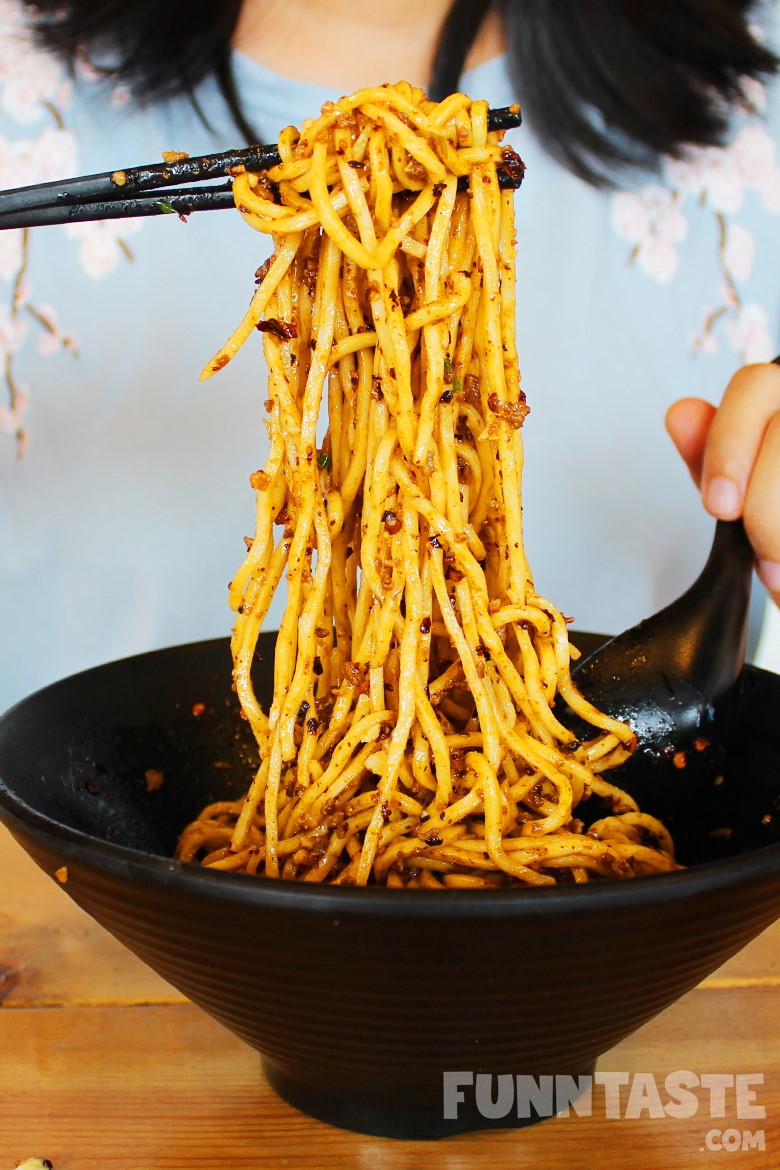 We started off with the signature Chili Pan Mee (RM8.20). The dish looked promising and tasted delicious. The handmade wheat noodles were perfectly cooked and the addition of fried fish cakes adds many interesting textures to the dish. Surprisingly, this dish was not overly spicy which gave room for more flavours on our palate.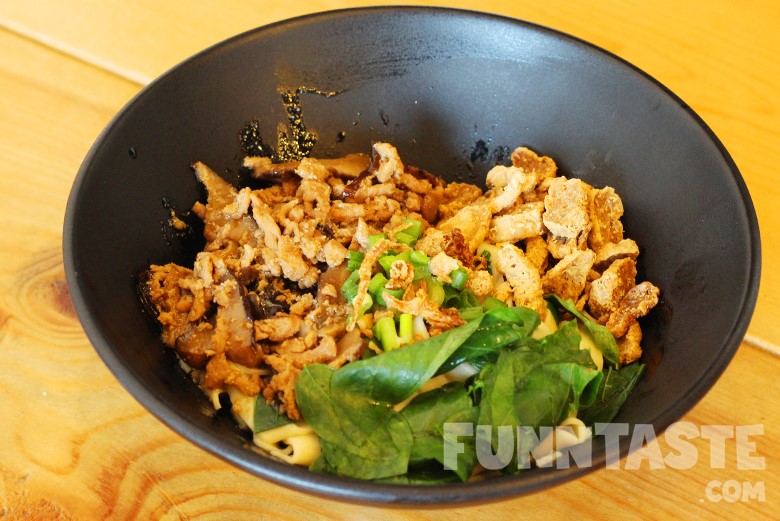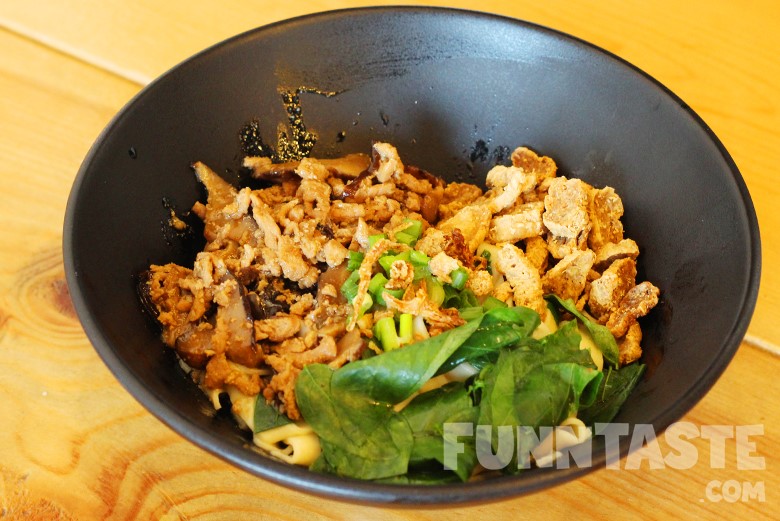 If you have really low heat tolerant you may opt for the Mushroom & Pork Pan Mee (RM8.20).  It is not spicy yet bursting with rich mushroom flavours. The mushroom fillings were pretty generous as every bite we took came with at least one slice of mushroom.
Meet Mee recently introduced two interesting dishes – Lala Pan Mee (RM13.90) and Tom Yam Pan Mee (RM17.90). We were fortunate enough to sample both.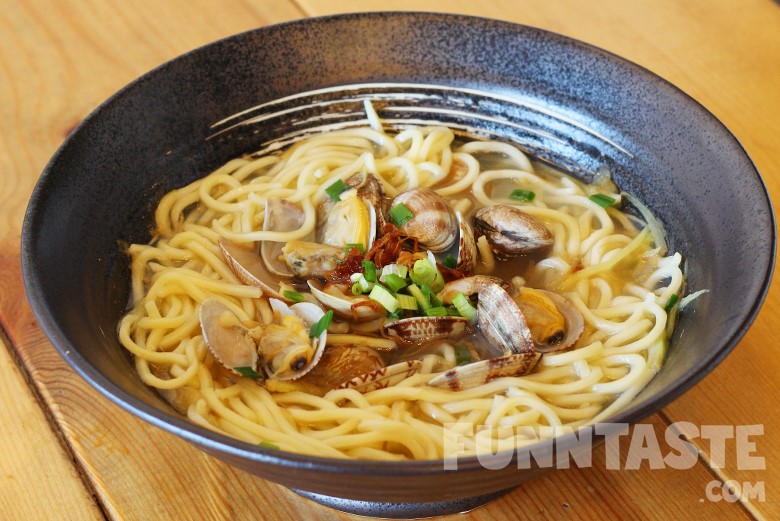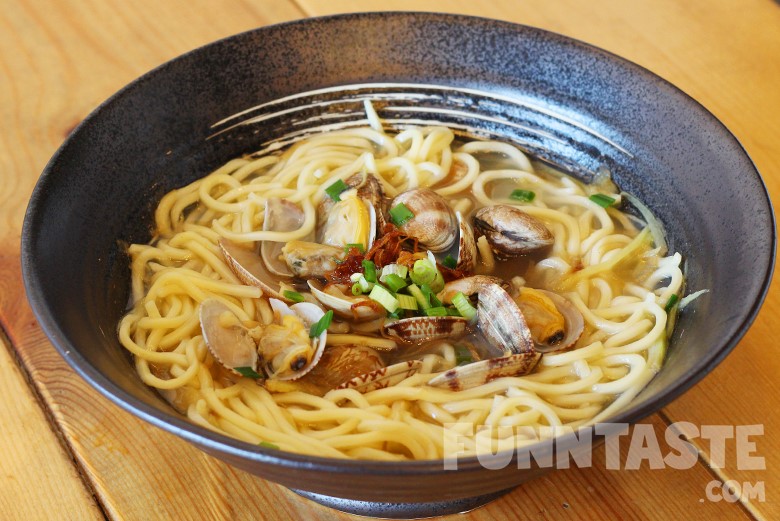 Lala Pan Mee is served with handmade noodles in ginger and wine broth, topped with generous amounts of lala. Although the broth appears light and clear, the ginger flavours were quite strong and the combination of fresh Japanese Lalas and smooth noodles managed to satisfy our heavy taste buds.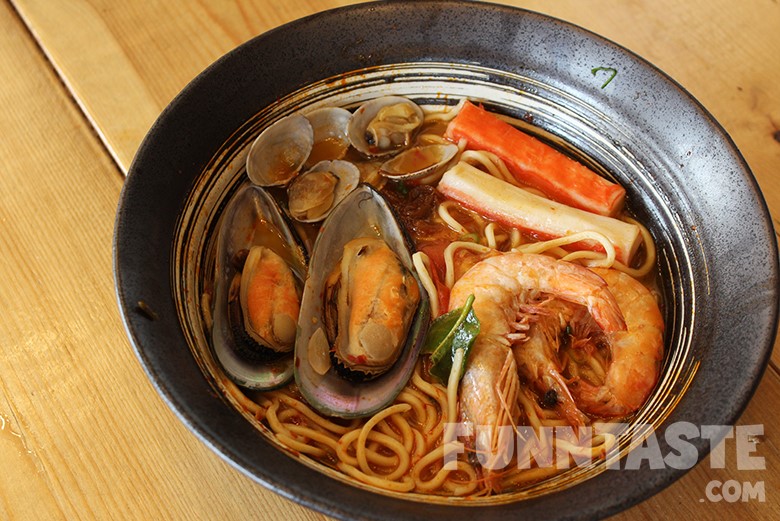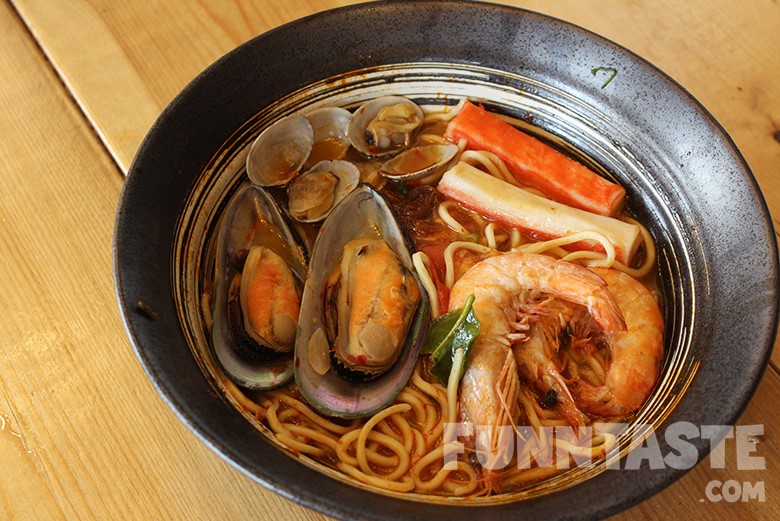 Simply put, Tom Yam Seafood Pan Mee is a MUST TRY dish when you are in Subang Jaya. The infusion of Thai and Chinese flavours was creative and absolutely fantastic. The tom yam broth compliments the handmade noodles well, the prawns, lalas and mussels was incredibly fresh. We loved that Meet Mee were generous with their seafood, the prawns in particular was quite big and satisfying.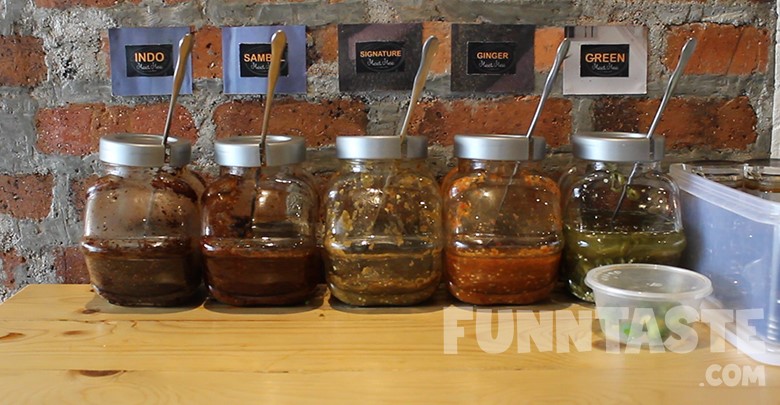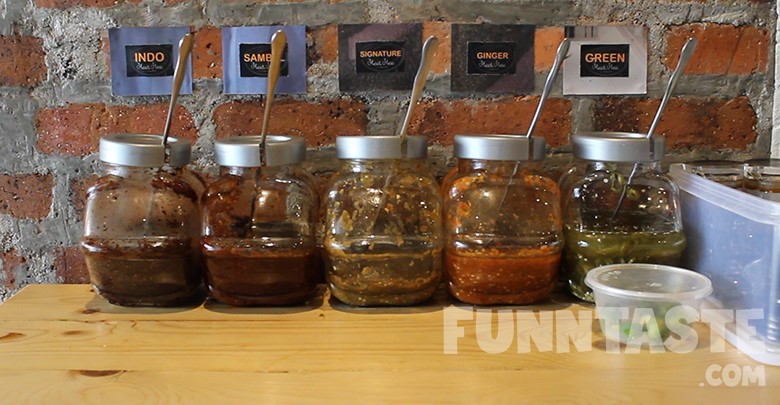 What stood out Meet Mee from the rest is their wide selection of chilli – Indo, Sambal, Signature, Ginger and Green.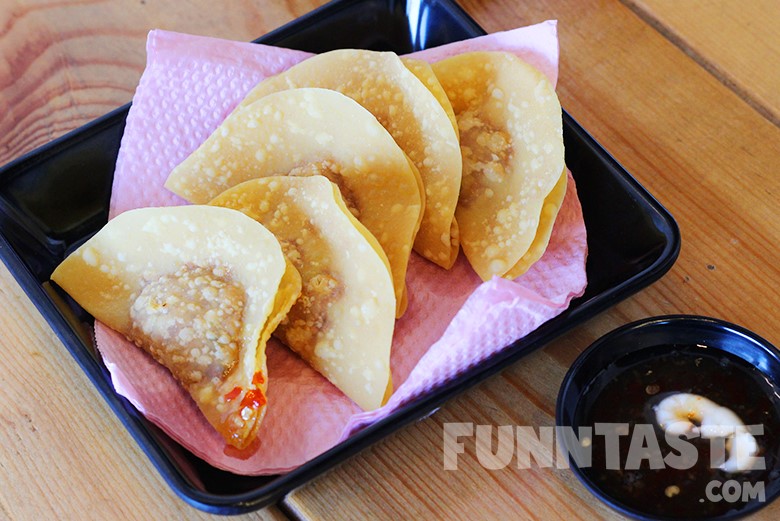 Traditional Fried Dumpling (RM6.20)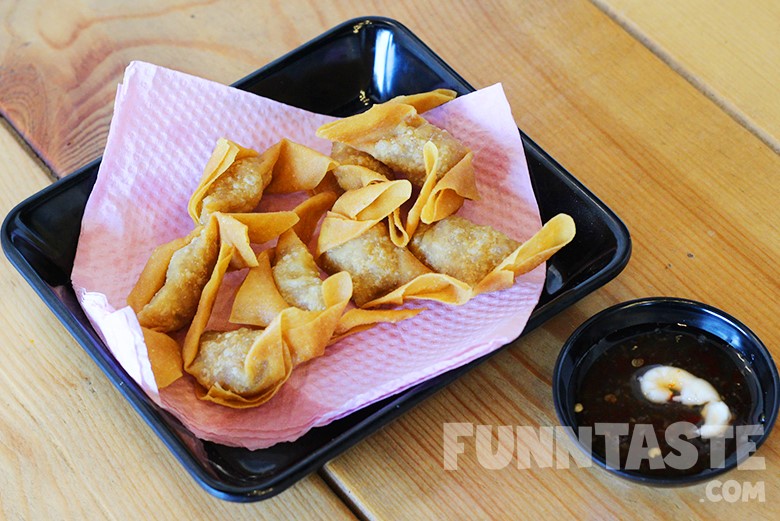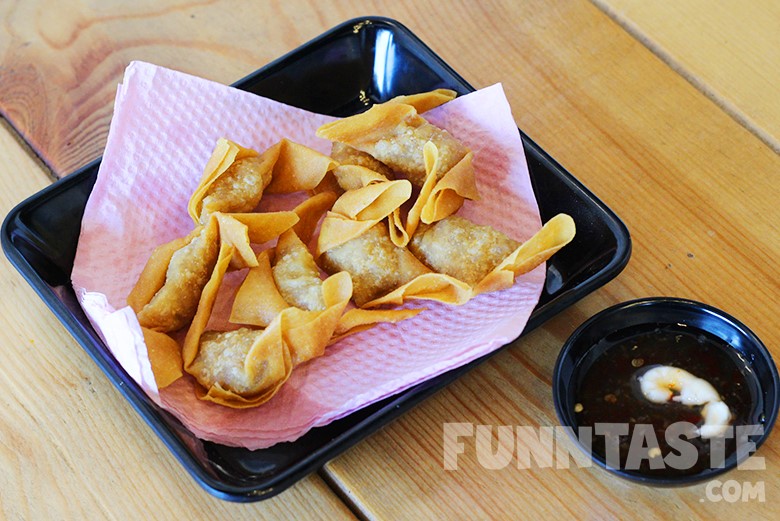 Fried Pork Wantan (RM4.80)
There is nothing much to shout about as dumplings and wantan always make great snacks in pan mee restaurants.
As mentioned above, Meet Mee also offers a plethora of café-like delicacies ranging from cakes, coffee, tea and many interesting drinks.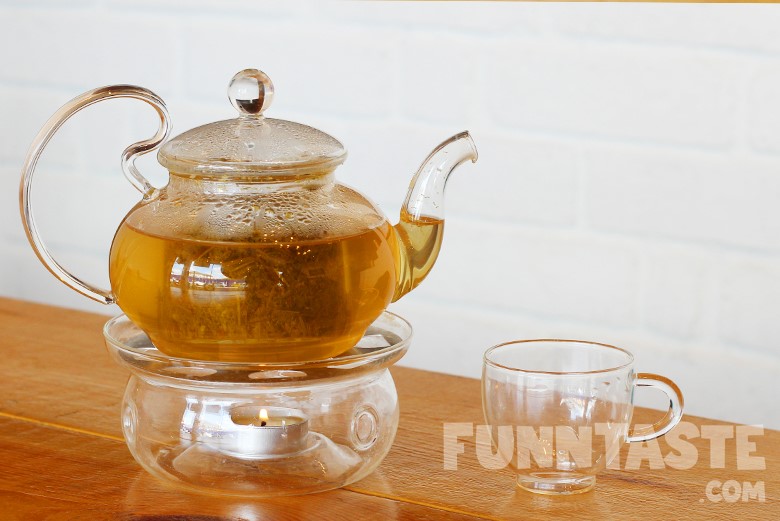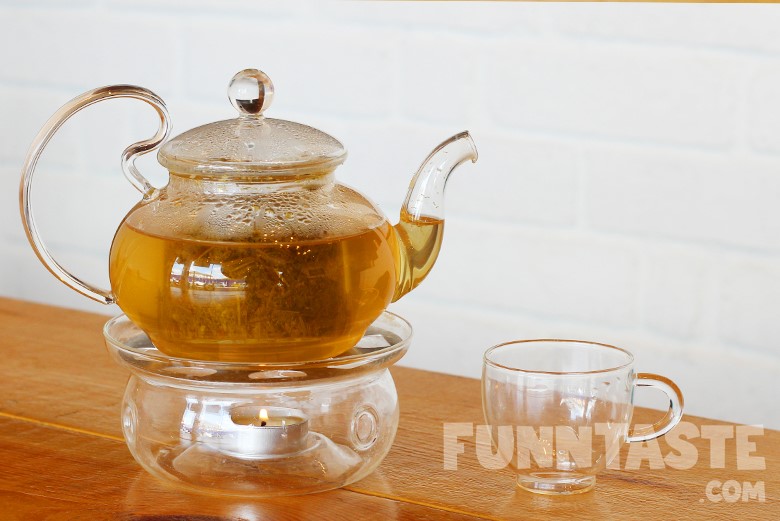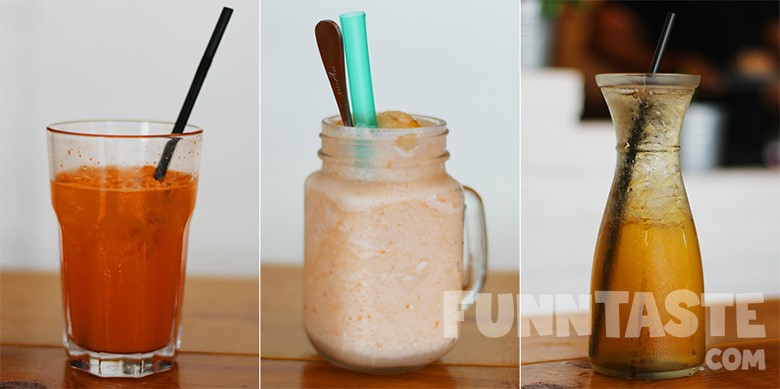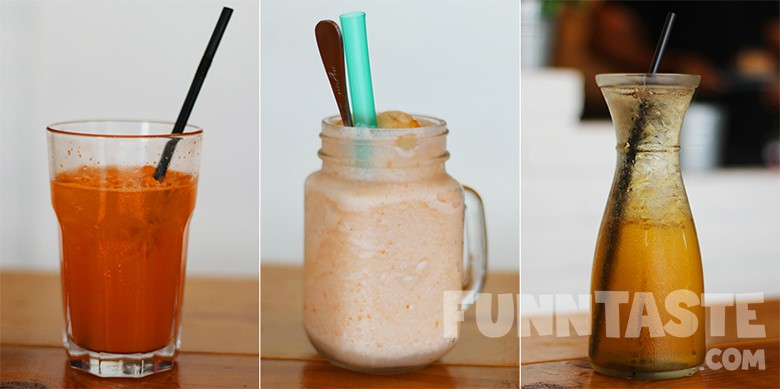 We had a number of these interesting drinks – Rose + Jasmine (RM12.90), Carrot (RM5.20), Lycheelicious (RM8.20) and Jasmine Green Tea (RM3.80). While all drinks were decent, the Lycheelicious in particular stood out! The lychee fruits were fresh and the drink was pretty enjoyable.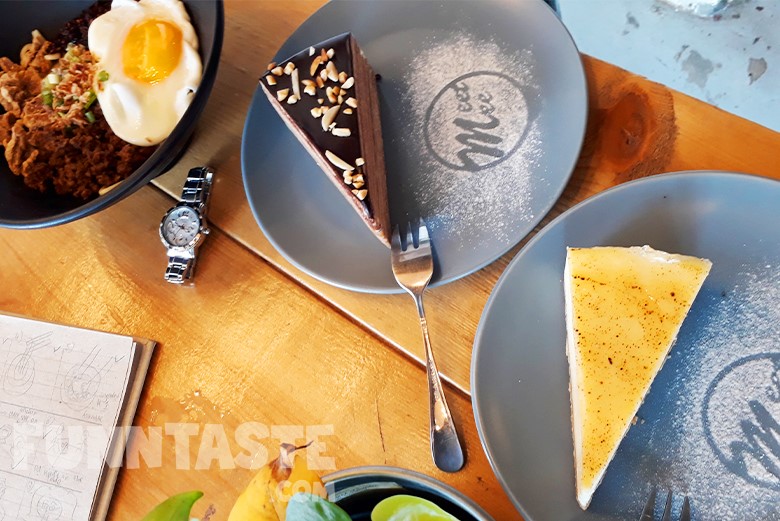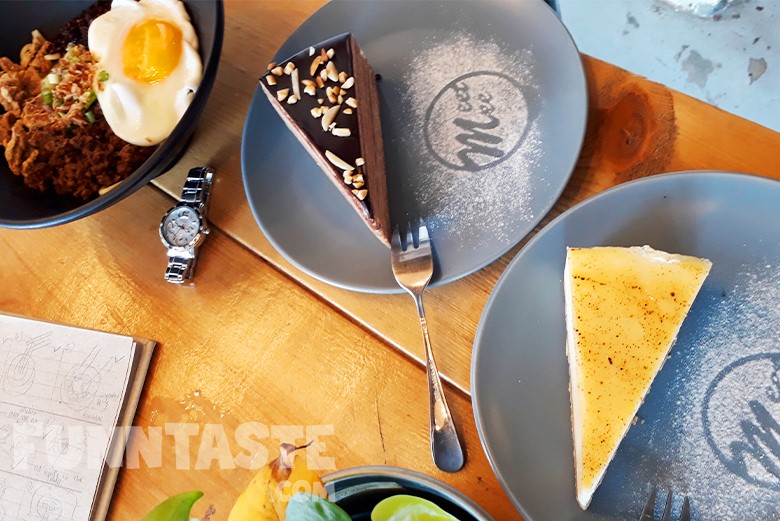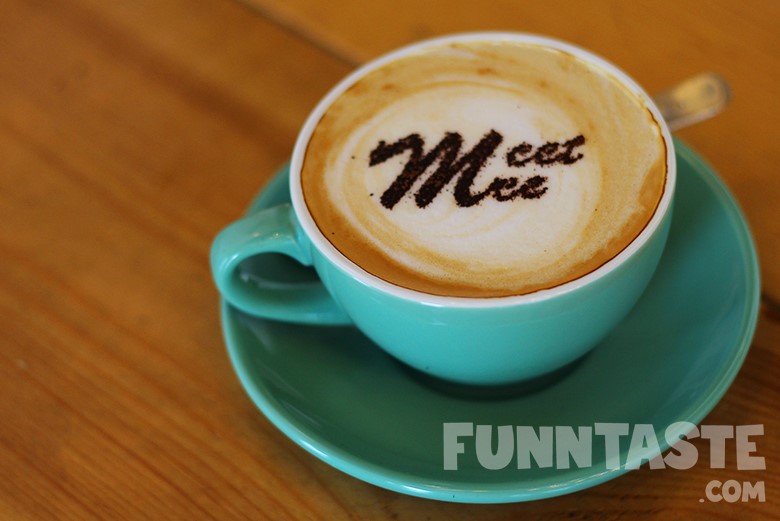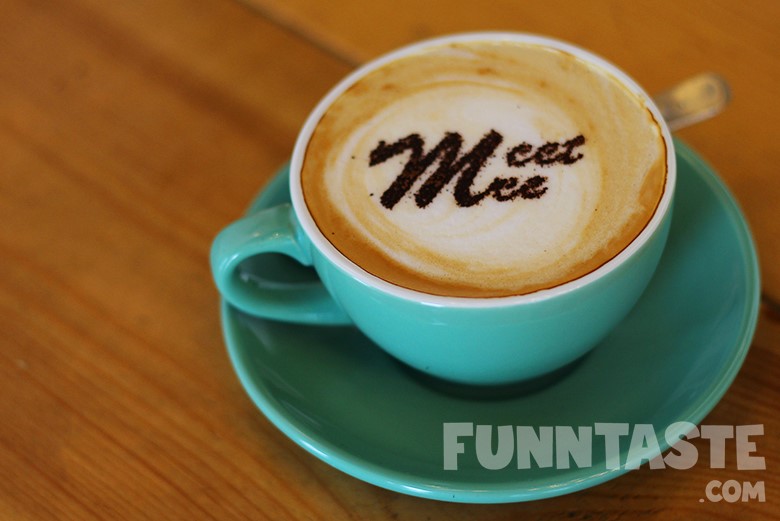 For those with a sweet tooth, you might be interested with Meet Mee's cakes offering –  Chocolate Peanut Butter Mille Crepe (RM12) and Japanese Cheese (RM9), paired with a good cup of Latte (RM7).
Verdict
Our dining experience at Meet Mee was indeed pleasant. The food was great and the ambiance is welcoming. It's certainly not your average pan mee restaurant as there are many café-like elements implemented. From the interesting drinks to cakes and coffee, Meet Mee has something for almost everyone.
This article is written in collaboration with Meet Mee Noodle Café, SS15 Subang Jaya.
More Info
Meet Mee Noodles Cafe
41, Jalan SS 15/8a, Ss 15,
Subang Jaya
Cuisine: Chinese
Operating Hours: Daily, 9.00AM–10.00PM
Phone Number: +603 5611 7537
Facebook: facebook.com/MeetMeeSS15
If you're not from Subang Jaya area and would still love to try Meet Mee, you can head over to any of their branch locations below:
Desa Setapak
15, Jln 1/27B, Desa Setapak, 53300 KL
03-41312989
www.facebook.com/MeetMeeDesaSetapak
Danau Kota
22, Plaza Usahawan Crystal Ville, Jln Danau Niaga 1, Off Jln Genting Klang, 43300 KL
03-41419088
www.facebook.com/meetmee2u
Sungai Long
52A Jalan SL 1/3, Bandar Sungai Long, 43000 Kajang
03-90740966
www.facebook.com/meetmeeSgLong
Ampang
No.123, Jalan Besar Ampang, 68000 Ampang. Selangor
011-11110124
www.facebook.com/MeetMeeAmpang