Travel
Le Méridien Putrajaya – 5-Star Luxury Hotel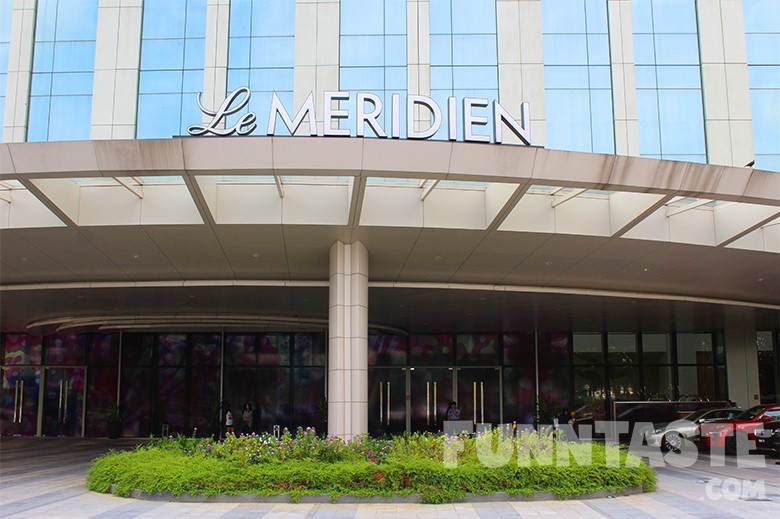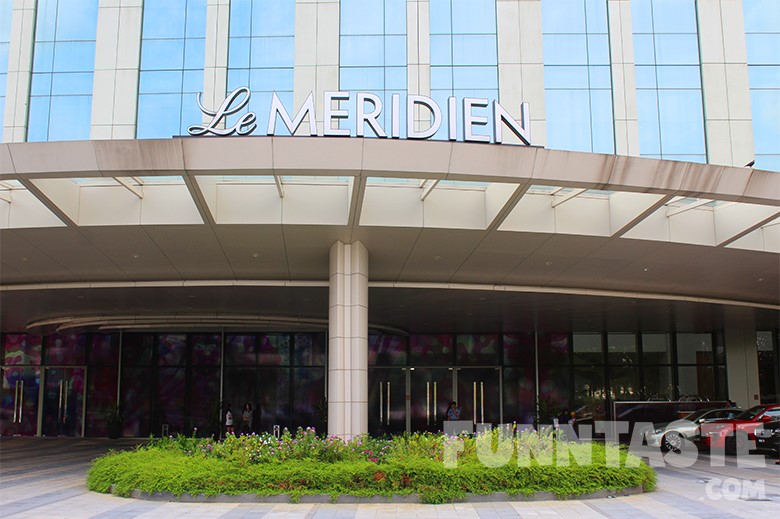 Located on the outskirts of Putrajaya, Le Méridien Putrajaya is one of the few 5-Star hotels in town. The hotel is strategically connected to IOI City Mall and is about 20 minutes drive from KL. Thanks to a lucky draw, we had the privilege to stay at Le Méridien Putrajaya for 4 days and 3 nights and it was a pleasurable experience to say the least.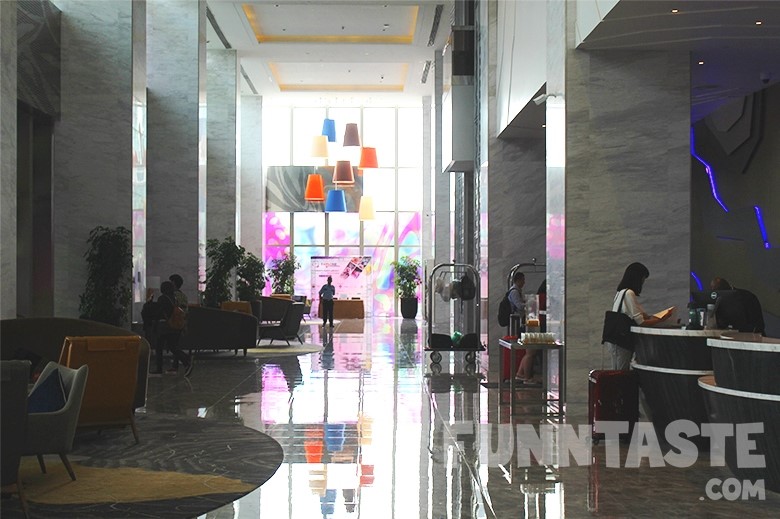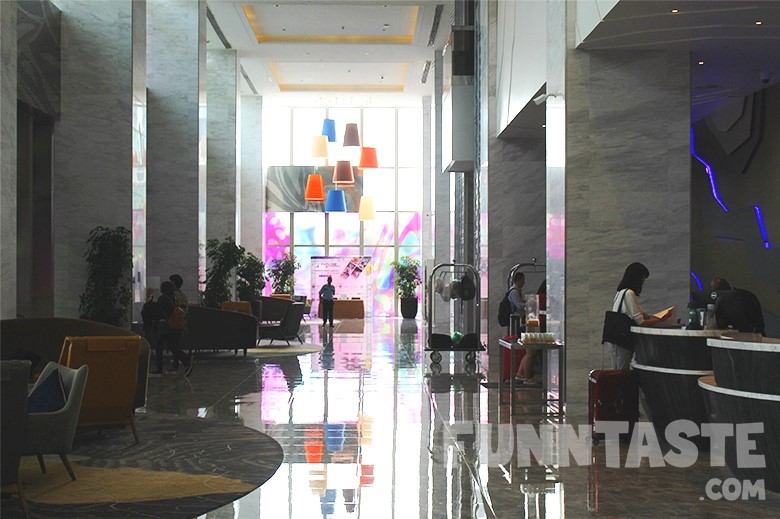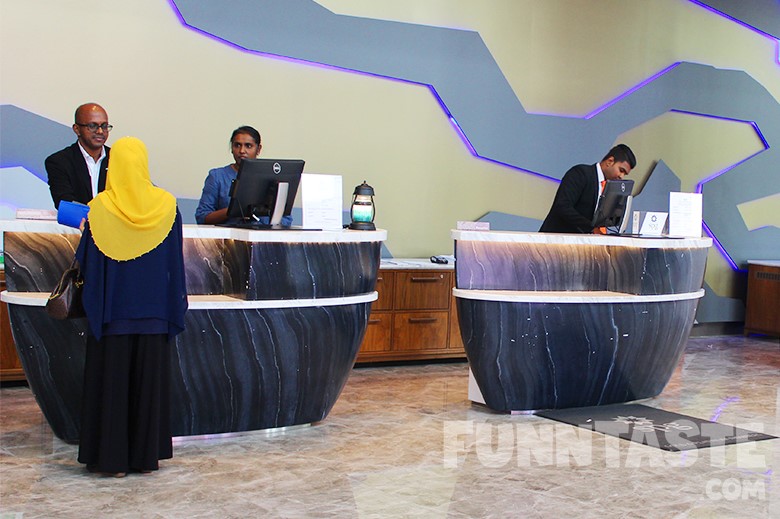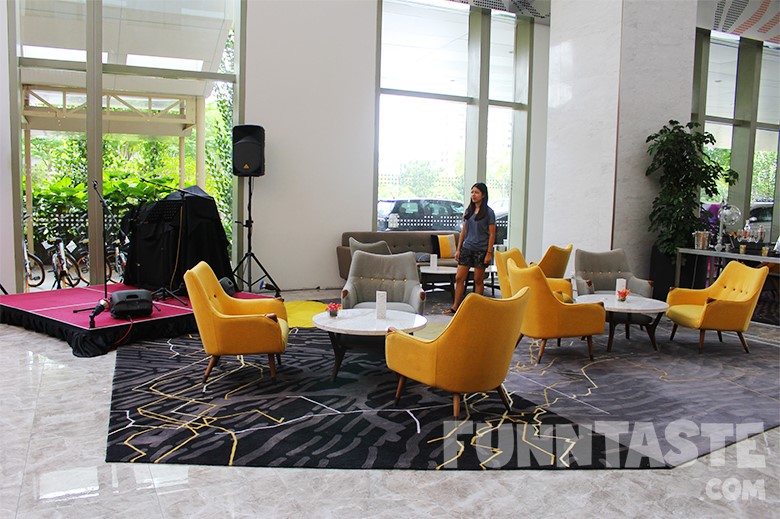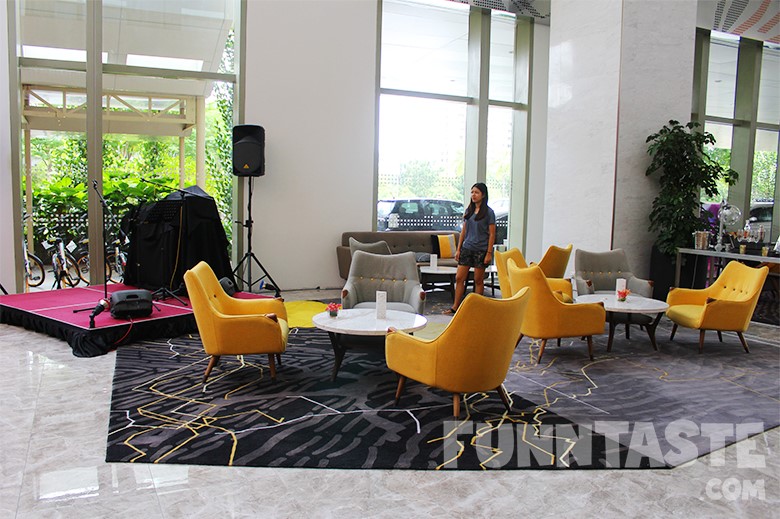 According to Le Méridien's official website, a signature room starts from RM340 exclude breakfast. The price is definitely on the higher side as it's typically expected for a 5-Star Luxury Hotel. The room was equipped with basic amenities and more – 40inch LED TV, work desk and chair, mini sofa, fridge and free WiFi. We must say the WiFi connection is fairly speedy as we didn't encounter any issues watching HD videos on YouTube.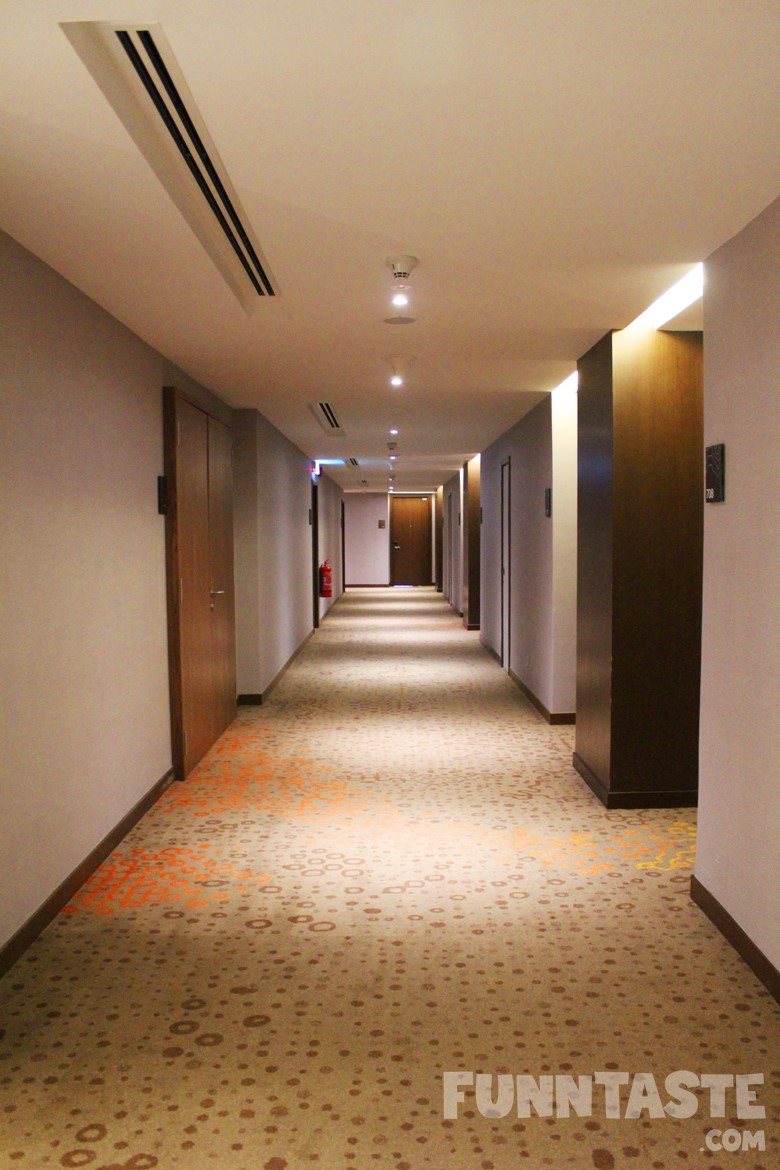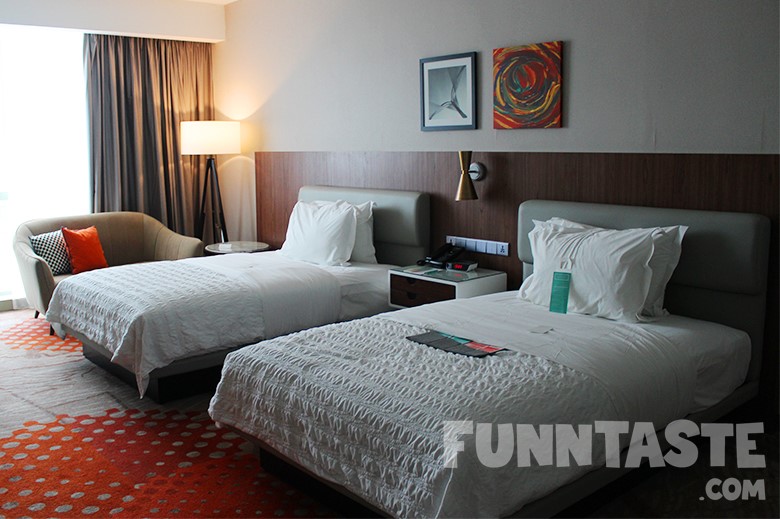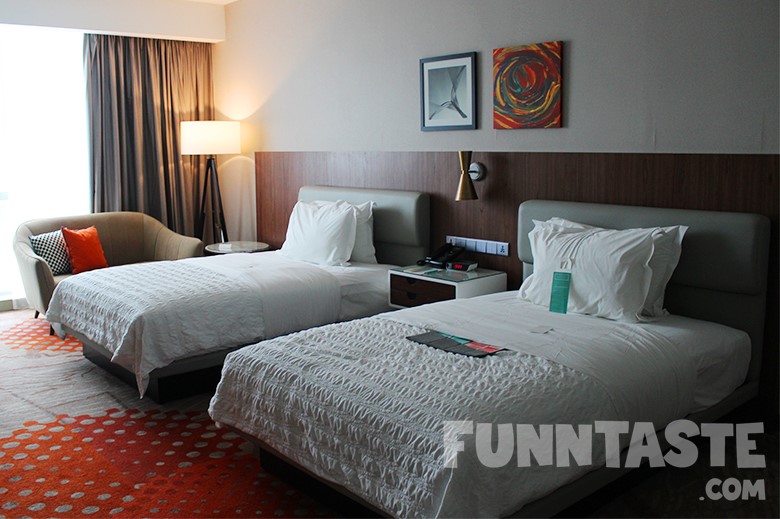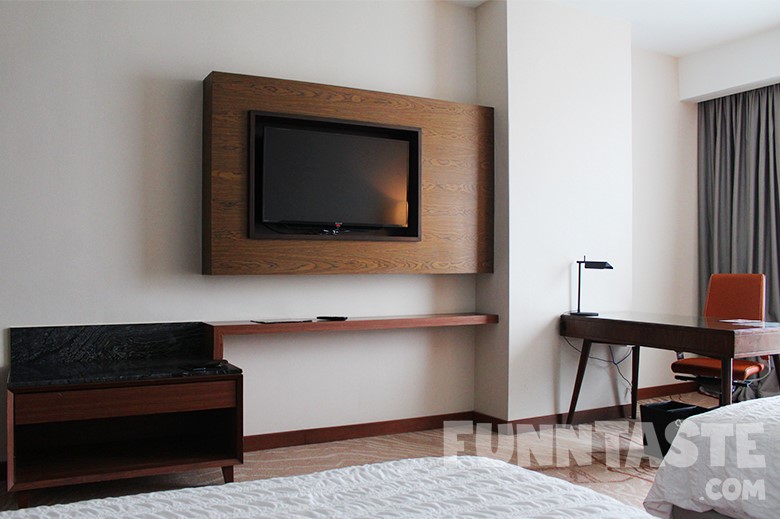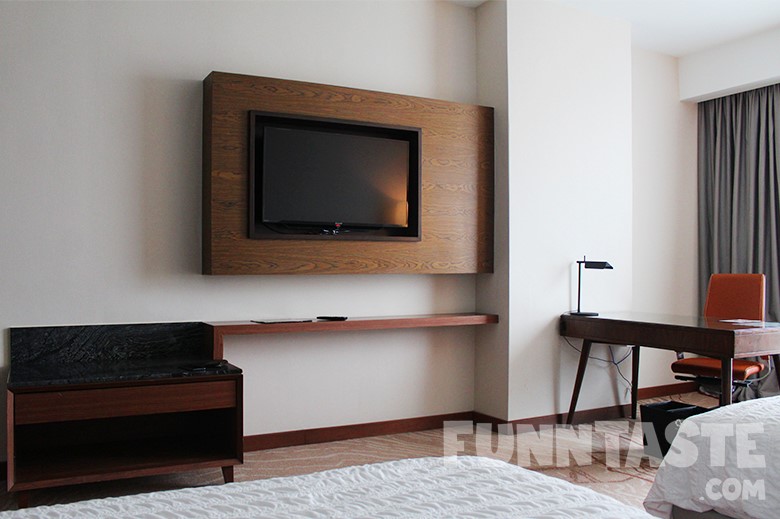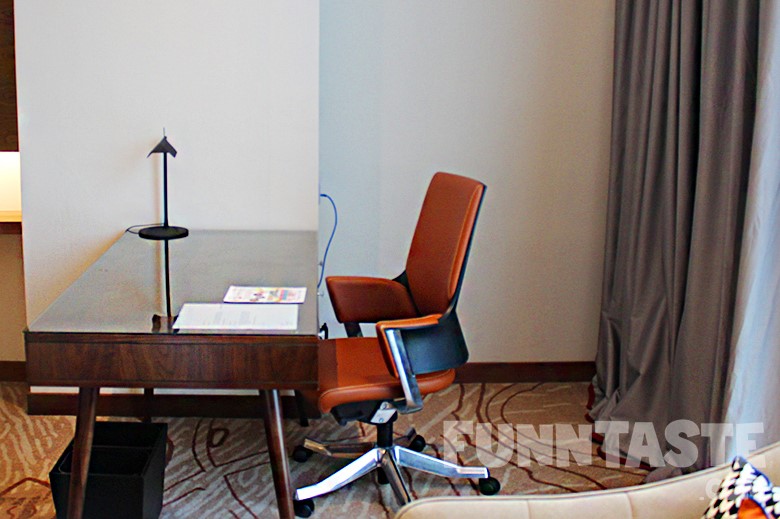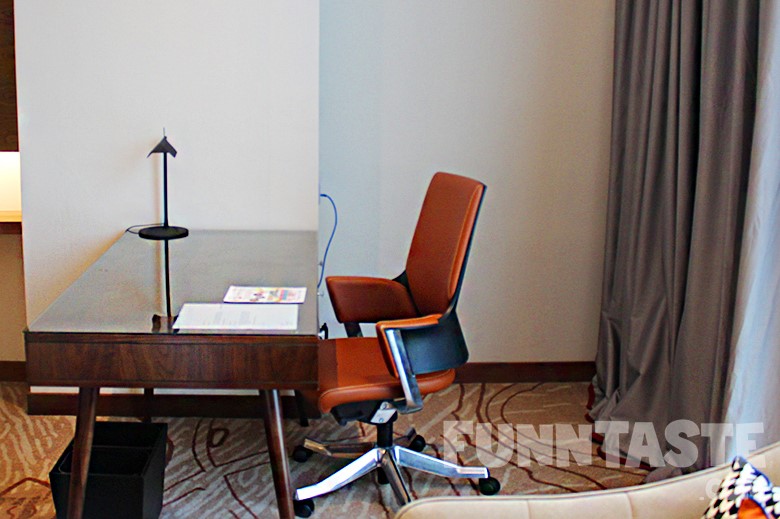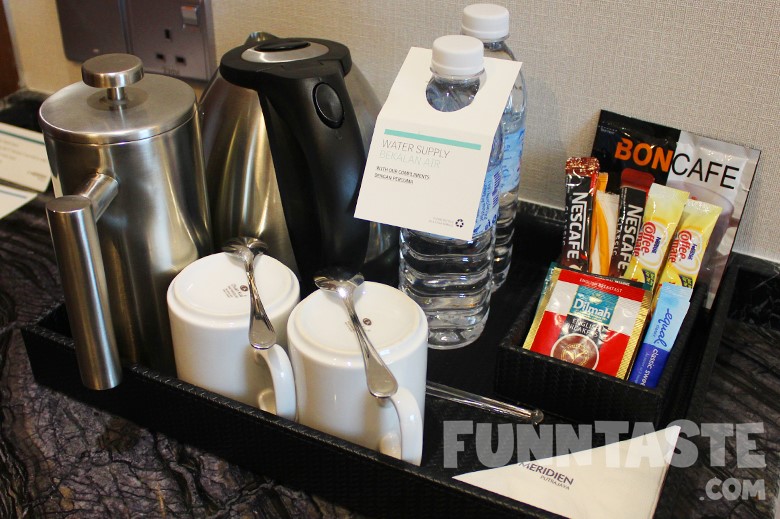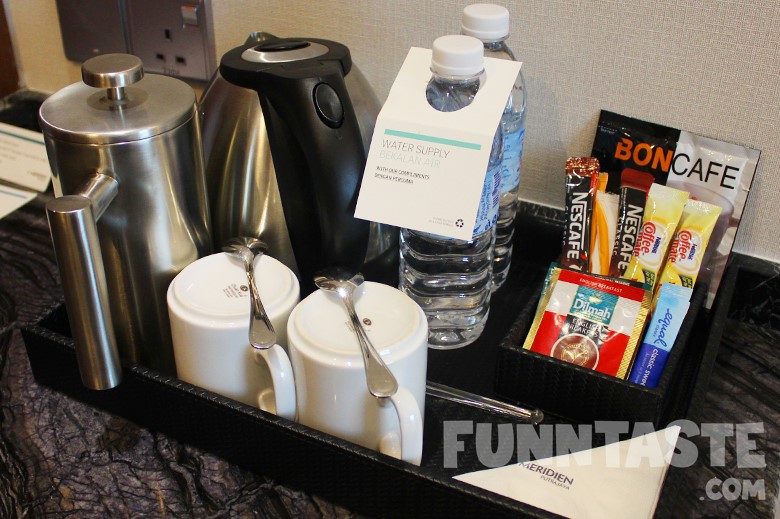 Upon entering the room, the first thing that grabbed our attention was the spacious interior. Our single beds were massive for a single bed and comfortable – it's one of the best parts of the room. We had our buffet breakfast at 6AM in the morning and went back to bed afterwards – that's how comfortable the beds were.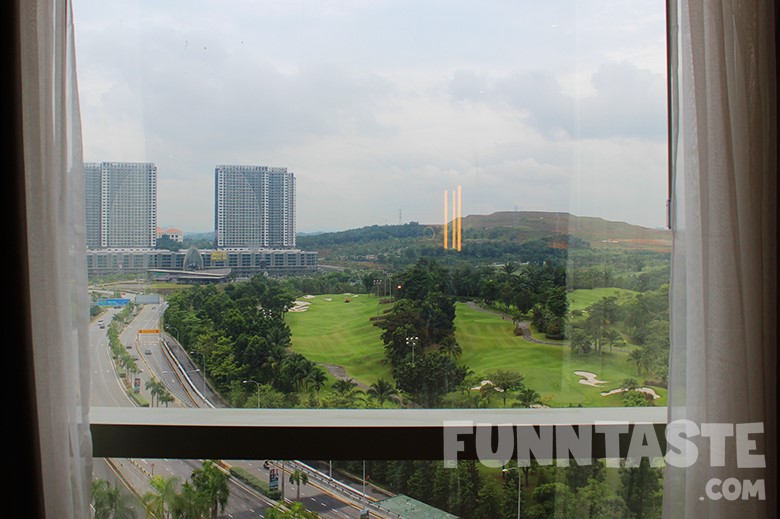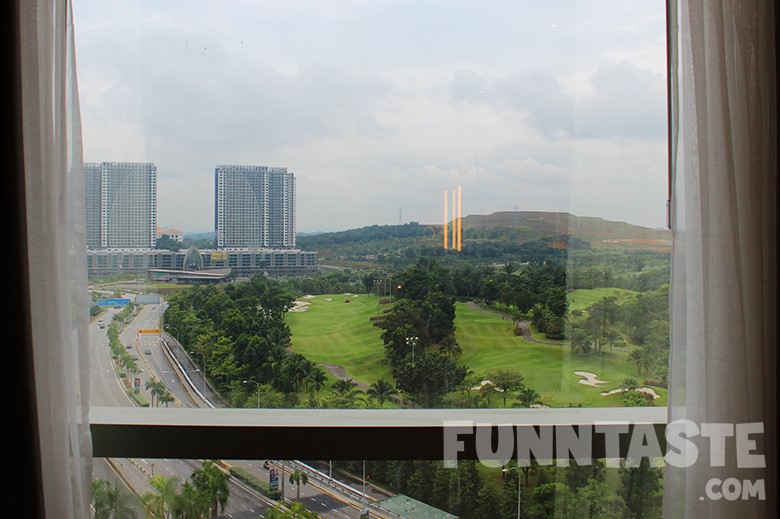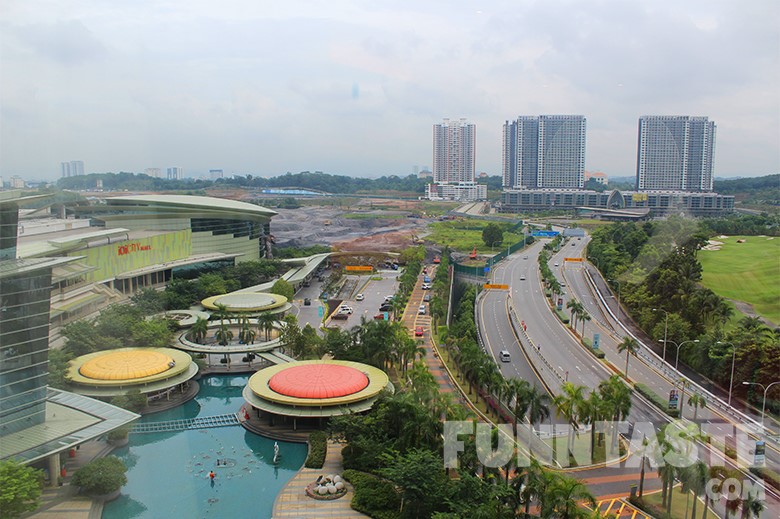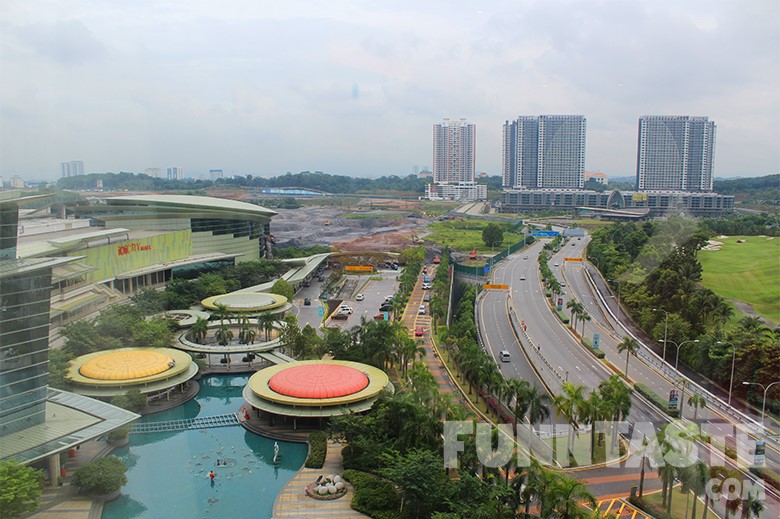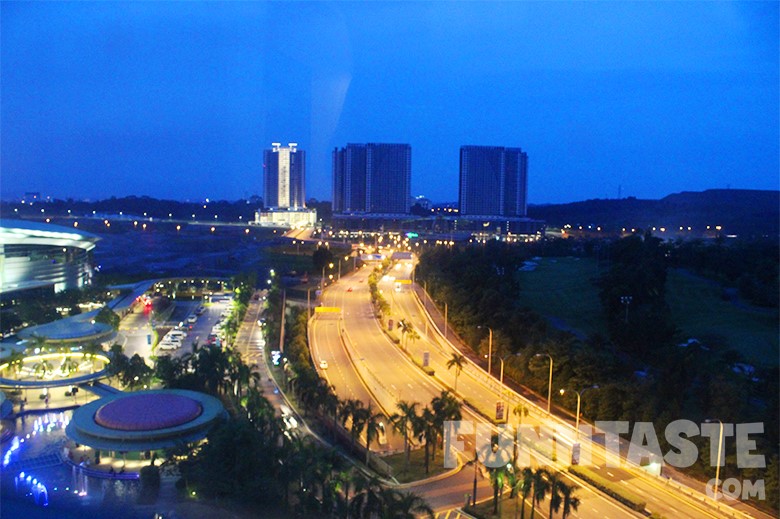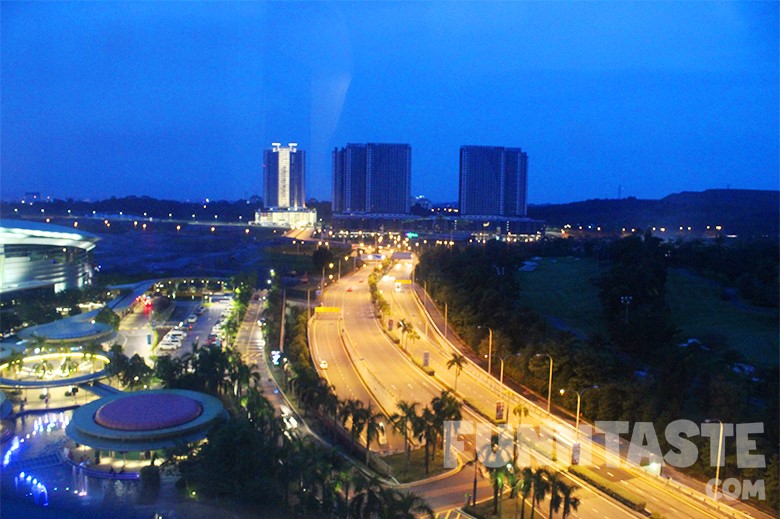 And of course, this view. Yes, it's not the conventional KL City skyline view, nonetheless we were at the 7th floor of Le Méridien and the empty highways do give out a peaceful vibe at night. It's also worth mentioning that the sound-proof of Le Méridien's rooms was pretty solid as we didn't hear any noise from outside.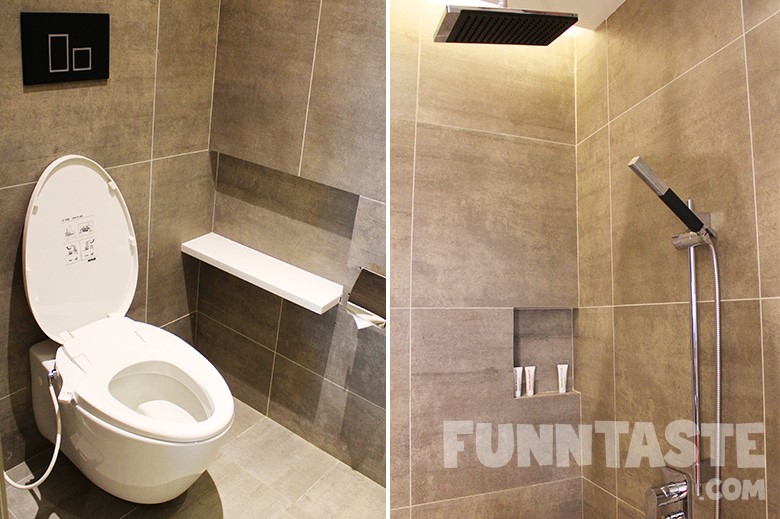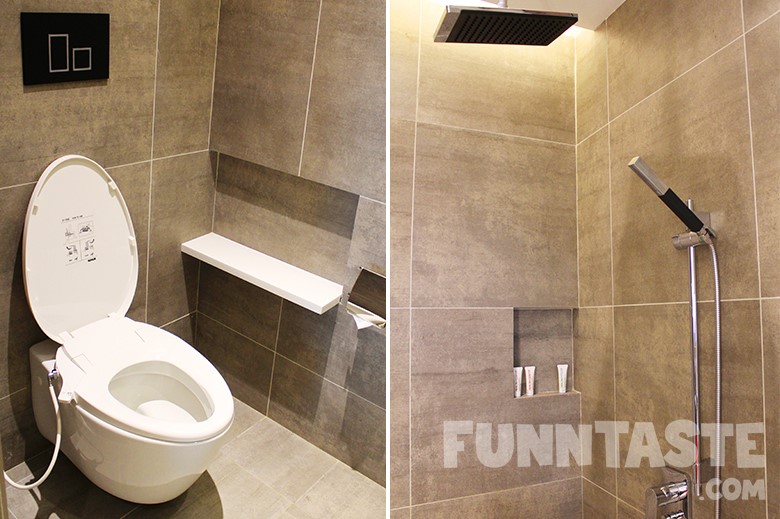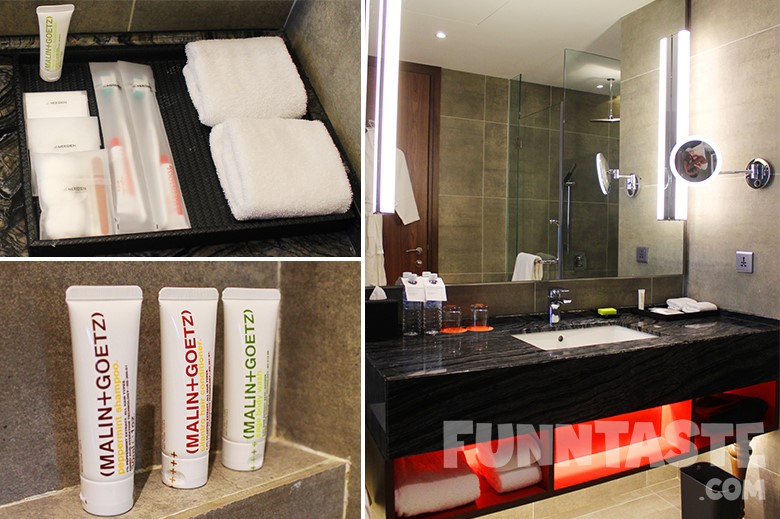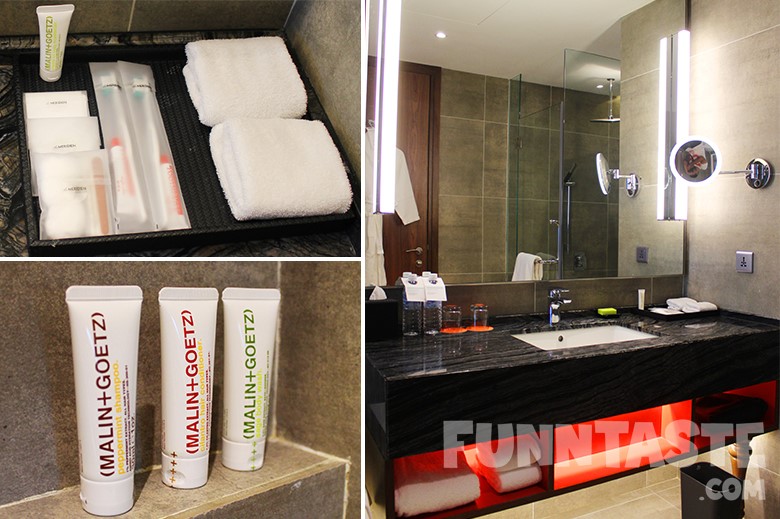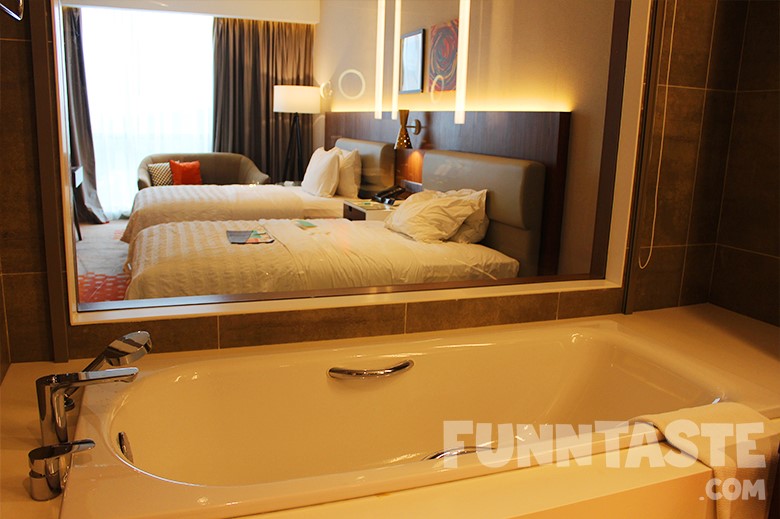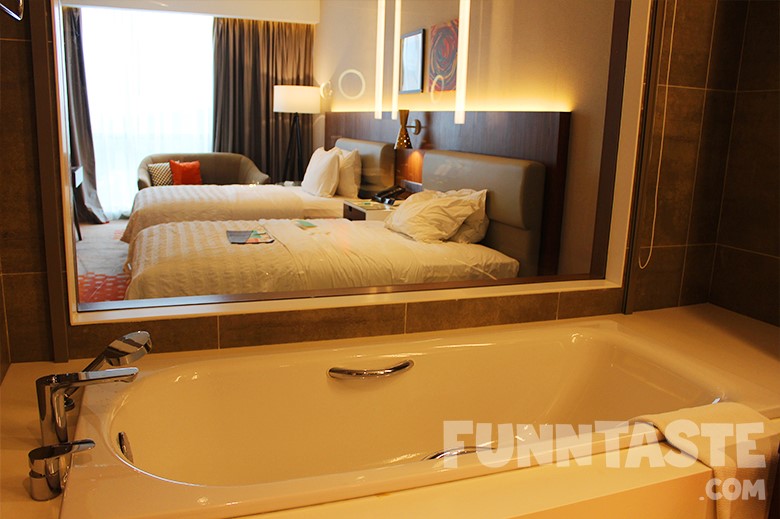 Just like the rooms in here, the bathroom was roomy and has the necessary bath products you need for your stay. For the price per night, we thought getting Malin + Goetz toiletries was a fair deal.
The bathroom features a regular water heater, rain shower system and a bathtub with an extensive window view of your room (and blinds for privacy).
Our one complaint here is the water heater's temperature isn't consistent as it drops from hot to slightly colder from time to time. This kinda ruins the relaxing shower experience, hence we decided to use the bathtub to avoid the "potong-steam".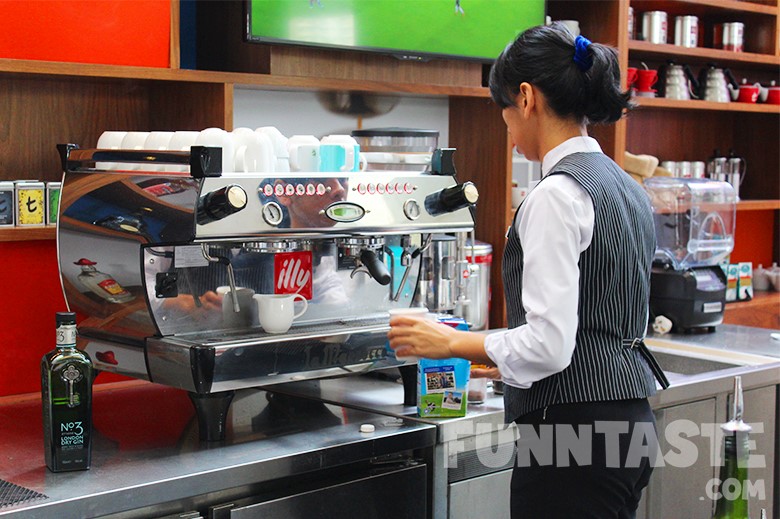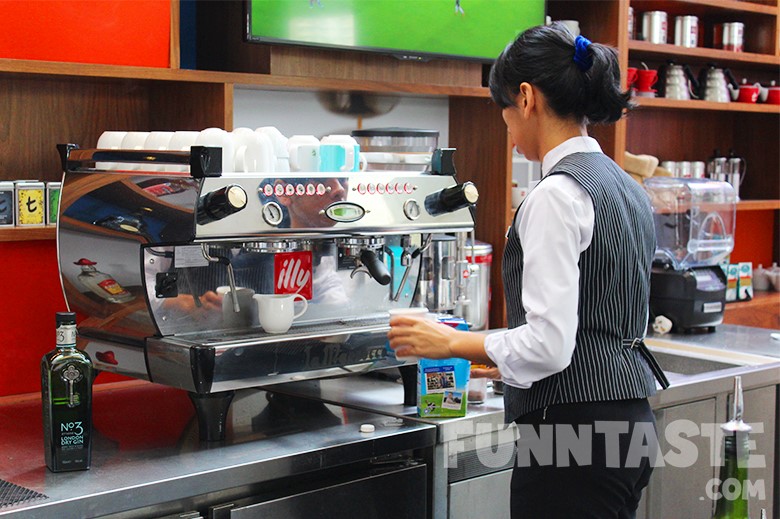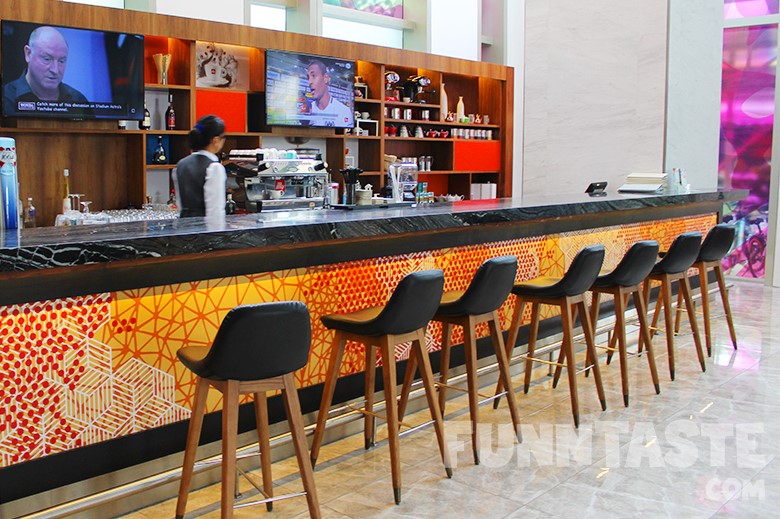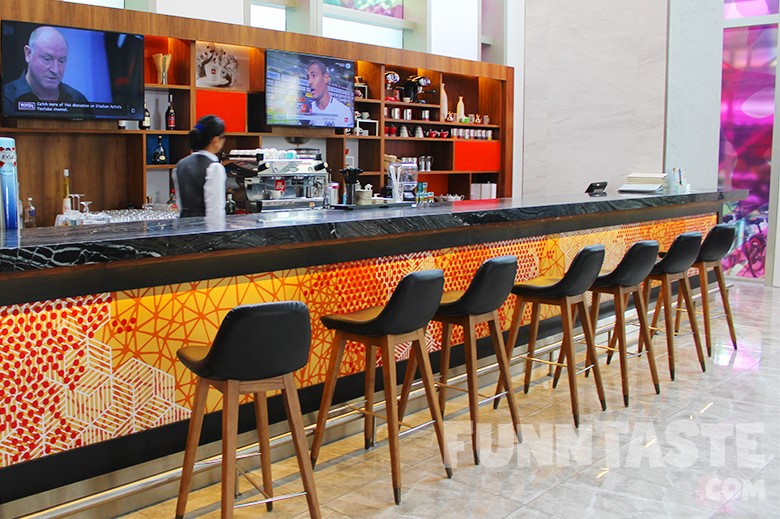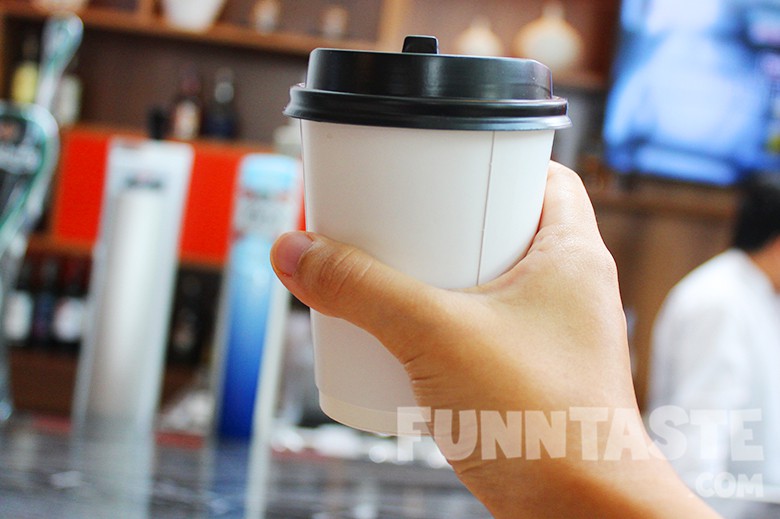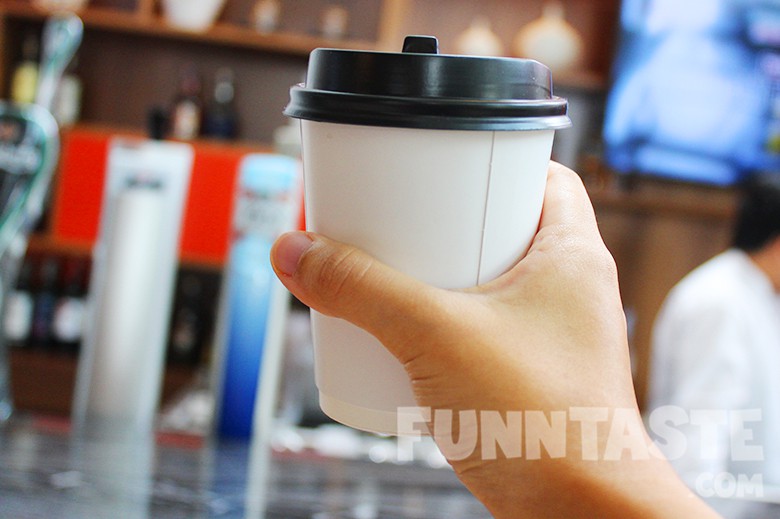 All hotel guest are given one complimentary Cappuccino/Black Coffee from Latitude 02 – a cafe/bar nearby the lobbyLe Méridien Putrajaya, courtesy of Le Méridien.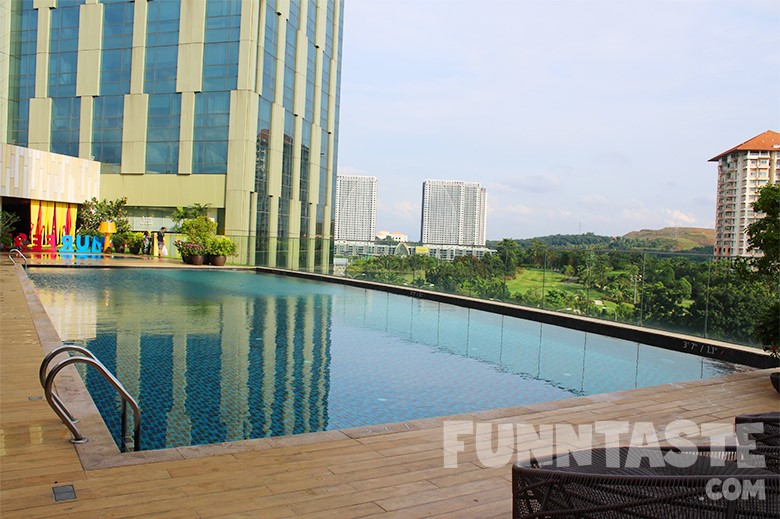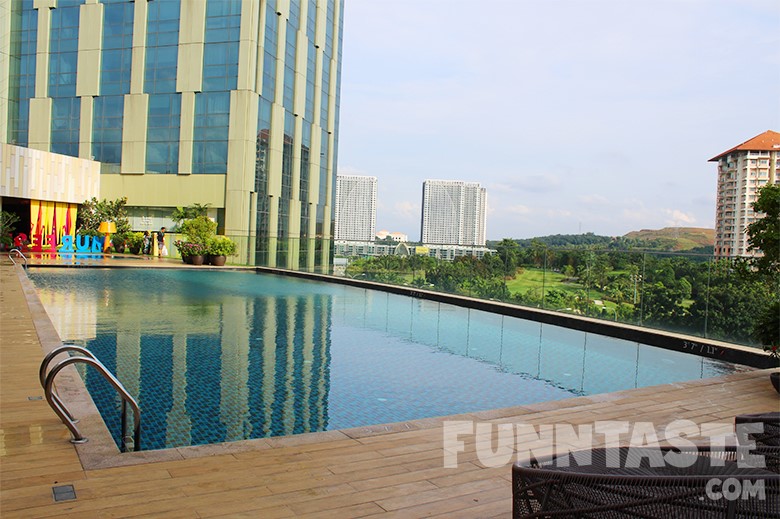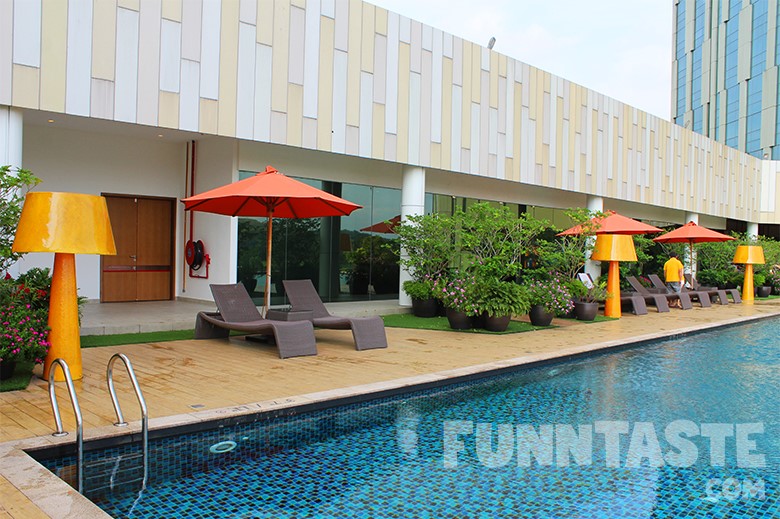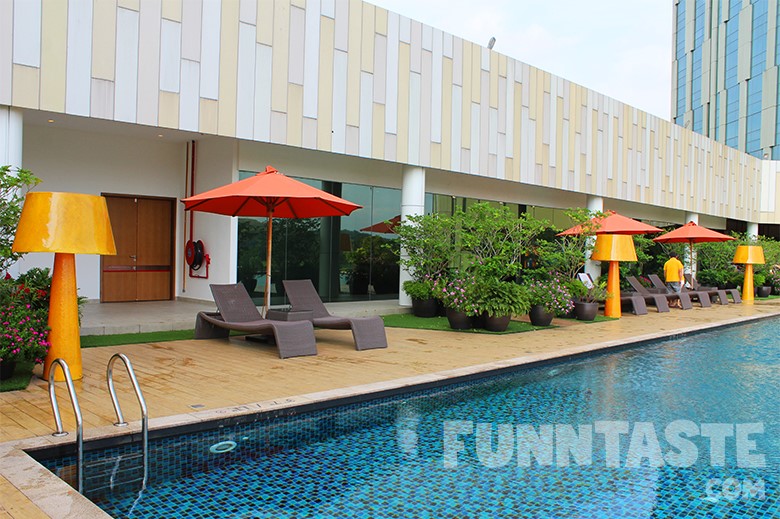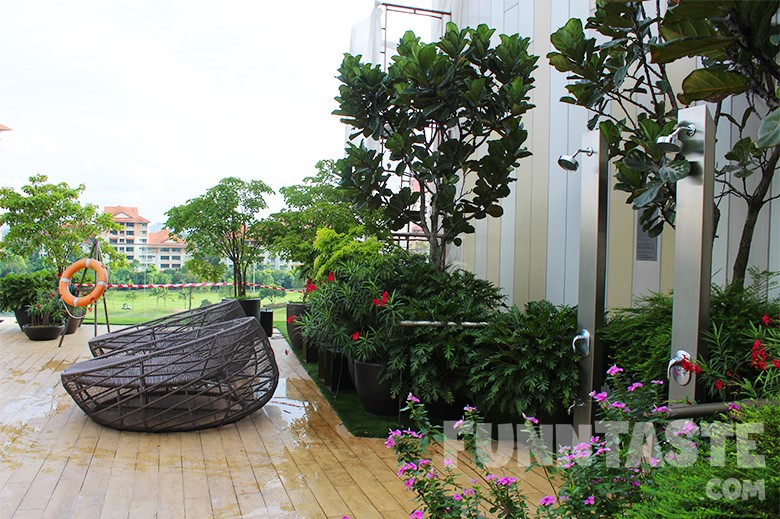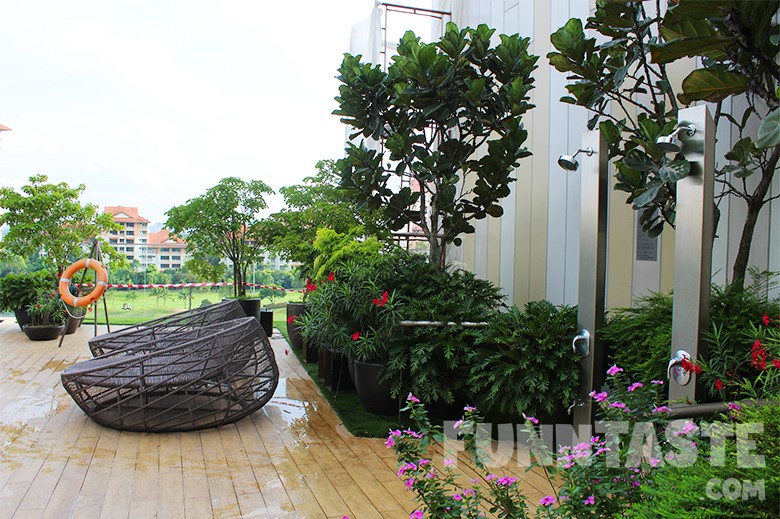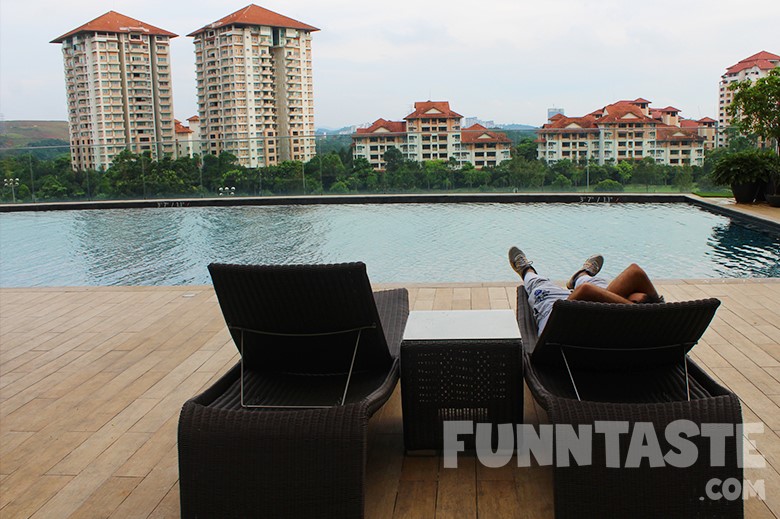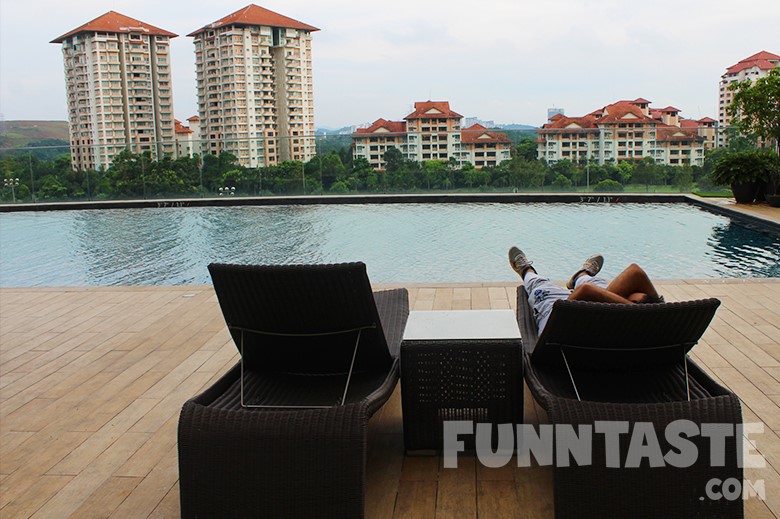 One of the best parts of a 5-Star Luxury Hotel is the pool area. Le Méridien's pool is located at the 3rd floor of the hotel and it does provide a decent view. There aren't any lifeguards on duty hence do exercise caution in the pool area.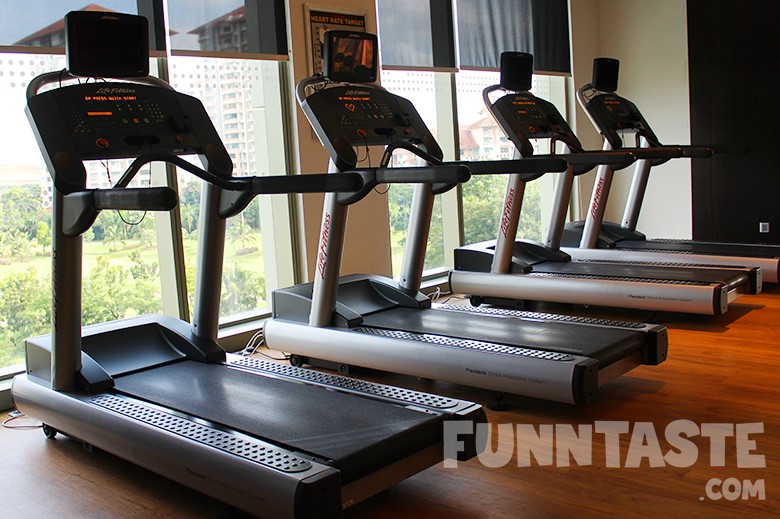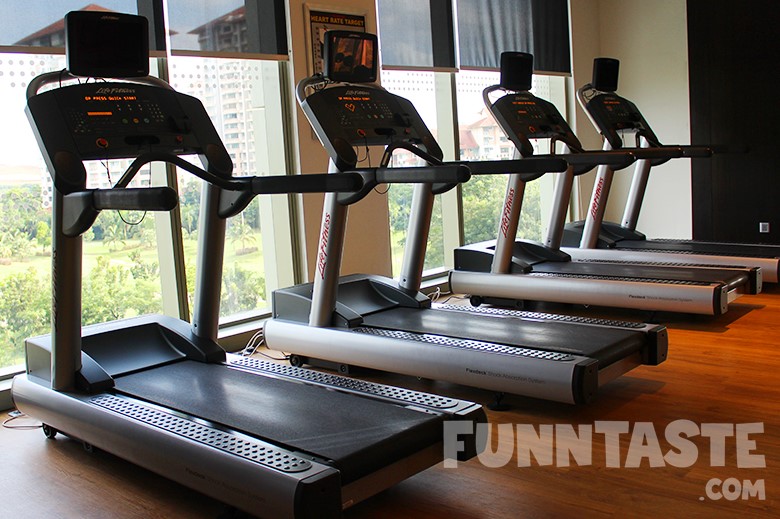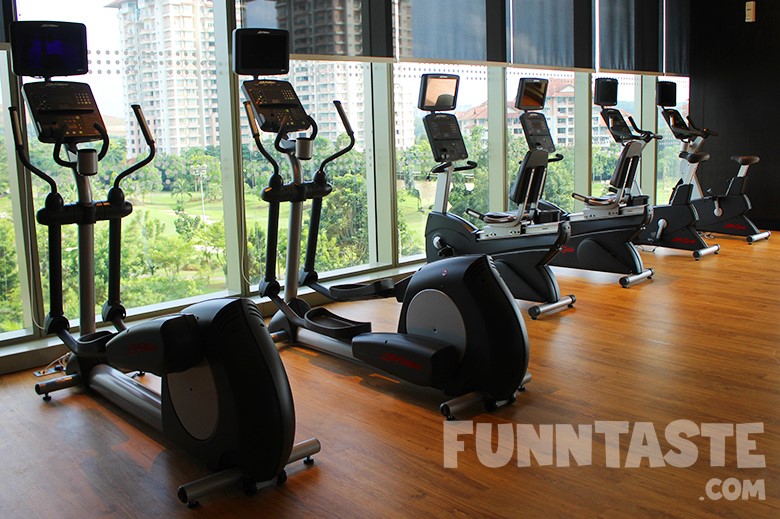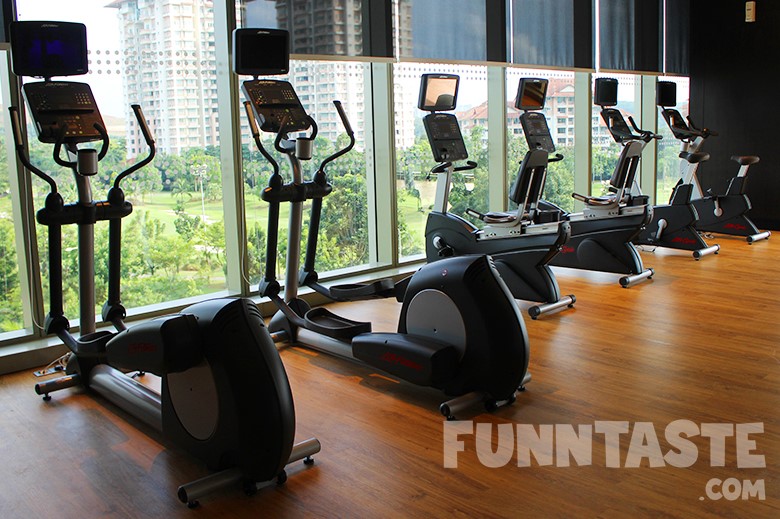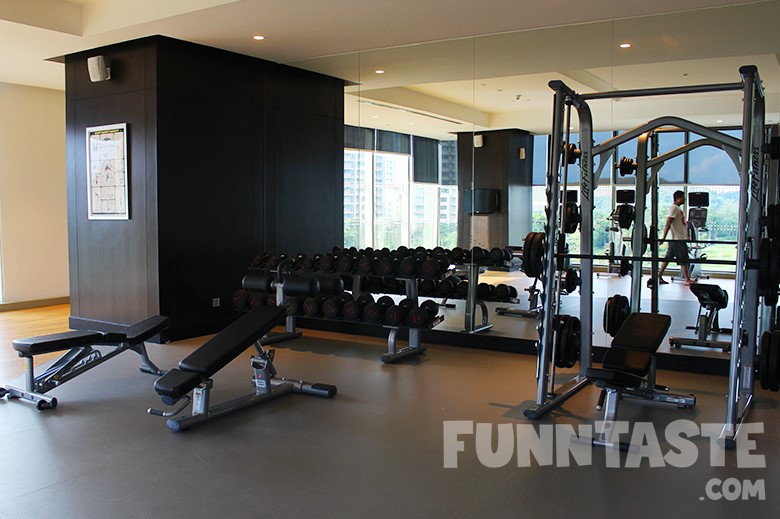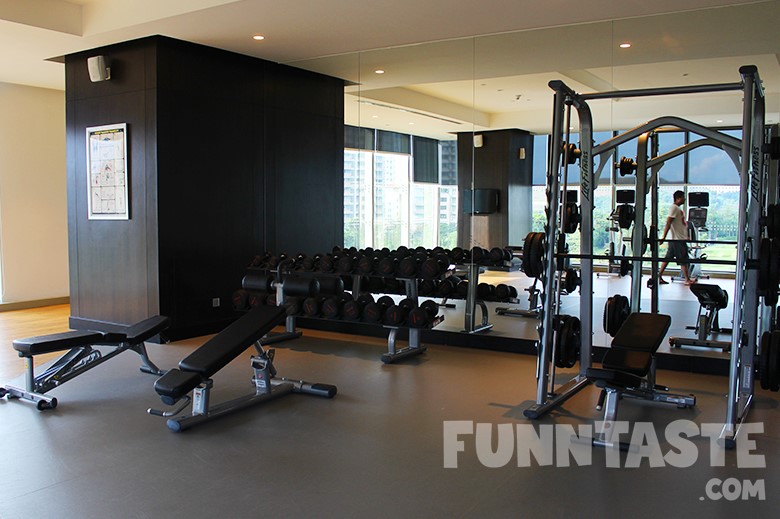 The gym at Le Méridien's was well-equipped as it was furnished with every important gym items such as dumbbells and roller in a gym.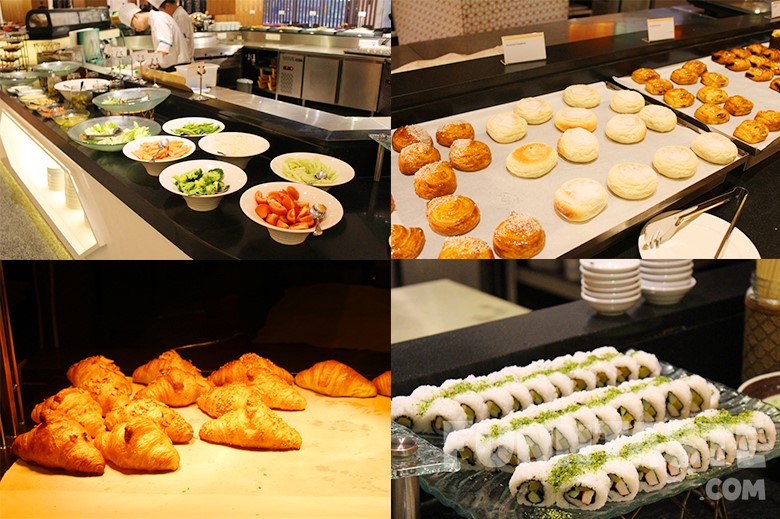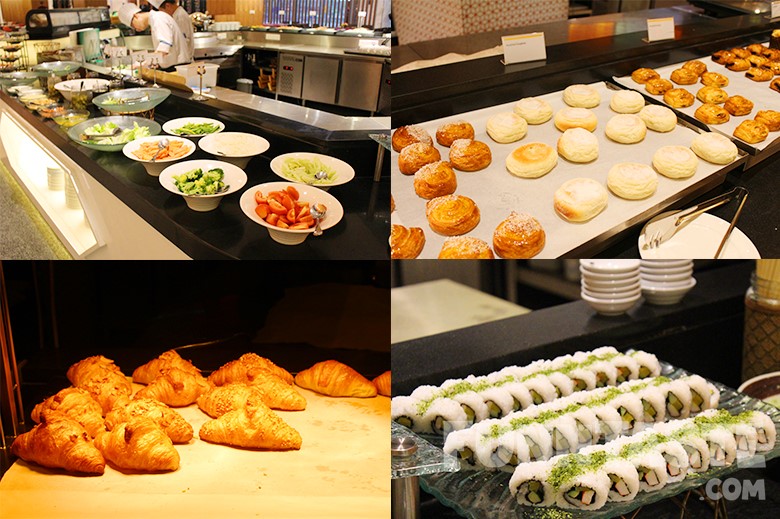 Now, on to the best part of any 5-Star luxury hotel, the buffet breakfast. We had our breakfast at Latest Recipe which offers International Buffet Breakfast. The buffet spread features cuisines of Malay, Chinese, Indian, Japanese and Western.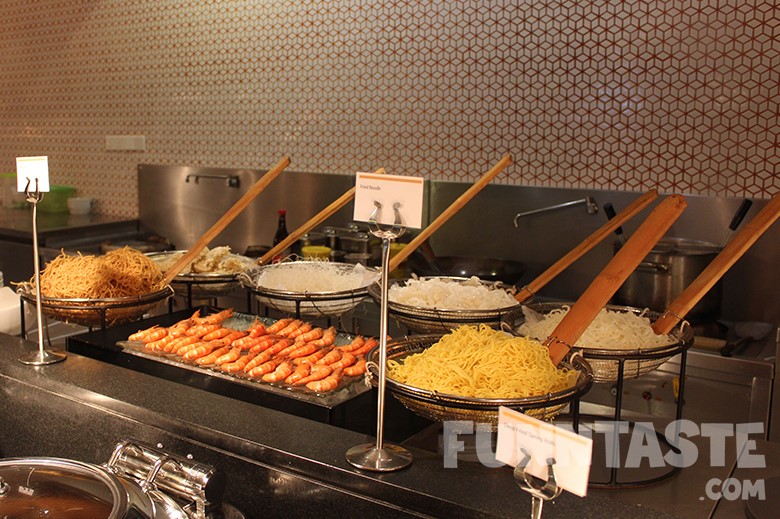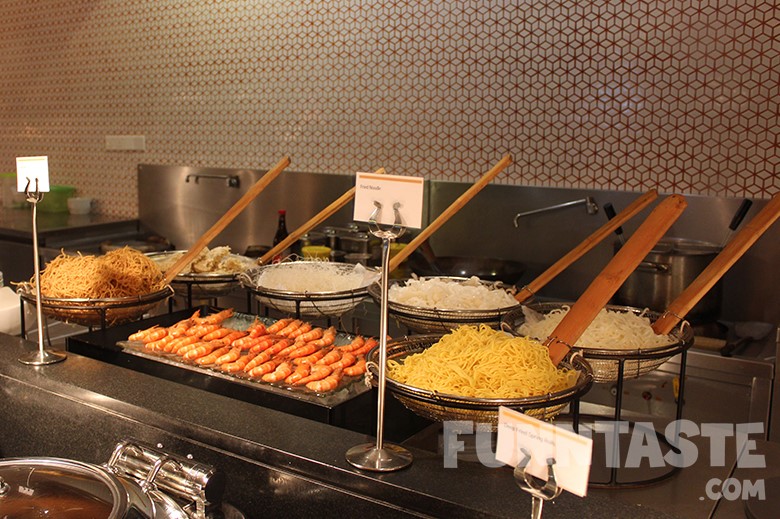 Latest Recipe's breakfast starts from 6AM – 10AM, we woke up around 5.30AM to make sure we avoid the breakfast crowd.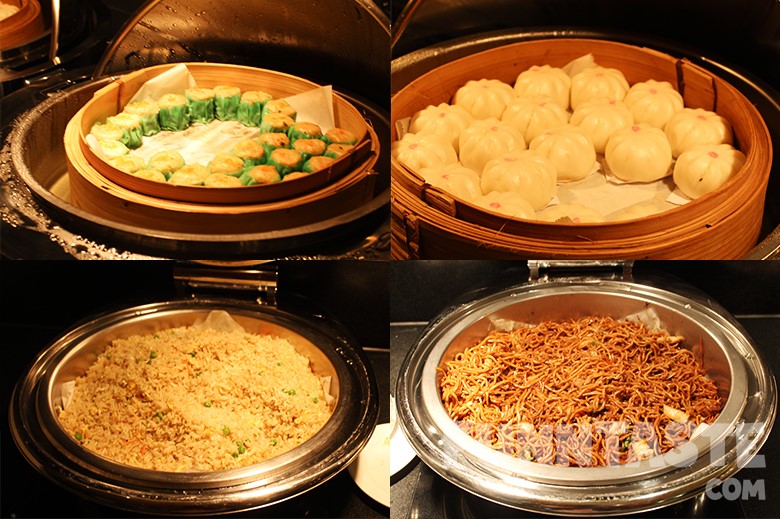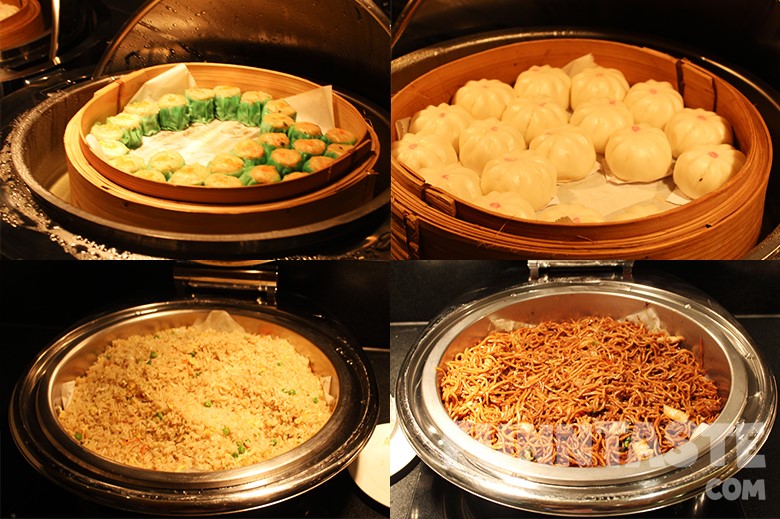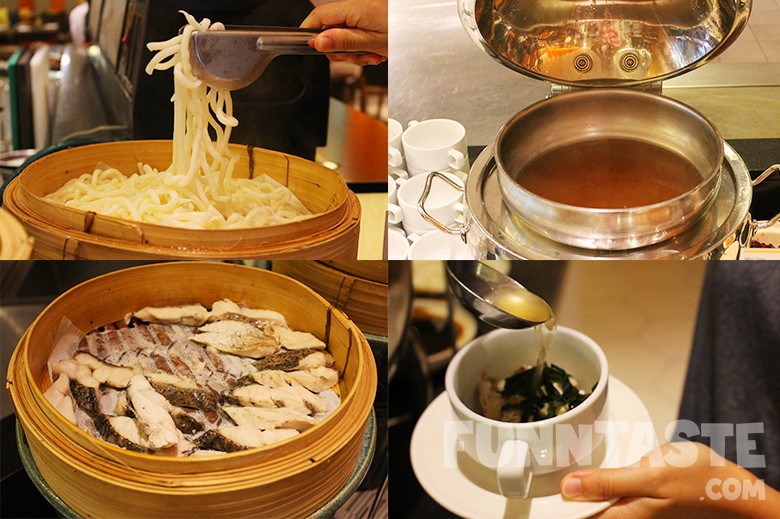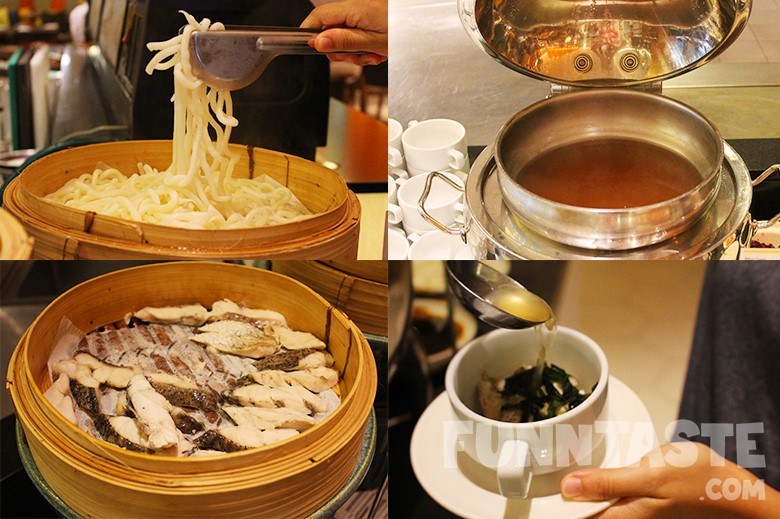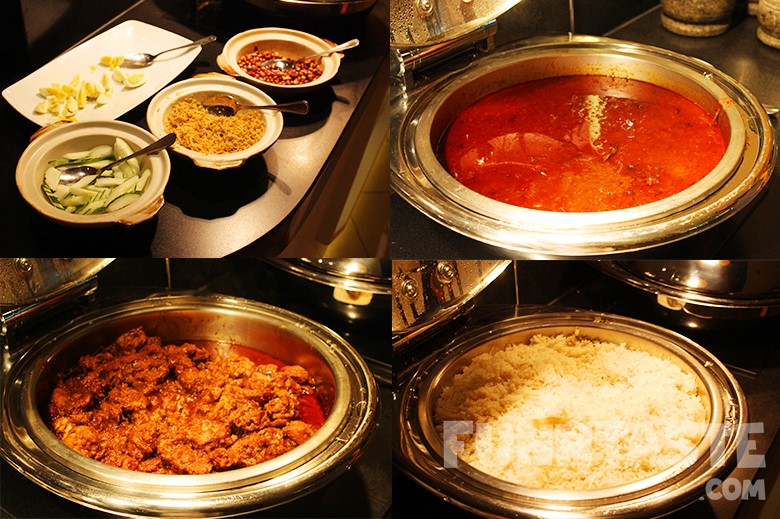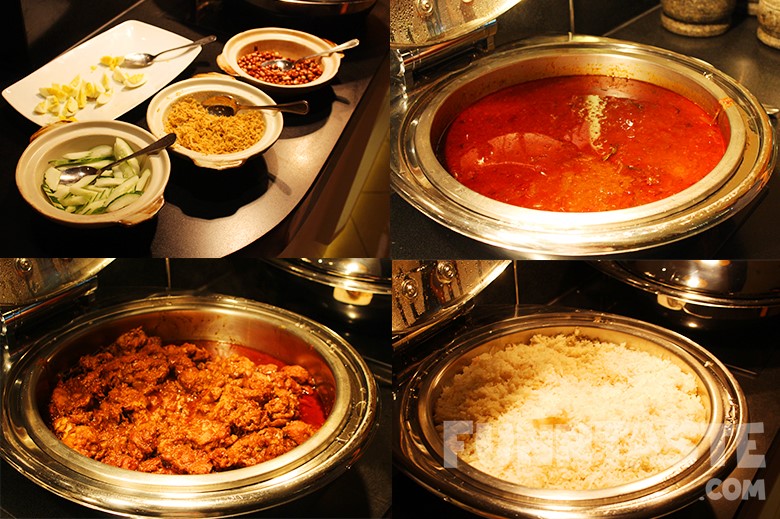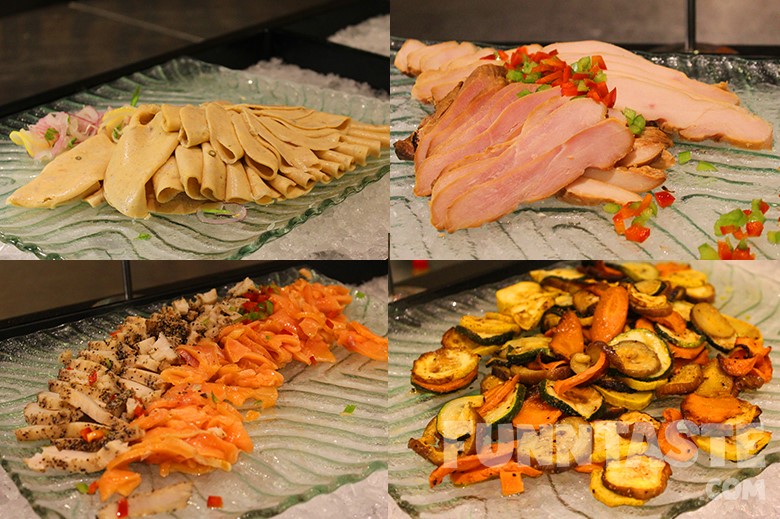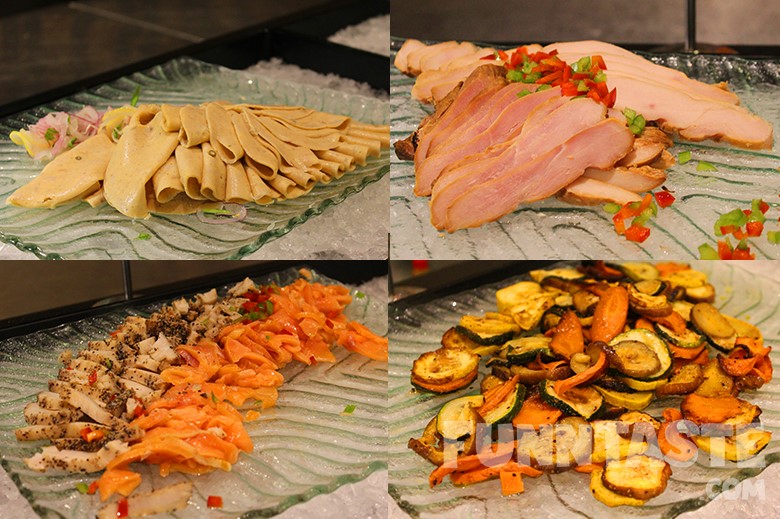 The buffet is generic, the food are exactly what you expect from a 5-Star hotel – decent spread, various cuisines, and acceptable taste. We personally wished there were more variety of sushi and more dishes in the western section. We didn't care for the Indian section as the Roti Canai, Tosai and Capati weren't made fresh.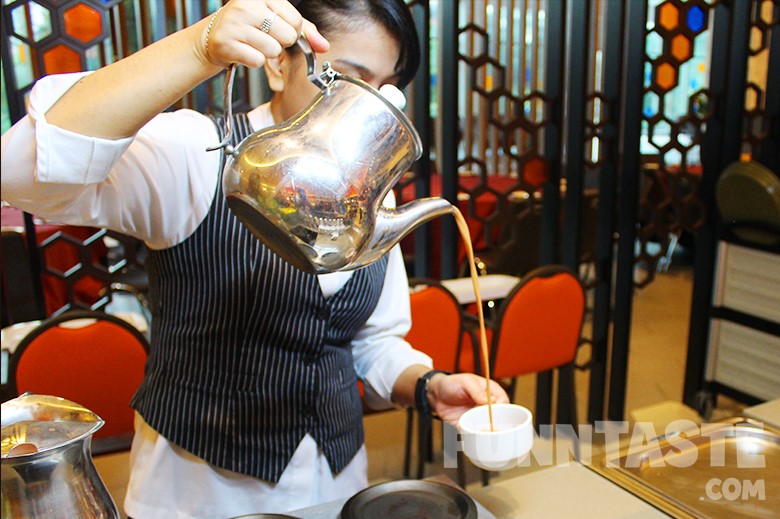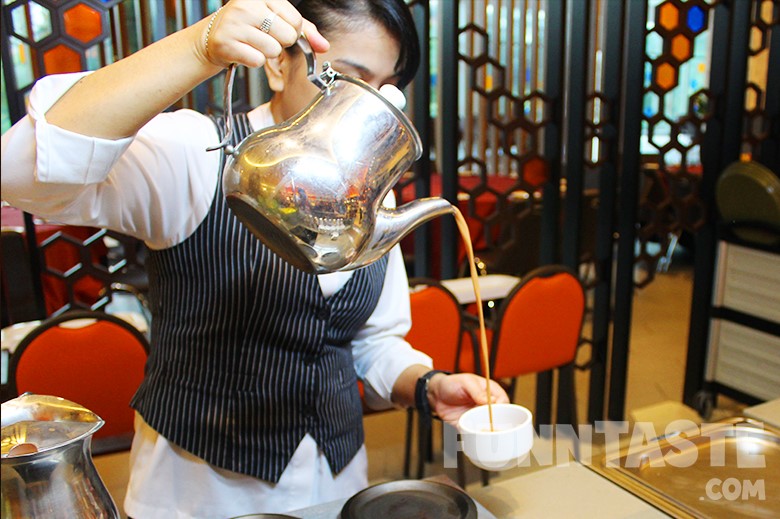 Still, we highly recommend you try the Latest Recipe's buffet breakfast, at least for a day as it's one of the best parts during our stay.
All in all, our 4 days and 3 nights stay at Le Méridien was enjoyable. Indeed there are few things we feel Le Méridien could do better but let's be honest, there's no such thing as the perfect hotel.
We personally feel Le Méridien is more suitable for business trips or family who perfects a high quality and comfortable stay.
Pros: Spacious Room, Good View, Strong WiFi, Friendly Staff, Good Location (connected to IOI City Mall),
Cons: Check-in Time at 3PM, Repetitive Buffet Breakfast Spread, Confusing Lifts (not sure whether its going up or down)
Read also: 10 Budget Hotels With Comfortable Rooms Near KL Sentral