Food & Drinks
11 Delicious Fish Head Curries Around KL & PJ That Will Make You Drool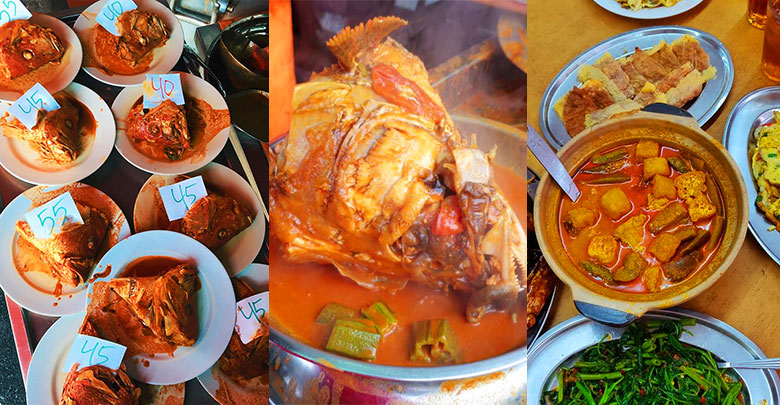 Fish Head Curry is perhaps one of our local comfort dish enjoyed by people of races and backgrounds. A good fish head curry often times rely on the freshness and quality of the fish as well as the textures and flavours of the curry itself.
Gigantic fish head submerged in thick and flavourful curry gravy, pair it with a plate of white rice, you got yourself a satisfying meal!
Malay, Chinese and Indian cuisines have their own respective versions of this dish (and all of em are equally tasty), hence today we bring you 11 Delicious Fish Head Curries Around KL & PJ That Will Make You Droll
1. Anuar's Fish Head Curry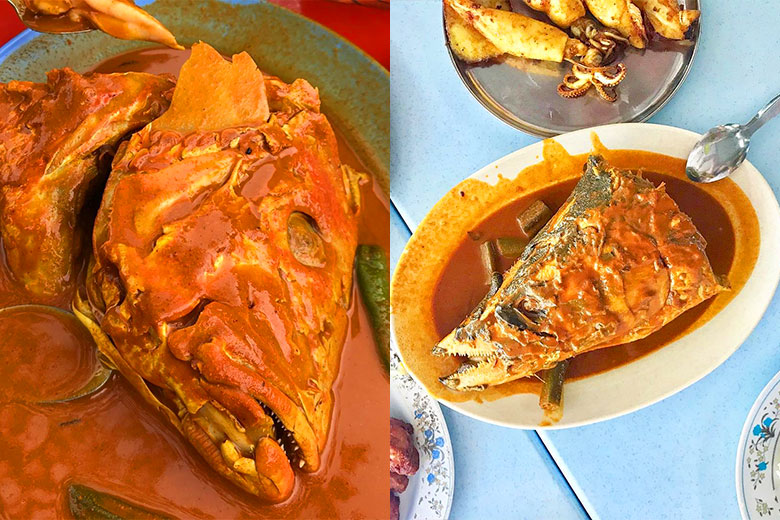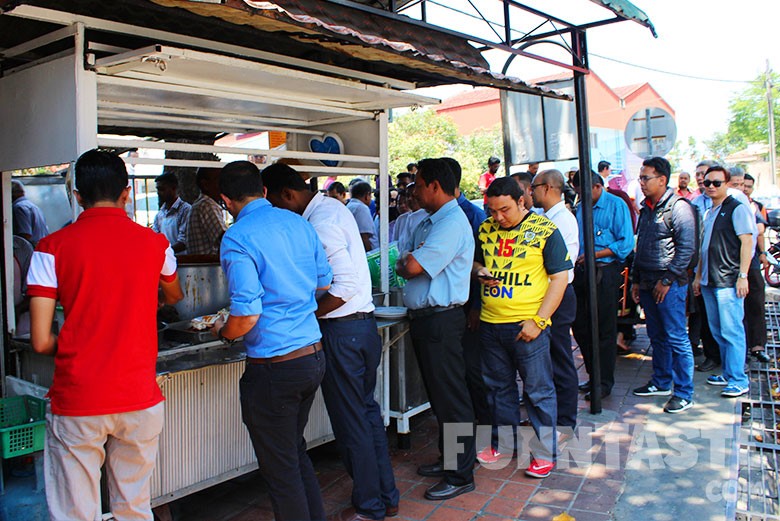 You might have heard about Anuar's Ikan Kepala for its fried chicken and curry rice, which is priced at RM3. But their fish head curry is quite popular too. It is perhaps one of the must try dishes in KL at least once in your lifetime. Mr Annuar uses Red Snapper for his fish head curry as the fish meat is softer and tender. The thick and fragrant curry, where the fish heads are cooking is said to be delicious. It goes very well with rice and will keep you wanting more.
Address: 2, Lorong Ara Kiri 3, Lucky Garden, Bangsar
Operating Hours: 9AM – 5PM, closed Sundays
2. Restoran ZK Fish Head Curry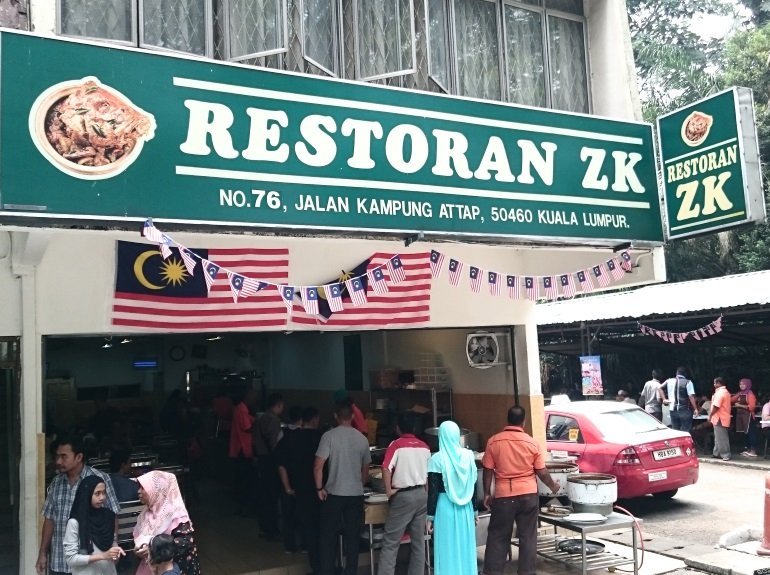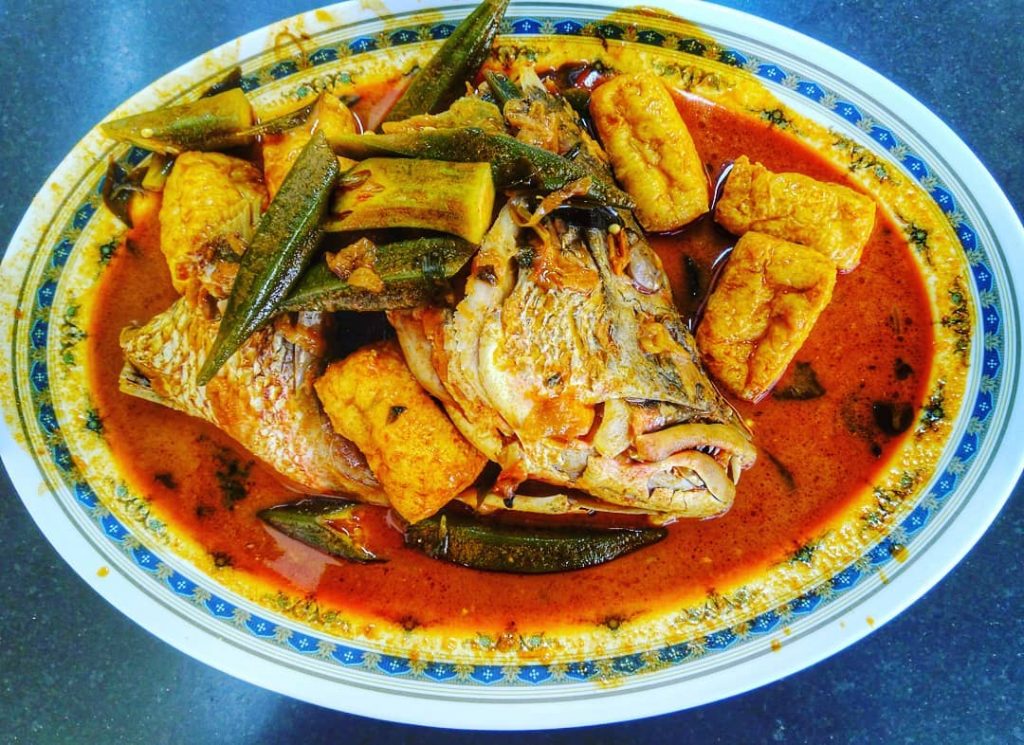 ZK Fish Head Curry is known for their Kerala-styled fish head curry, which comes with jenahak fish head curry by default. One fish head curry can easily feed up to four people so do come here in a group. Their curry is said to be spicy but incredibly well seasoned and flavorful.
Address: 76 Jalan Kampung Attap 50460, Kuala lumpur
Operation Hours: 11AM – 4PM, closed on Sundays
3. Ah Lye Curry Fish Head (Non Halal)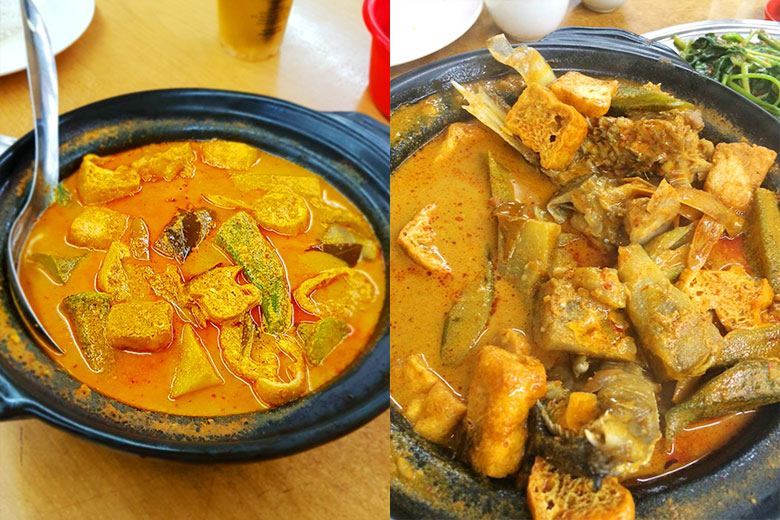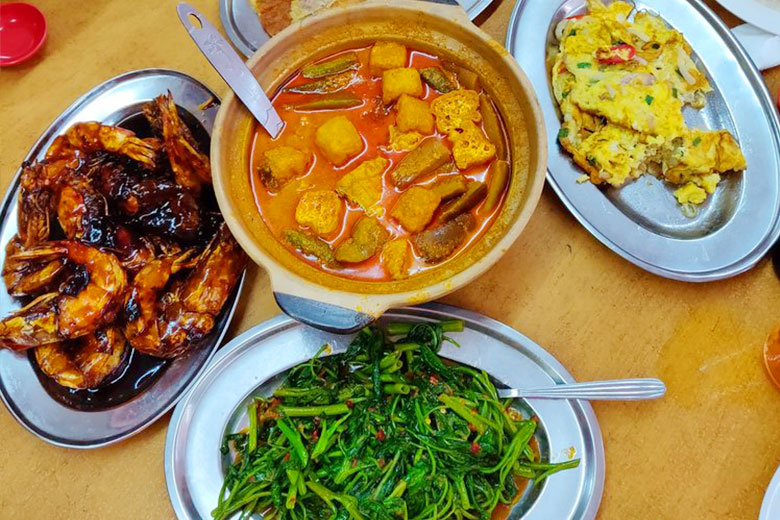 Ah Lye serve super creamy and thick Fish Head Curry which is bursting with flavours. The fish head is usually in the curry but you can always opt for the fish fillet. It came with lots of tofu puffs, lady fingers and eggplants. If you're feeling  peckish, do also try their fermented fried pork and salt baked herbal chicken.
Address: 28, Jalan SS 19/1G, SS 19, 47500 Subang Jaya, Selangor
Operation Hours: 12PM – 3PM & 5PM – 9PM, Daily
4. Restoran Sin Hiap Kee (Non Halal)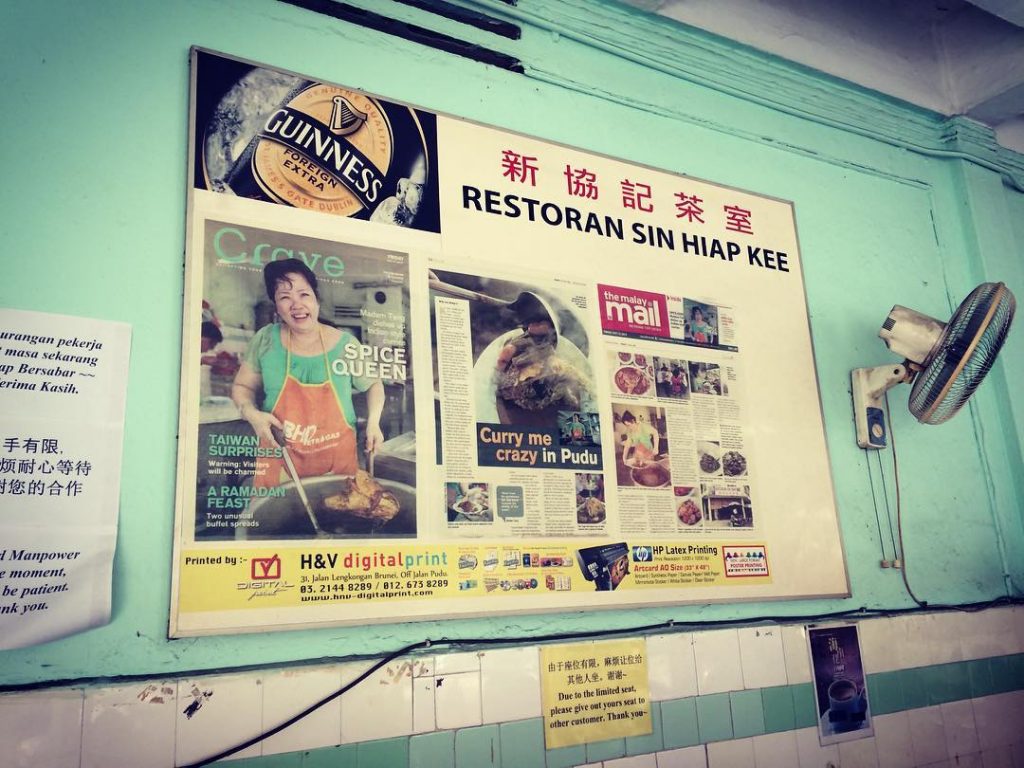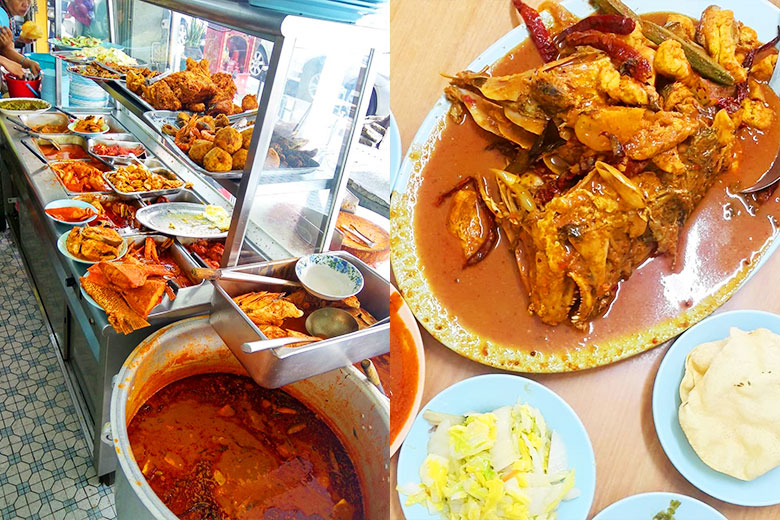 Having decades of history, Sin Hiap Kee only opens for 4 hours a day, offers a variety of irresistible local dishes for their mix rice spread. But if you're ready to splurge, don't miss out on their fish head curry here. You can choose to have mackerel or red snapper in your curry. The curry is rich, tangy and absolutely addictive.
Address: 32 Lorong Brunei Selatan 55100 Pudu, Kuala Lumpur
Operation Hours: 12PM – 3.30PM, closed on Sundays
5. Chan Sow Lin Fish Head Curry (Non Halal)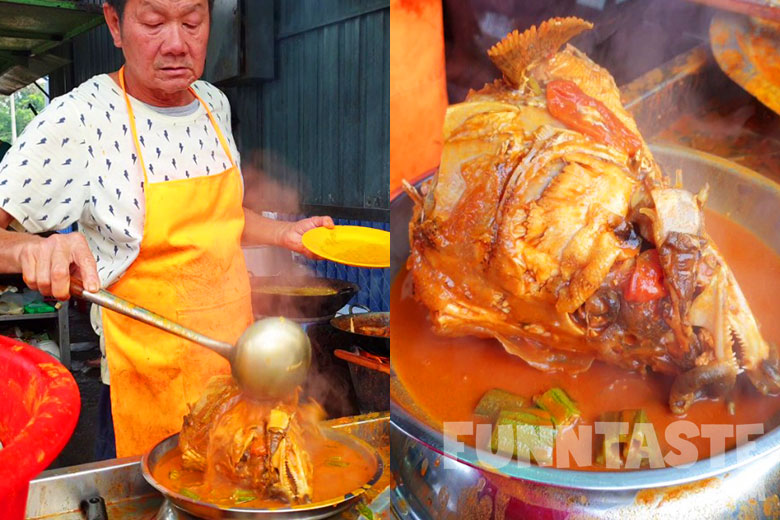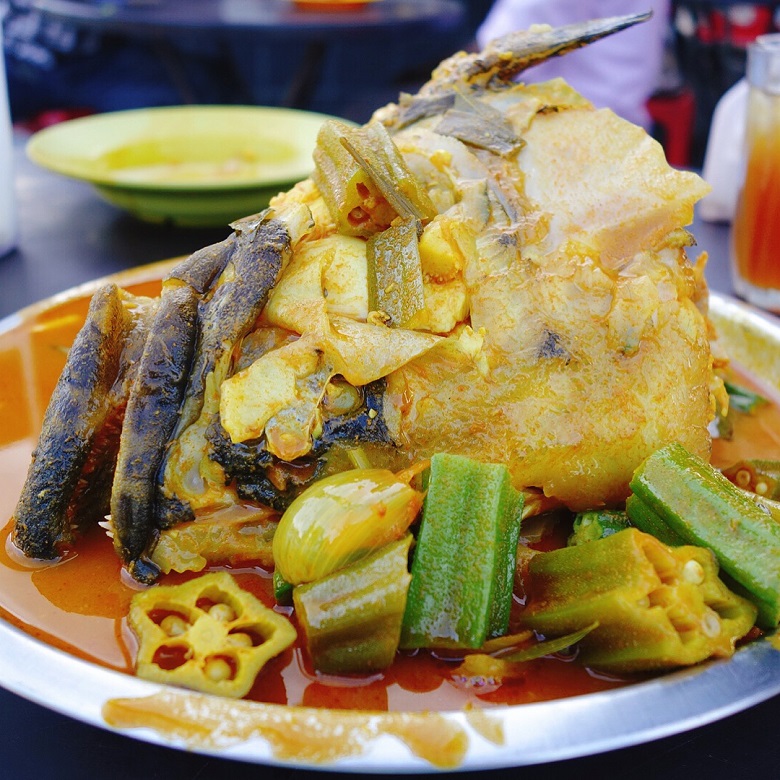 This place is located in Jalan Dua in Chan Sow Lin and no, it does not have a signboard. They are best known for their Indian-styled curries, from red snapper to stingray. While the Fish Head Curry here is a tad watery it's still pretty good. You should also try the fried chicken here, it is marinated over hot coals before it is fried! So, it is full of flavour.
Address: Jalan Dua, Chan Sow Lin, 55200 Kuala Lumpur
Operation hours: 5.30PM – 10PM, close on Sundays
6. D'Tugu View Café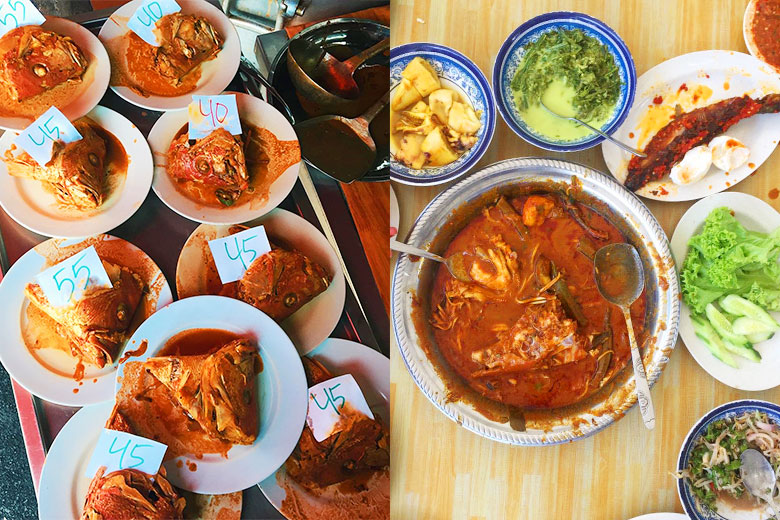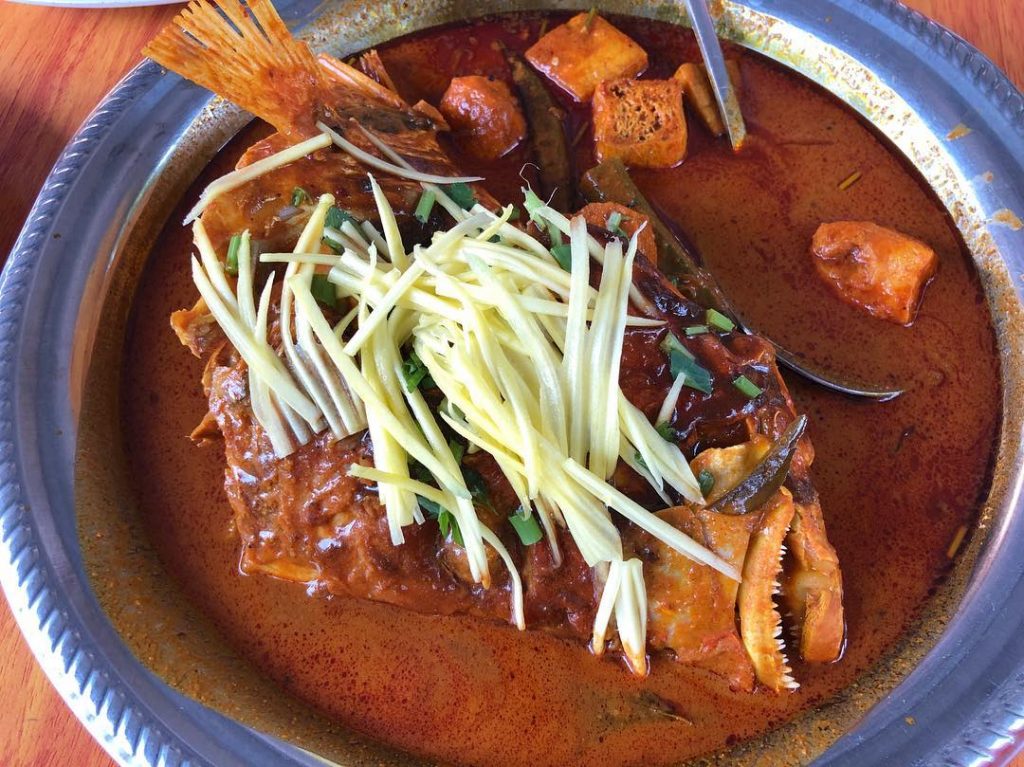 Located near Tugu Negara, D'Tugu View Cafe's fish head lets you choose your fish head. There are different prices for different sizes. Once you pick your fish head, the staff will put it into a pot, generously rain curry gravy, and top with beancurd puffs and lady's fingers. Lastly they sprinkle it with shredded green mango. They also serve a variety of different vegetable and meat dishes here," nasi campur" style.
Address: Jalan Sultan Salahuddin, Kuala Lumpur, 50480 Kuala Lumpur
Operation Hours: 7AM – 6PM, close on Sundays
7. Ratha Raub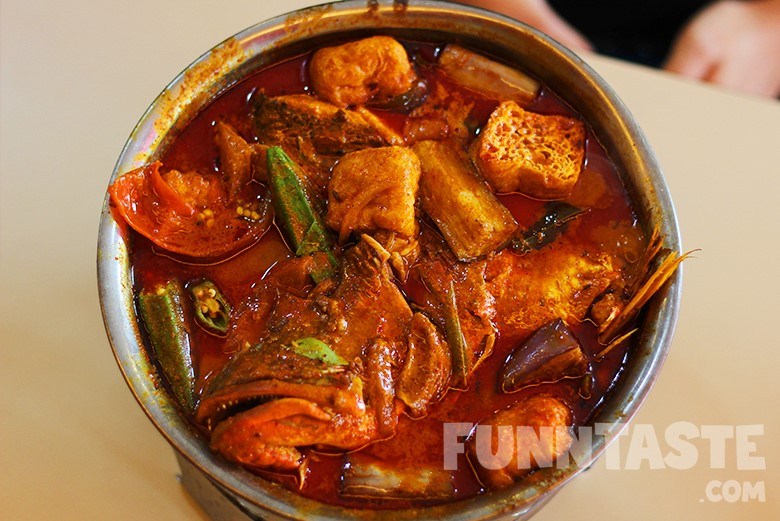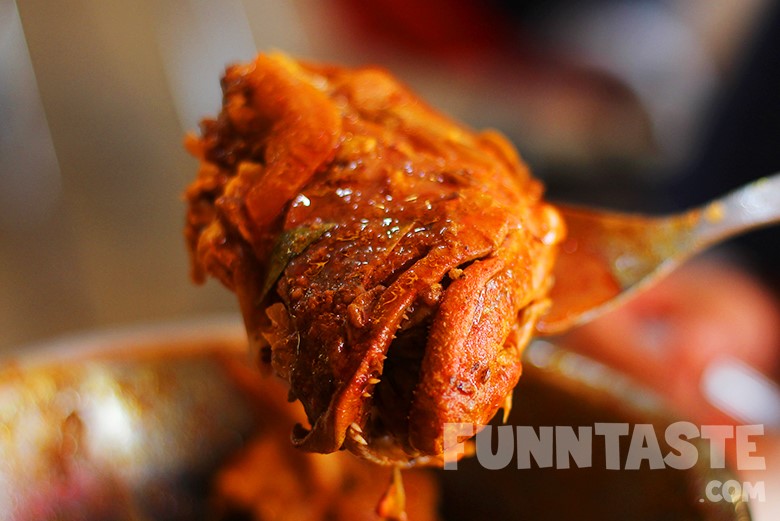 Ratha Raub is a modern fast food styled concept restaurant and is one of the most known places for fish head curry. Their curry is thick and well-seasoned with spices, curry leaves and coconut milk which gives a much creamier texture. The fish heads were incredibly fresh and well cooked!
Address: 32, Jalan SS 21/35, Damansara Utama, 47400 Petaling Jaya
Operating Hours: 7AM – 10PM, Daily
8. Pangkor Curry Fish Head (Non Halal)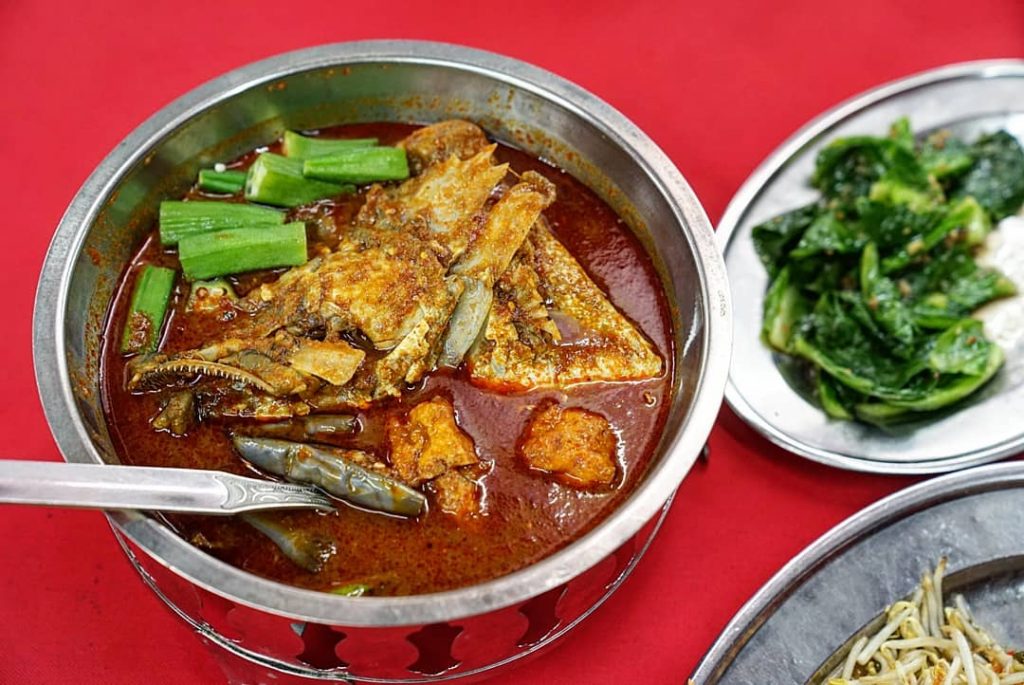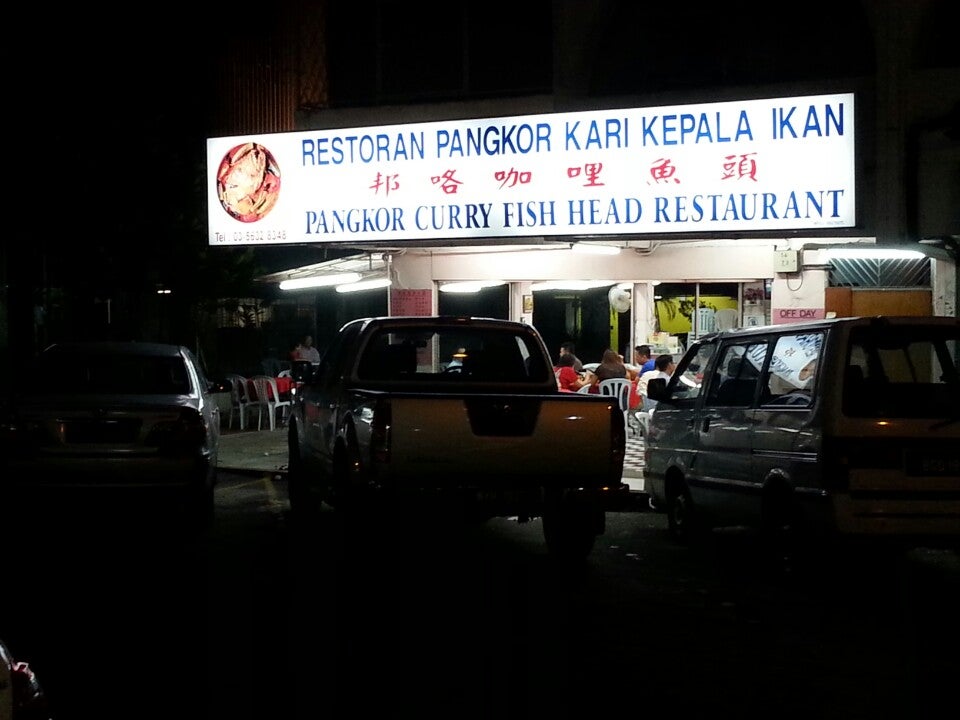 Nestled somewhere in the heart of bustling streets of SS15, this Chinese restaurant serves Chinese Tai Chow dishes. As its brand name suggest, their well-known dishes is their fish head curry. Almost every table had a pot of this. Their fish head curry is made to be on a spicier side and it comes with a generous portion of vegetables and a whole fish head. Be prepared to be sweaty and very fulfilled.
Address: 53, Jalan SS15/4C Subang Jaya, 47500 Petaling Jaya, Selangor
Operation Hours: 12.30PM – 2.30PM, 5.30PM – 9.30PM, Daily
9. Hameediyah Kota Damansara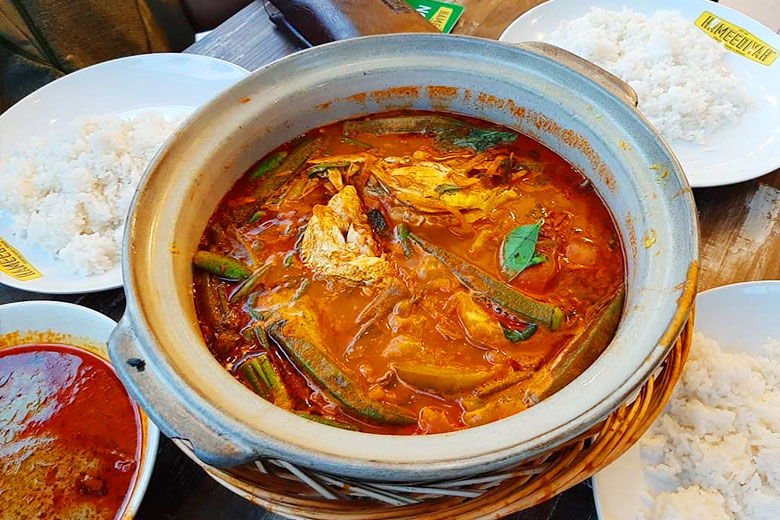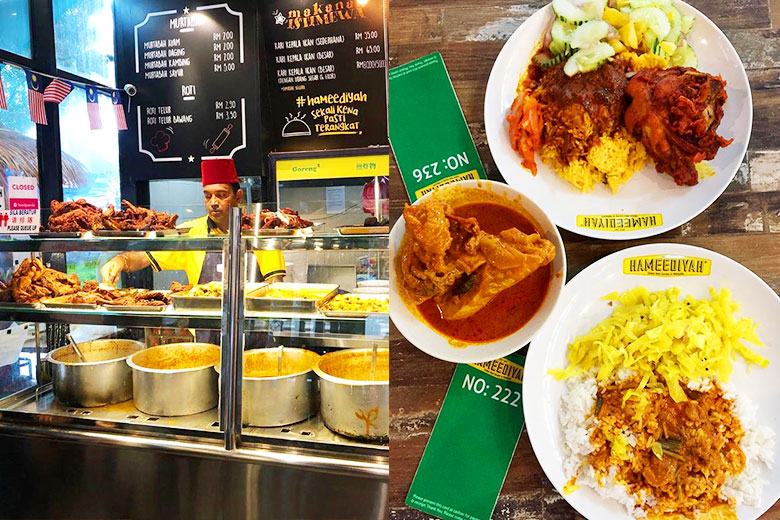 Originally from Penang, this establishment has been around and serving Nasi Kandar since 1907. They are well known for the assortments of side dishes and curries. You can get your fill of fish head curry here. It is said to be tangy, rich and bursting with flavour.
Address: Unit A-GF-01, Sunway Nexis, Jalan PJU 5/8, Kota Damansara
Operation Hours: 11AM – 11PM, Daily
10. Curry Fish Head Pudu (Non Halal)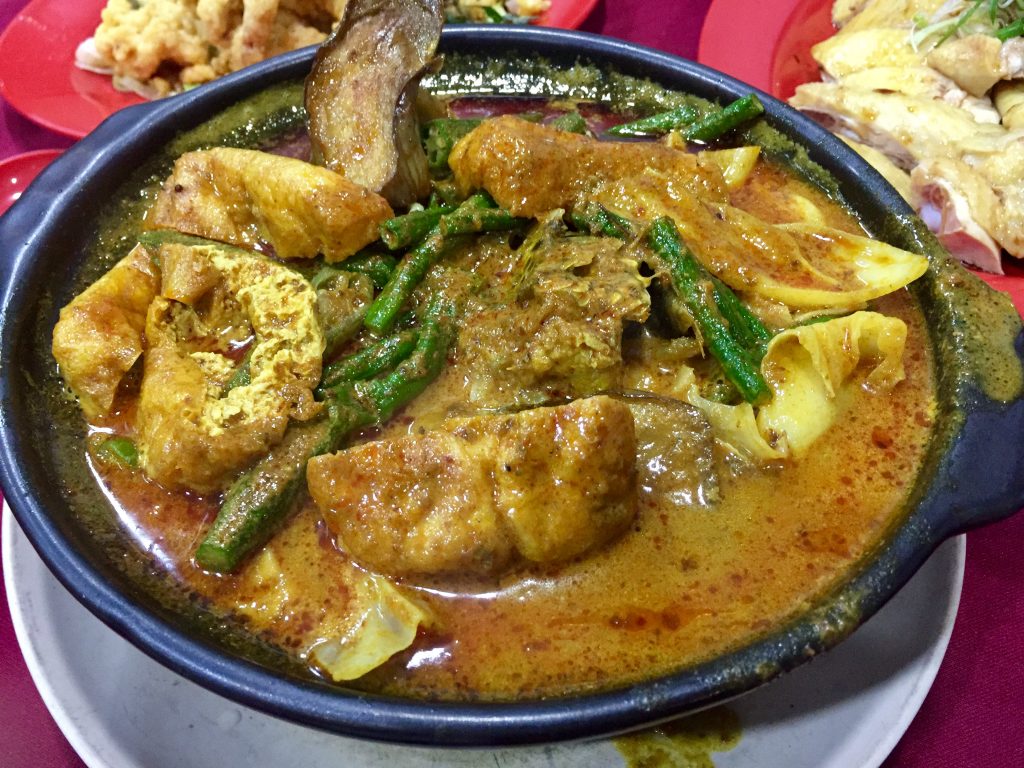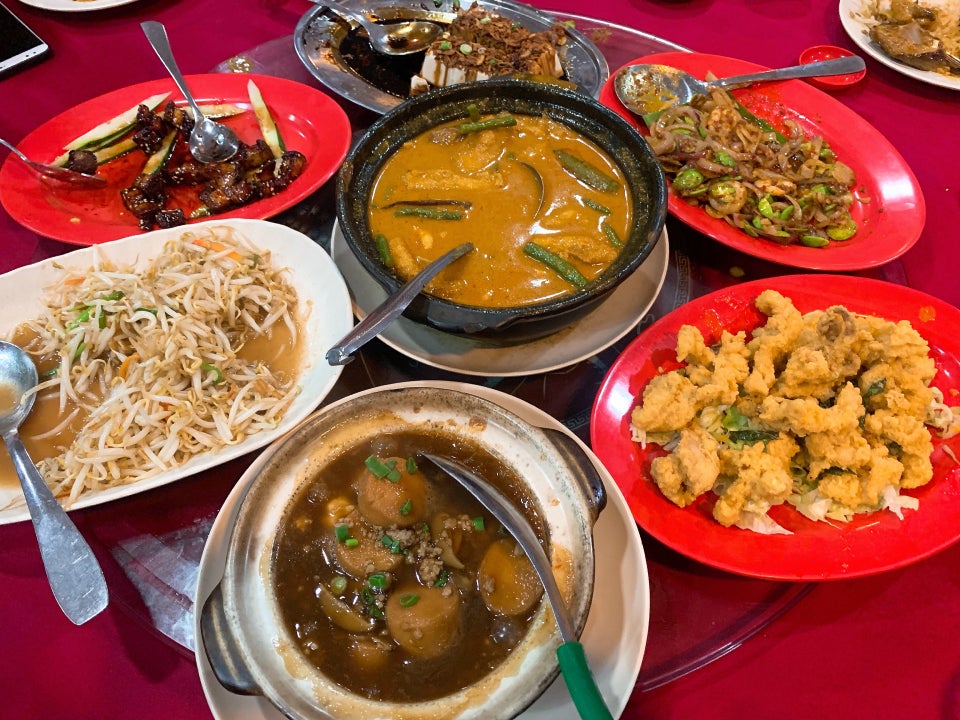 Located in Jalan Pudu, this restaurant as best known for Fish Head Pudu, just like their name. Their fish head curry is a Chinese styled curry which means that their curry is thicker and much more fragrant with coconut milk. It is also savoury and spicy which is everything you want in a curry! They use a grouper head in their curry and it is fresh and meatier!
Address: 368, Jalan Pudu, Pudu, 55100 Kuala Lumpur
Operation Hours: 6.30PM – 1.30AM, Daily
11. E&O Kari Kepala Ikan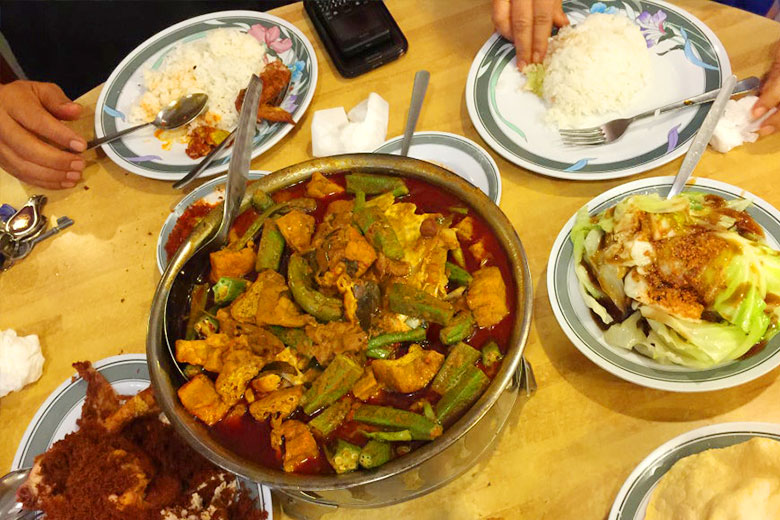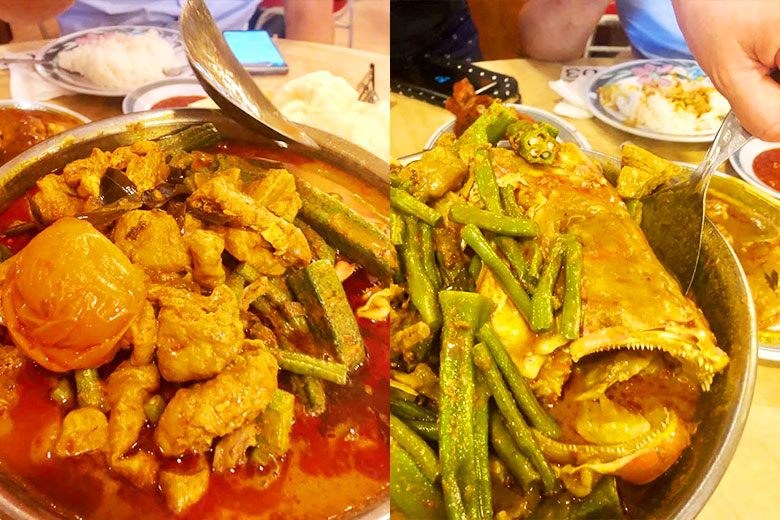 This restaurant has won over the hearts and stomachs of Malaysians with their fish head curry and their side dishes. Their curry is thick and flavorful. It is cooked with tofu, long beans and lady fingers. A well balanced dish! Pair that with fried sotong, fried chicken and stir fried veggies and you got yourself a satisfying meal!
Address: 40, Jalan Sibu 8, Taman Wahyu, 68100 Kuala Lumpur
Operation Hours: 7.30AM – 5.30PM