Food & Drinks
10 Best Hotel Ramadan Buffet In KL & Selangor For 2019
The holy month of Ramadan is just a few weeks away and it is time to explore for new great eats around town. Meet and feast alongside your friends and family with an extravagant buffet spread filled with local delights. That said, here is a list of Ramadan buffets in KL and Selangor.
1. The Resort Cafe at Sunway Hotel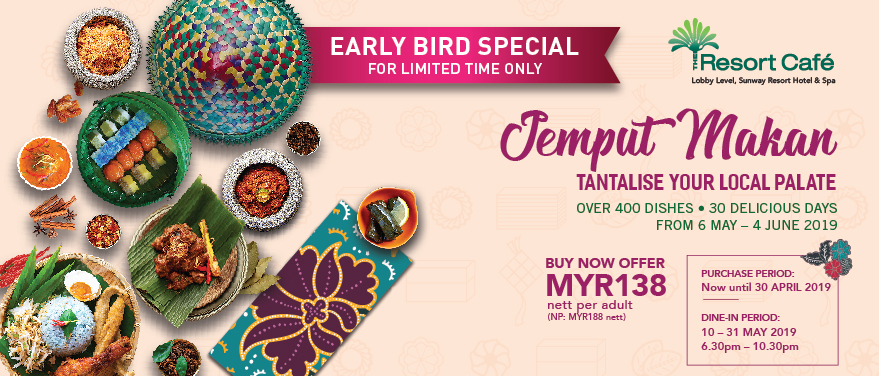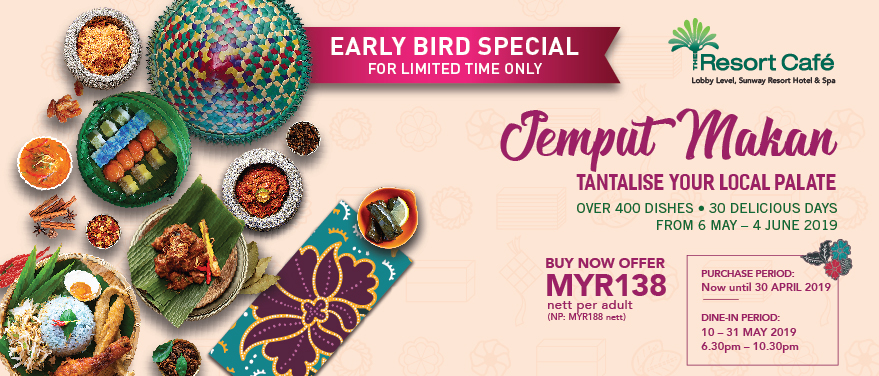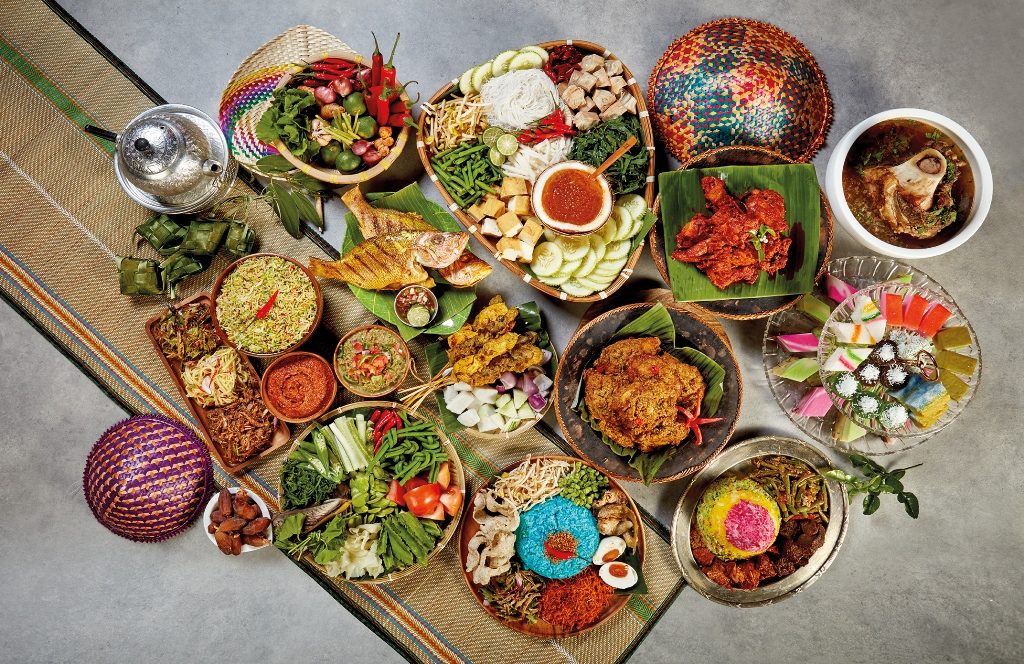 Over 400 authentic dishes, experience a true Malaysia food culture as The Resort Café. Enjoy an extravagant spread of local delights and a touch of international favourites at their outdoor food bazaar with their annual Jemput Makan themed buffet. Showcasing live cooking stalls, you can find dishes like Asam Pedas Gearbox which is a spicy twist on the popular Sup Gearbox, Seafood Bakar, Churrasco Station with grilled meats, Golek and plenty more.
Date: 6 May – 4 June 2019
Price: RM 188 nett, Adult | RM 98 nett, Child (between 6 – 12 years old)
Hours: 6.30 PM – 10.30 PM
Address: Persiaran Lagoon, Bandar Sunway, 47500 Subang Jaya, Selangor
Contact: +603 7495 2009 / +603 7492 8000
2. Tamu Hotel & Suites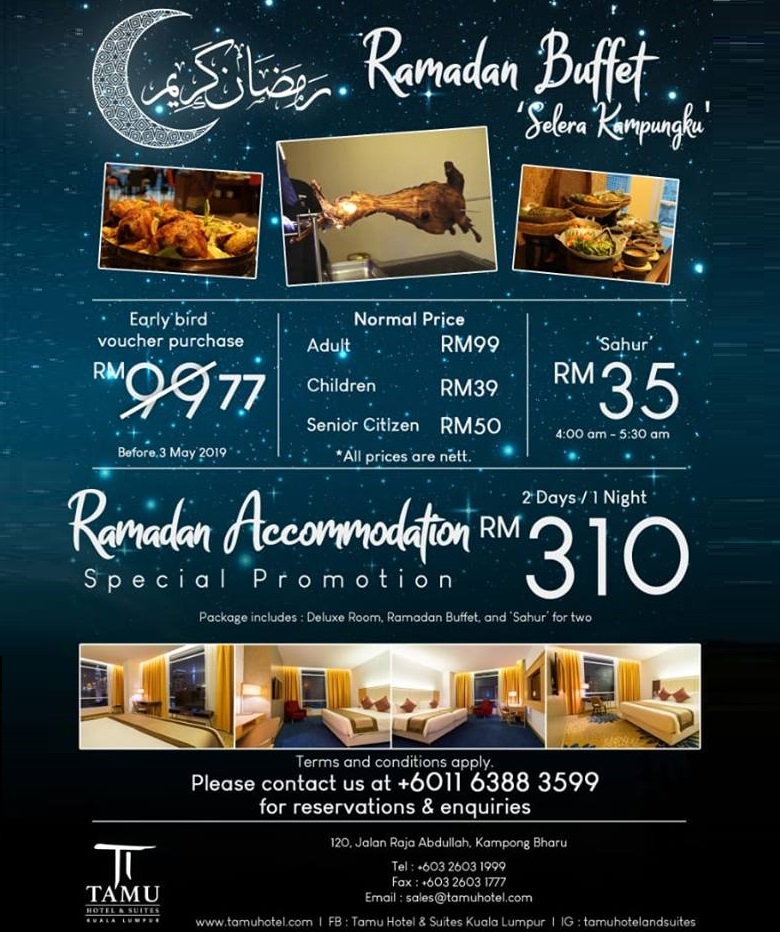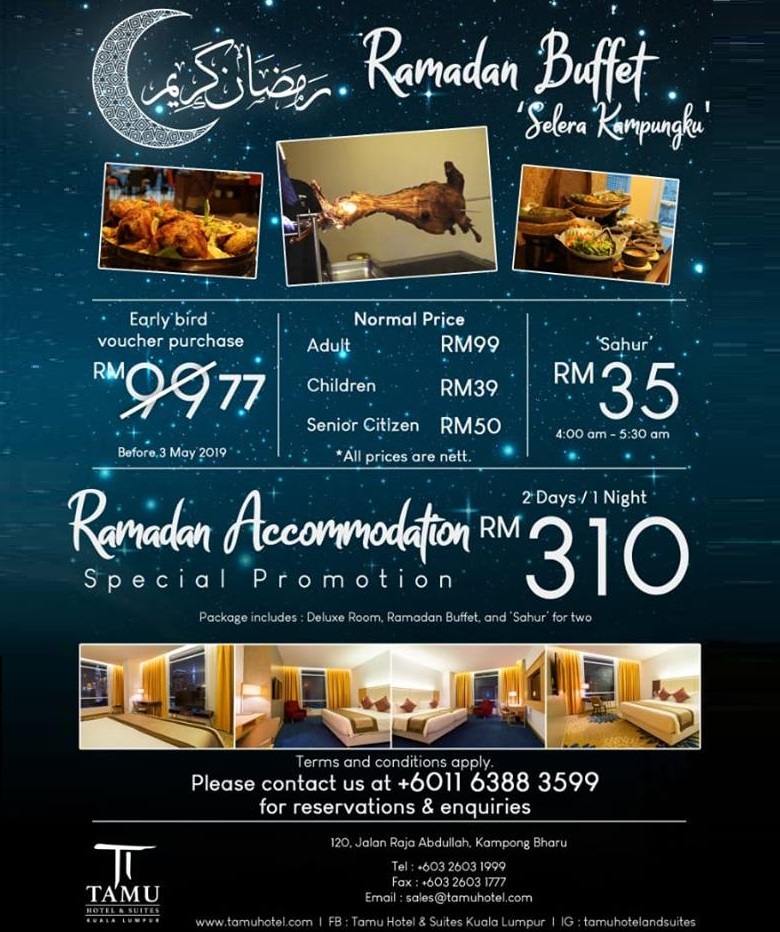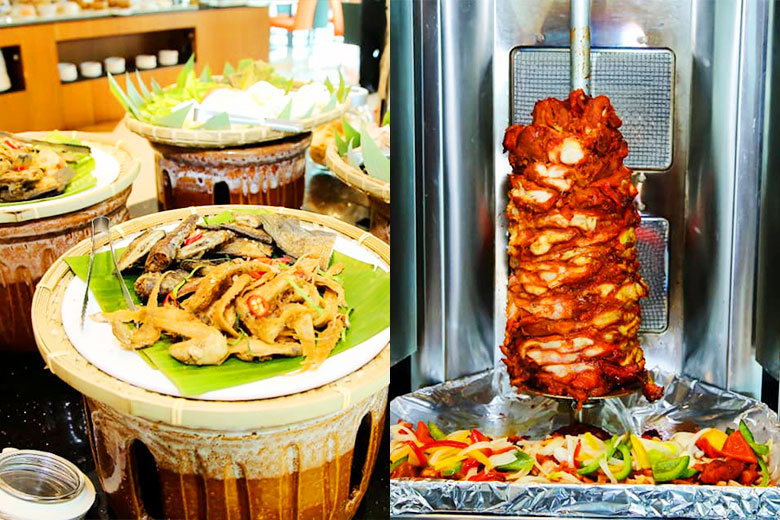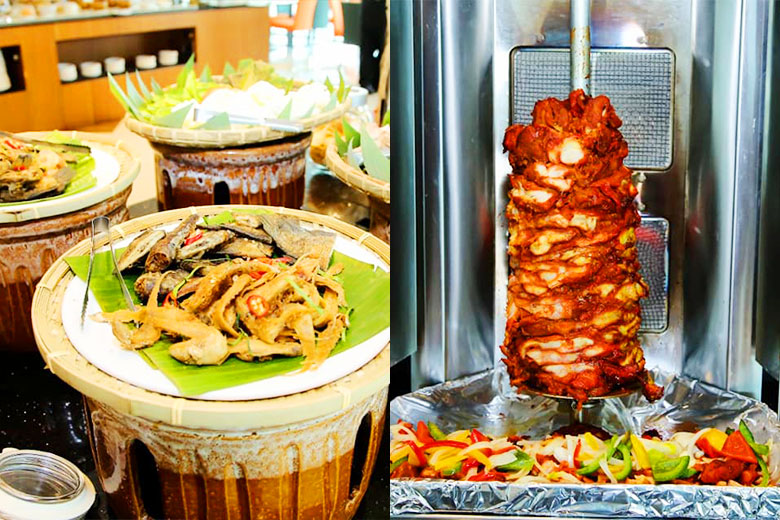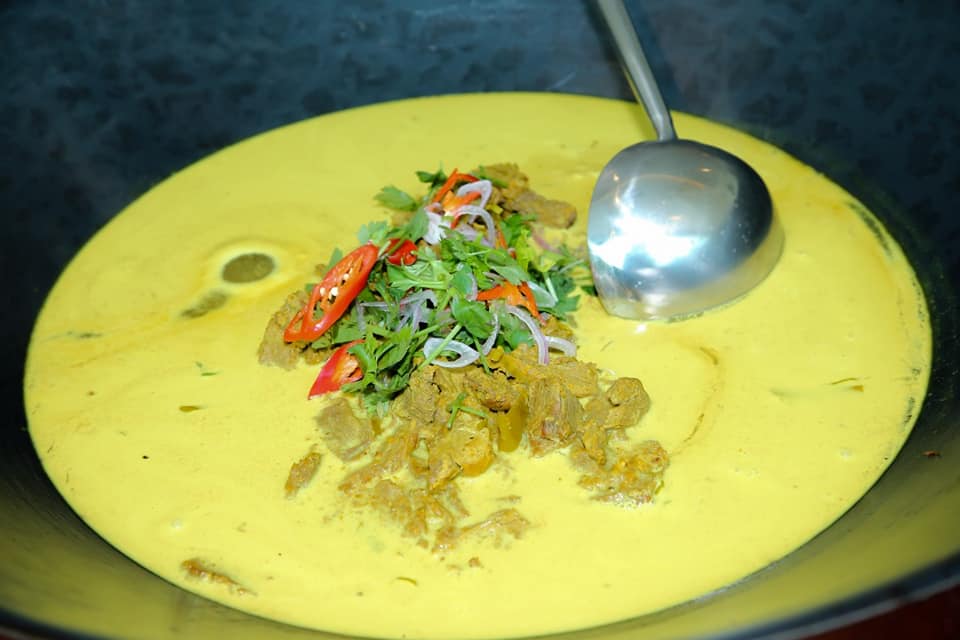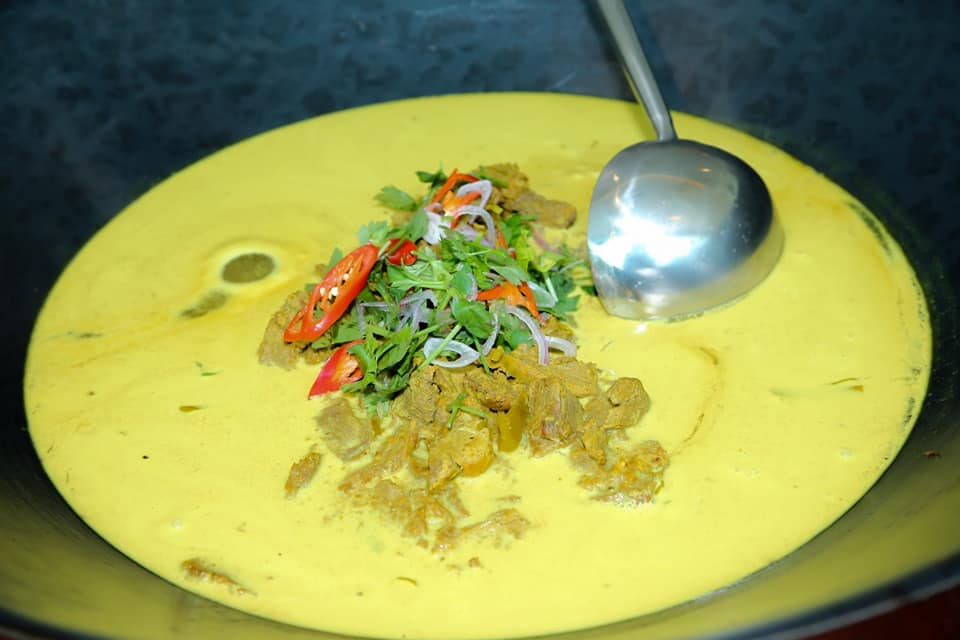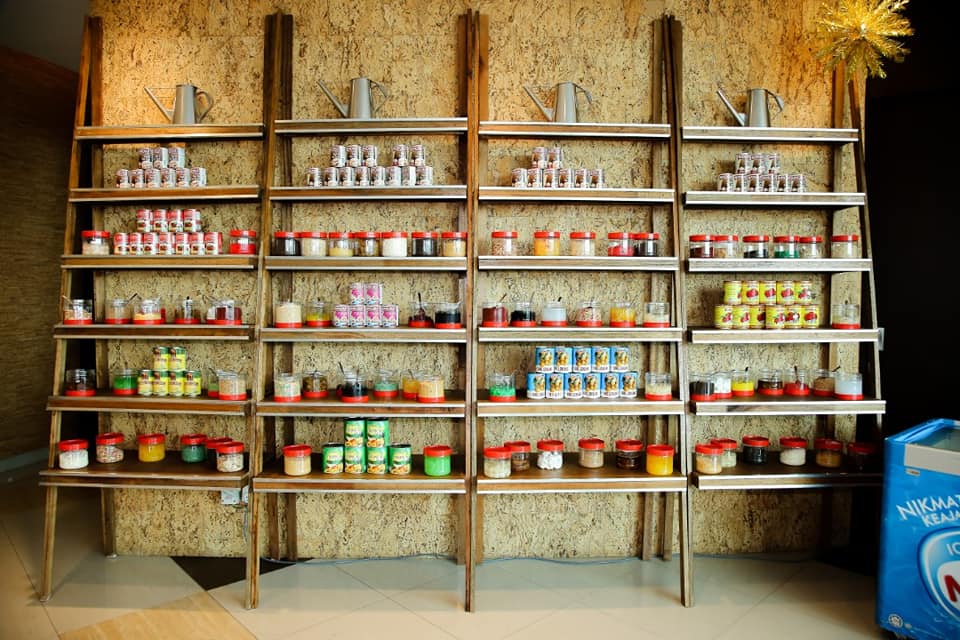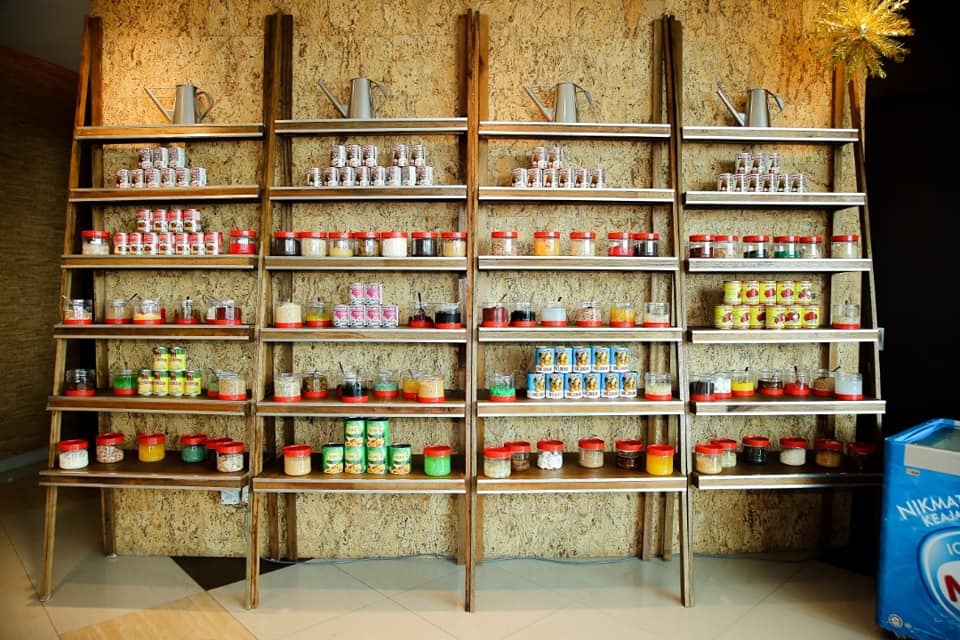 With a beautiful backdrop overlooking the Petronas Twin Tower, the restaurant offers a sumptuous buffet spread themed Selera Kampungku. There are various of dishes ranging from refreshing green salad, Kambing Panggang, Patin Asam Tempoyak, Bubur Lambuk, Ayam Sambal Petai, Ikan Bakar and assorted traditional Malay curries to go with white rice or Briyani. On top of that, you can also customise your own Ais Kacang and enjoy a free flow of beverages.
Date: 6 May – 4 June 2018
Price: RM 99 nett, Adult | RM 39 nett, Child

Address: 120 Jalan Raja Abdullah, Kampung Baru 50300, Kuala Lumpur
Contact: +6011 6388 3599 / +603 2603 1999
3. Paya Serai, Hilton Petaling Jaya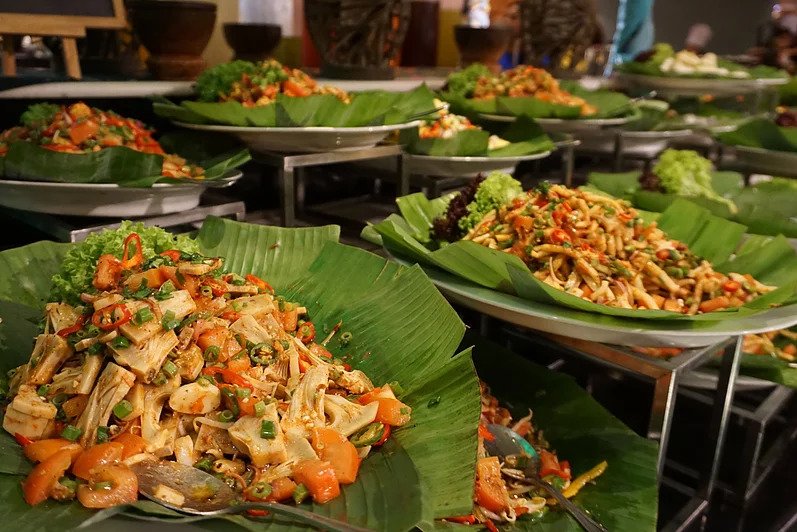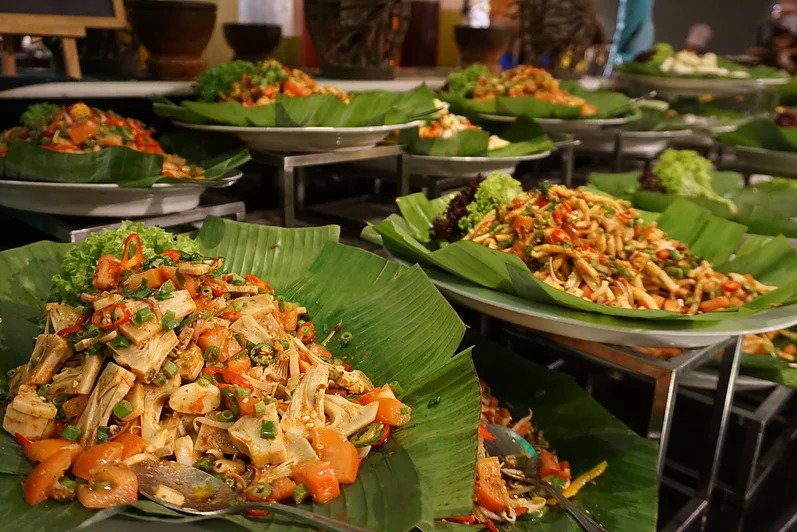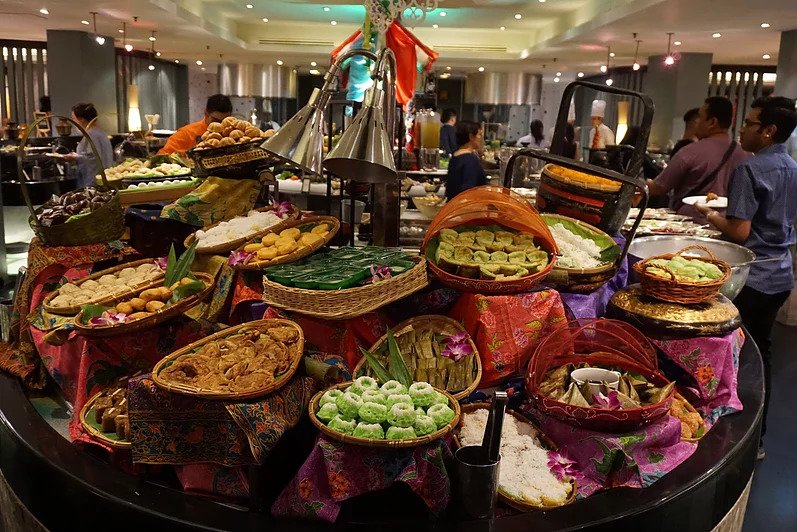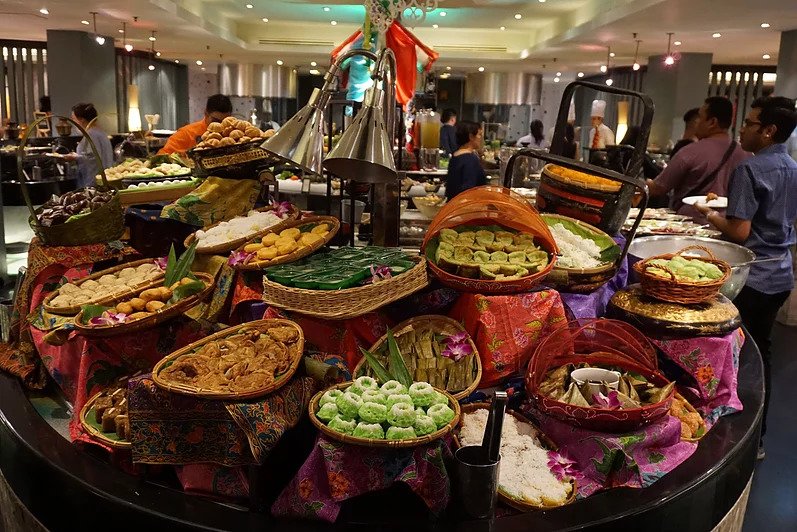 The Hilton Hotel invites all its guests to enjoy a feast of Jom Makan. With over 350 authentic dishes served, the team behind this amazing behind buffet spread highlights a widespread of all-time favourite local cuisine. There are plenty of stations that can be found such as the Briyani Station, Nasi Kandar station, Sekawah Station, Arabian delight stations and so on. Durian lovers, there will be a durian stall as well!
Date: 6 May – 4 June 2019
Price:
RM 169 Adult | RM 89. Child (5 – 7 May 2019 & 2 – 4 June 2019)
RM 189 Adult | RM 99, Child (8 May – 1 June 2019)
Address: 2 Jalan Barat, 46200 Petaling Jaya, Selangor Darul Ehsan
Contact: +603 7955 9122
4. Grand BlueWave Hotel Shah Alam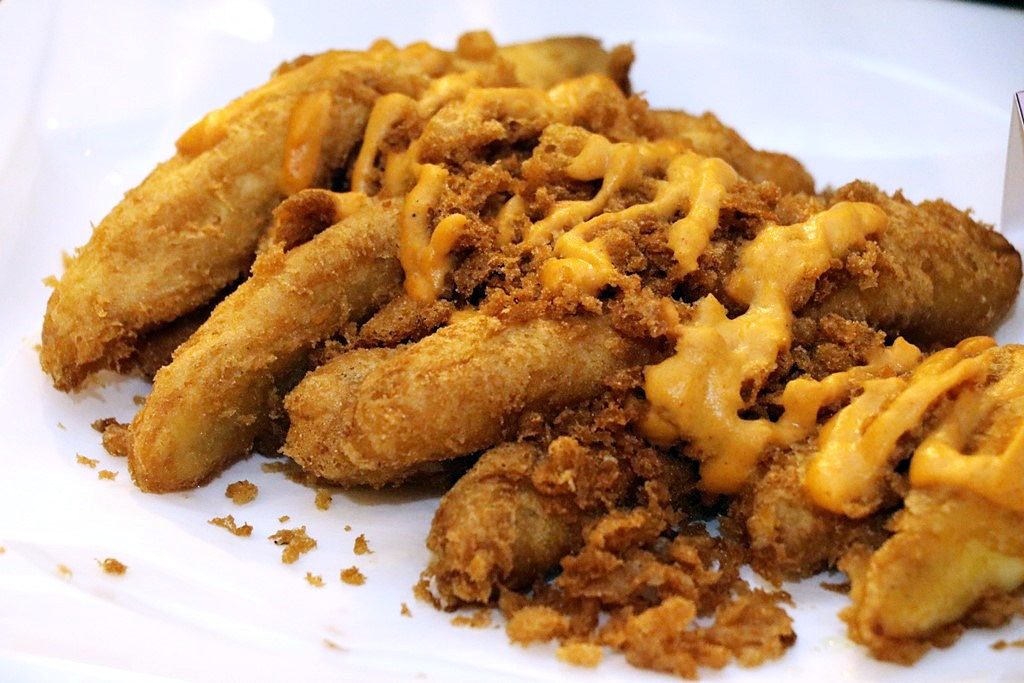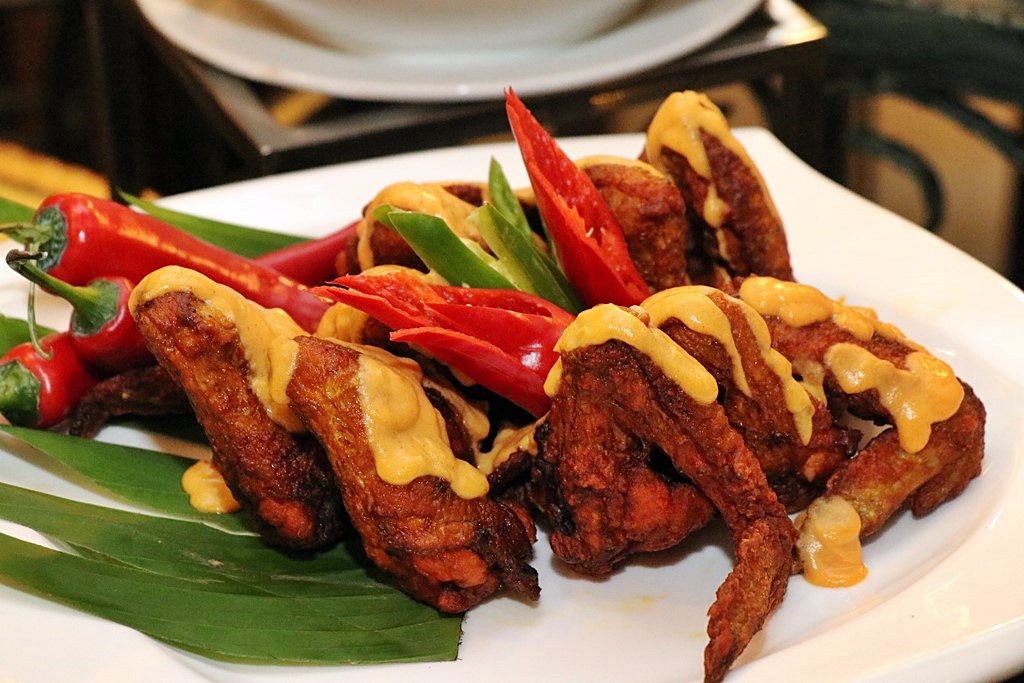 As their theme for this year is Warna Warni Ramadan, their concept is based on Malaysia Kini & Ala Kampung. The buffet spread of Malaysia Kini seems a little more modernised as it is based on the crowd's favourite such as Pisang Goreng Cheese, Chicken Wings Cheese, Burger Cheese Meleleh and many more. Whilst for the Ala Kampung spread, it is more traditional and authentic. Mimicking recipes that's been passed down from generations, you can find authentic local delights such as Mee Udang, Laksa Sarawak, Asam Pedas Tetel and so on.
Date: 6 May – 4 June 2019
Price:
Regular, RM 138+, Adult | RM 70+, Child (weekdays) | Free, Children below 4 years old
Regular, RM 148+, Adult + Child (weekends & public holidays)
Address: Persiaran Perbandaran, Seksyen 14, 4000 Shah Alam, Selangor
Contact: +6019 2736801 / +6019 2757801
5. Nook at Aloft KL Sentral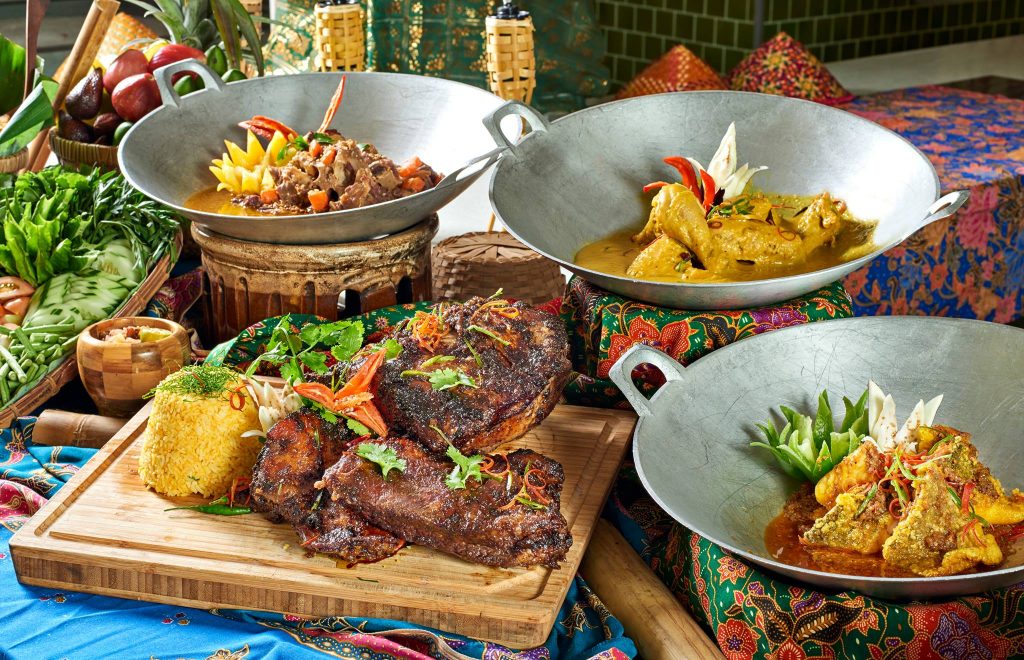 Nook, Aloft KL Sentral's all day dining restaurant presents a scrumptious spread of traditional Malaysian and Indonesian dishes. Themed Joms Buka @ Nook Selera Indonesia, there are over 150 dishes served on the buffet spread. The specially curated menu will feature local Ramadan favourites with a touch of Indonesia's traditional cuisine which includes Ikan Bumbu Berempah, Bakso, Gado-Gado, Daging Sapi Gongso and many more.
Date: 7 May – 3 June 2019
Price: Regular, RM 138, adult
Address: No 5 Jalan Stesen Sentral, 50470, KL Sentral, Kuala Lumpur
Contact:

6. Four Seasons Hotel Kuala Lumpur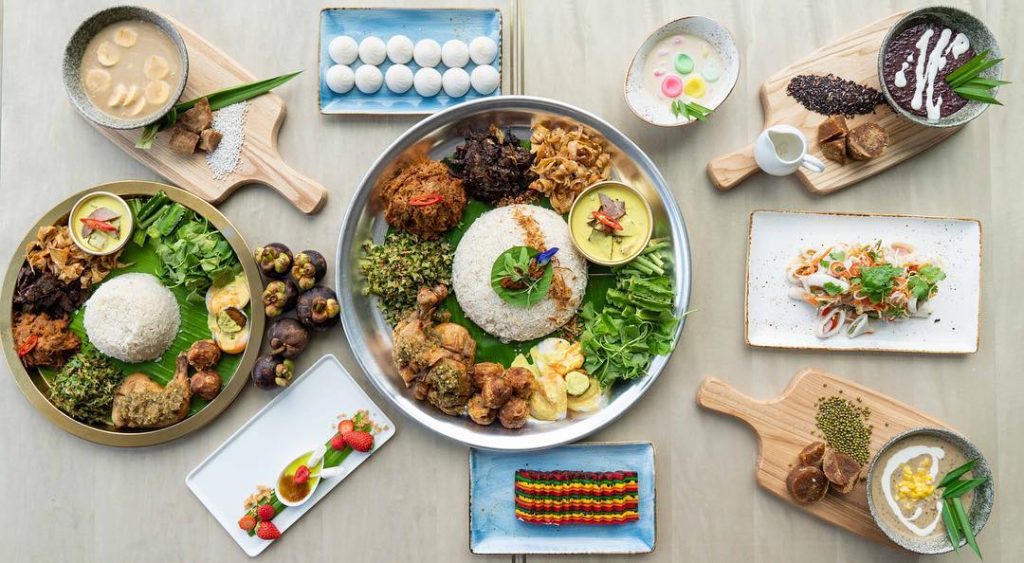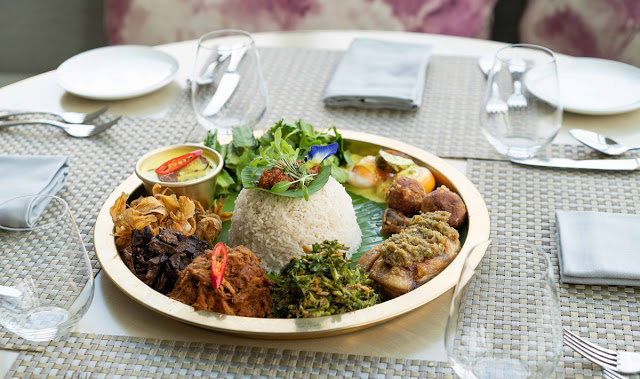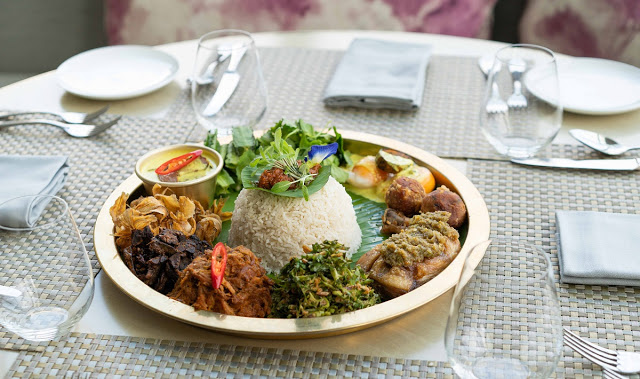 During the month of Ramadan, Four Seasons Hotel Kuala Lumpur presents the flavours of Malaysia at the hotel's restaurant, CurATE who owns by celebrity chef Dato' Fazley Yaakob. The menu's curated by chefs with exceptional culinary talent, promising their guests a feast to remember. Bringing together flavours from Malaysia, Indonesia, India, China and Thailand, break fast with your loved ones as you overlook KL's impressive skyline.
Date: 6 May – 4 June 2019
Price:
RM 178 nett, per person (6 – 12 May 2019 & 31 May – 4 June 2019)
RM 208 nett, per person (13 – 30 May 2019)

Address: 145, Jalan Ampang, Kuala Lumpur
Contact: Online reservations
7. Mosaic at Mandarin Oriental Kuala Lumpur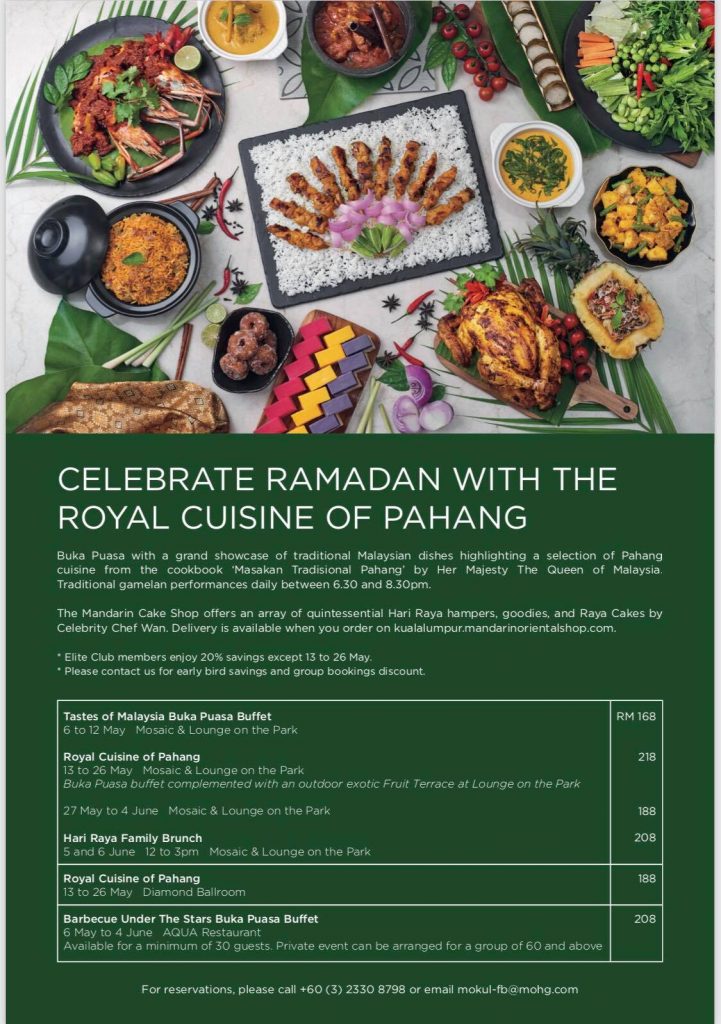 With themes like A Taste of Malaysia and Royal Cuisine of Pahang, their dishes served will have recipes featured from Her Majesty's cookbook called Air Tangan Tengku Puan Pahang Masakan Tradisional Pahang." Kerabu Daging, Kerabu Pucuk Selembut, Otak-Otak Kukus are one of the many dishes that will be served on the buffet spread.
Date: 6 May – 4 June 2019
Price:
RM 168 nett, per person (6 – 12 May 2019)
RM 218 nett, per person (12 May – June 2019)
Address: Mosaic, Lobby Level, Mandarin Oriental Kuala Lumpur, Kuala Lumpur City Centre, 50088 Kuala Lumpur
Contact: +603 2330 8798
8. Kwee Zeen at Sofitel Kuala Lumpur Damansara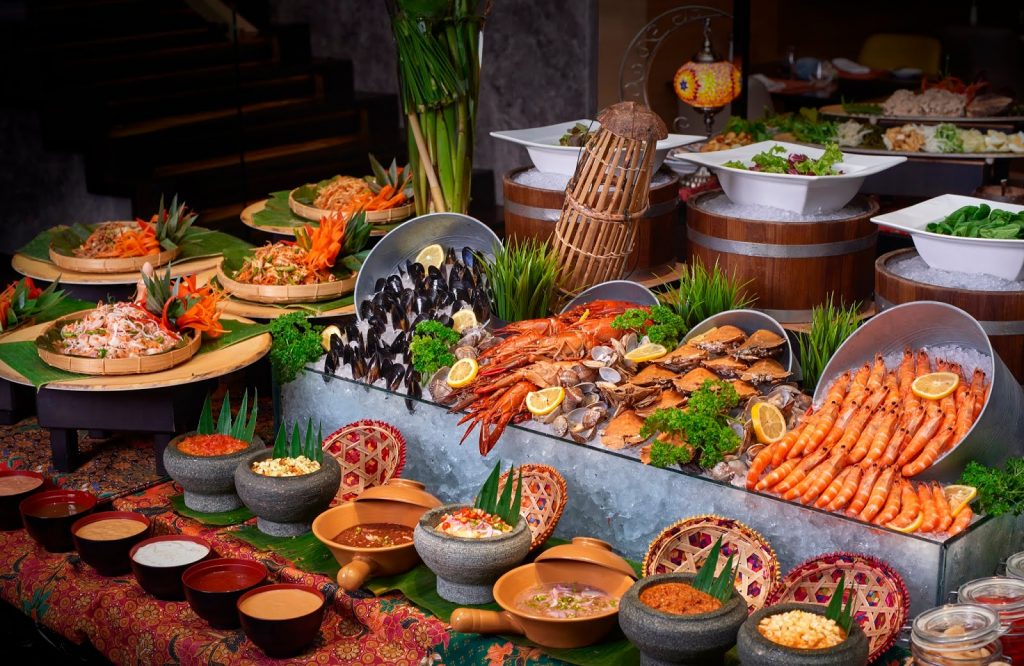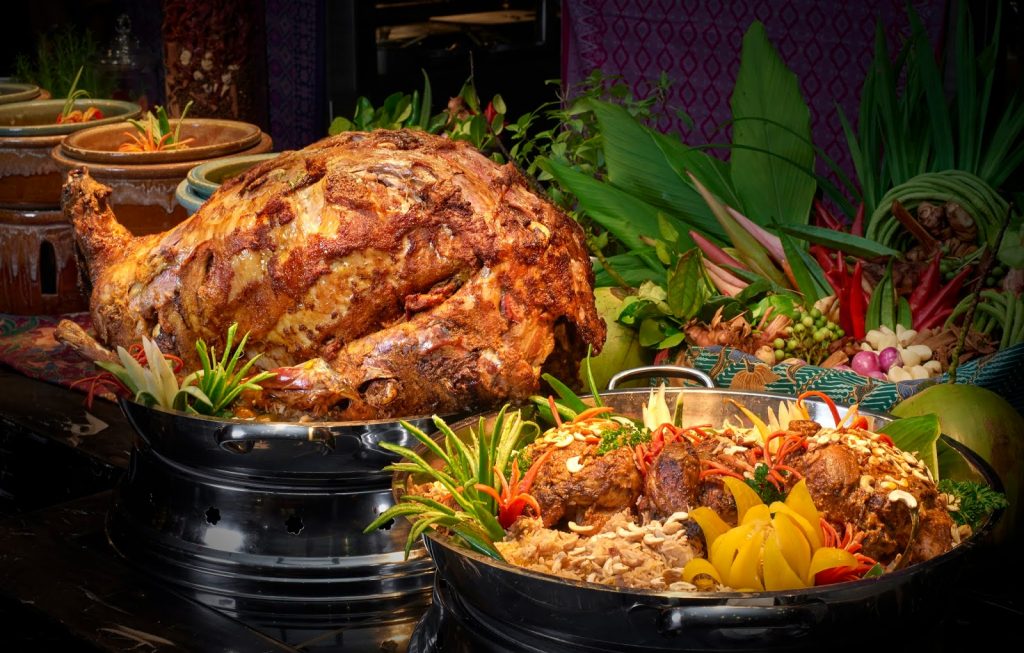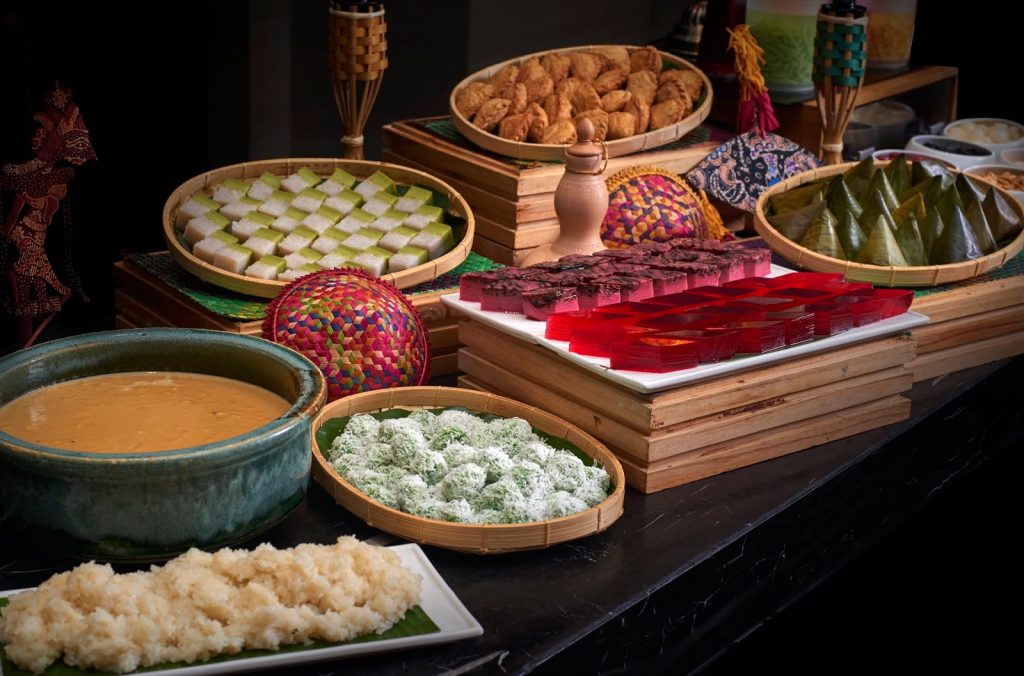 The French luxury hotel brand has collaborated with Chef Dato' Chef Haji Ismail Ahmad to provide a feast of traditional Malay cuisine. Carrying the theme of A Malaysian Heritage for this year's Ramadan, there are over 180 dishes for you to choose from. Enjoy the chef's famous creation of Ayam Golek Istana that can be only found served in the Palace. Whereas, there are other local favourites such as Asam Pedas Ikan Pari, Rendang Pucuk Ubi and Kari Mee,
Date: 4 May – 4 June 2019
Price: RM 188 nett, per adult | RM 94 nett, per child
Address: No 6, Jalan Damanlela, Bukit Damansara 50490 Kuala Lumpur
Contact: +603 2720 6688
9. Contango at The Majestic Hotel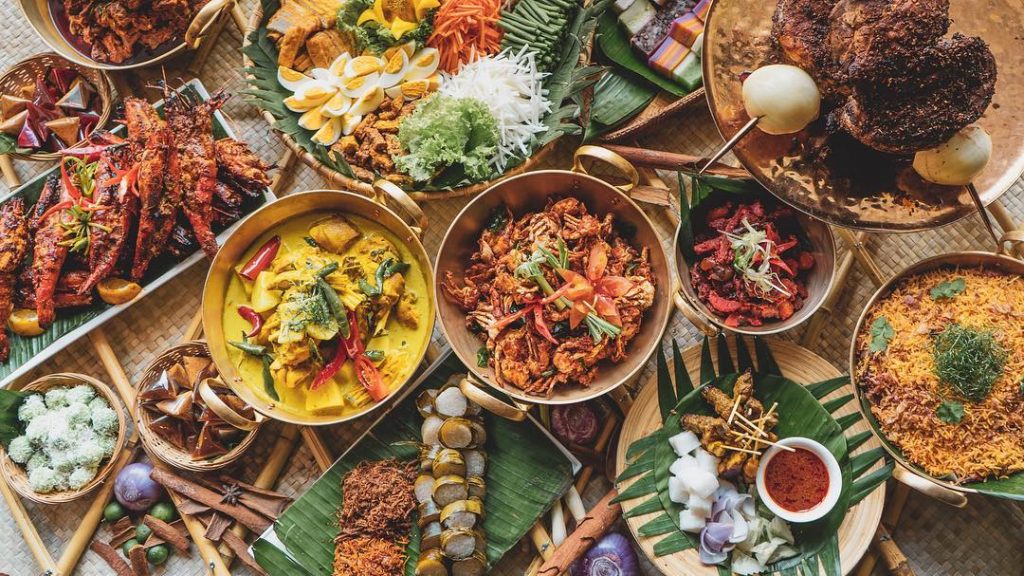 This Ramadan, enjoy a buffet spread showcasing classical Malay cuisine at Contango. Highlighting the special dishes, do try their Penang Laksa, Kambing Kuzzi and Kari Tenggiri. Whereas discover other rare Malay dishes like Teresek Jantung Pisang, Ayam Kerutuk, Opor Daging and many more.
Date: 3 May – 6 June 2019
Price: RM 150 nett, per person
Address: 5, Jalan Sultan Hishamuddin, Tasik Perdana, 50000 Kuala Lumpur, Wilayah Persekutuan Kuala Lumpur
Contact: +603 2785 8000
10. JP Teres at Grand Hyatt Kuala Lumpur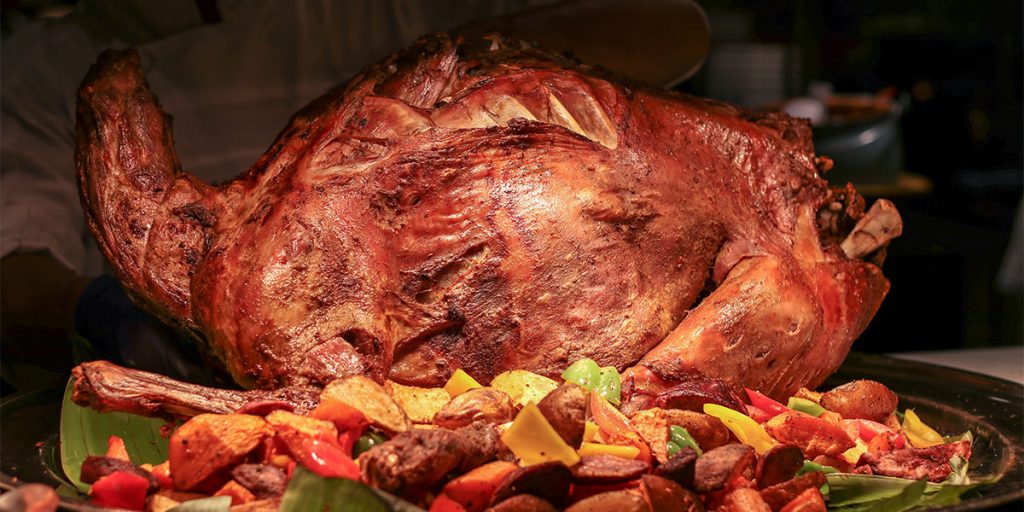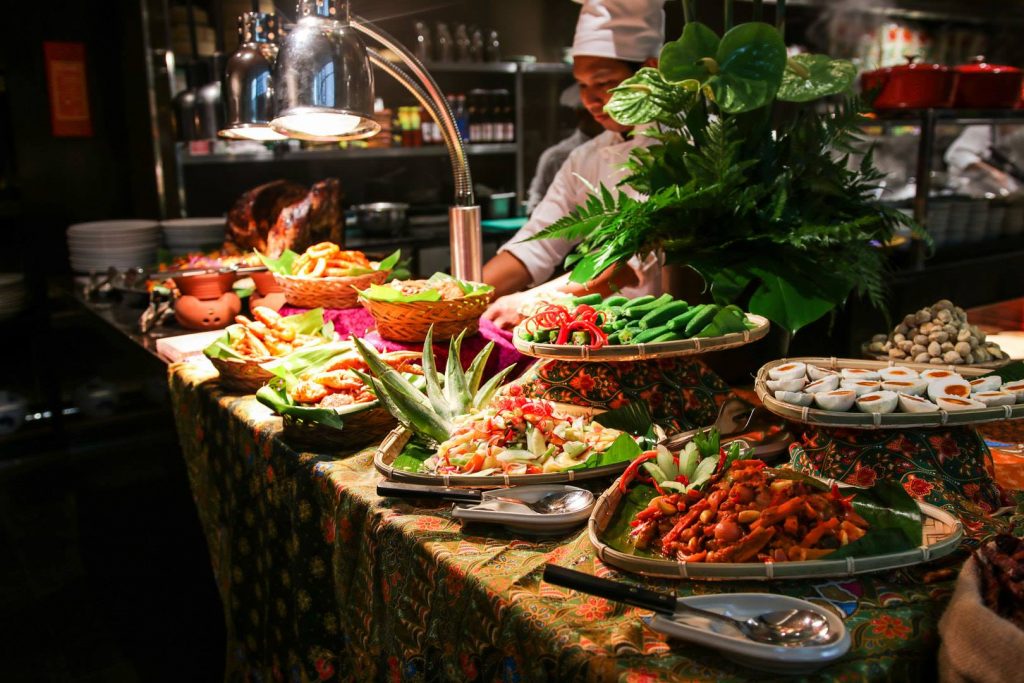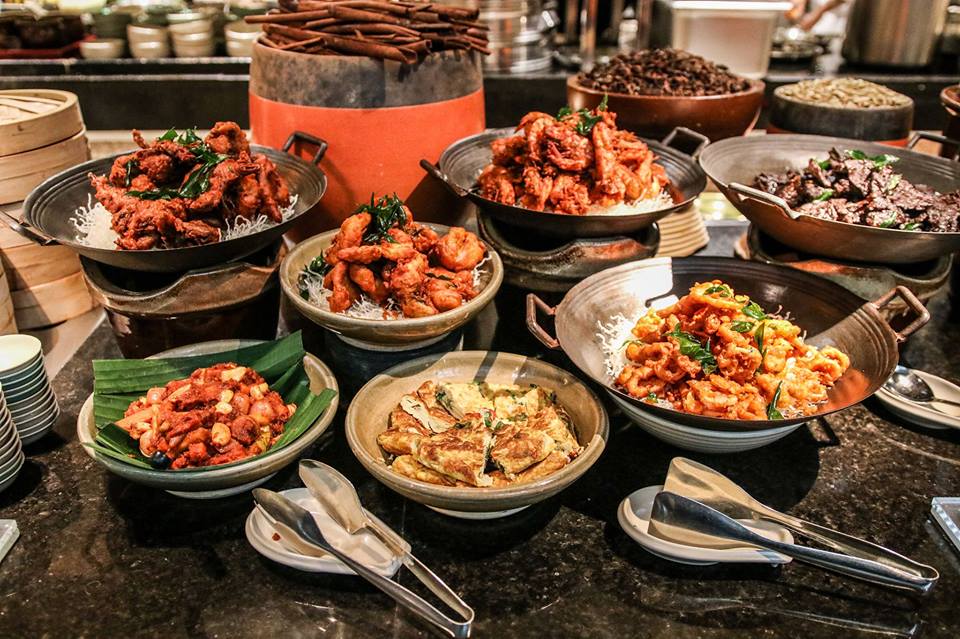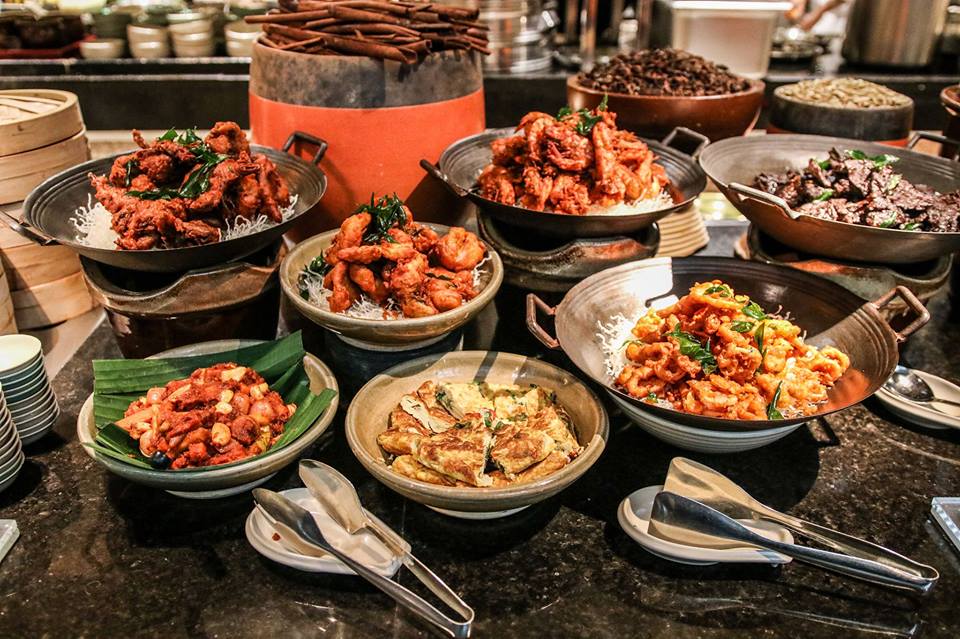 Grand Hyatt Kuala Lumpur will be presenting Aneka Rasa, an extensive buffet spread of local cuisine at their restaurant, JP Teres. There are over 150 dishes showcasing authentic Malaysian cuisine. It features more than 20 buffet stations: Kambing Golek, Tandoori, Assorted Satays, Nasi Kandar, Middle East, Chinese Roasted Duck and so on. To make your dining experience more far fetched, during Fridays and Saturdays, the restaurant hosts Barbecue Nights featuring selection of quality range meats and seafood. Whilst on Sundays, there will be freshly prepared seafood on ice including assorted oysters, tiger prawns and crabs.
Date: 6 May – 31 May 2019
Price:
Early Bird, 6 May – 12 May 2019 (RM 158 nett, adult | RM 79 nett, child)
Regular, 13 May – 31May 2019 (RM 178 nett, adult | RM 89 nett, child)
Group Booking, 13 May – 31 May 2019 (RM 168 nett, Adult | RM 84 nett, Child)
Address: JP Teres, Ground Floor, Grand Hyatt Kuala Lumpur, 12 Jalan Pinang, 50450 Kuala Lumpur
Contact: +603-2182 1234
Read also: 10 Rooftop Infinity Pools with Petronas Twin Towers View