Things To Do
6 Best Gifts To Get From Haier For A Jolly Christmas This Year

We're only couple of days away until the end of 2021. And year-end signifies that it is finally – gifting season! This year Haier has plenty of new items for you to check out.
For the uninitiated, Haier is a household electronic brand and they have been fulfilling the needs of Malaysian consumers in all aspects since 2002.
From Refrigerator, Freezer, Washing Machine, Air Conditioner to TV and Kitchen appliances and more, there's something for every individual.
So, let's get shopping and discover the perfect gift for your loved ones with Haier. Here's a list of Haier products you should check out:
1. Refrigerator: Haier HTF-540DGG7
If we could pick a perfect gift for home cook who lives with a big family, here's the best gift. Designed for larger households, this four-door refrigerator features wide storage so that you can store a lot of groceries. In addition, Haier's refrigerator also comes with Fresh Technology that helps to keep food fresh for a longer time, hence reducing food wastage/spoilage.
Promotion for HTF-540DGG7: Free Color King Bowl + Chopsticks Set of 4 (Red/Yellow) worth RM109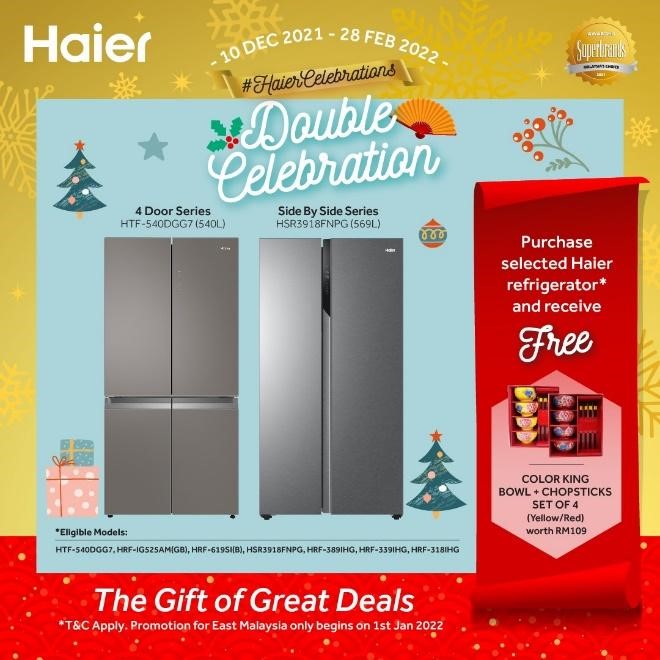 2. Chest Freezer: BD-318HEC (Net Capacity: 306 L) and BD-288HEC (Net Capacity: 251L)
F&B owners or home based food delivery entrepreneurs, this is the chest freezer for you. Both models come with dual protection against bacteria with 3 main features:
Anti-bacterial inner liner: Prevent the growth and reproduction of bacteria and secondary contamination
Removable Anti-Bacterial Door Seal
Electronic Control Panel: For a more precise temperature control
Promotion for BD-318HEC and BD-BD-288HEC chest freezers: Free Color King Bowl + Chopsticks Set of 4 (Red/Yellow) worth RM109
Promotion for upright freezer BD-248WL: Free Color King Bowl + Chopsticks Set of 4 (Red/Yellow) worth RM109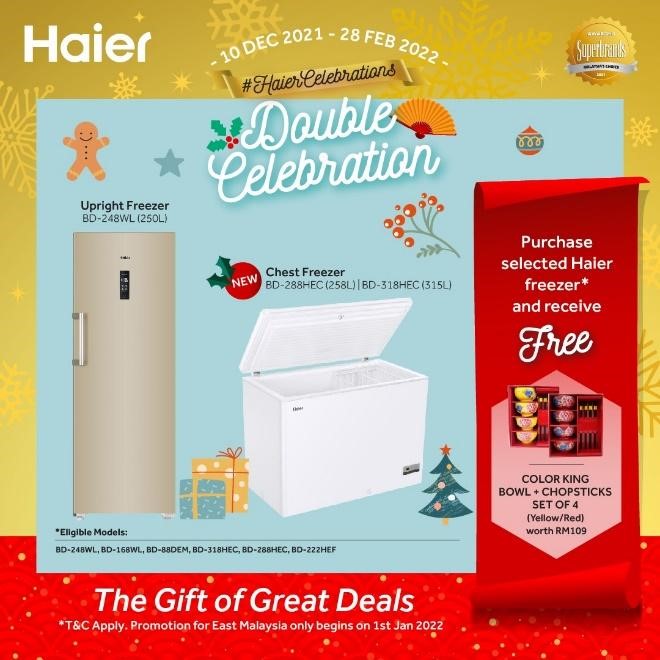 3. Washing Machine and Dryer: HWD120-B14979
By using Haier washing machine, clean clothes are just a wash away! Haier is ranked global top brand for home laundry appliances for 12 consecutive years (Source: Euromonitor International Limited). This model – HWD120-B14979 features superb Hygiene Care technology for cleaner clothes and a more hygienic laundry cycle every time. Its I-Refresh feature uses micro vapour technology to remove odour and reduce wrinkles on clothes without water contact and detergent.
That's not all, the washer and dryer also comes with features below:
Eliminates belt friction for improved washing efficiency and reduced noise and energy consumption with Direct Motion Motor powered by Fisher & Paykel
STEAM– Constant high temperature steam eliminates mites, bacteria and allergens effectively
ABT – Protects against 99.99% harmful bacteria and germs in the porthole gasket and detergent drawer to keep the washing environment clean
Dual Spray – Cleans the gasket and window after every completed laundry cycle to fully remove residual bubbles, dirt, fluff and lint
Bigger drum: provides a more spacious washing drum for more clothes
I-Refresh – Remove odour and reduce wrinkles: the I-Refresh technology uses micro vapour technology to remove odour and reduce wrinkles on your clothes without any water contact and detergent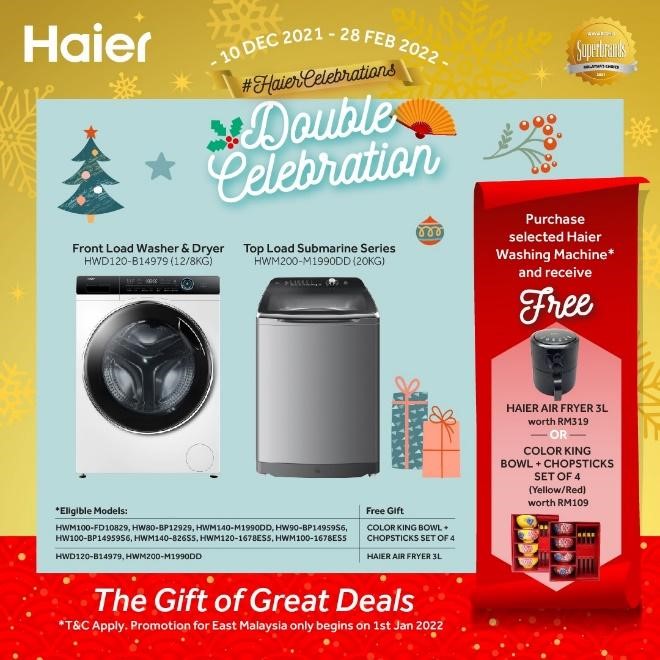 Promotion for HWD120-B14979 washer and dryer: FREE a Haier air fryer 3L worth RM319
4. Air Conditioner: VTK/VTH R32 Smart Inverter Air Conditioners
Did you know that Smart Clean is Haier's technology that deeply cleans the evaporator which helps to kill up to 99.9% bacteria for clean and healthy air?
Here are the 3 reasons why you should check out VTK/VTH R32 Smart Inverter Air Conditioners:
Smart-Clean Technology kills up to 99.9% bacteria for clean and healthy air
Energy-Saving Eco Mode helps to save up to 63% on electricity consumption
Superior Cooling Performance that reaches your preferred temperature 47% faster
Promotion for VTK/VTH R32 Smart Inverter Air Conditioners: FREE a Color King Sauce Pan 1500ml (brown/ black) worth RM199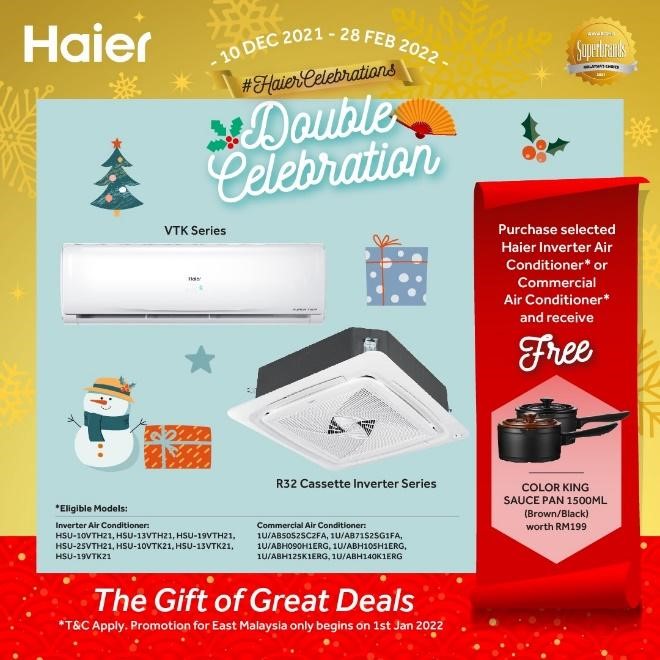 5. Television: H75S5UG (75") TV
Haier has been continuously innovating its TV's capabilities. The H75S5UG (75") TV ensures superior clarity with Wide Colour Gamut technology for vivid, sharp and realistic pictures.
Haier TVs are available in different models and sizes, from 32 to 75 inches, operated with the Android system. With the Built-in Google Assistant, it allows consumers to use voice to control all smart home devices by solely using TV remote controller.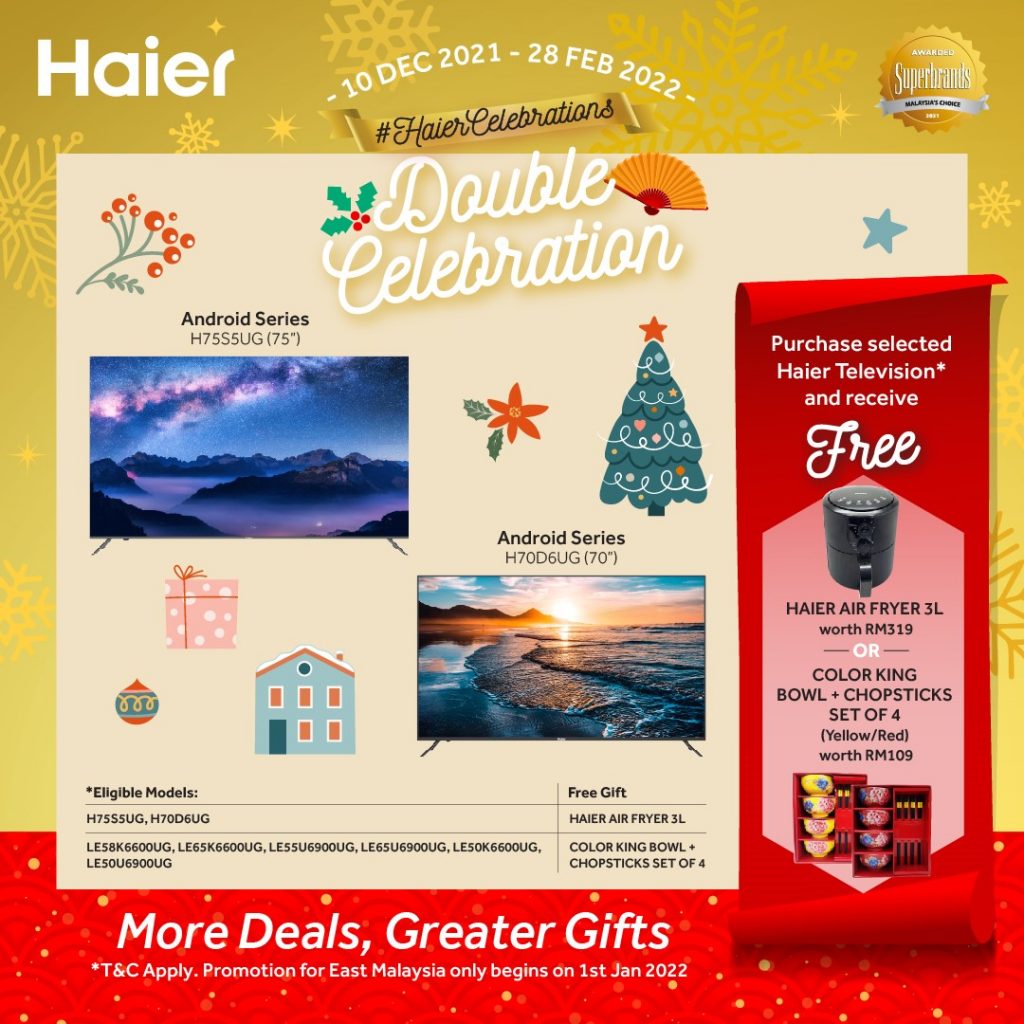 6. Kitchen Hood: HH-T895
Haier kitchen hood is powered by Fisher and Paykel Direct Drive Inverter Motor which it helps to keep energy consumption to a minimum. Haier's gas hob comes with Anti-Dry technology and Flame Failure Device features provide double protection to your family by preventing dry burning and gas leaking.
Promotion for HC-QHA9331 Gas Hob + HH-T895 Hood Bundle: Free Color King Bowl + Chopsticks Set of 4 (Red/Yellow) worth RM109 and Touch 'n Go eWallet Credit worth RM100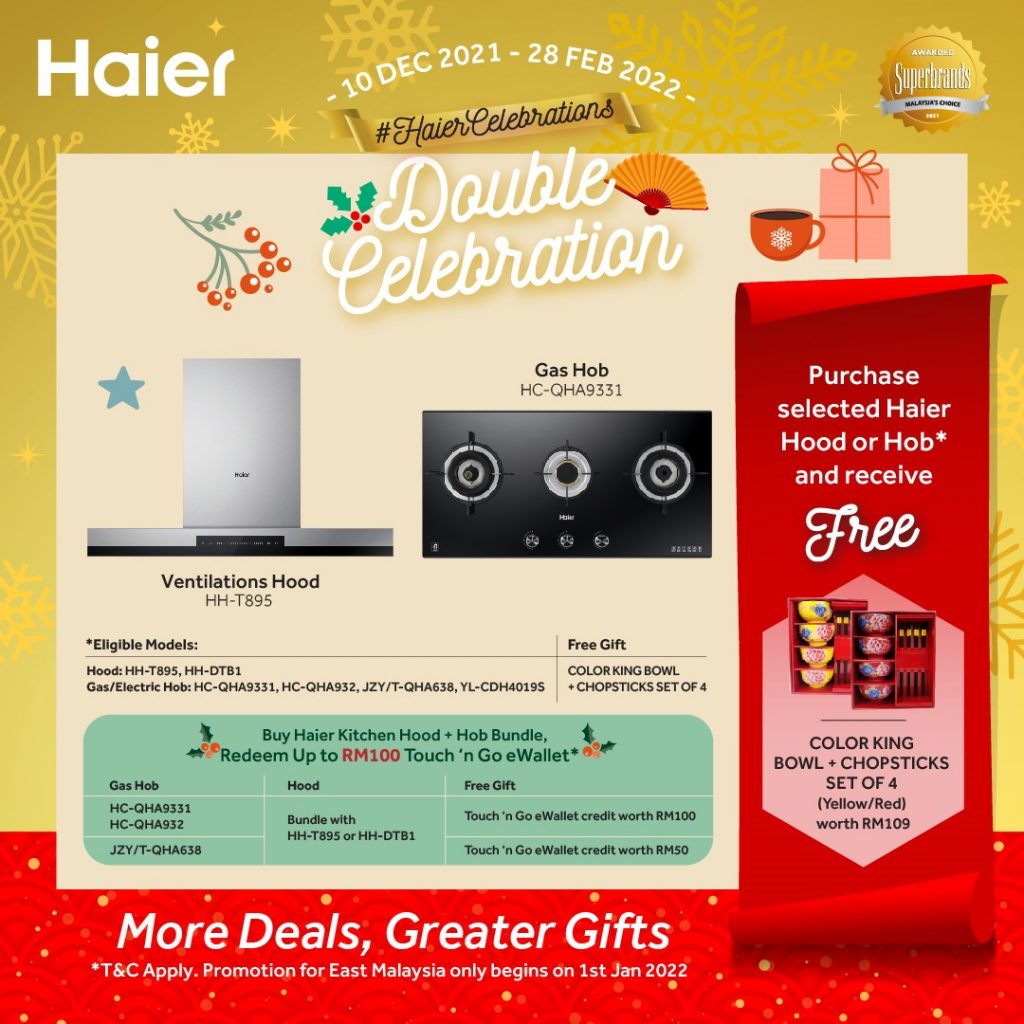 Celebrate Christmas In Style With These New Releases From Haier
Haier is having a year-end promotion called the Haier Double Celebration Campaign that will start from 10th December 2021 – 28th February 2022.
There are 2 benefits awaiting customers who purchase from Haier authorised dealers:
Purchase selected Haier products ("Eligible Products") throughout the Campaign Period.
Every purchase of the Eligible Product is entitled for one (1) free gift and is subject to limited available quantity (unit) for redemption based on first come first serve basis.
What are you waiting for? Christmas Day is inching closer by the day so head on over to the Haier Lazada and Shopee, and start shopping!
Haier Lazada: https://bit.ly/3GxII5U
Haier Shopee: https://bit.ly/3lxEhOJ
For more information on this promotion, check out their website and social media:
Haier Website: www.haier.com/my
Haier FB: https://www.facebook.com/HaierMalaysia
Also Check Out: 12 Awesome Places In PJ & KL That'll Satisfy Your Pizza Cravings
–
Join our Private Facebook Group and share your passion for food and places around the Klang Valley with our community! We regularly post about hidden gems, places to explore, attractive promos and new food to try!
Click on the picture below and join our Facebook Group today.