Food & Drinks
20 Best Dessert Places Around KL Everyone With A Sweet Tooth Should Try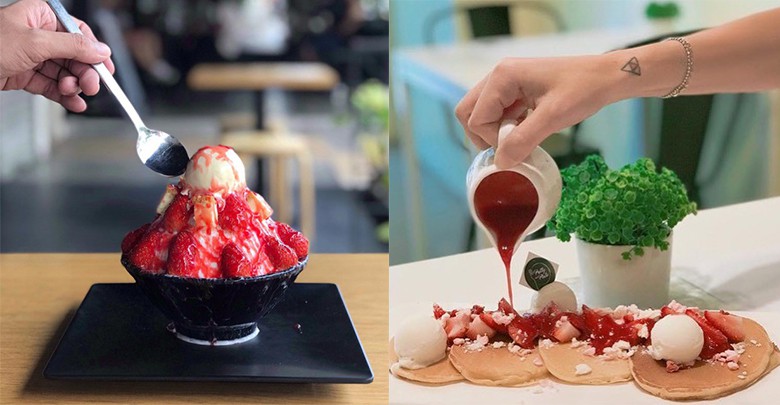 After a nice lunch or dinner we always have room for desserts. This is because we all love desserts, it taste even better after a nice and hearty meal. If you're living around KL area you know the choices for dessert eateries are endless.
So, from Coconut Ice-creams to Ice-cream topped Waffles here are the 20 Best Dessert Places Around KL Every Foodie Should Try.
1. Inside Scoop
Large varieties of ice-cream flavours are served here. Their pistachio and coconut Ash ice-creams are a must try.
Address: Full list of locations here.
2. Madame Waffle
Expect fresh and fragrant waffles with well-tuned flavours. This dessert is best eaten when it's still warm with all its crisp and fully glory.
Address: Full list of locations here.
3. Nana's Green Tea
Looking for an awesome Green Tea dessert spot? Look no further than Nana's Green Tea. If you're a Green Tea lover, you'll fall in love with their desserts!
Address: Full list of locations here.
4. Foo Foo Fine Dessert
The desserts here are not only pretty on the eyes, but delicious in the mouth. Don't leave here without trying their Strawberry Tart with Balsamic Ice Cream.
Address: 64A, First Floor, Jalan Burhanuddin Helmi, Taman Tun Dr. Ismail, 60000, KL
5. Jaslyn Cakes
The cakes here are fantastic and reasonably priced. You can enjoy your cake with your coffee while you watch them bake. No fuss, no gimmick, just great cakes here. If you're dropping by do try their Red Velvet.
Address: 7A, Jalan Telawi 2, Bangsar Baru, 59100 KL
6. Kakigori
No dessert list is complete without mentioning Kakigori! It's basically shaved ice confection from Japan with flavor syrup poured on. Servings size is huge and it epically SWEET!
Address: Full list of locations here.
7. New Chapter by The Owls Cafe
Another super-good waffle spots in KL, but this one is also very pleasing to the eyes. Although the service here is great be warned that it gets very crowded on the weekend.
Address: Calvary Convention Centre, Jln Jalil Perkasa 1, Tmn Teknologi Malaysia, 57100 Bukit Jalil, KL
8. Tiny Temptress Artisan Patisserie
We have to include this dessert spot due to the uniqueness of this cafe. Although its very expensive, the cuteness of your dessert might justify it.
Address: Full list of locations here.
9. Pretty On Plate
The title pretty much sums up the desserts here. Expect pleasant looking sweet treats such as brioches with injected fillings (choice of peanut butter, vanilla custard & chocolate) topped with ice cream.
Address: Amaya Residence, G3, Jalan Jejaka 2, Taman Maluri, 55100, KL
10. CookieNation
Get ready to drool if you enjoy cookie. CookieNation strive to innovate the classic American soft baked cookie that reflect your attitude.
Address: Lot 6.03, Level 6, Pavilion, Bukit Bintang Street, Bukit Bintang, 55100 KL
11. Magnum Café
This cafe needs no introduction. You can customize you own ice cream with coating, topping, drizzling and setting. You can also get a pre-designed Ice-cream from the menu.
Address: T-023, 3rd Floor, Mid Valley Megamall
 12. Llaollao
Llao llao is when frozen yogurt ice cream is at its best.
Address: Full list of locations here.
 13. Kindori Ice Cream Cake
Kindori Ice-Cream hopes to produce a  fresh and natural indulgence ice-cream, to satisfy the high taste requirement from the ice-cream fans.
Address: Full list of locations here.
14. Sangkaya
The coconut ice-cream here creamy and kick-ass! If you enjoy the flavours of coconut, this dessert is a MUST TRY for you.
Address: Full list of locations here.
 15. Hanbing
If you only eat one item in this place, make sure you try the shave ice and mango or strawberry combo.
Address: Full list of locations here.
16. Xiao by Crustz
Unique cakes, in terms of looks and taste.
Address:  Menara Citibank, 165, Jalan Ampang, Kuala Lumpur, 50450 KL
17. Tsujiri
The perfect place for matcha lovers, everything matcha here is great, from latte, cakes and ice-creams.
Address: 2, Jalan Solaris 5, Solaris Mont Kiara, 50480, KL
18. Alexis Bistro
Their pavlova  is arguably one of the best in town. There are a plethora of cakes and desserts to choose from as well.
Address: 29, Jalan Telawi 3, Bangsar Baru, 59100, Bangsar, KL
19. Kind Kones Plaza Damansara
Perfect for the vegetarians, every single scoop served in Kind Kones is full-fledged vegan.
Address: 61, Plaza Damansara, Jalan Medan Setia 1, Bukit Damansara, 50490 KL
20. Souka
Sink your teeth into the generous cream cheese frosting on top of their must-try velvet cake.
Address: 5, Lorong Rahim Kajai 13, Taman Tun Dr Ismail, Damansara, 60000, KL