Food & Drinks
14 Best Food To Eat In Melaka (Food For 2D1N Itinerary)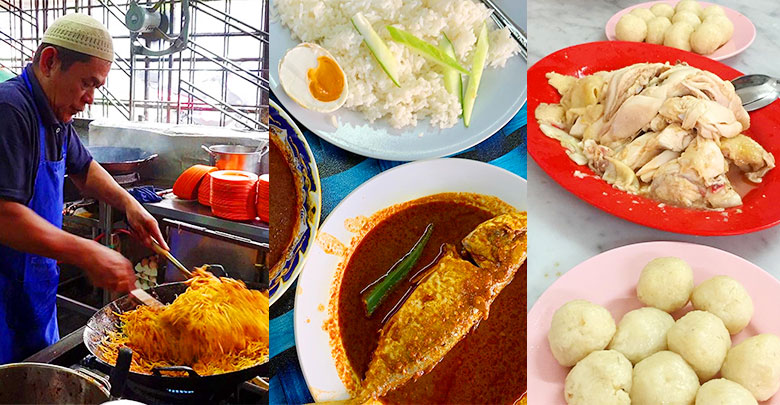 Melaka is a food paradise that offers some of Malaysia's most authentic and delicious foods with recipes being passed down for generations. If you wish to take a 2 day road trip down to Melaka, we got you covered with this list of street food and restaurant to check out.
Rich with nostalgia as it is with flavour, here are 14 Best Food To Eat In Melaka (Food For 2D1N Itinerary).
1. Hassan's Mee Goreng (Mee Bodo)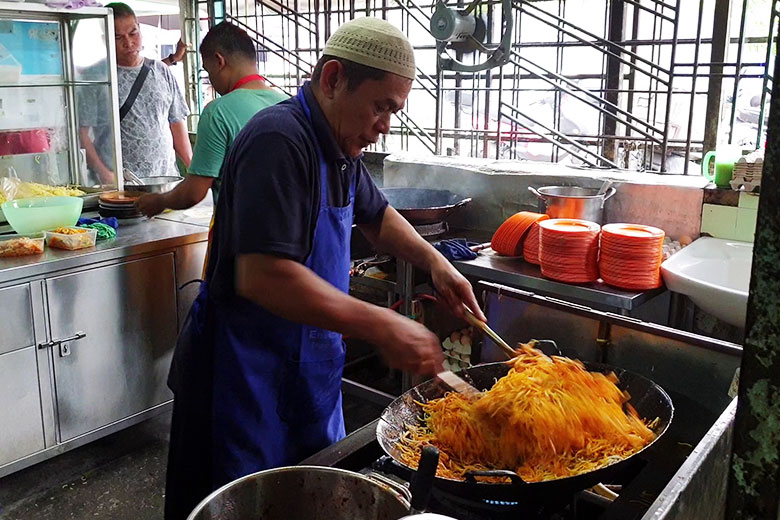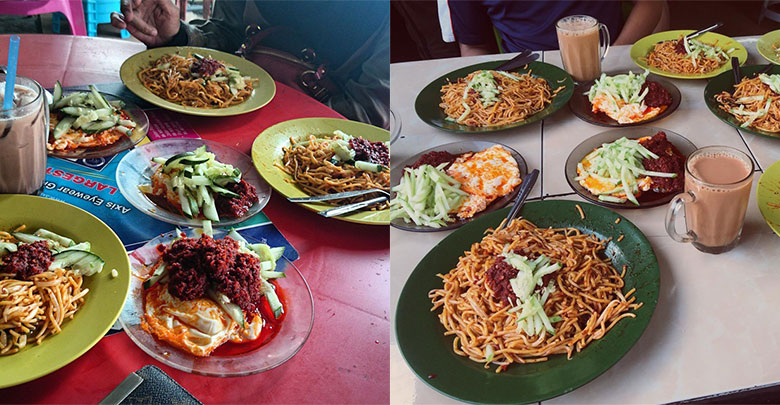 Hassan's Mee Bodo has been around for more than 5 decades. Operated by Pak Cik Hassan, he inherited this business from his mother since 1968. The noodle is as cooked with simplicity in mind as it only consists of handful of ingredients – yellow noodles, bean sprouts and their homemade specialty sambal.
Address: 90, Jalan Tengkera, 75200 Melaka
Operation Hour: 7.30 am – 10.45 am (Closed on Thursdays)
2. Chuen How Restaurant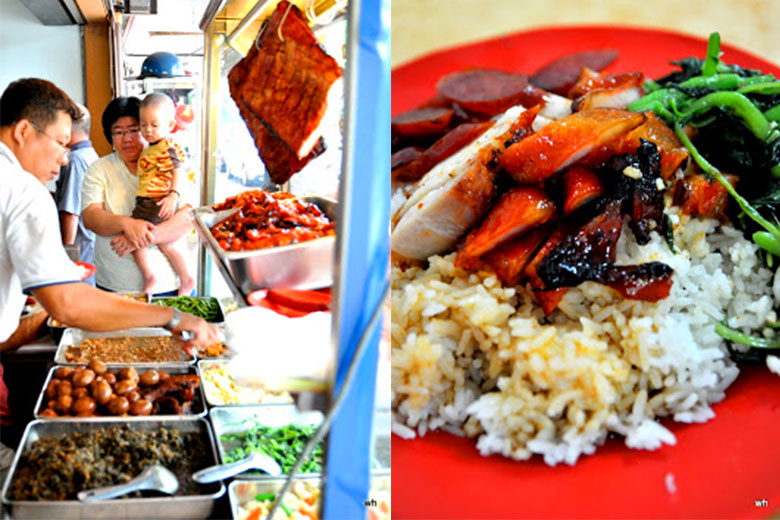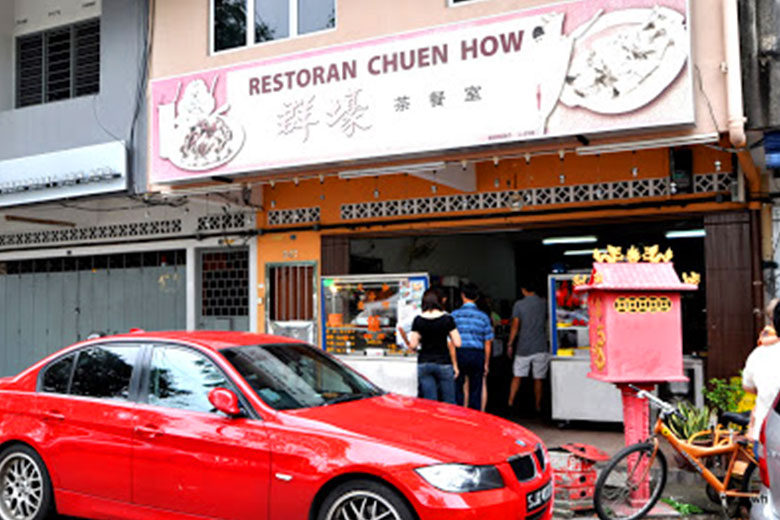 Chuen How is one of the best mix rice stall in Melaka, popular for their freshly made in-house Char Siew. You can expect amazing Char Siew when you come here. The texture is so soft and succulent in the centre, sweet and caramalized on the outside. Another popular dish is their Assam fish which drizzle with spicy assam gravy that packs a serious punch.
Address: 347, Jalan Merak, Taman Melaka Baru, 75350 Melaka
Operation Hour: 10 am – 10 pm (Closed on Thursdays)
3. Low Yong Moh Restaurant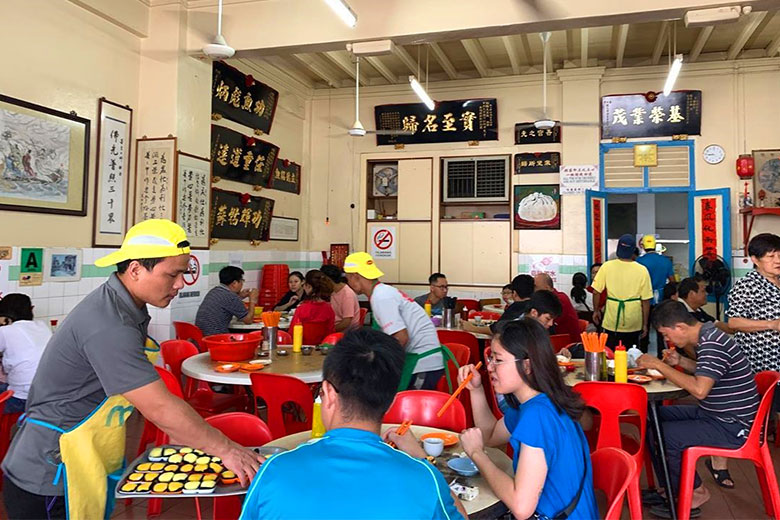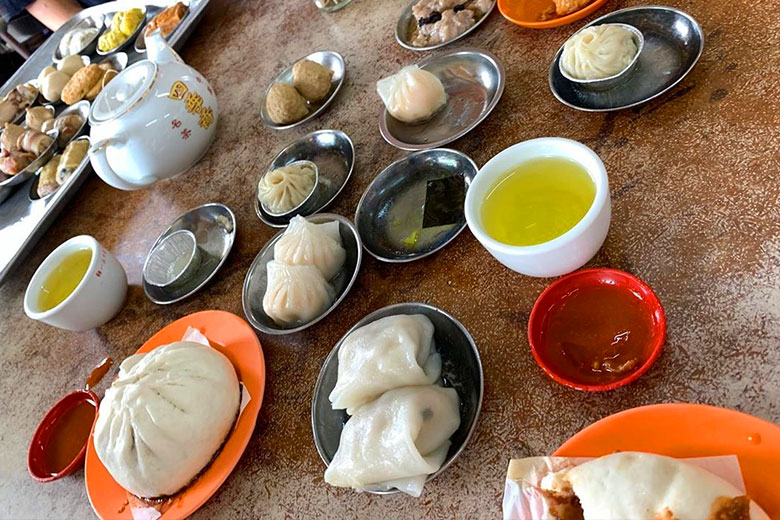 Low Yong Moh is a typical neighbourhood dim sum spot in Melaka where you will find all walks of life dining in the restaurant during breakfast time. Service is speedy here, trays with different dim sum are offered quickly when seated. Hot water is within reach for teas' drinker as well. Their steamed dumplings, custard buns, and siew mai are among patrons' favourites.
Address: 32, Jalan Tukang Emas, 75200 Melaka
Operation Hour: 6 am – 1 pm (Closed on Tuesdays)
4. Chung Wah Chicken Rice Ball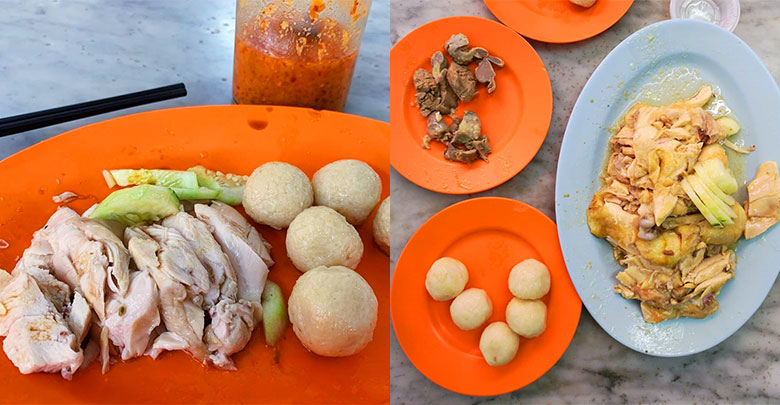 Melaka is famous for their chicken rice ball. Operating for more than 50 years, Chung Wah have great track record of serving good food. Using kampung chicken that is juicy, succulent yet tough. The texture of the rice ball is satisfying texture and is full of flavour. The chilli compliment the chicken rice well, making it an enjoyable meal.
Address: 18, Jalan Hang Jebat, 75200 Melaka
Operation Hour: 9 am – 3 pm
5. Aunty Koh's Cendol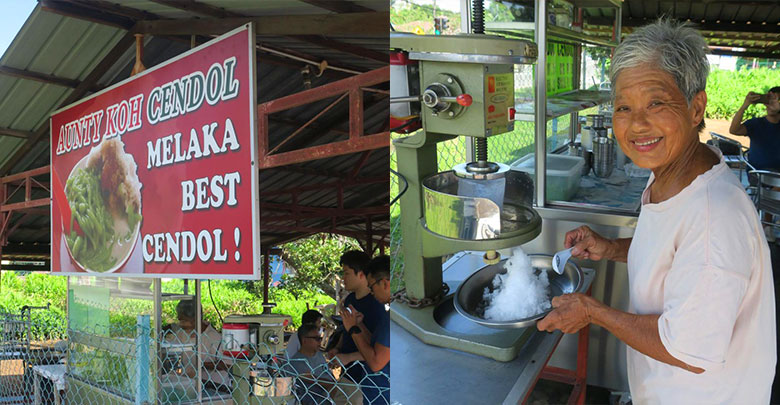 This is a legendary cendol stall in Melaka. Everything is self service here including getting your own bowl of cendol, pay the bill and even wash the bowls. The shaved ice has a smooth texture and is fluffy. The cendol offer great balance between Melaka Sugar and coconut milk. Overall, it's an enjoyable dessert despite there were no red beans.
Address: 18, Jalan Hang Jebat, 75200 Melaka
Operation Hour: 11 am – 1.30 pm (Closed on Weekdays)
6. Capitol Satay Celup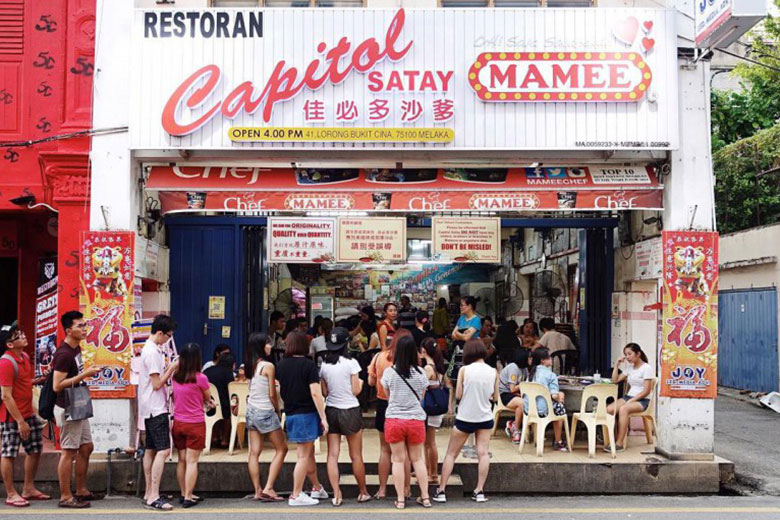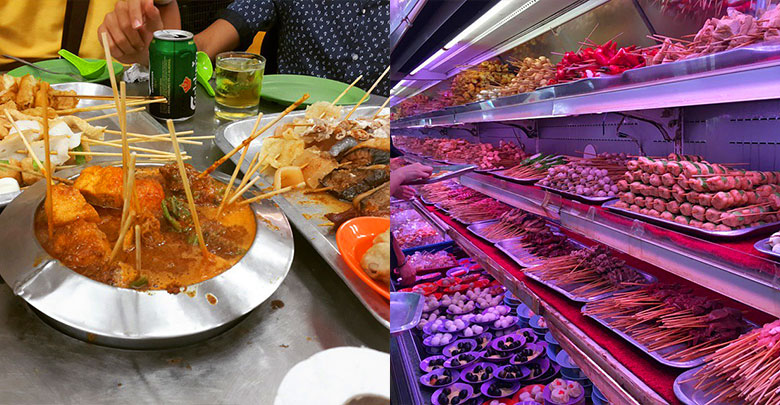 Speaking of satay celup in Melaka, Capitol would be one of the first names that comes to mind. They are super popular and this place is unmissable. To get started, first pick your desired skewers in the fridge. Then dip your skewers into a satay celup pot in a recessed pit in the centre of the table.
Address: 41, Lorong Bukit Cina, Bandar Hilir, 75100 Melaka
Operation Hour: 4 pm – 1 am (Closed on Mondays)
7. Jonker Street Night Market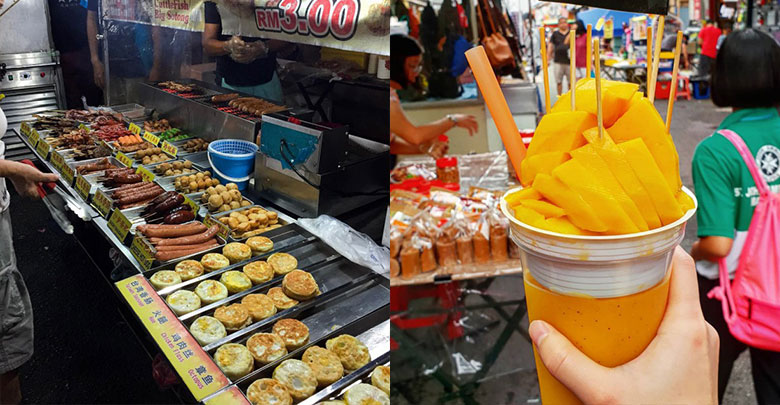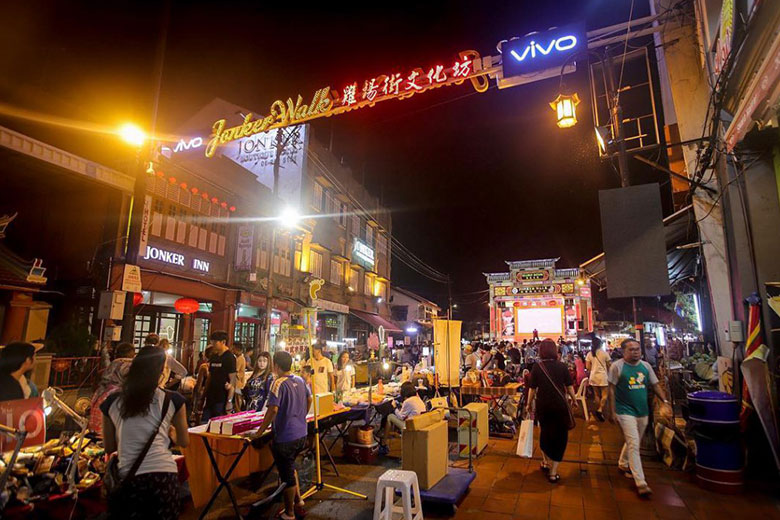 Filled with street food that can hardly found in other state of Malaysia, such as Gula Melaka Cendol, Chicken Rice Balls, and the Nyonya Chang. There is countless amount of stalls to visit here in Joker Street Night Market. Therefore, it is best to explore this place on your own to discover what suit you best.
Address: Jalan Hang Jebat, 75200 Melaka
Operation Hour: 6 pm – 12 am (Fridays – Sundays)
8. Asam Pedas Pak Man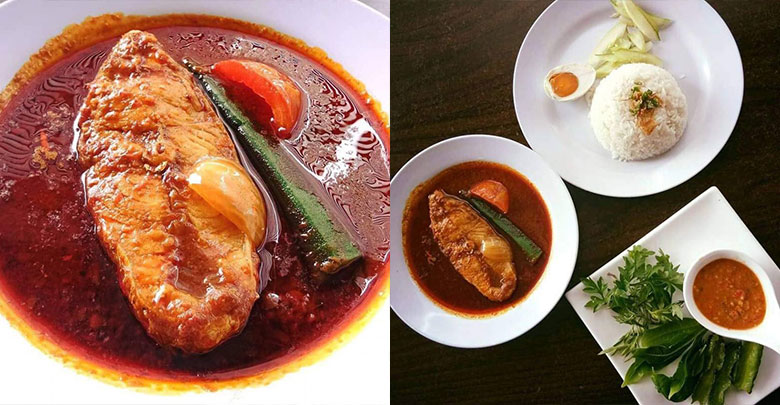 Assam Pedas is another specialty of Melaka and one place to try this food is Asam Pedas Pak Man. The gravy has a nice balance between sweet and spiciness, best pair with stingray and snapper. Every plate of rice comes with a salted egg and cucumber.
Address: 202, Ujong Pasir, 75050 Melaka
Operation Hour: 8.30 am – 6.30 pm
9. Tengkera Putu Piring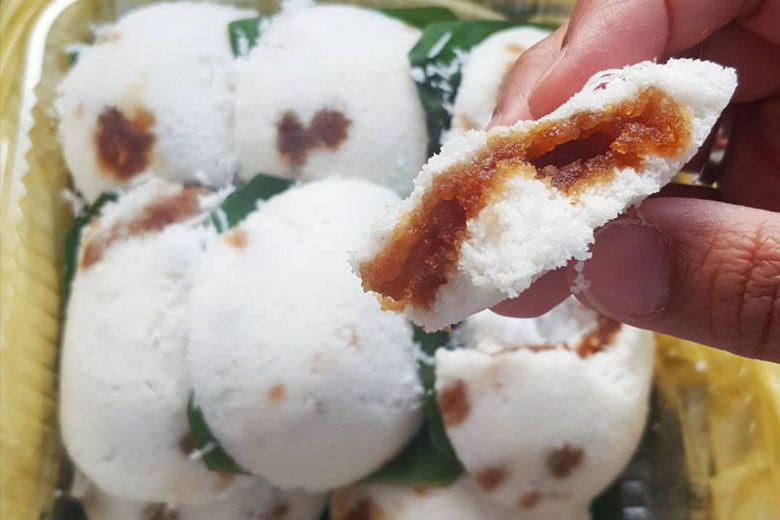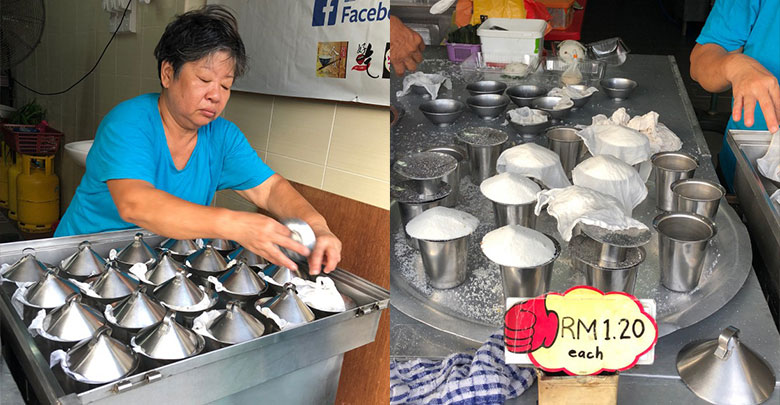 Putu piring is one of the local's favourite dessert. At here, every putu piring is freshly made. Therefore, the texture is hot and soft, and will warm up your mouth. The Melaka Sugar and grated coconut making the flavour sweet and salty. The couple who man the stall work fast and is efficient at what they are doing. Definitely a must buy when visiting Melaka.
Address: 252, Jalan Tengkera, 75200 Melaka
Operation Hour: 6 pm – 10 pm (Closed on Sundays)
10. Pak Putra Tandoori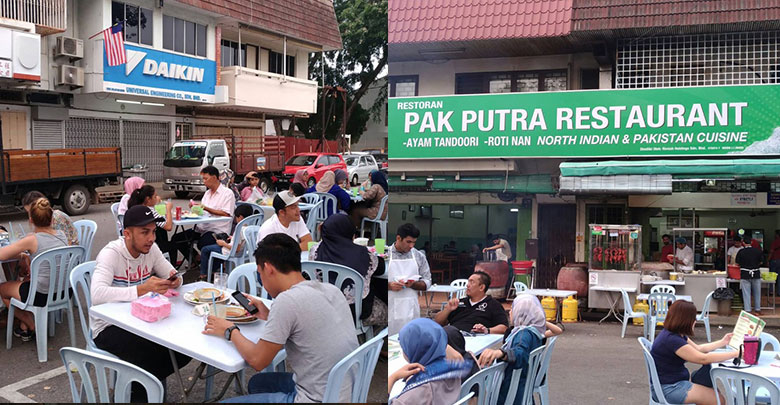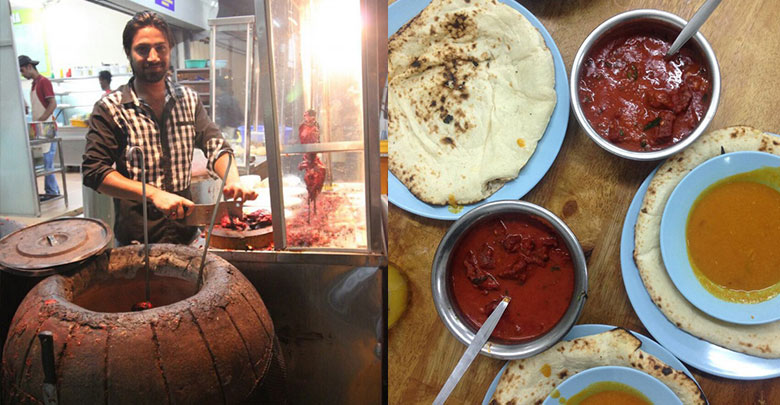 Finding a place to hangout during the night while craving for some savory food? Drop by Pak Putra Tandoori for a cheap and easy supper. Their naan is so soft and fluffy which pairs well with the creamy cheese in the naan. Apart from that, their tandoori chicken is one of the best we ever tried. The chicken is marinated to perfection to ensure every bite you take will taste every single ingredients used to prepare the chicken.
Address: 56 & 58, Jalan 4, Taman Kota Laksamana, 75200 Melaka
Operation Hour: 5.30 pm – 1 am (Closed on Mondays)
11. Longkang Siham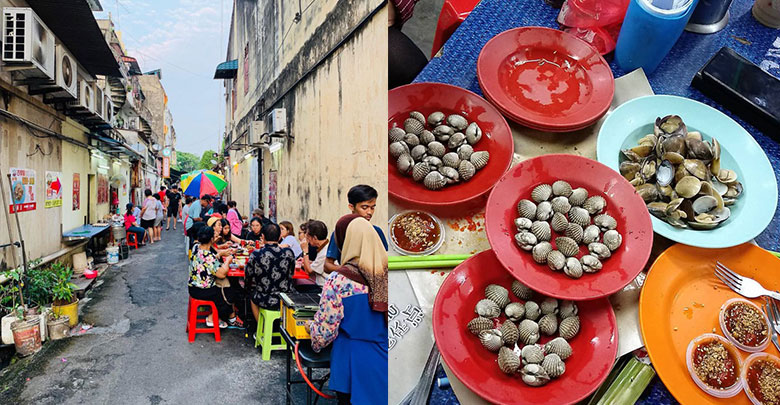 For those looking for fresh shellfish seafood. Longkong Siham offer the freshest blood cockle, oyster, sea snails in Melaka. The dipping sauce topped with crushed peanuts and lime juice go well with the shellfish. Cuttlefish with Kangkung is recommended by the owner. Price wise, it is relatively cheap for the freshness of the food.
Address: Jalan Bunga Raya, Kampung Jawa, 75100 Melaka
Operation Hour: 6 pm – 11 pm (Closed on Mondays & Tuesdays)
12. Bunga Raya Oh Chien Fried Oyster
This uncle is serving one of the best Oh Chien in Melaka. People are willing to wait for more than an hour just for the Oh Chien. The eggs are very soft and delicious. However, the oyster is rather small. But overall, the Oh Chien tasted great when added with their homemade chilli sauce.
Address: 70, Jalan Bunga Raya, Kampung Jawa, 75100 Melaka
Operation Hour: 7.30 pm – 11 pm (Closed on Tuesdays)
13. Barkat Roti John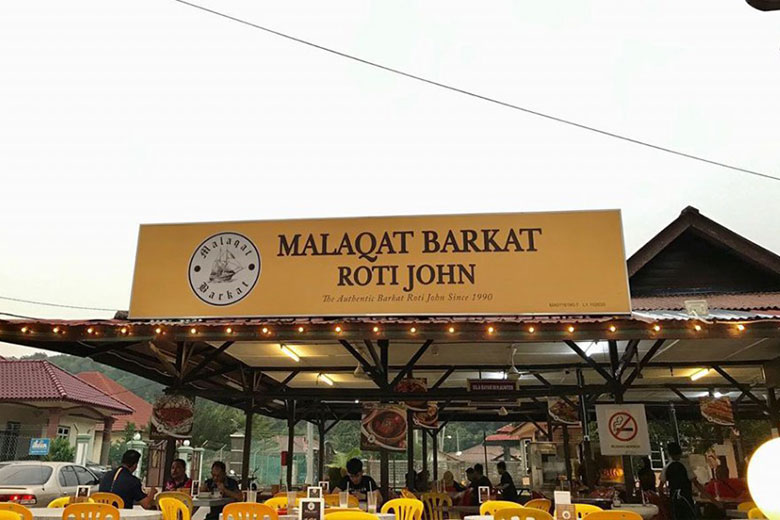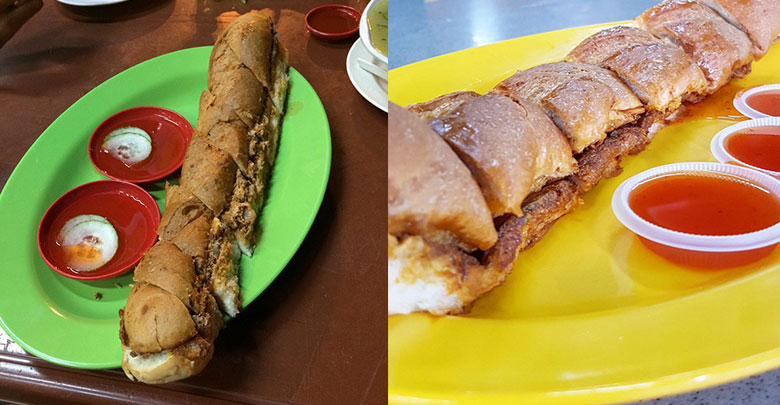 Barkat Roti John serve Roti John and many more good Malay food at reasonable prices. What makes their Roti John unique is the sardine fillings. The Roti John is simple but delicious, it only comes with buns and sardine, and no mayonnaise and chilli.
Address: No 60, Jalan Kenanga 1/24,, Taman Kenanga Seksyen 1,, Melaka, 75200 Tengkera, Malacca
Operation Hour: 5.30 pm – 1.30 am
14. Jonker 88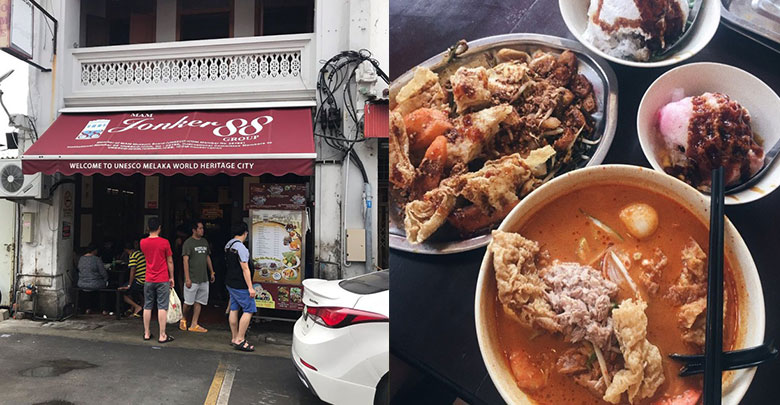 Jonker 88 is a Baba Nyonya cafe that is housed in one of a heritage building in Jonker Street. They offer variety of authentic Peranakan cuisine. Hence, if you are on a short trip, this is the spot to try Peranakan food and dessert. Their main star are Baba Laksa and Chendol. Especially the Durian Cendol. It's advisable to come during non peak hours, as seat are pretty limited here.
Address: 88, Jalan Hang Jebat, 75200 Melaka
Operation Hour: 9.30 am – 6 pm | 9.30 am – 9 pm (Fridays and Saturdays)