Food & Drinks
13 Non Touristy But Delicious Food To Try In Petaling Street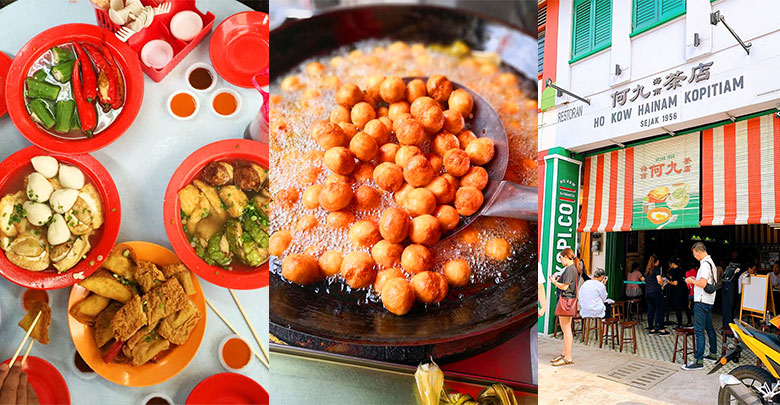 Looking for the best food near Petaling Street?
From the best Lala Noodles to a legendary Hokkien Mee, we've got you covered with 13 Non Touristy But Delicious Food To Try In Petaling Street. Pack your hats and umbrellas because we are exploring the food spots that only locals will know.
1. Sweet Potato Balls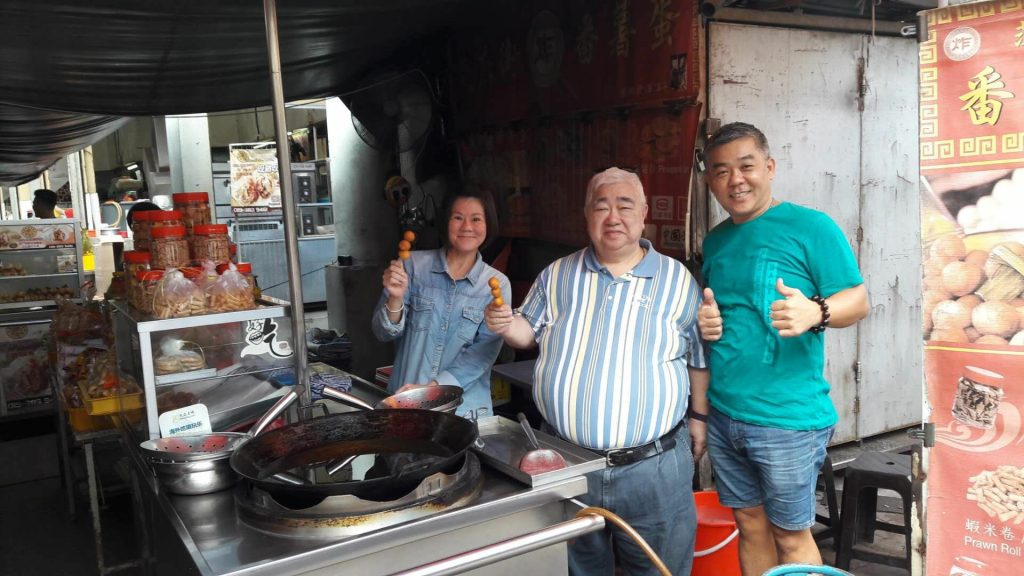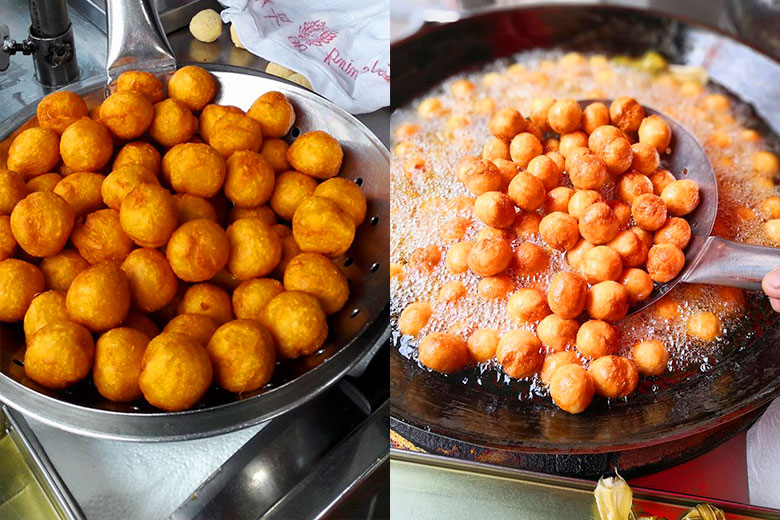 They have been selling sweet potato balls for the almost 30 years. These sweet potato balls are made fresh daily. It is crispy with the insides being nice and soft. The sweet potatoes are first steamed and mashed. Then they are combined with sugar and flour, formed into small balls and deep fried until golden brown. It goes incredibly well with a hot cup of coffee!
Address: Outside Tang City Food Court, Jalan Hang Lekir
Operation Hours: 8AM onwards
2. Hon Kee Porridge Petaling Street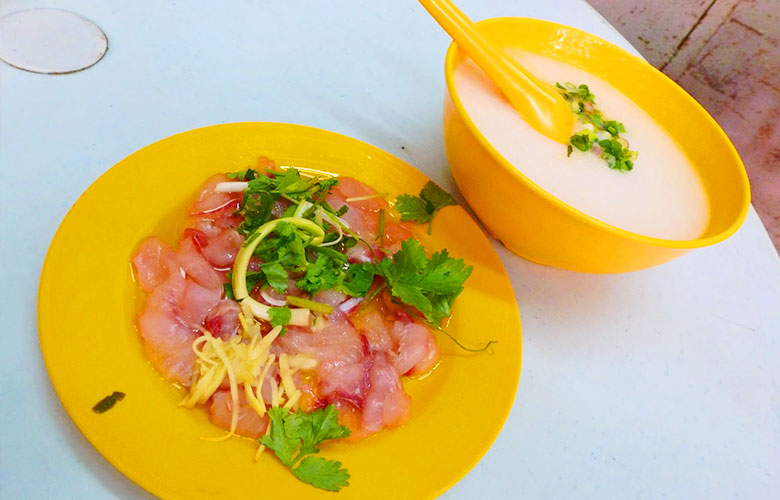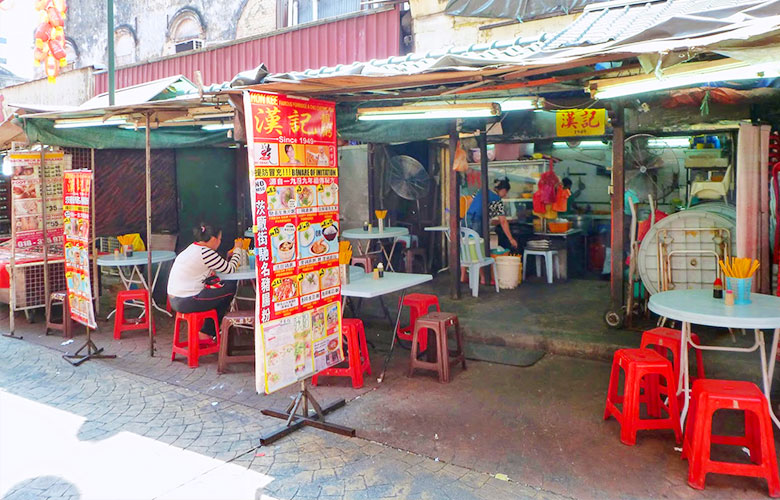 Hon Kee Porridge Petaling Street is a one of the long-time operating stalls with more than 60 years of history. The shop is located just opposite the famous Loh Han Guo hernal drink. Their signature dish is the Raw Snakehead Fish Porridge where raw fish slices in put in to the hot porridge to cook. Definitely something you should try! You can get the usual minced pork porridge, Poached Chicken Porridge, Frog's Leg Porridge as well.
Address: 93, Jalan Hang Lekir, City Centre, 50000 Kuala Lumpur
Operation Hours: 4AM – 2.30pm
3. Kedai Kopi Lai Foong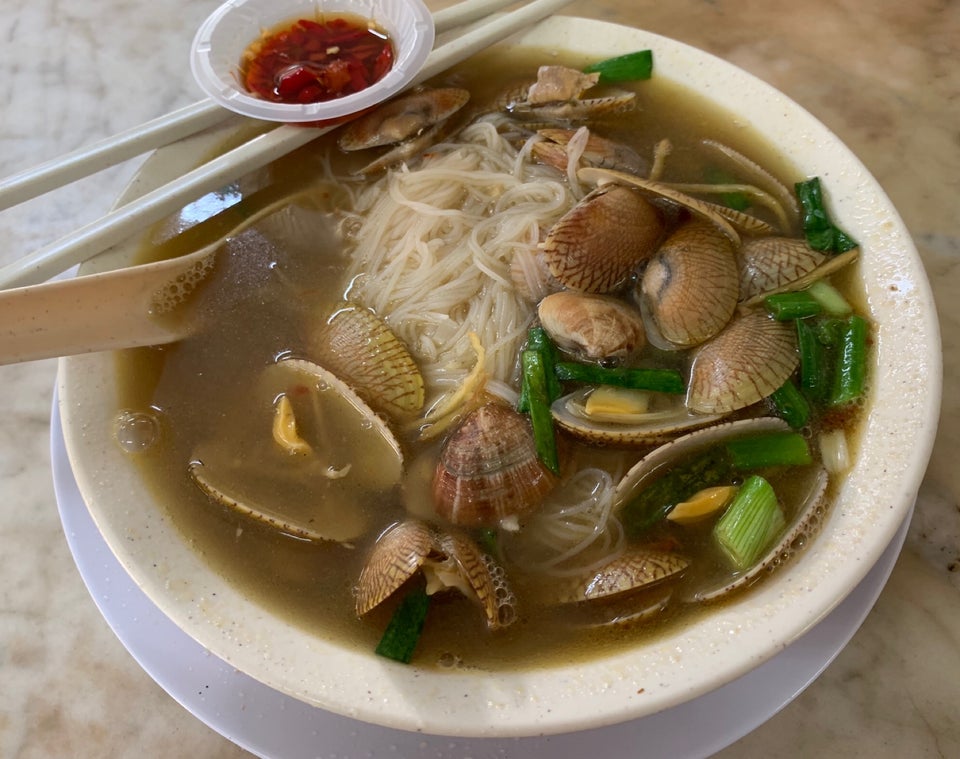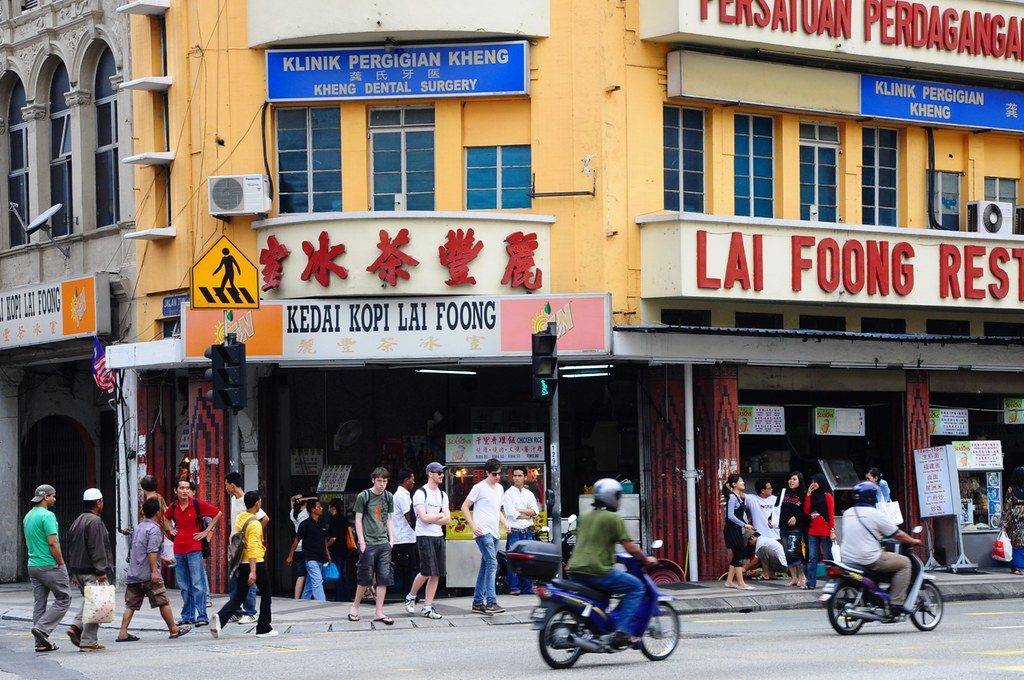 During the weekdays, Kedai Kopi Kai Loong is the locals' favourite lunch spot. Today we are focussing on their lala noodle which is one of their top seller items here! The lala noodle comes in a bowl of rice vermicelli in superior clam soup with a dash of shaoxing wine and a dash of ginger! Come try it out when you pass by here!
Address: 138, Jalan Tun H S Lee, City Centre, 50050 Kuala Lumpur
Operation Hours: 6.30AM – 9.30PM
4. KakatooGo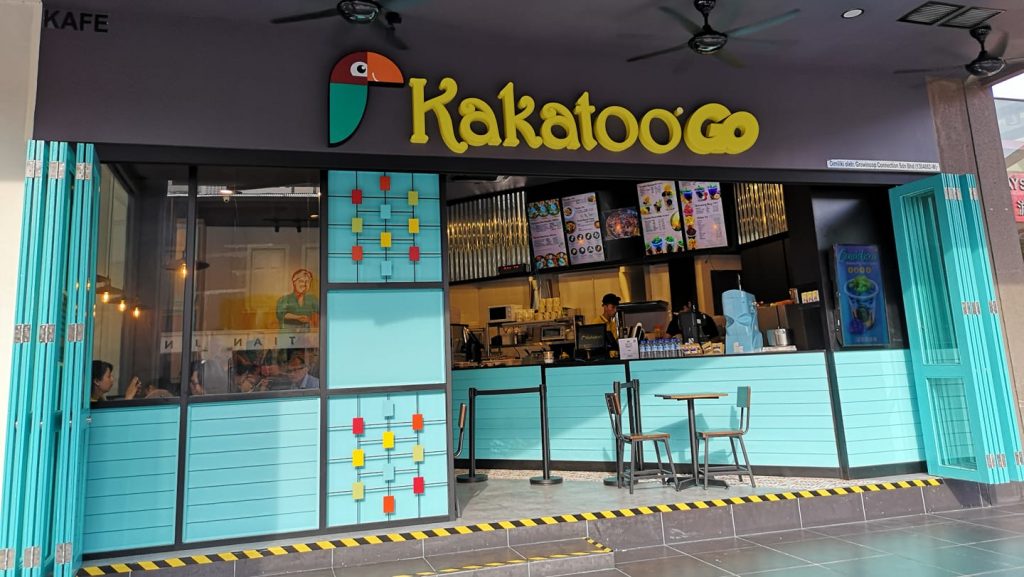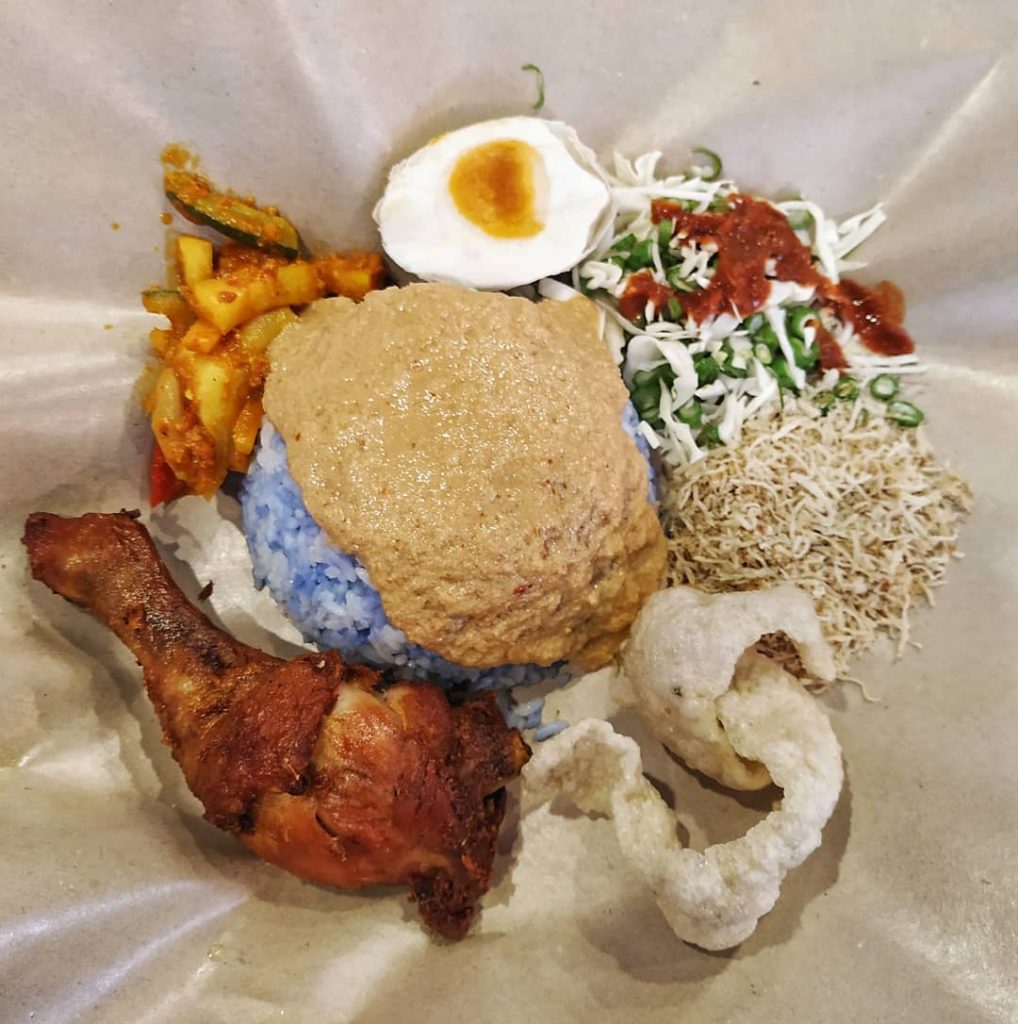 KakatooGo is one of the cafes that serve you authentic Nyonya Kampung Cuisine. The owner uses the recipes that were passed down to her by her grandmother so this is also a tribute to the family's Peranakan roots. KakatooGo offers a wide variety of traditional Malaysian and Nyonya food. It ranges from noodles, rice, snacks to desserts. But the must try dish is certainly their Nasi Kerabu, which comes with homemade acar.
Address: 63, Jalan Sultan, City Centre, 50000 Kuala Lumpur
Operation Hours: 8AM – 8.30PM
5. Madras Lane Yong Tau Foo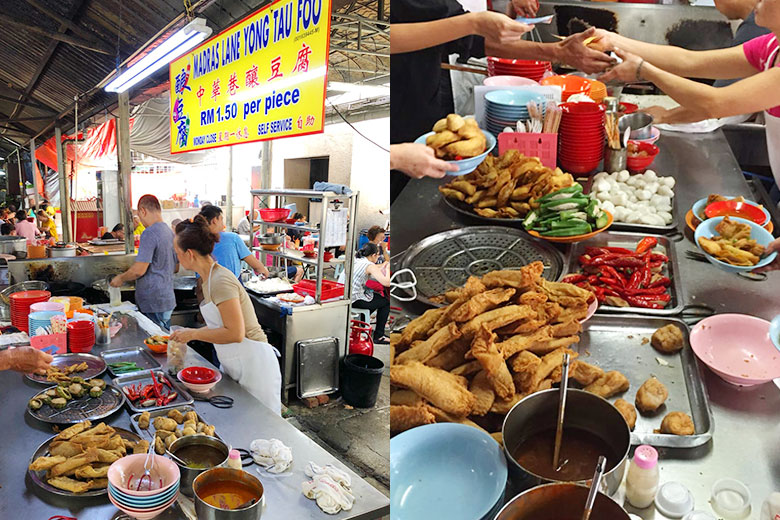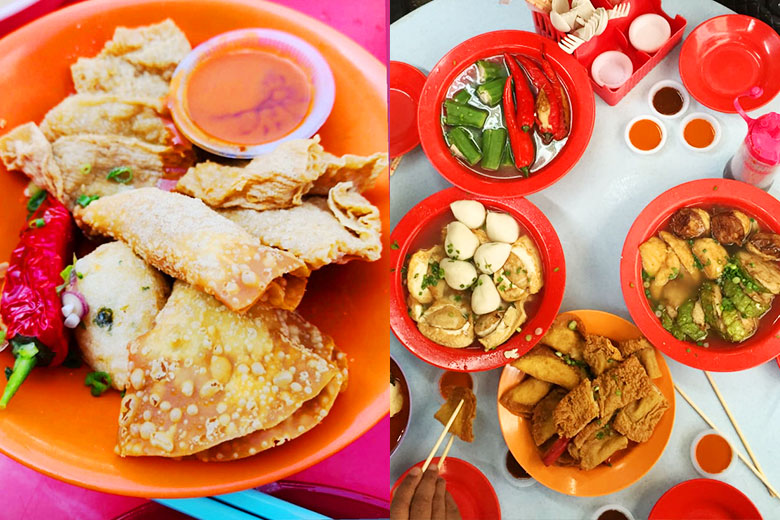 This stall is one the busiest stalls you can find here in Petaling Street. You can't miss the stall because there is always a line to where their stall is. Here you can find a spread of different yong tau foo to choose from. From lady's fingers, fried dumplings, fu-chok, red chilli, fish balls and so on. You can choose to have it boiled or deep fried. The soft and flavourful fish paste will not disappoint you either way.
Address: Madras Lane Yong Tau Foo, Lorong Bandar 20 ,Off Jalan Petaling, Kuala Lumpur
Operation Hours: 10AM – after lunch, close on Mondays

6. Bunn Choon Egg Tart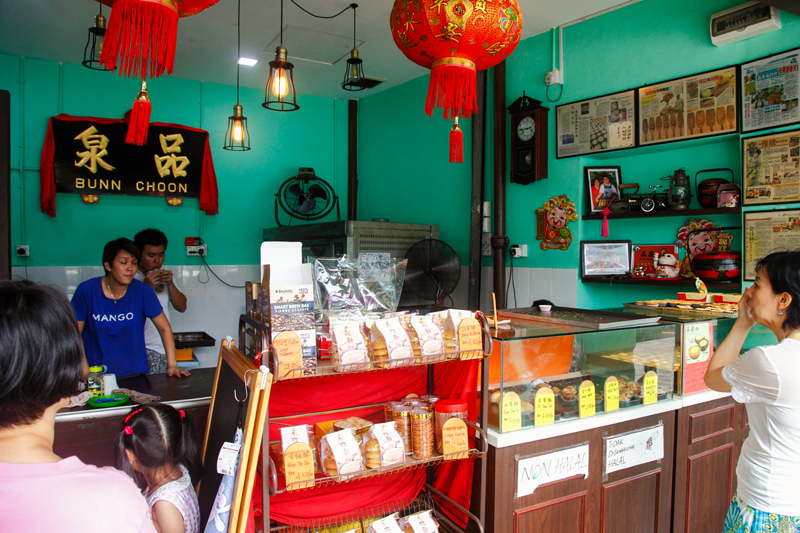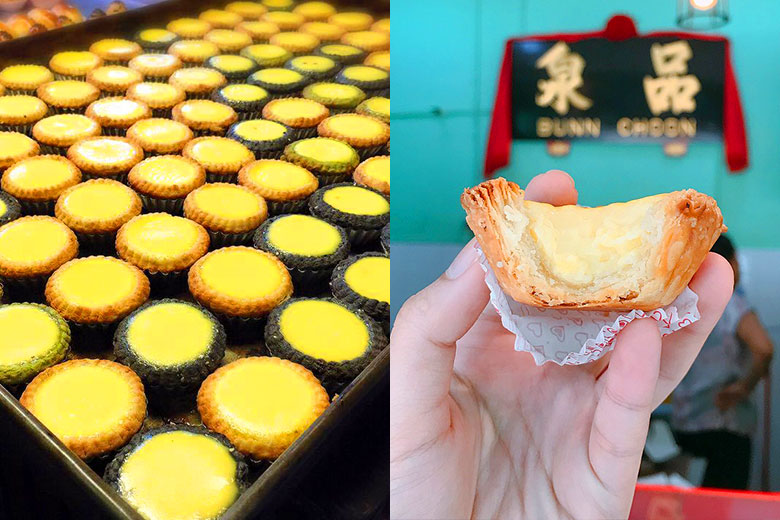 Buun Chun Egg Tart is one of the popular egg tart in KL. You can definitely spot this place from miles away because you will smell the freshly baked pastries before you arrive. The egg tarts are usually baked in batches and if you are lucky, you get to have one that is fresh from the oven. Aside from egg tart, Buun Chun also serves kaya puffs, siew paos and wife biscuit.
Address: 80, Jalan Sultan, City Centre, 50000 Kuala Lumpur
Operation Hours: 8AM – 5PM, closed on Sunday
7. Ho Kow Hainam Kopitiam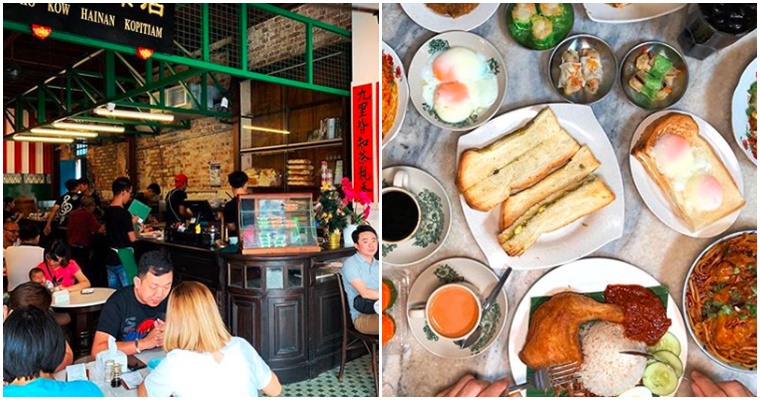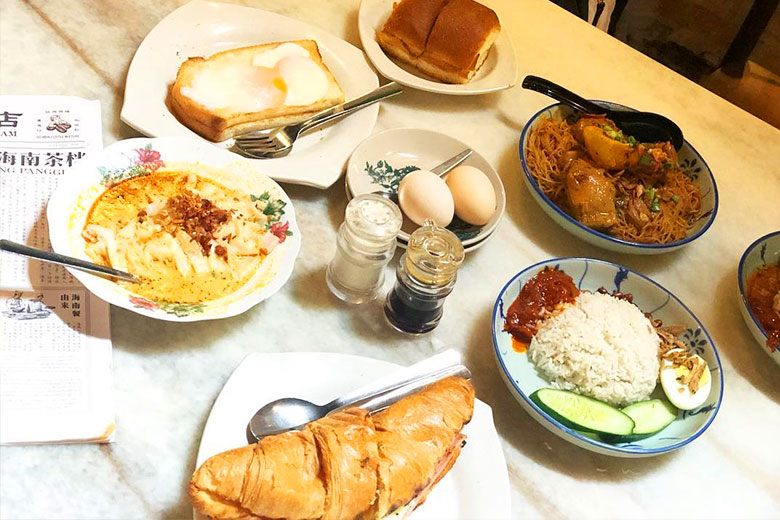 Established in 1956, Ho Kow used to operate at a run down stall along Jalan Panggung. Although they have shifted to a brick and mortar shop, the shop still keep its old school and vintage flair. You can get all sorts of Hainanese food here, such as kaya butter toast, soft boiled egg, nasi lemak, curry mee and more. Then of course, there is Hainanese-style coffee that's super gao!
Address: 1, Jalan Balai Polis, City Centre, 50000 Kuala Lumpur
Operation Hours: 7.30AM – 3.30PM, close on Mondays
8. Restaurant Kam Kee Chicken Rice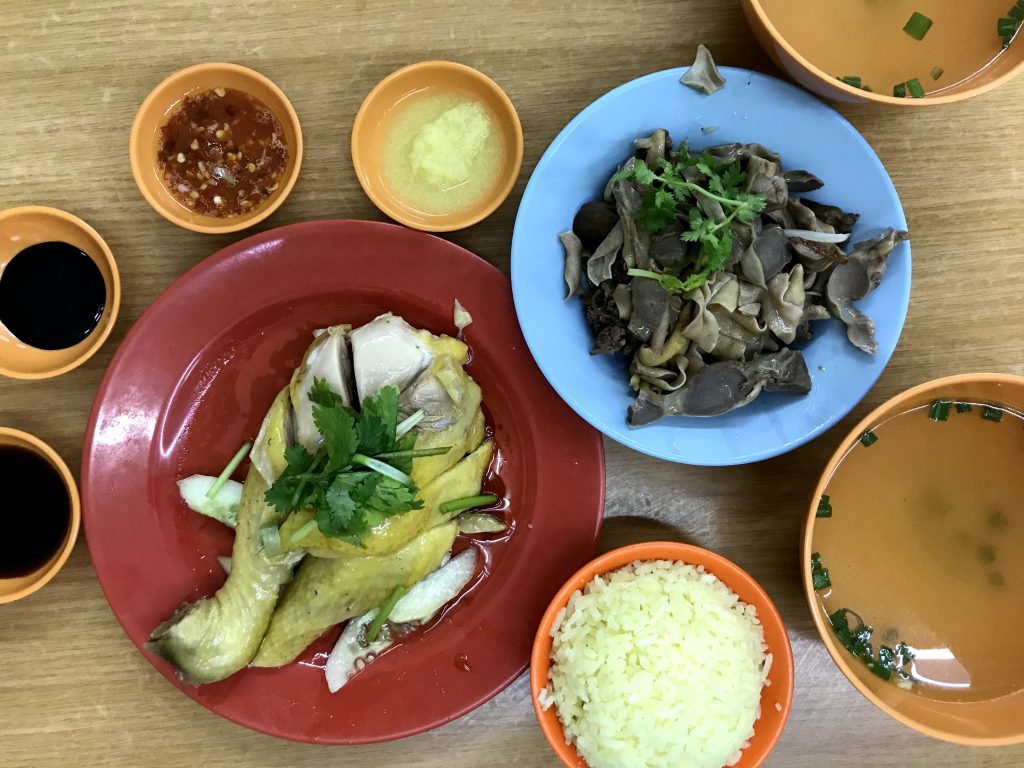 Located just a short walk from Swiss Garden Hotel, this shop will satisfy all your chicken rice needs when you are around Petaling Street. The two signature items here are bbq pork and kampong chicken. Their roasted chicken is also a usual favourite as the chicken is juicy and plump. Pair that with their fluffy rice and you got yourself a great meal.
Address: 42, Jalan Sultan, City Centre, 50000 Kuala Lumpur
Operation Hours: 10AM – 3.30PM, close on Wednesdays
9. Kim Soya Bean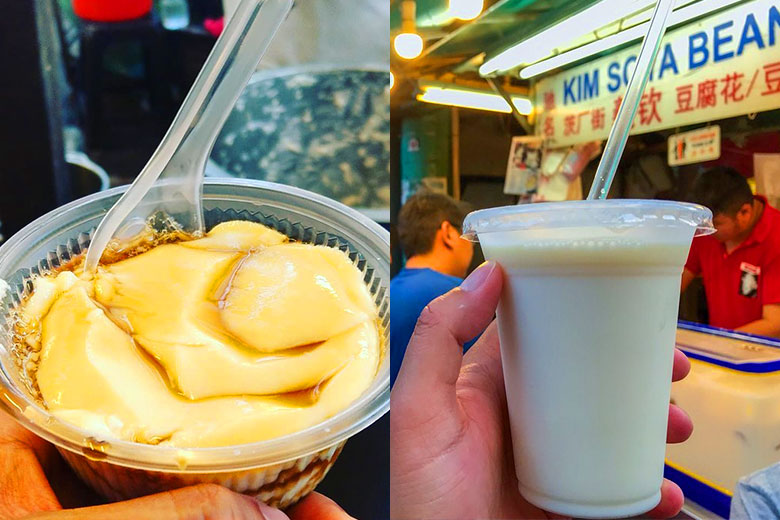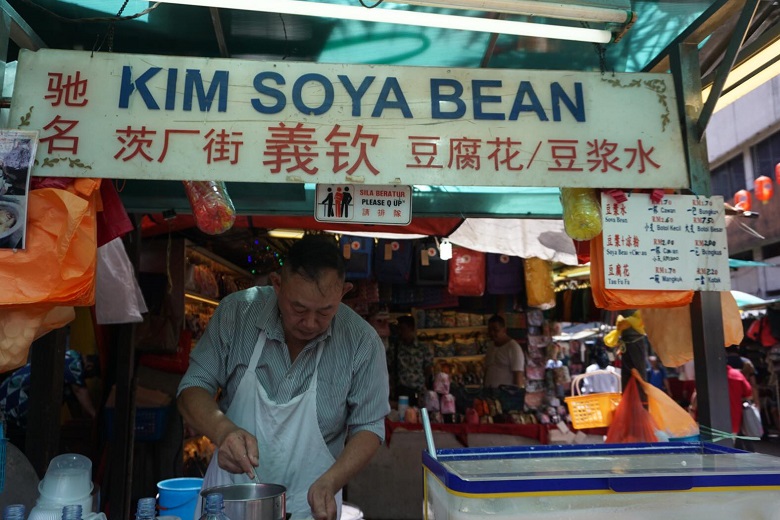 When you are walking along Petaling Street, you are guaranteed to walk past this all time favourite drink stall. Kim Soya Bean has been operating since more than 30 years ago. Their soya bean has appealed to both the locals and tourists visiting this area. They only have two things on their menu – soya bean and tau fu fah. You can choose to have them in white sugar or black sugar or just go without.
Address: 49, Jalan Petaling, City Centre, 50000 Kuala Lumpur
Operation Hours: 11AM – 10PM, Daily
10. Kim Lian Kee Hokkien Mee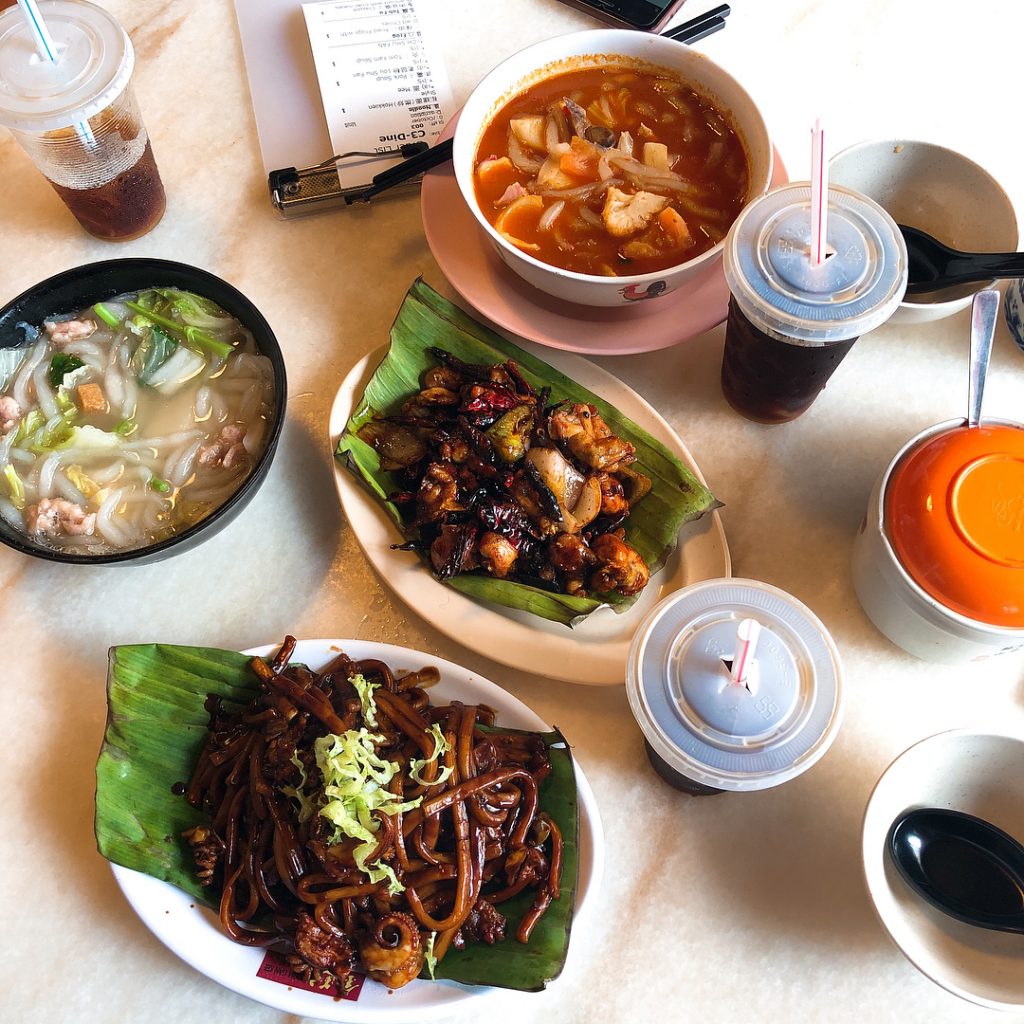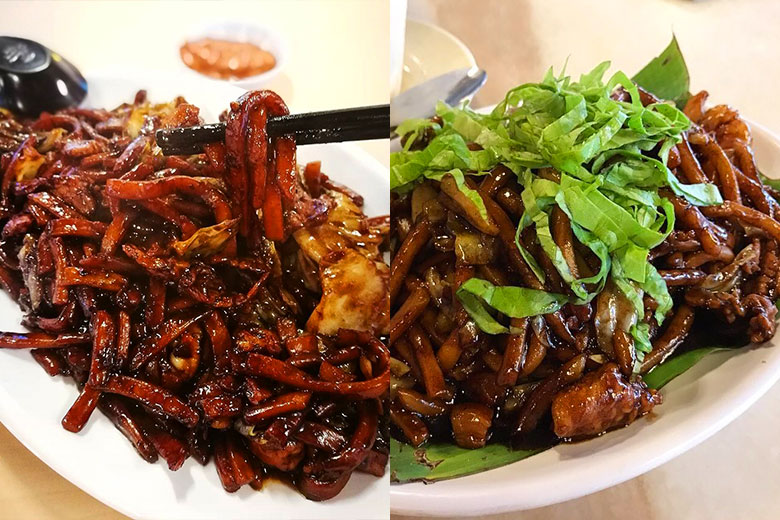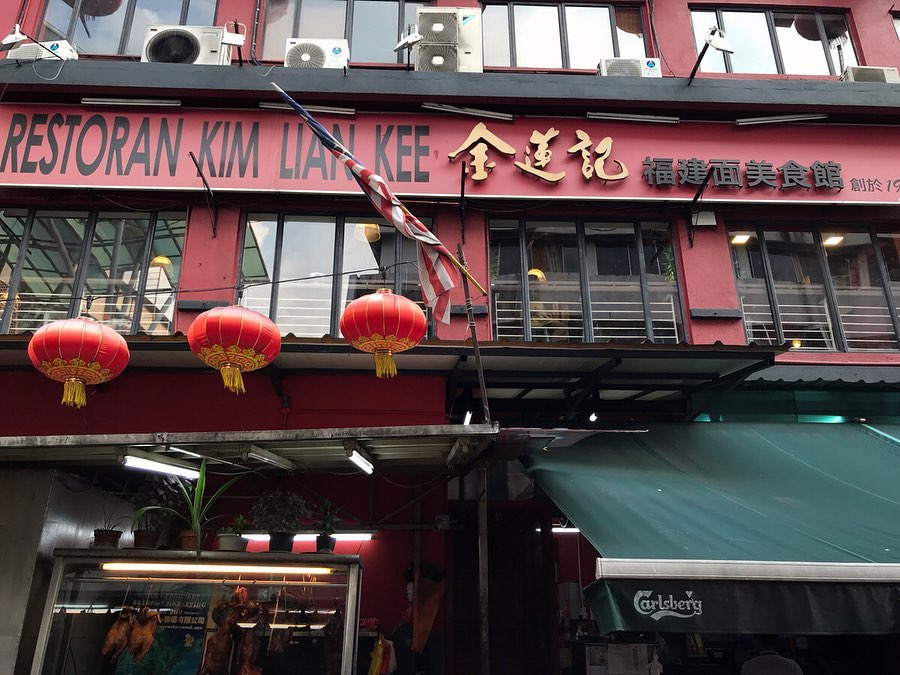 Want some Hokkien Mee with history in it? Come on over to Kim Lian Kee Hokkien Mee. They have been around since 1927, that is pre-WW2. Their Hokkien Mee is presented on a banana leaf which gives it a nice aroma to the noodles. Order the seafood option and be prepared to be wowed by the portion of prawns, pork, squid and most importantly, the fried pork lard!
Address: 49, Jalan Petaling, Kuala Lumpur
Operation Hours: 11AM -11PM
11. Hong Kee Claypot Chicken Rice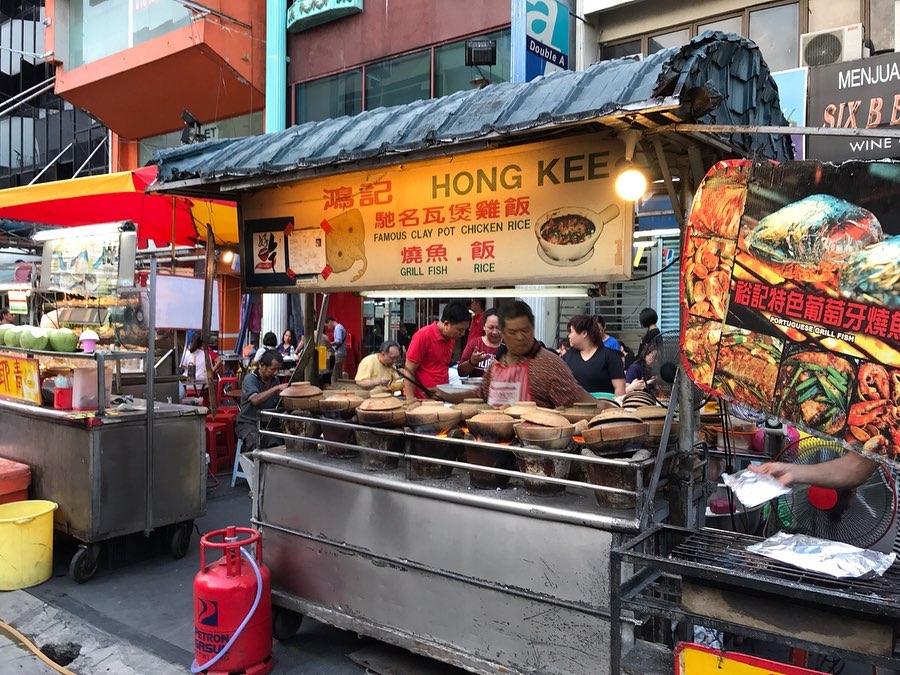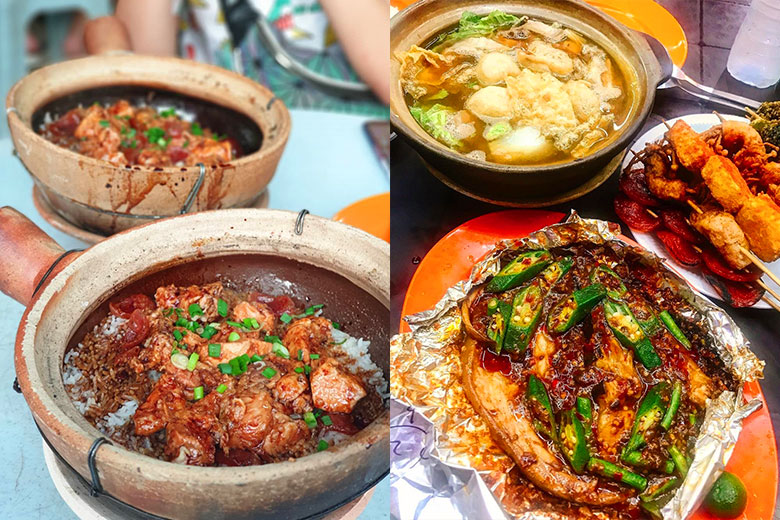 This roadside stall is located near the KK Mart at one end of Petaling Street. Each claypot rice dish is made to order using charcoal fire. Make sure you stir the rice with the chicken after it is served. You can mix in those crunchy rice crust at the bottom and get a crunch with every bite. You can also try their Portuguese grilled fish. The sauce they use really brings it to a whole other level.
Address: 89A, Jalan Sultan, Kuala Lumpur City Center, 50000 Kuala Lumpur
Operation Hours: 6pm – 12am, daily
12. Portugal Fried Fish Foods (茨厂街葡萄牙烧鱼)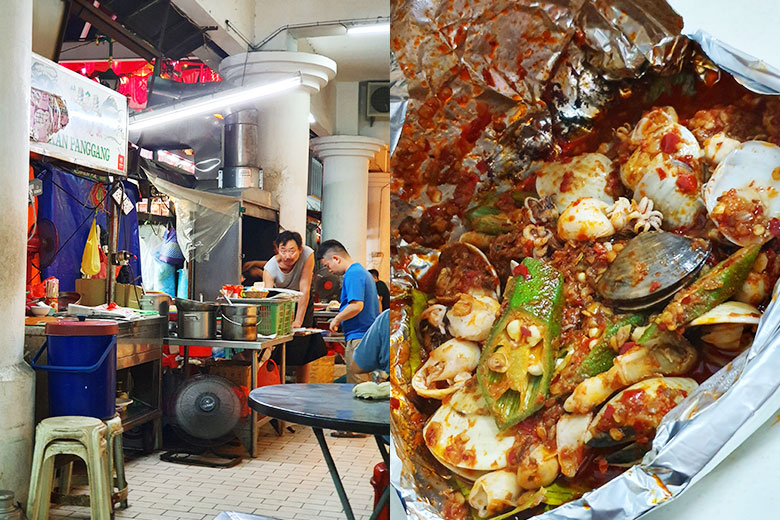 Hidden next to the Hong Leong Bank, Portugal Fried Fish Foods only operates at night and it is definitely worth waiting for. The uniqueness of their ikan bakar lies in the sauce. They have the usual 3 sauces and combine of those to put on the fish. After adding the sauce, they will put the vegetables and dried shrimps, fold it in aluminium foil and cook it on top of charcoal. You can also opt to have other types of seafood like lala, calamari and prawns.
Address: Jalan Hang Lekir, 50000 Kuala Lumpur.
Operation Hours: 5PM – 11PM, close on Monday
13. Koon Kee Wan Tan Mee (茨厂街冠记云吞面)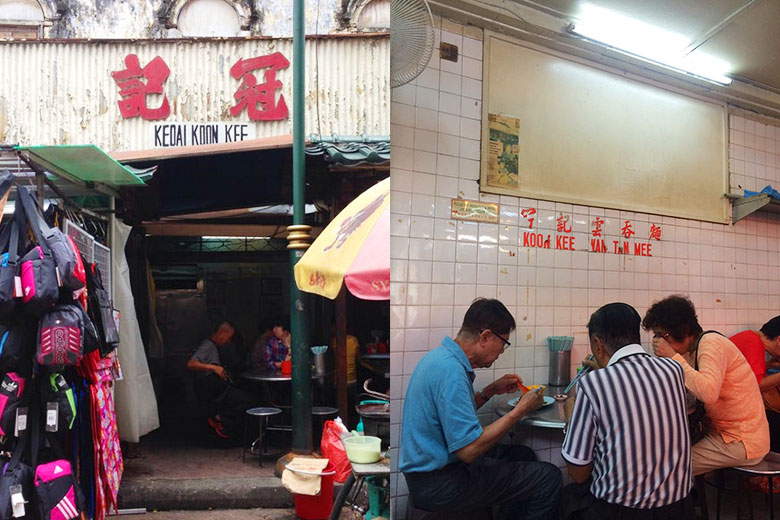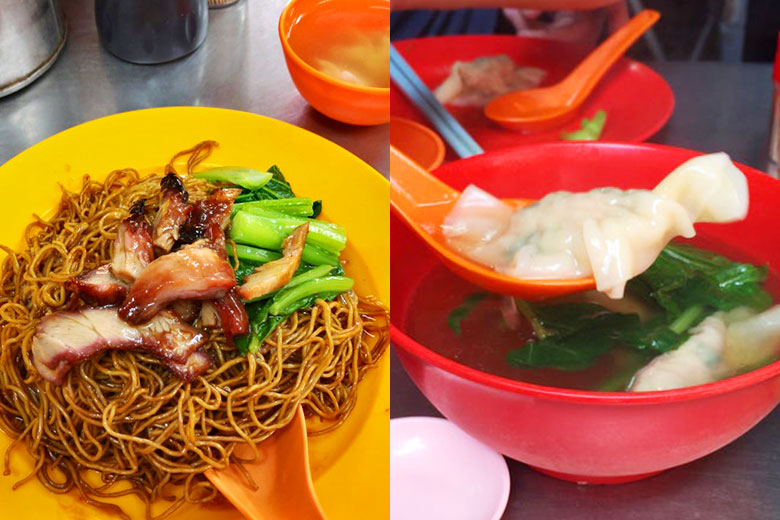 This stall has served Wan Tan Mee to many generations of locals. They are known for their delicious char siew and springy wan tan mee. The sweet BBQ glaze on the pork with the slight charred sides makes you want more with every bite. Pair that with the springy noodles and you have yourself a very enjoyable meal.
Address: 95, Jalan Hang Lekir, City Centre, 50000 Kuala Lumpur
Operation Hours: 10AM – 10PM, Daily