Editor Picks
Things To Do
12 Scary YouTube Channels For Scary Stories, Ghosts, & Mysterious Videos All Horror Fans Should Subscribe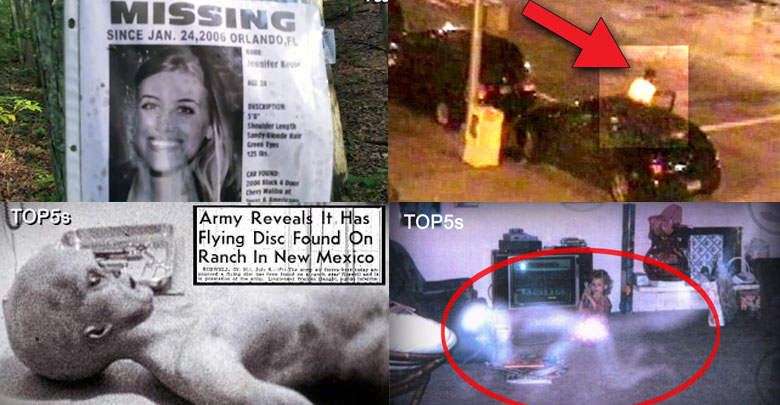 Image Credit: Top5s & Top 5 Unknowns
As we are experiencing the second wave of MCO (Movement Control Order), we know most of you're simply bored staying at home. While some of us may be keeping sane by learning new recipes, others may be seeking for something thrilling (and even scary) to cope with boredom.
If you're a fan of horror videos, continue scrolling as we list down 12 Scary YouTube Channels For Scary Stories, Ghosts, & Mysterious Videos All Horror Fans Should Subscribe.
1. Top5s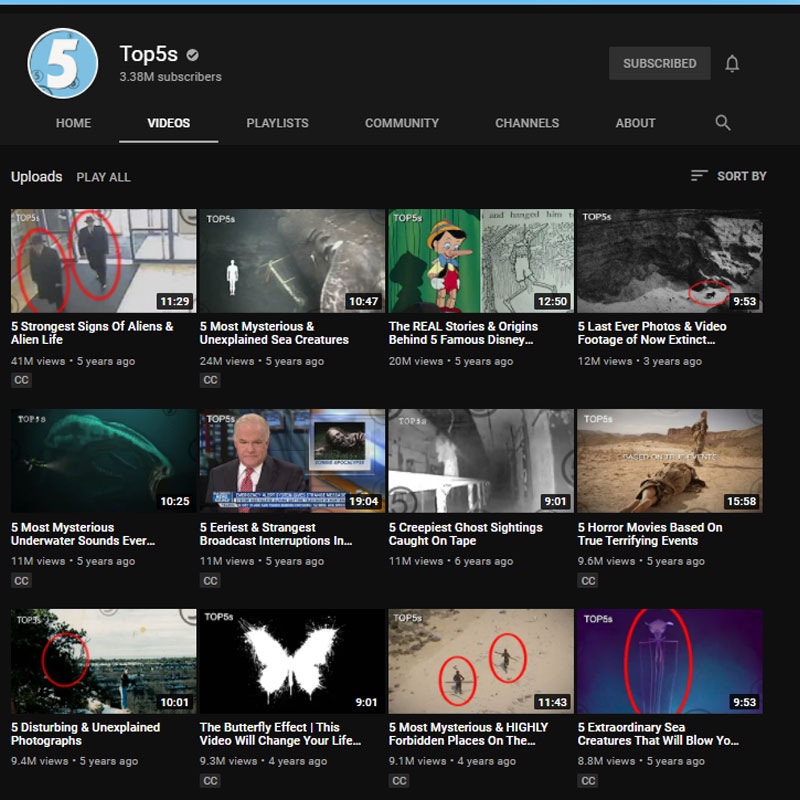 Image Credit: Top5s
If you're looking for terrifying videos and images on ghost, unsolved mysteries and extraterrestrial (UFO) , you MUST subscribe to this channel. Aside from the spooky content, Top5s is widely praised for their high quality production and content.
If you're a horror fan like us, you'd appreciate Top5s' dedication to fact-check and ensuring that everything posted are as authentic as it can be. Rest assure you won't see any staged or fake "scary" videos in this channel.
YouTube Channel Link: youtube.com/user/TheTop5ss
2. Scary Mysteries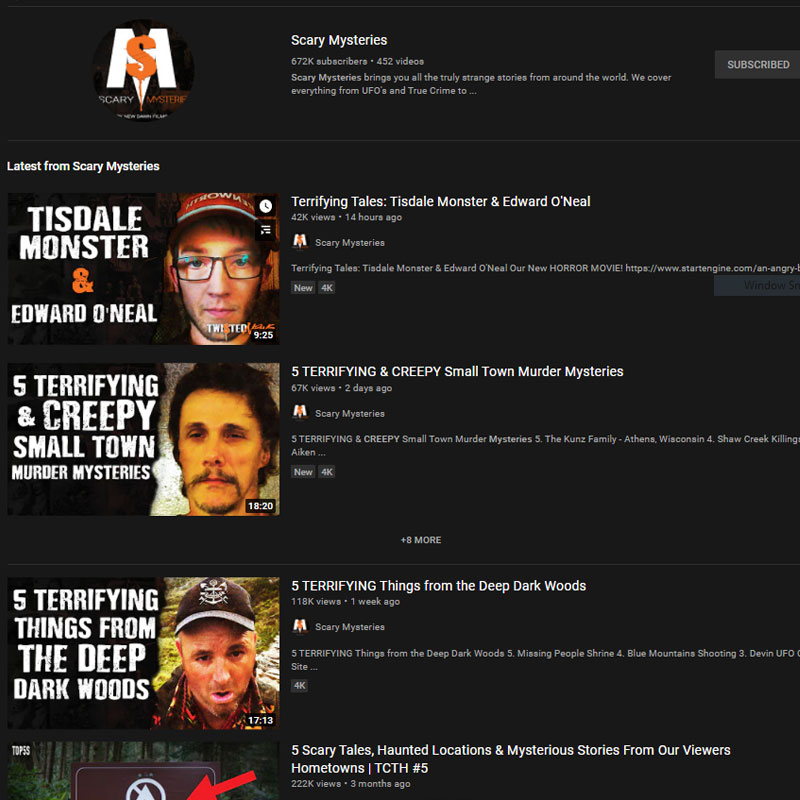 Image Credit: Scary Mysteries
For creepy stories on UFO's, True Crime, Missing Persons cases and sometimes paranormal, you need to check out Scary Mysteries' YouTube channel. This channel explores the dark side of life, and it's thrilling to binge watch their videos for hours & hours.
YouTube Channel Link: youtube.com/channel/UCiE86yS_VM7qjiICqRPmwLQ
3. Top 5 Unknowns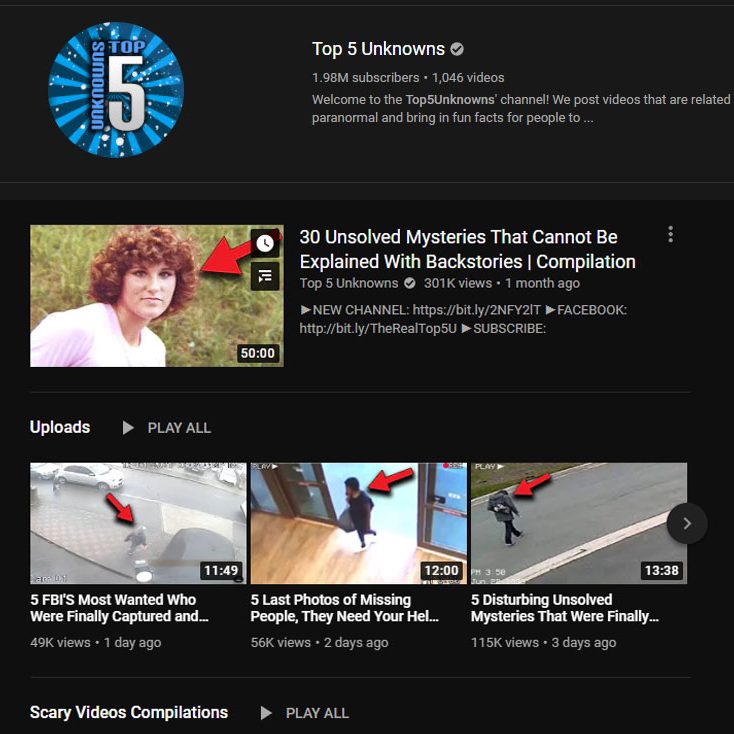 Image Credit: Top 5 Unknowns
Top 5 Unknowns is one of the most underrated horror channels on YouTube. This channel has a wealth of content that will have you binge watching all night as they've uploaded a whopping 1,020 videos.
YouTube Chanel Link: youtube.com/user/Top5Unknowns
4. Chills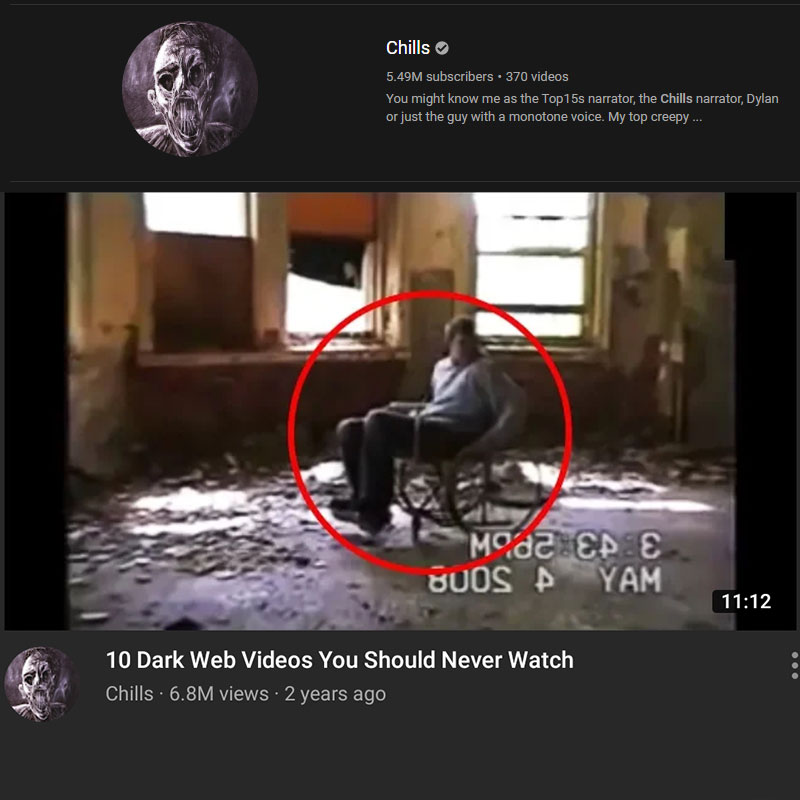 Image Credit: Chills
If you're looking for a list of the creepiest videos on the Internet, Chills has you covered. While some of the videos listed by Chills are clearly staged (I.M.O), it's are still super creepy and entertaining.
YouTube Channel Link: youtube.com/channel/UCN64HIrZNqFQYZ2BuyY-4zg
5. Rob Gavagan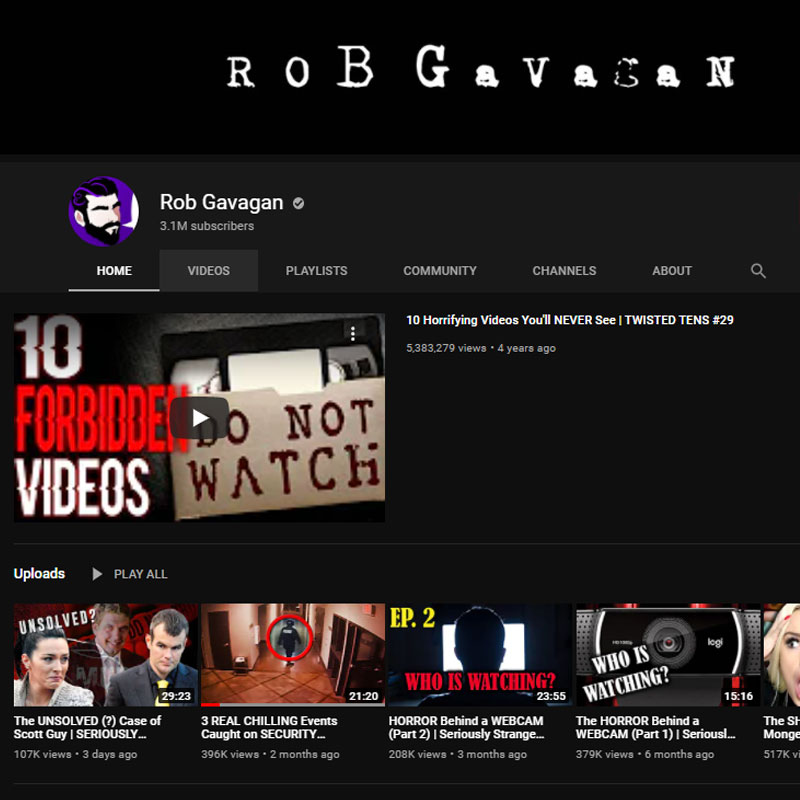 Image Credit: Rob Gavagan
Rob Gavagan (formally known as Rob Dyke) is the host of his creepy YouTube series, Seriously Strange. In this series, the host covers the scariest unsolved cases, terrifying real life stories and everything creepy all around the world.
YouTube Channel Link: youtube.com/user/TheRobDyke
6. Lutch Green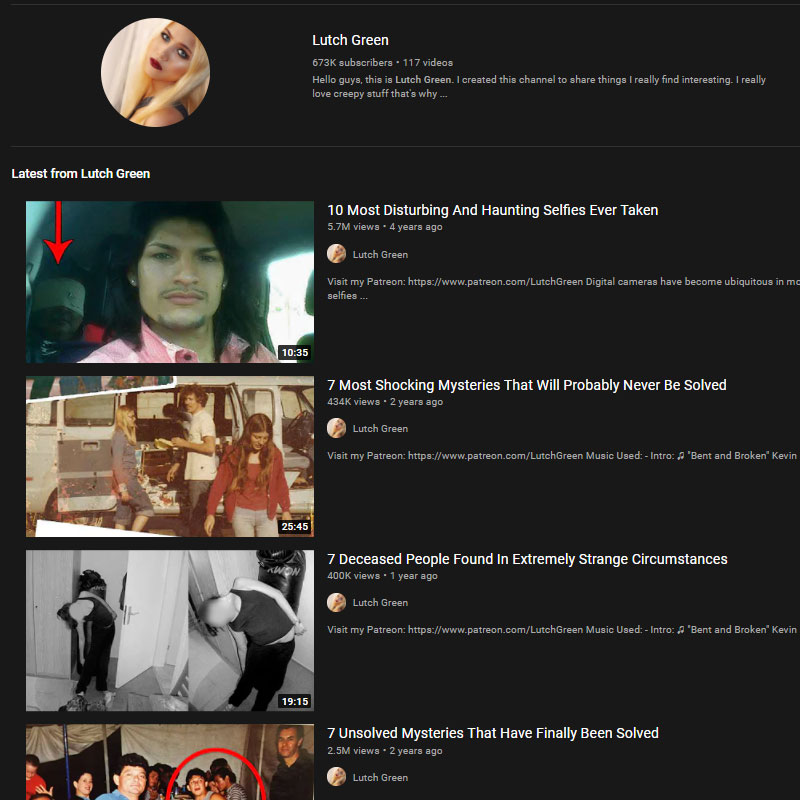 Image Credit: Lutch Green
If you're someone who doesn't believe in ghost and prefers to watch crime-based videos, you MUST subscribe to Lutch Green! This channel shares the scariest crime stories around the world. From disturbing CCTV footages to creepy real life urban legends, this YouTube channel will make sure you stay vigilant.
They've also features 3 heart-breaking and horrifying crime incident that happened in Malaysia – The Murder of Canny Ong, Nurul Jazlin Case & Ng Yuk Tim's Murder (Kelana Jaya Murder)
YouTube Channel Link: youtube.com/c/LutchGreen/videos
7. Cold Case Detective
Image Credit: Cold Case Detective
Cold Case Detective is created by the same team behind Top5s. However this channels solely focuses on missing person cases throughout history. Their main goal is to educate and spread awareness on some of the most puzzling cases.
YouTube Channel Link: youtube.com/channel/UCdjslyNQupPSFxK_mSPcG-g
8. Lazy Masquerade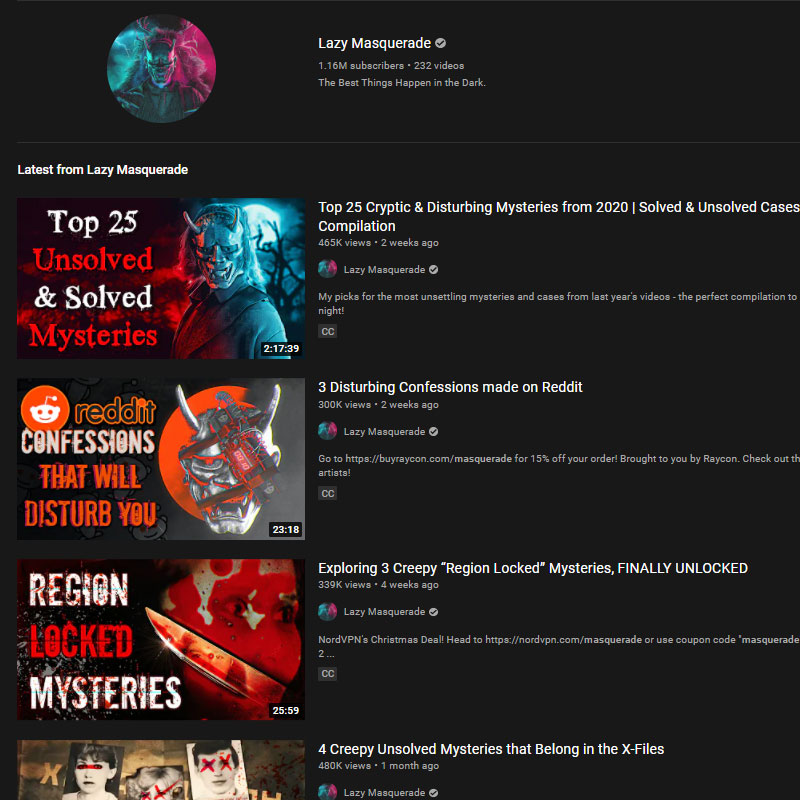 Image Credit: Lazy Masquerade
Lazy Masquerade is probably the most creepiest YouTube channel on this list. While this channel covers everything horror, they are mostly known for their Creepy Reddit & 4chan stories as well as other disturbing unsolved mysteries.
YouTube Channel Link: youtube.com/user/Aylingater77
9. Dark5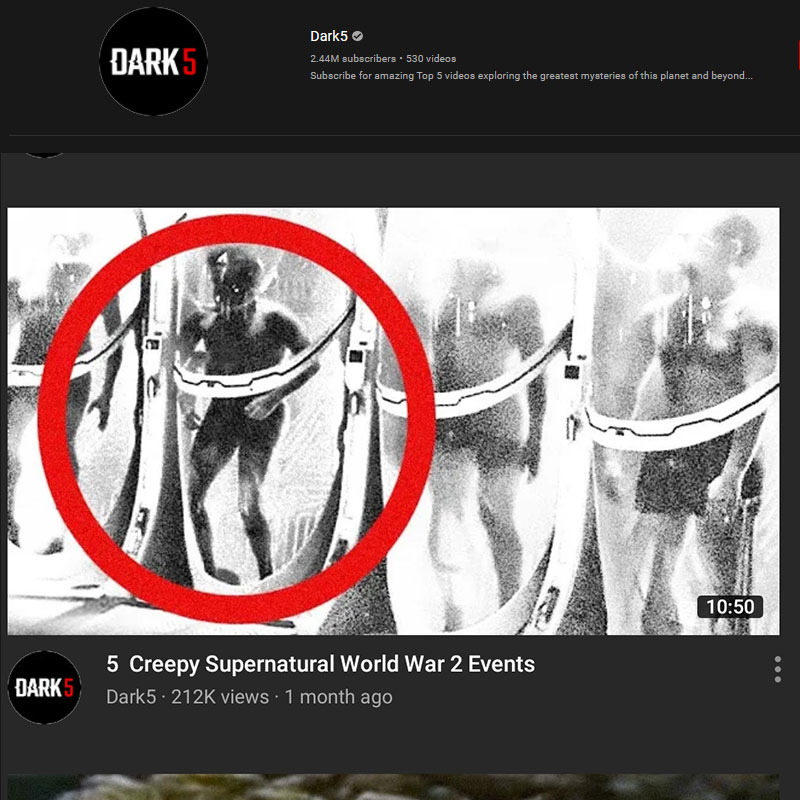 Image Credit: Dark5
What better scary YouTube channel to watch than a channel named Dark5?! This channel puts out some of the creepiest video listicles and every video comes with 5 entries only! Perfect for those with short attention span.
YouTube Channel Link: youtube.com/user/dark5tv
10. Criminally Listed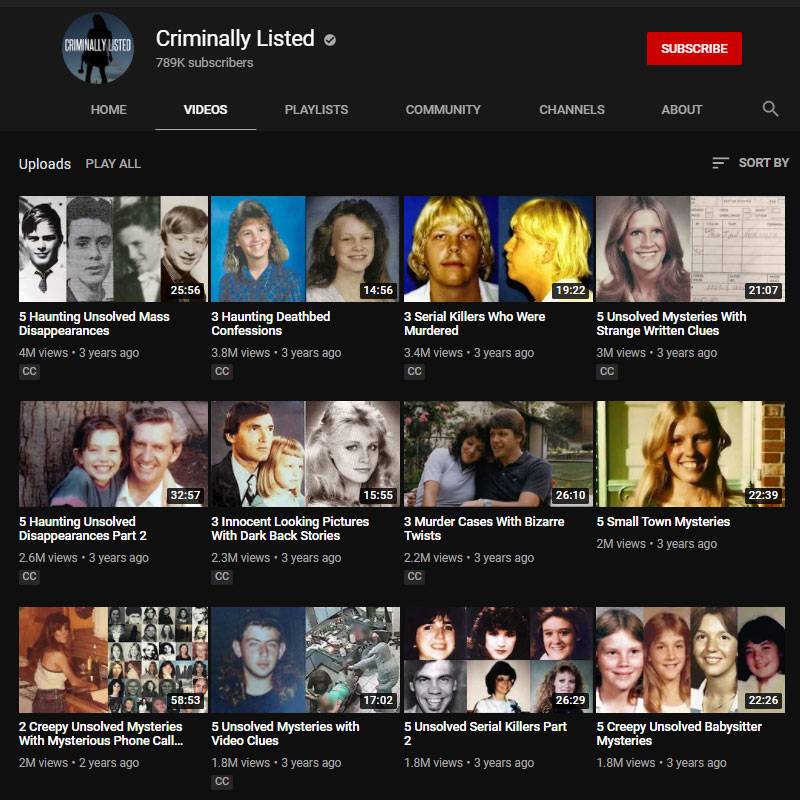 Image Credit: Criminally Listed
Criminally Listed is the perfect channel for fans of true crime stories. This channel brings you the most interesting crime stories, solved and unsolved mysteries around the world. The channel solely relies on the narration, rather than the visuals, hence it's prefect to listen to while doing house chores!
YouTube Channel Link: youtube.com/channel/UCs3iFCPtX0gzkKxCrobO4ig
11. ReignBot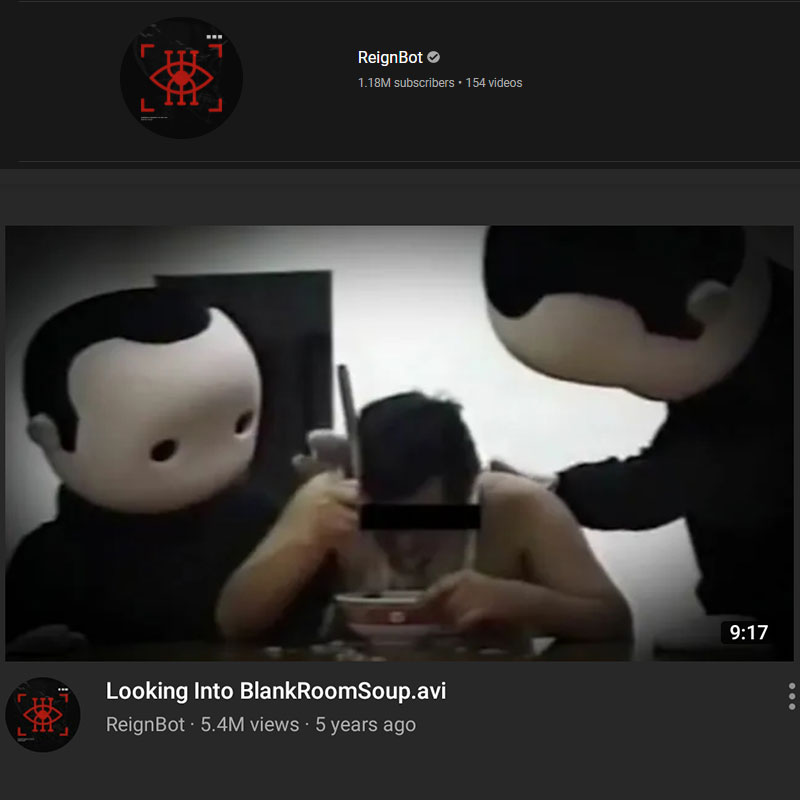 Image Credit: ReignBot
ReignBot YouTube channel mainly dives into the weirdest and creepiest parts of the internet. Bringing truth and solving some of the biggest Internet conspiracies, this channel is perfect for those who're into creepy pastas and internet urban legend, both fact and fiction.
YouTube Channel Link: youtube.com/channel/UCchWU8ta6L-Dy3rGIxPINzw
12. MostAmazingTop10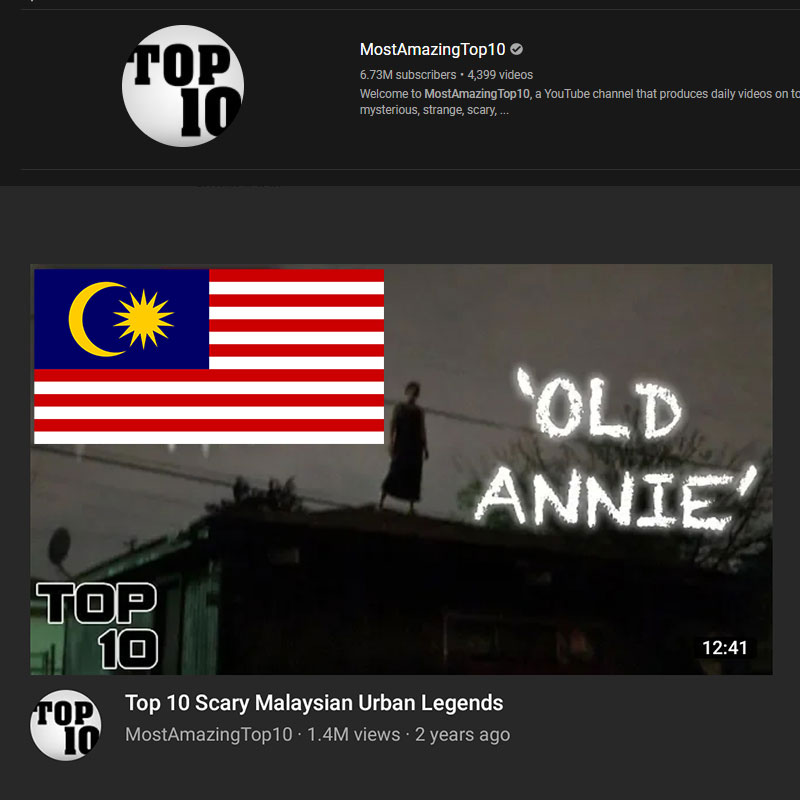 Image Credit: MostAmazingTop10
MostAmazingTop10 dives into the creepiest horror stories that are pure nightmare fuel in a form of a Top 10 listicle!
Bonus Point: They've also featured a listicle on 10 Scary Malaysian Urban Legends which you can watch here.
YouTube Channel Link: youtube.com/channel/UCBINYCmwE29fBXCpUI8DgTA