Food & Drinks
10 Places To Get Delicious Nasi Kerabu Around KL & PJ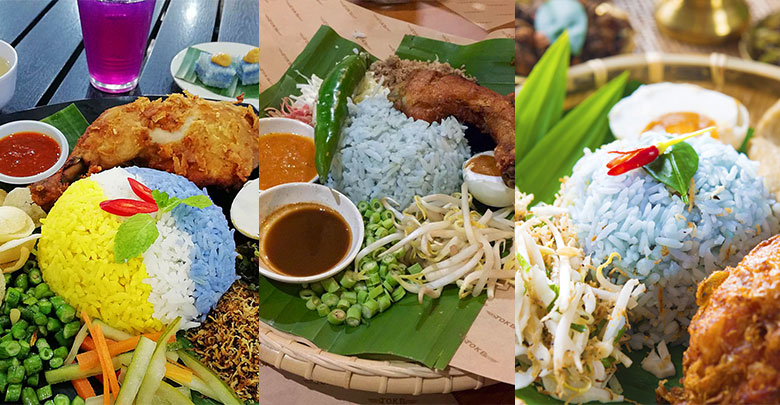 Nasi Kerabu: Kelantan's beloved dish is one we would gladly eat for breakfast, lunch, dinner and even supper.
Usually a standard Nasi Kerabu comes with blue coloured rice (resulting from butterfly pea flower used in the cooking), protein of your choice, salted egg, vegetables, budu, and keropok. Nasi Kerabu is also prepared in other colours like yellow (turmeric) and green (mixture of pandan and other herbs). The key is to mix everything all together before savouring this delicious dish.
Without further ado, here's 10 Places To Get Delicious Nasi Kerabu Around KL & PJ.
1. Kelate Kitchen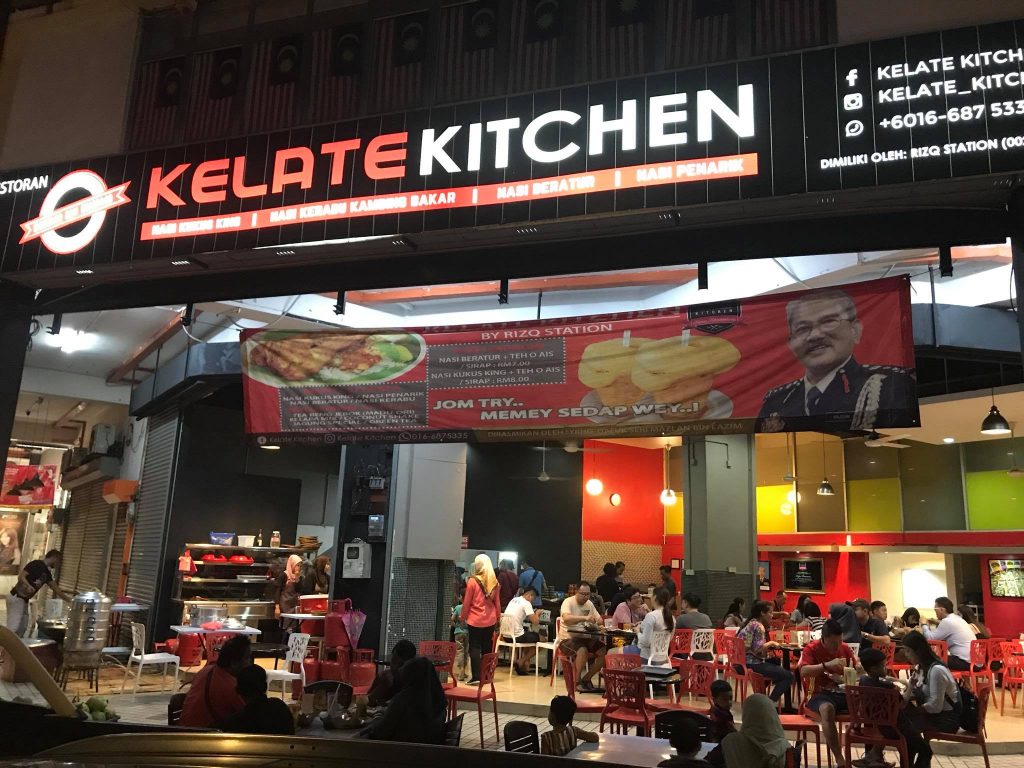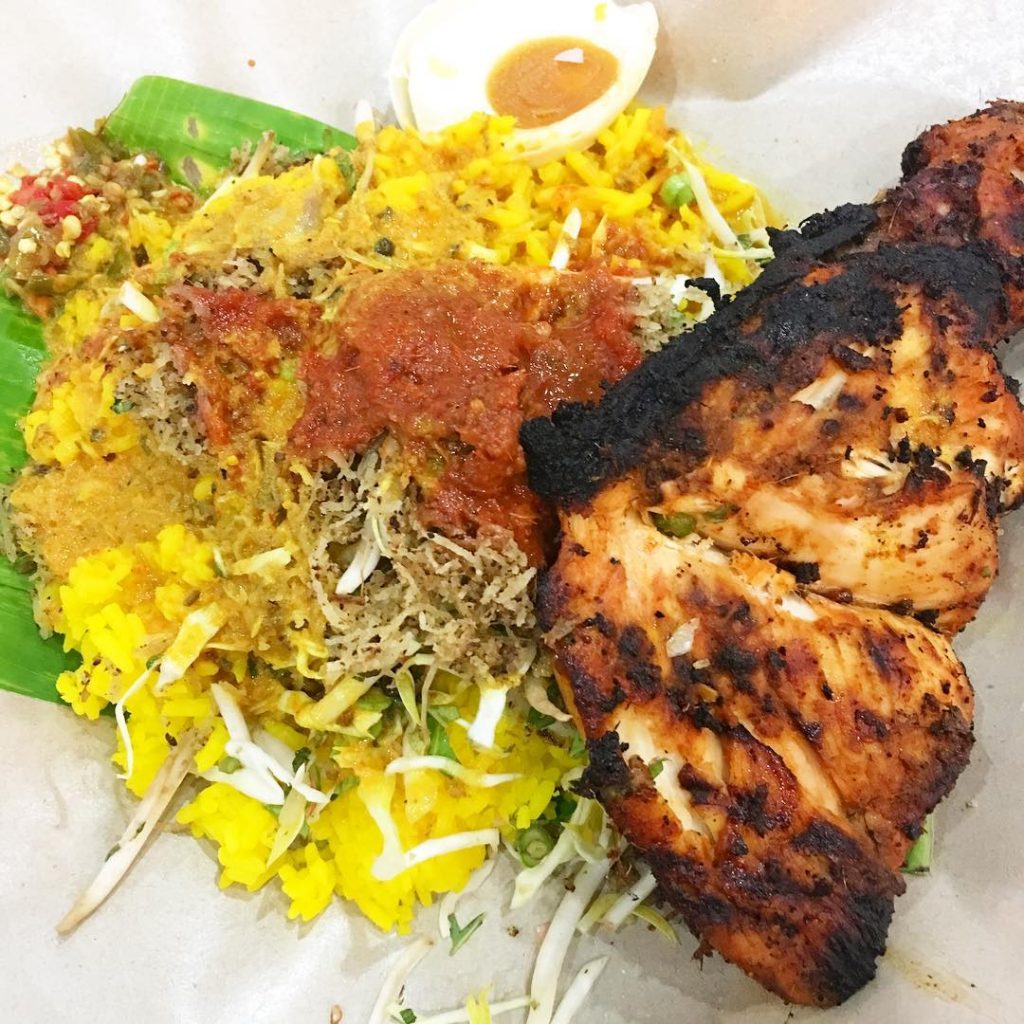 Kelate Kitchen is probably the most popular Halal restaurants to ever open in Setapak, KL. Almost everyday there's a long queue of people waiting in line to get their lunch fix. While mostly known for their Nasi Kukus, we found their Nasi Kerabu to be quite underrated. Accompanied by their Teh Ais Madu, believe me it's truly awesome.
Address: Plaza Prima Setapak, B, 7 & 8, Jalan Prima Setapak 1, Taman Setapak, 53100 Kuala Lumpur
Time: 10am – 10pm, daily
2. Warung Wok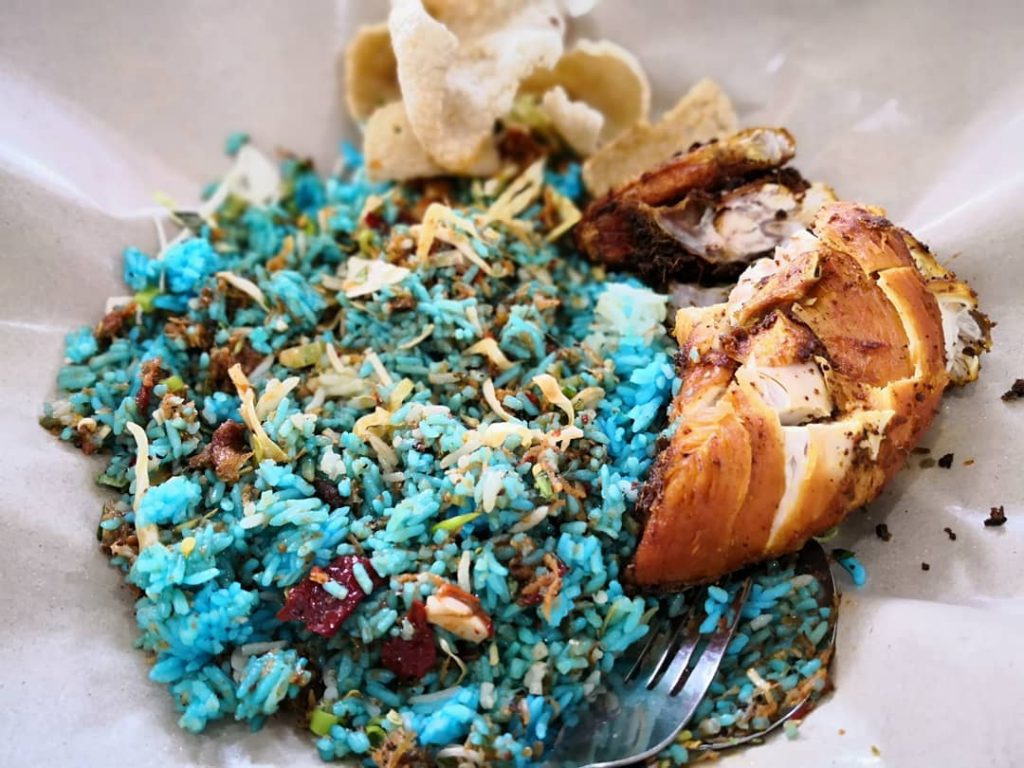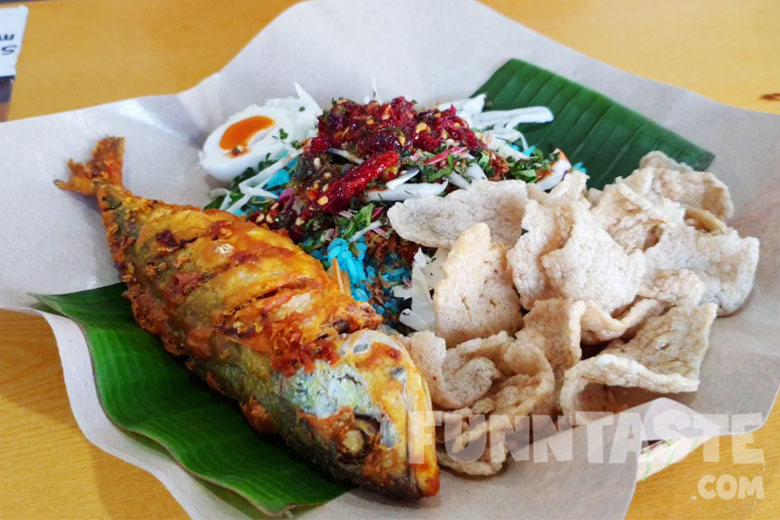 Hidden among a sea of Chinese coffee shops and offices is Warung Wok, a newly opened Kelantanese restaurant in Puchong. The owner of this restaurant is from Kelantan, so you know their Nasi Kerabu is going to be good. Choose your favourite side dish from fish, beef and chicken, pair with their slightly sweeter sambal, and voila, a comforting plate of Nasi Kerabu!
Hours: 8am – 9pm, daily
Address: G – 2, Jalan Kenari 12a, Bandar Puchong Jaya, 47100 Puchong, Selangor
3. Hayaki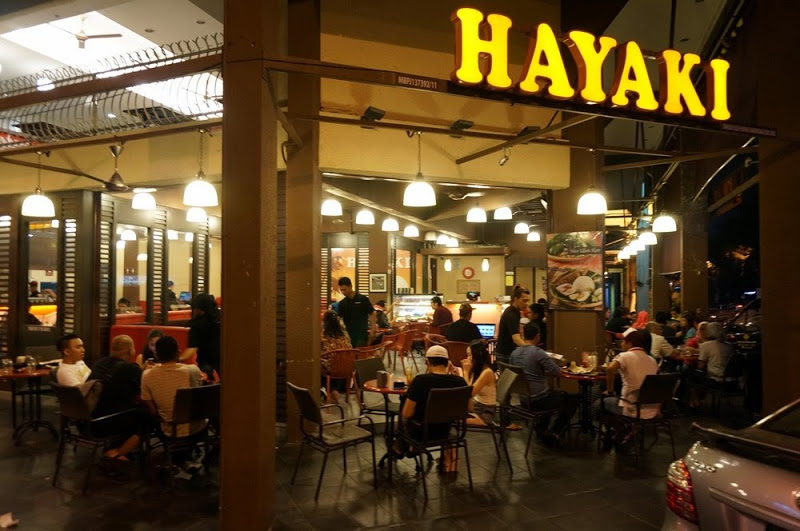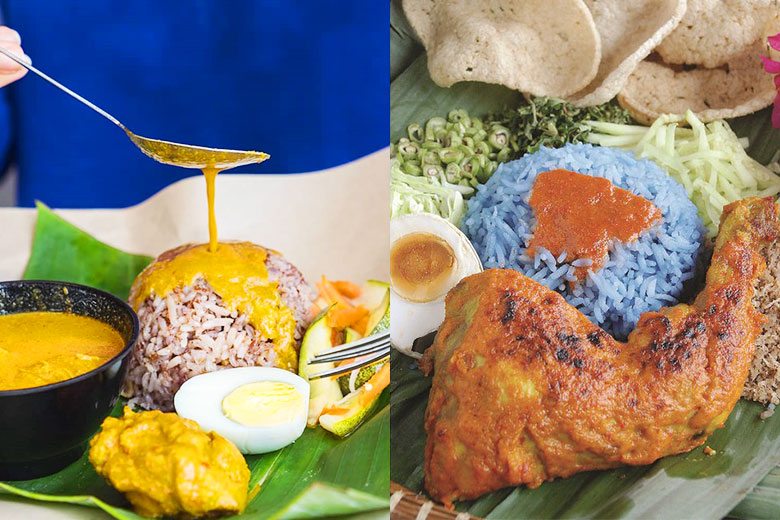 If you frequent Uptown Damansara, you've probably came across this unassuming 24 hours halal Kopitiam. They specialize in serving a wide array of Kelantanese dishes and their signature is Nasi Kerabu Ayam Percik. Perfect place to get your Nasi Kerabu fix at midnight, right?
Hours: 24 hours
Address: Jalan SS 21/37 Uptown, Damansara Utama, 47400 Petaling Jaya, Selangor
4. Nasi Kerabu Ayam Madu North Kiara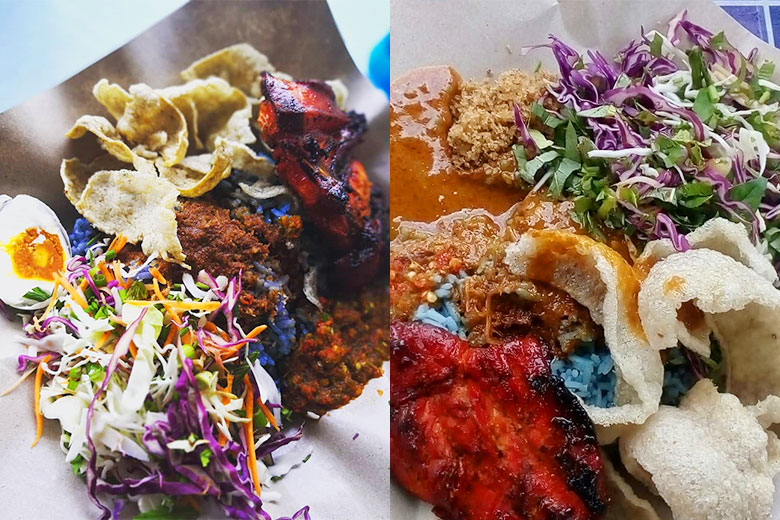 This humble stall, nestled in a residential area in Mont Kiara serves one of the most authentic Nasi Kerabu in the Klang Valley. Nasi Kerabu Ayam Madu North Kiara is manned by a Kelantanese abang who used to sell this delicious dish in Kota Bharu, Kelantan. The signature topping here is the Ayam Madu marinated with honey and grilled over charcoal, sweet and tender.
Hours: 8am – 5pm, daily
Address: Jalan 2/61 Bukit Segambut, 51200 Segambut, Kuala Lumpur, Malaysia
5. KakatooGo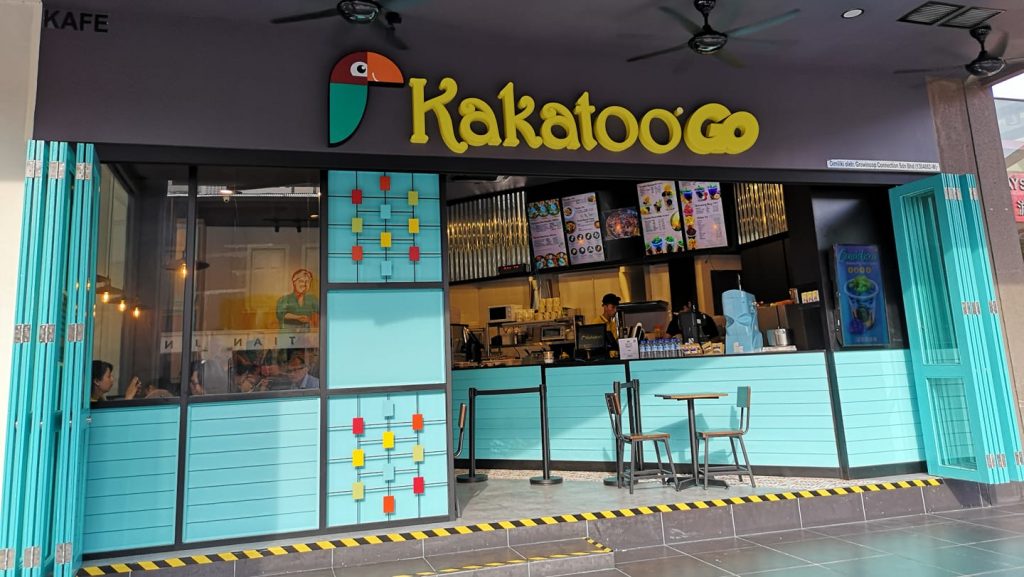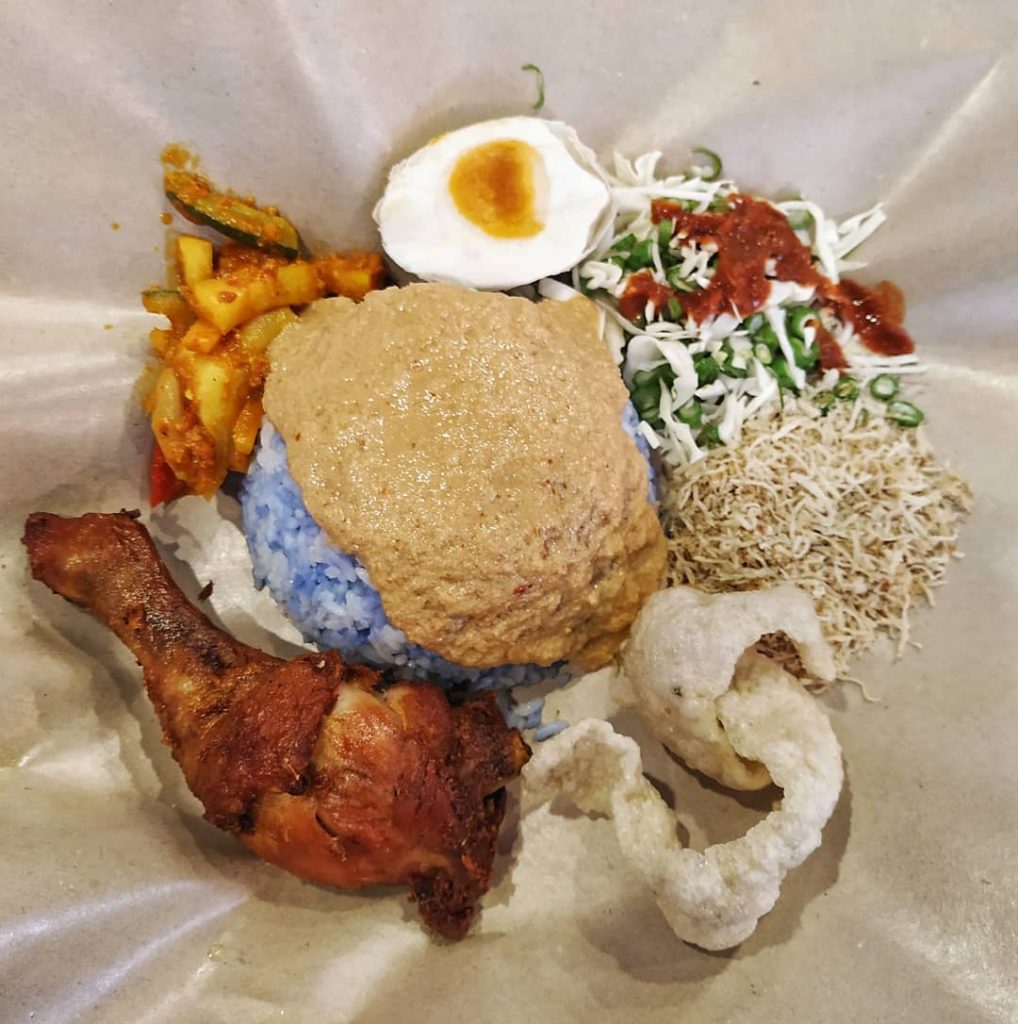 Located along Jalan Sultan and adjacent to Petaling Street, KakatooGo is a gem for traditional Nyonya dishes. While they are more commercialize compared to other entries on this list, the Nasi Kerabu here is undoubtedly delicious. What caught our attention is the presence of acar in the rice, which blends nicely together with the entire dish.
Hours: 8am – 9pm, daily
Address: 243, Ground Floor, Kompleks Selangor, Jalan Sultan, 50000 Kuala Lumpur
6. Restaurant Tuu Dok Ko 1488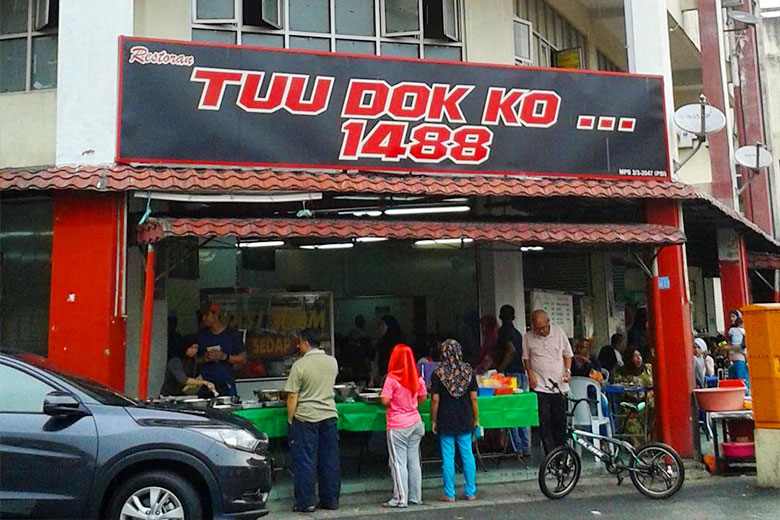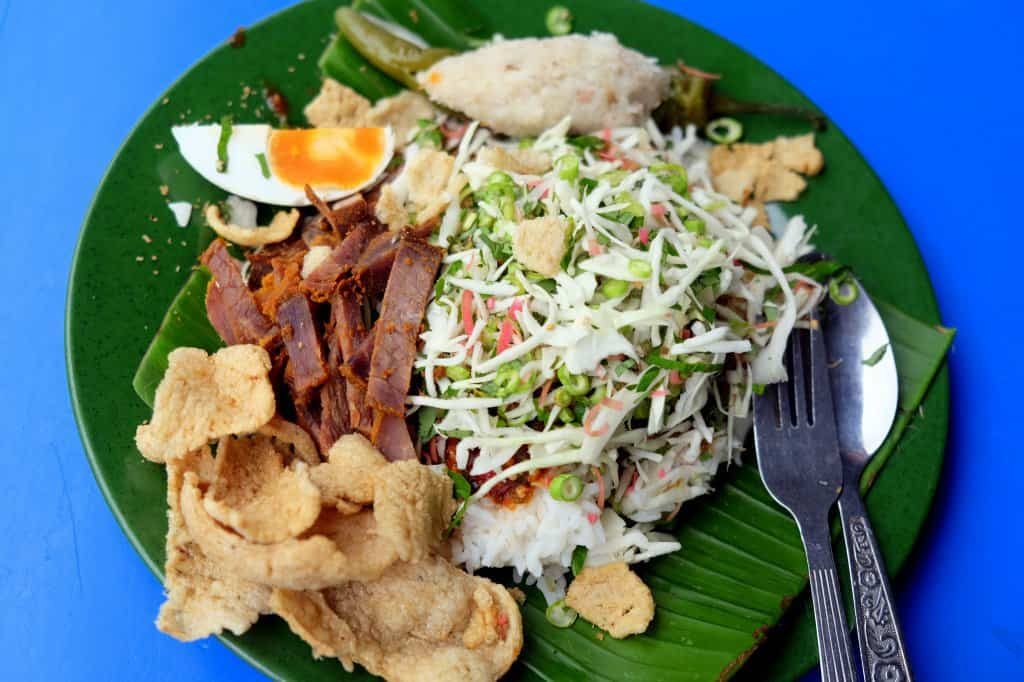 The founder, Che Azlina, started this business in 2015 selling homemade dishes that she had learnt from her mother. She decided to open a brick and mortar restaurant in Batu Caves as her food grown more popular. Today the restaurant is deemed by patrons as the best place for getting varieties of Kelantanese food fares around Batu Caves. Some of their dishes such as Nasi Kerabu and Nasi Danang sold out very fast, therefore it's best to be here before the lunch crowd.
Hours: 6.30am–5pm, daily
Address: Jalan Samudera Utara 2, Taman Samudra, 68100 Batu Caves, Selangor
7. Tempurung Kitchen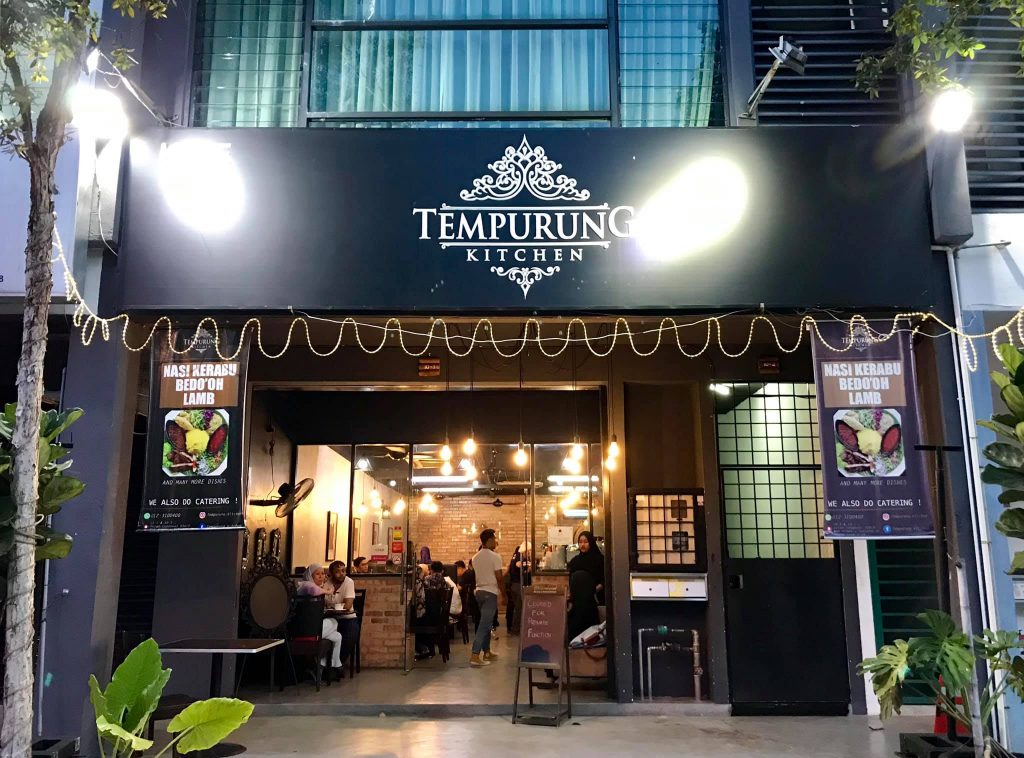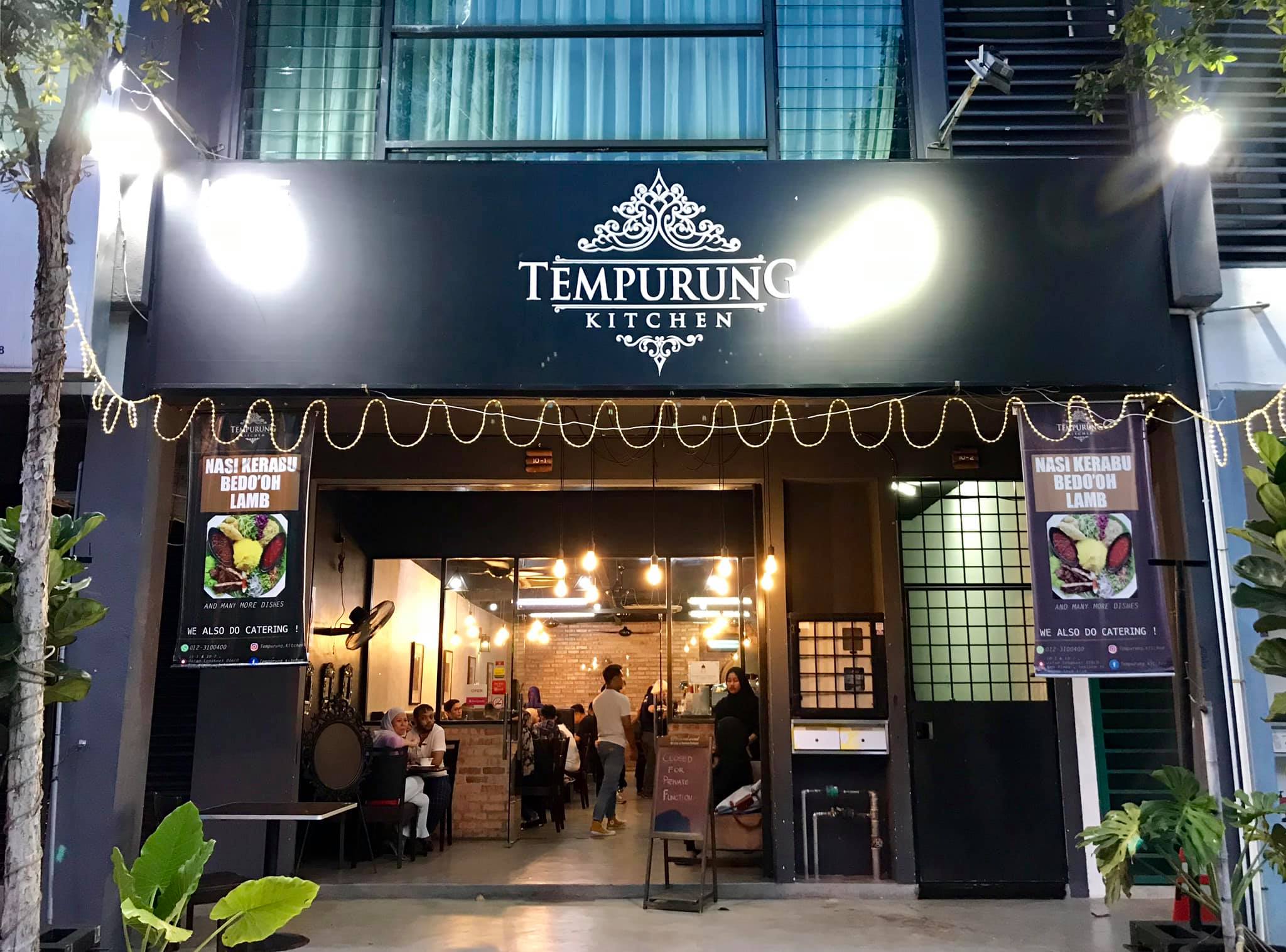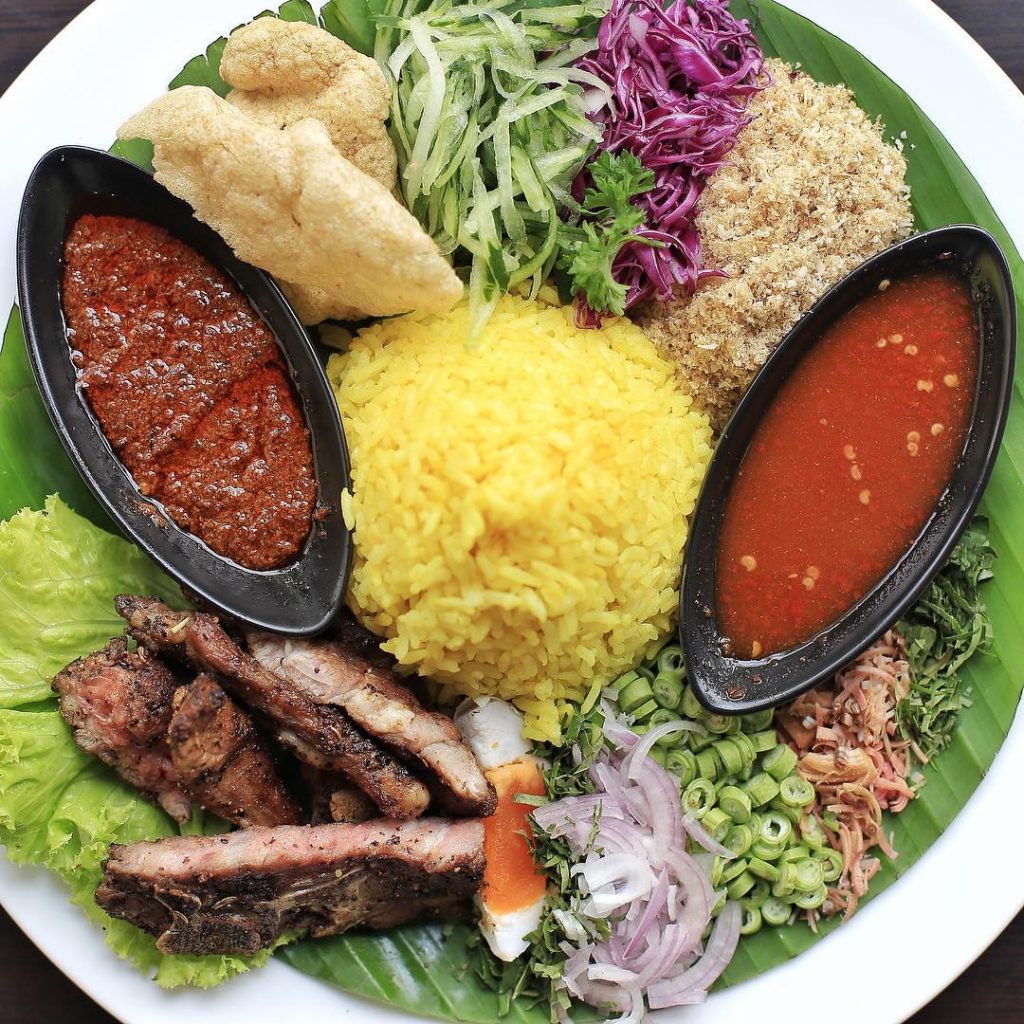 This cafe in Shah Alam serves authentic Kelantanese cuisine. All cooked by a team of experienced chefs, so you can expect nothing but top notch service and well plated dishes. While it may seem quite expensive at first, we think RM20 for a Nasi Kerabu Bedo'oh – served with yellow steamed rice, lamb chop, keropok, vegetables, salted egg yolk and budu is quite reasonable. Especially when said lamb chop is of good quality.
Hours: 11.30am –10.30pm, daily
Address: 10-1 Jalan Lengkuas D16/D Ken Rimba, Seksyen 16, 40200 Shah Alam, Selangor
8. Dua by SKOHNS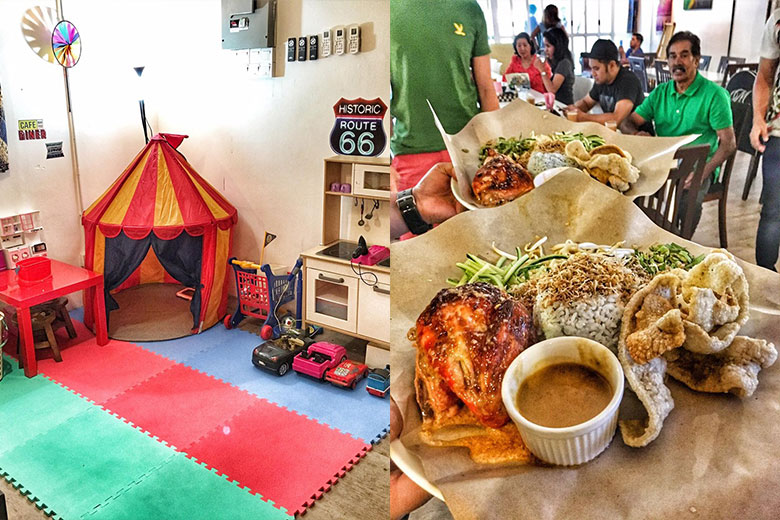 Dua serves reasonably priced Kelantanese food loaded with fresh ingredients. Some of the unique toppings are Kambing Bakar and Sotong Celup. It is also worth mentioning that the place is air-conditioned and has a relaxed ambiance, perfect for family and kids.
Hours: 12pm–3pm, 6pm –10.30pm
Address: 12A, Jalan Tun Mohd Fuad, Taman Tun Dr Ismail, 60000 Kuala Lumpur
9. Restoran Patatimo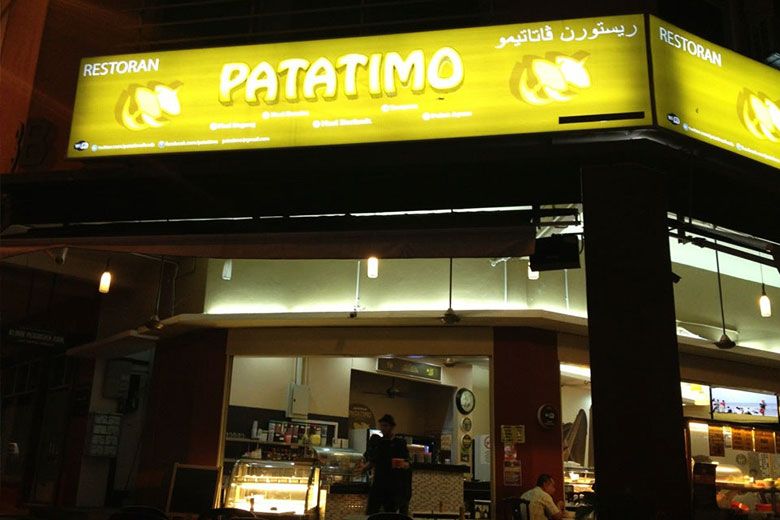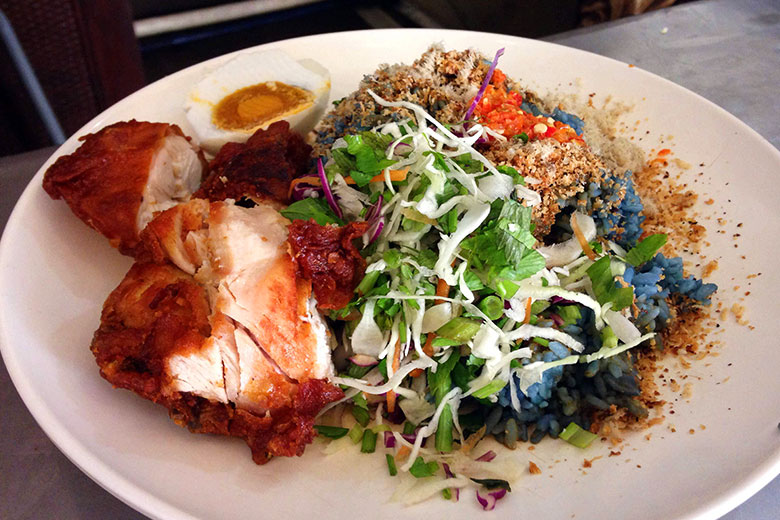 For those who live in KL and crave for Nasi Kerabu at 3AM in the morning, Patatimo is the place to be. The restaurant is open till 5am and the Nasi Kerabu comes with freshly fried chicken. It's surprisingly good for an (almost) 24-hour restaurant.
Hours: 7.30am-5am, daily
Address: D'Wangsa, 11, Jalan Wangsa Delima 10, Wangsa Maju, 53300 Kuala Lumpur, Wilayah Persekutuan Kuala Lumpur
10. Warung Ambo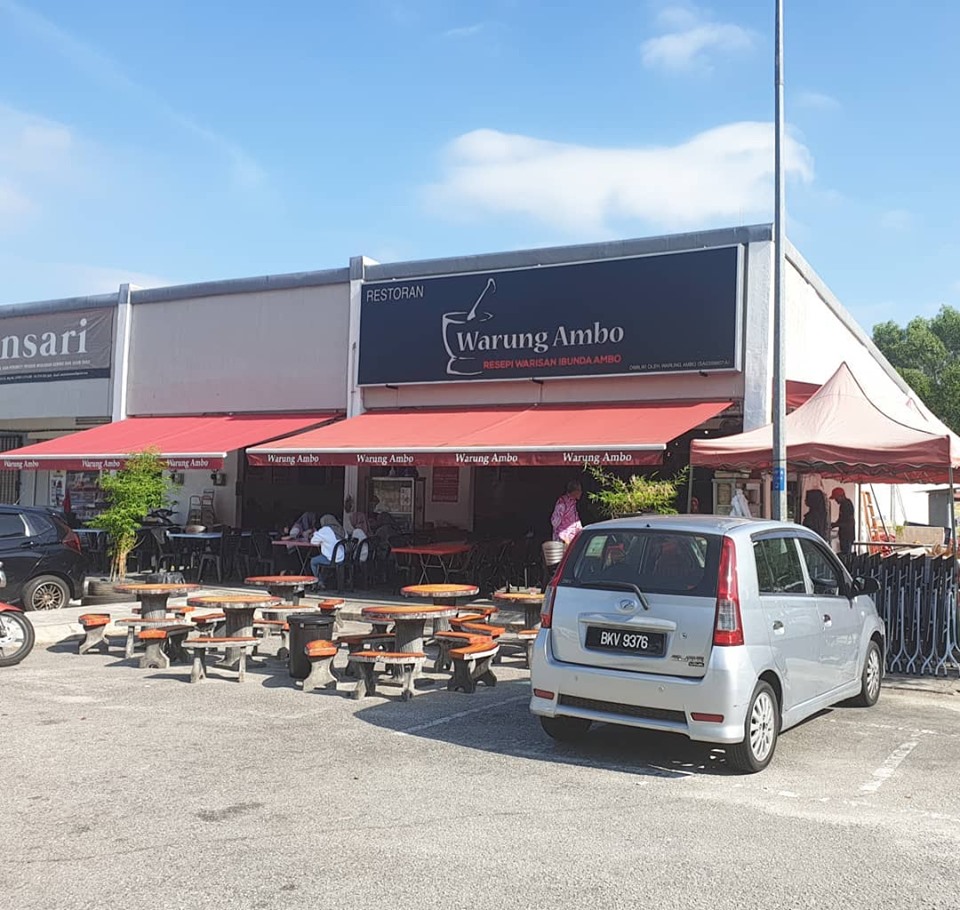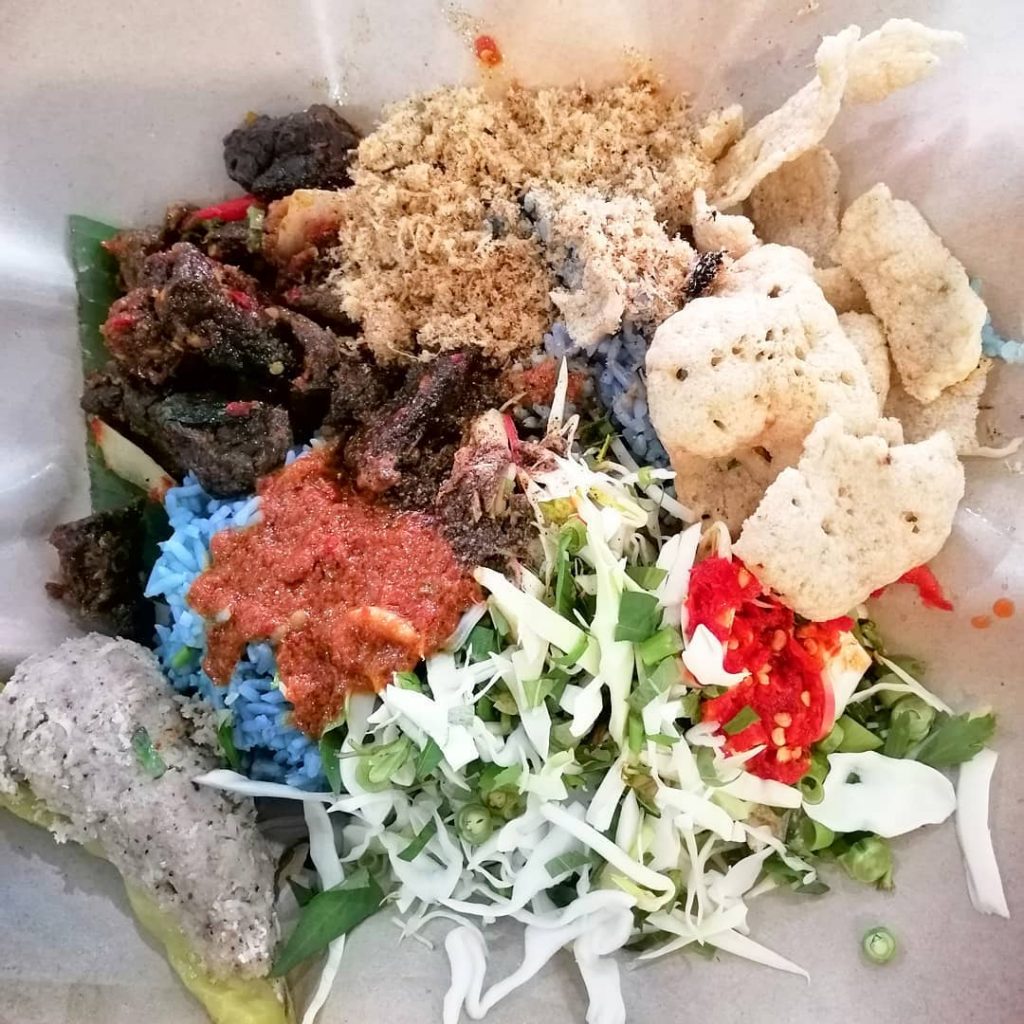 For the people residing in Shah Alam, this is the closest Kelantan's authentic Nasi Kerabu you can get your hands on. Their Nasi Kerabu Biasa (without meat) cost only RM3.50, even after topping up with chicken or beef, one plate of Nasi Kerabu is priced at RM7.50. No wonder this place is always packed to the brim with patrons.
Hours: 8.30am – 4pm, daily
Address: 38, Jalan Novelis U1/86A, Laman Glenmarie, 40150 Shah Alam