Food
10 Best Steamboat Restaurants In KL & PJ To Warm You Up On Rainy Days
It's funny how many Malaysians still enjoy steamboat when our country is hot and humid all year long. Nonetheless, this widely beloved dish especially among Chinese people is a great stomach warmer on a cold rainy day.
Like Korean BBQ or fondue, steamboat is one of the staple food to enjoy while bonding with friends and family. With that said, here are the 10 Best Steamboat Restaurants In KL & PJ To Warm You Up On Rainy Days.
1. Dian Huo Xin Wo @ Kelana Jaya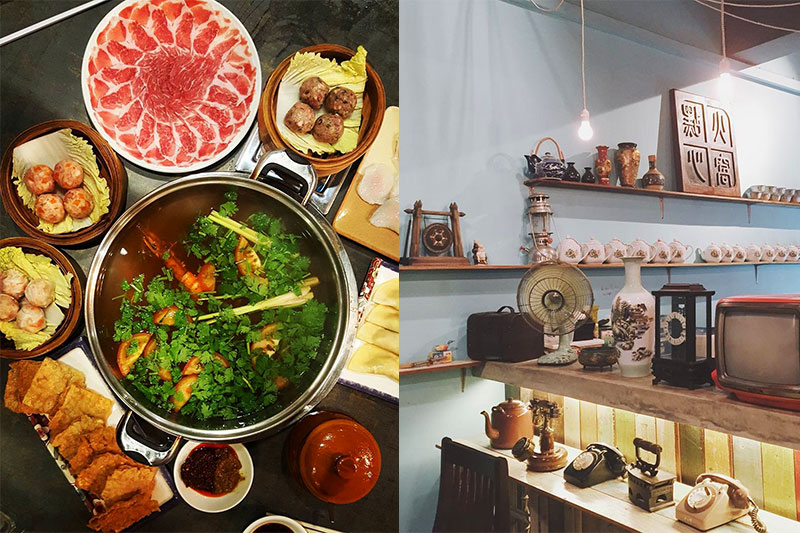 If you're staying nearby Kelana Jaya, Dian Xin Huo Wo has probably come across your mind at least a few times. The restaurant is highly recommended by patrons for its handmade meatballs ranging from signature beef ball and salted egg pork ball. The rustic ambiance also makes Dian Xin Huo Wo a cozy place to have a meal with your loved ones.
Address: Ground Floor, The Grand Kelana Jaya, 47301 Petaling Jaya
Operating Hours: 5.00PM – 11.30PM
2. Fat One Steamboat @ Sunway Mentari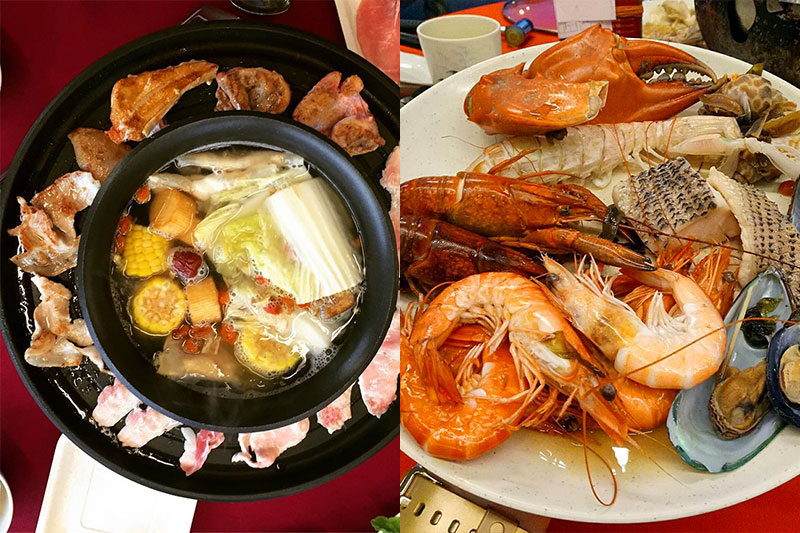 When you talk about steamboat in Bandar Sunway, people often think about Fat One. This steamboat spot is a fuss-free, all-you-can-eat restaurant that serves over 300 different steamboat ingredients and fresh seafood such as crabs, grouper, and even mantis shrimps. Besides cooking your food in the broth, you can also opt to fry or grill your food.
Address: Jalan PJS 8/17, Bandar Sunway, Petaling Jaya
Operating Hours: 4.30PM – 12.00AM
3. Harbour Steamboat @ Sri Petaling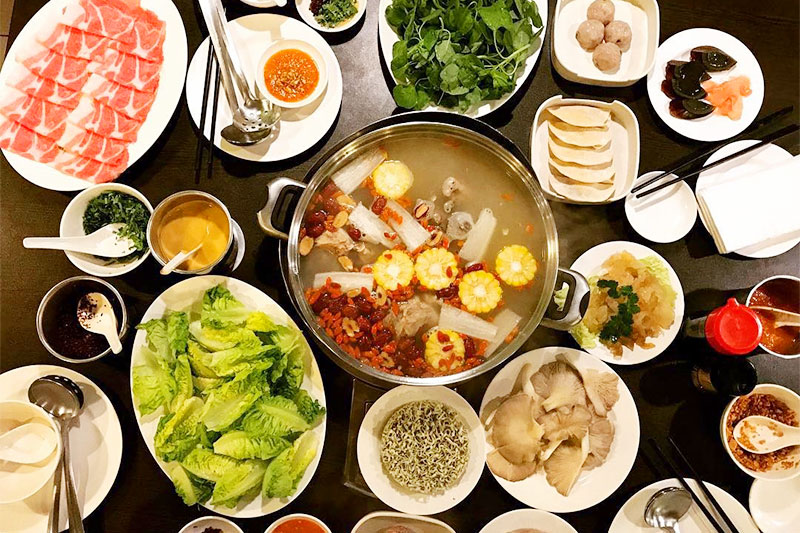 Harbour Steamboat has long been one of Sri Petaling's steamboat destinations. Known for their hearty and MSG free ingredients, the soup base is pretty hard to beat. Aside from their homemade meatballs, highly recommended is the Macau pork bone soup, which has the right balance of saltiness that will leave you wanting more.
Address: 19, Jalan 13/149l, Sri Petaling, 57000 Kuala Lumpur
Operating Hours: 4.00PM – 11.30PM, Daily
4. Two Pesos Steamboat @ SS2 Petaling Jaya and more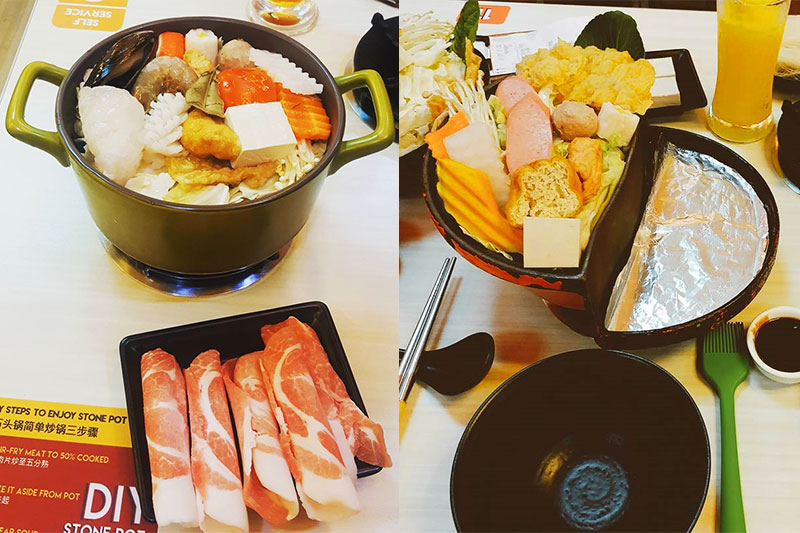 Franchised with five outlets which are scattered all over KL and Selangor, Two Pesos is the place to go if you're looking for steamboat with individual steampot. There are a plethora of choices and beside their signature mini steamboat, stone grill options are available as well. Based on our research, the Milky Seafood Pot is the best seller.
Address: Full list of locations click here.
Operating Hours: 12.00PM – 3.00PM, 6.00PM – 11.00PM, Daily
5. Chun Ciou Hot Pot @ Old Klang Road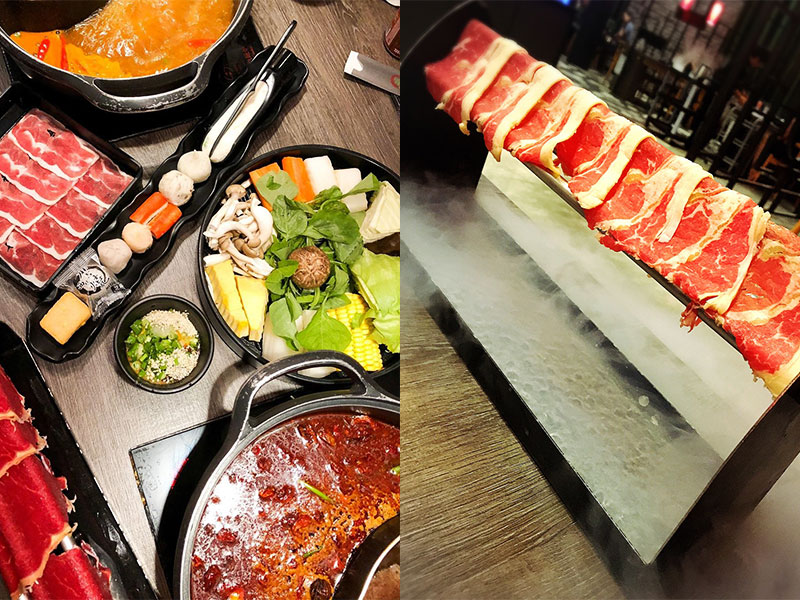 Taiwanese hotpot brand Chun Ciou has gained a cult following ever since it opened earlier last year. While the buffet prices are on the higher side, the top quality soup broth and ingredients certainly does justice. They are most popular for their Sukiyaki Soup and Lakesalt Soup. Also don't leave without trying their thinly sliced meat which served hanging on a rack of dried ice.
Address: 306, Batu, 3, Jalan Klang Lama, 58000 KL
Operating Hours: 6.00PM – 2.00AM, Daily
6. Yezi Steamboat @ Bandar Utama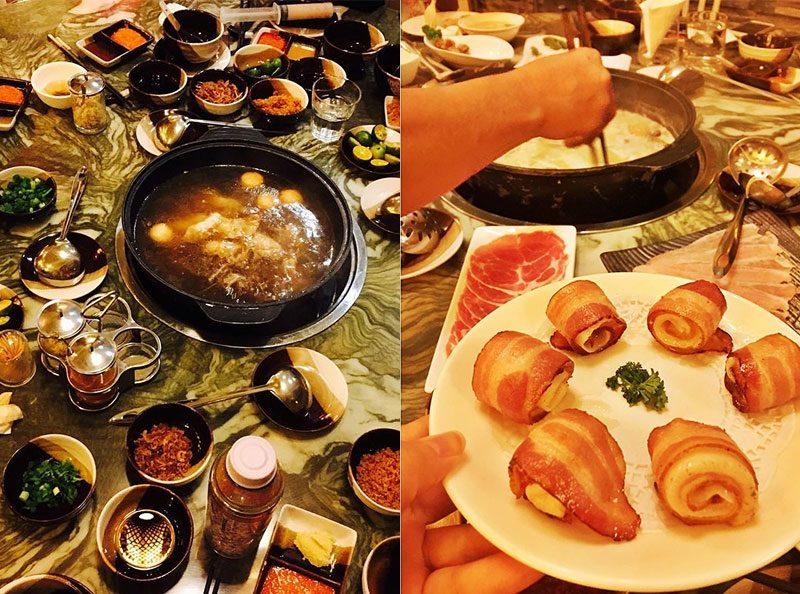 Turns out the boss did not put up the name "Yezi" on his restaurant for nothing. Yezi, which means coconut in Mandarin, takes pride in serving coconut-based broth in their steamboat dishes such as the bacon coconut roll show above. If you're not in a tight budget, be sure to try their Wild Forest Truffle Mushroom Broth, expensive but worth it.
Address: First Avenue Sky Floor, Bandar Utama, 47800 PJ
Operating Hours: 5.00PM – 1.00AM, Daily
7. Hong Kong HotPot @ Bangsar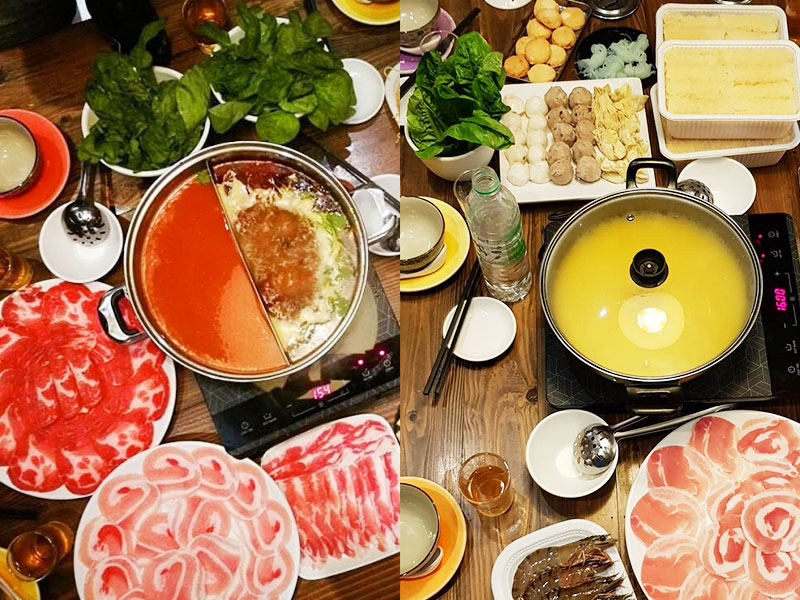 One of the best steamboat restaurants in Bangsar is located a stone throw away from Bangsar Village. Their best seller soup broth are the Sakura Pork Bone broth and Pumpkin soup. The pumpkin soup is perfect for vegetarians. Service might be a little slow but we say it is worth the wait, just to get a taste of this authentic Hong Kong style steamboat.
Address: Lot 9 & 10, Level 2, Telawi Square, Jalan Telawi 3, Bangsar Baru, 59100, KL
Operating Hours: 4.00PM – 12.00AM, Daily
8. Soi 19 @ Kuchai Lama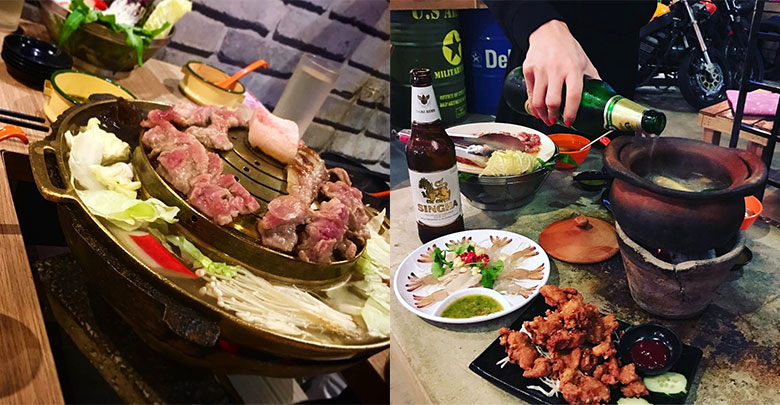 Soi 19 is a Thai restaurant that serves mookata, the Thai version of BBQ and steamboat, which means you get to enjoy both barbecue and hotpot at the same time. For those who'd love to have alcohol in their steamboat, try their Jim Jom (Thai-style mini hot pot) which Soi 19 uses Chang Beer as one of the key ingredients.
Address: 15, Jalan 1a/114, Kuchai Business Centre, 58200 KL
Operating Hours: 5.00PM – 2.30AM, Daily
9. Coco Steamboat Restaurant @ Old Klang Road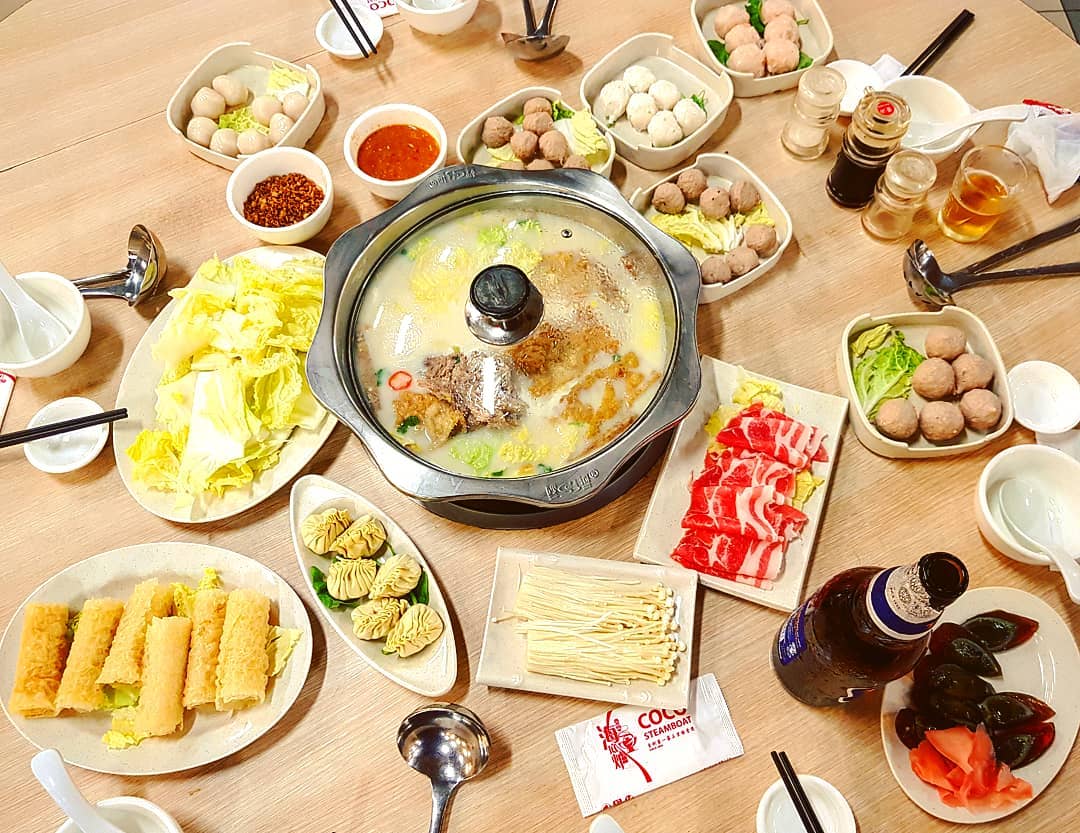 Another household name for steamboat in this list located at Old Klang Road. Coco Steamboat has been around for more than 13 years and they are famed for their signature white pork bone broth as it is tasty and enjoyable. Despite the massive restaurant setting which can allocate 1000 pax, you're still encouraged to make a reservation as they are very popular.
Address: Batu 3/4, 1, 4, Jalan Kuchai Lama, Taman United, 58200 KL
Operating Hours: 5.30PM –11.30PM, Daily
10. TST Hot Pot @ Jalan Persiaran Tropicana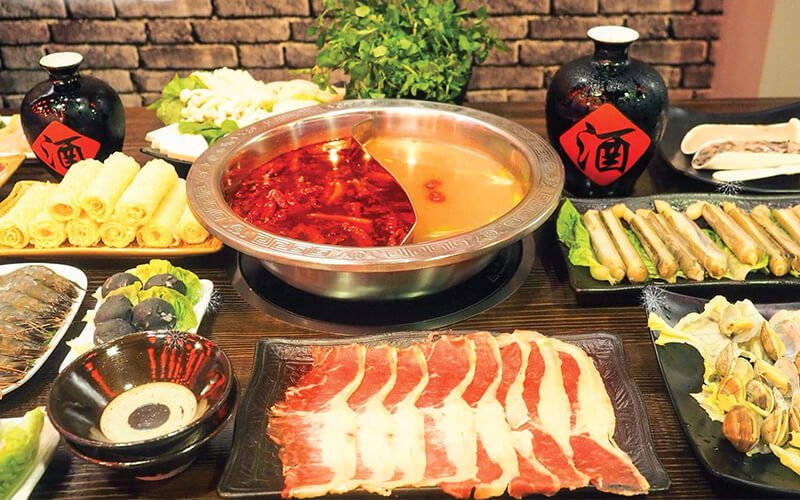 A solid Szechuan-style steamboat restaurant in PJ, TST Hot Pot is a one of the newest players in the steamboat scene. The restaurant specialise in the original Chong Qing Spicy soup, also known as the popular Mala broth. For those who can't take spicy food, their pork bone broth and tomato soup are highly recommended too.
Address: Lot P1, 16, Jalan Mutiara Tropicana 2, Jalan Persiaran Tropicana, 47400 PJ
Operating Hours: 5.00PM – 1.00AM, Daily
Read also: 10 Best Banana Leaf Restaurant In KL & PJ That Is Not Sri Nirwana Maju or Devi's Corner