Food & Drinks
10 Best Nasi Kukus In KL & PJ That'll Make You Say "SEDAP GILER"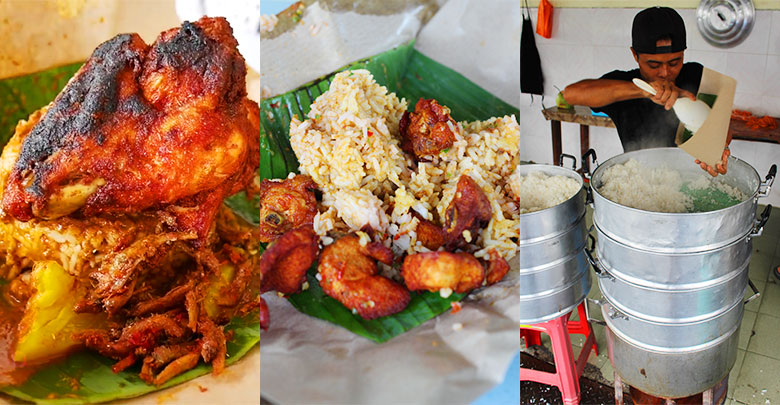 Steamed rice with a side of satisfying fried chicken and amazing taste of gulai has been a go-to lunch meal for many Malaysians. Nasi Kukus is not just tasty but also the affordable price tag which keeps us coming back for more.
With more and more Nasi Kukus eateries mushrooming around KL & PJ, it can get a little difficult choosing the ones that is worth your time and wallet. Hence we've listed the 10 Best Nasi Kukus In KL & PJ That'll Make You Say "SEDAP GILER"
1. Warung Cikgu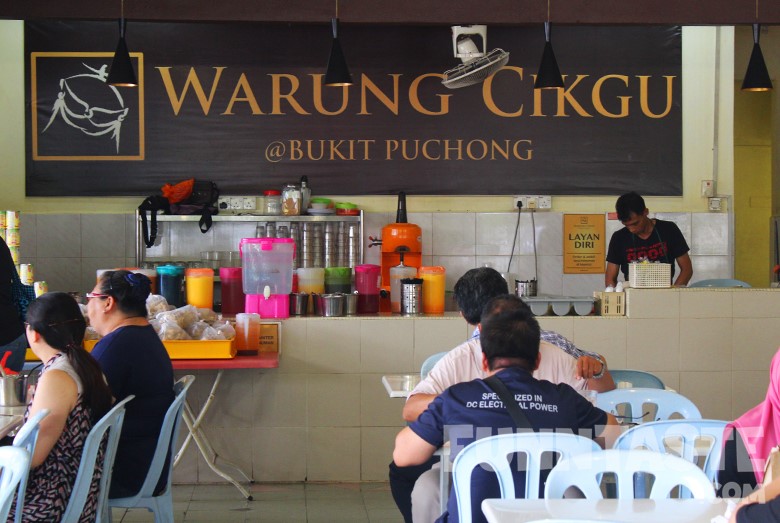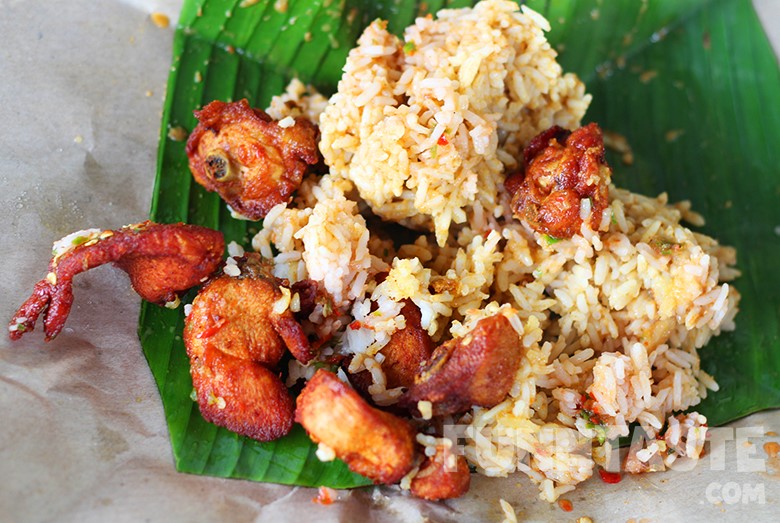 At Warung Cikgu, you must try out their signature dish: Nasi Mmanggey. It is simply your typical Nasi Kukus Ayam Berempah. The dish comes with steamed rice that is drenched in chicken gulai with the side of a fresh and tasty fried chicken and their homemade spicy sambal. The dish is so satisfying to the palate that you would ask for more.
USJ 1
Hours: 10am-12am (Sunday-Friday), 10am-11pm (Saturday)
Address: No 43, Jalan USJ 1/1c, Regalia Business Centre, 47500 Subang Jaya, Selangor
Puchong
Hours: 8am-10pm, daily
Address: 1, Jalan BP 6/7, Bandar Bukit Puchong, 47100 Puchong, Selangor
Balakong
Hours: 7am-7pm, daily
Address: 3G, Jalan Kasturi 3, Plaza Kasturi, Off, Jalan, Balakong, 43200 Kajang, Selangor
2. Nasi Kukus Ilham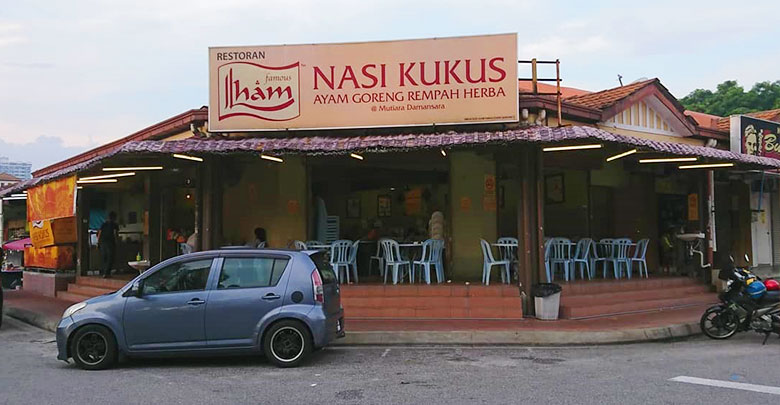 Nasi Kukus Ilham is one of the more popular Nasi Kukus chain restaurants in the Klang Valley. Some places just serves you with the basics (rice, curry and chicken) but over here, their Nasi Kukus comes with pineapple acar, sambal ikan bilis and sambal belacan. Their chickens are fried in batches, so be sure to get it fresh and hot, altogether.
Hours: 11.30am – 10pm, daily
Address: 7, Jalan PJU7/16B, Mutiara Damansara, 47810 Petaling Jaya
3. Nasi Kukus Farni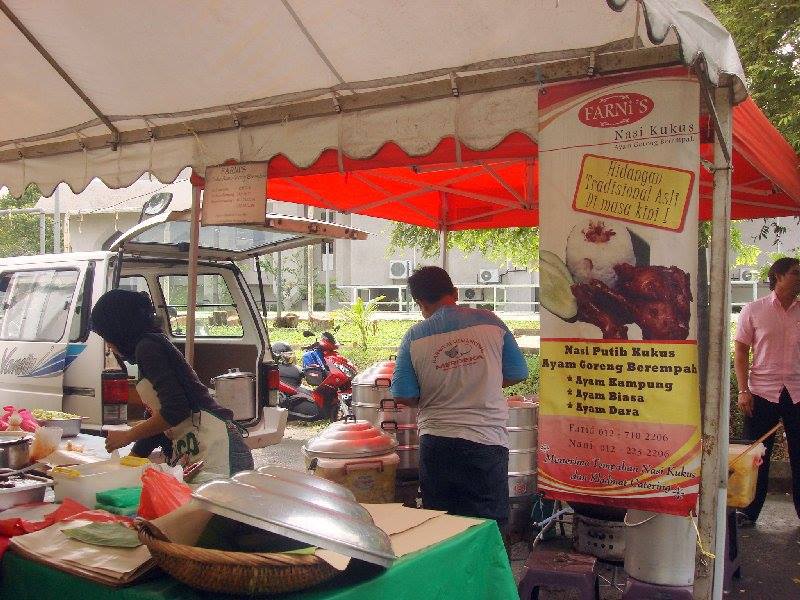 Nasi Kukus Farni is a humble stall that operates only for 3 hours a day. Every serving is topped with Fish Curry, Kelantanese Beef Curry, cucumber, okra, sambal and a piece of Ayam Goreng Berempah .
Hours: 11.30am – 2pm, daily except Sundays
Address: Jalan Medan Setia Satu, Bukit Damansara, KL

4. Nasi Kukus Ayam Dara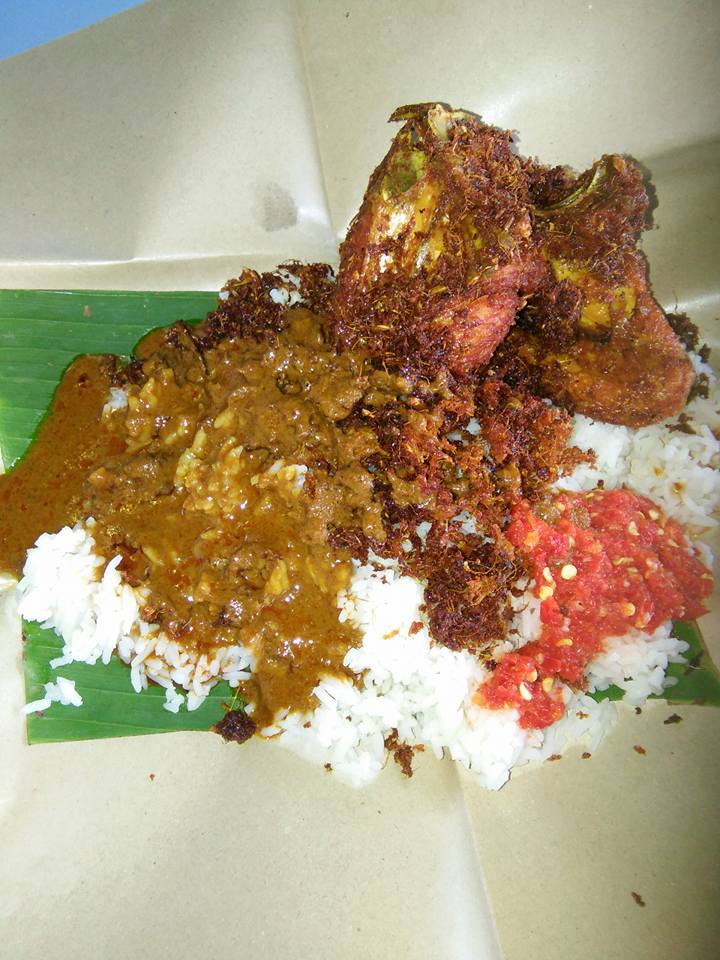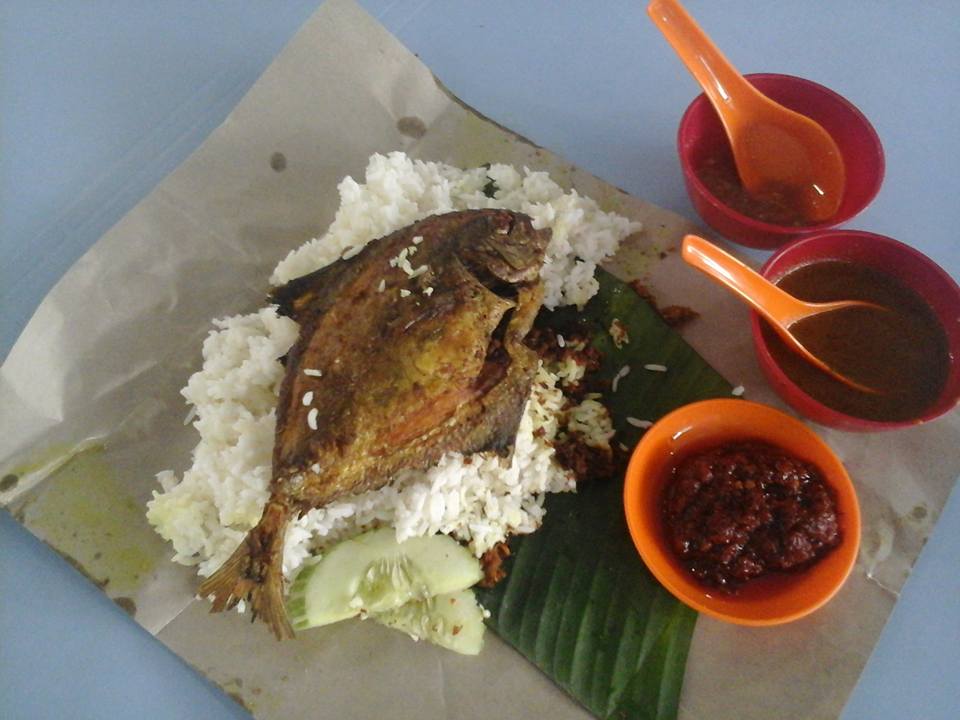 You can find this stall nearby the LRT Taman Melati station and it is certainly no stranger to the locals. What makes this place different than the rest is that, you can fulfil your Nasi Kukus craving past midnight. Besides their amazing tasty dish, they are open up til 3 in the morning to serve you.
Hours: 11am-3am, daily
Address: Jalan Taman Melati 1/5, Taman Melati, 53100 Kuala Lumpur

5. Nasi Kukus Tonggek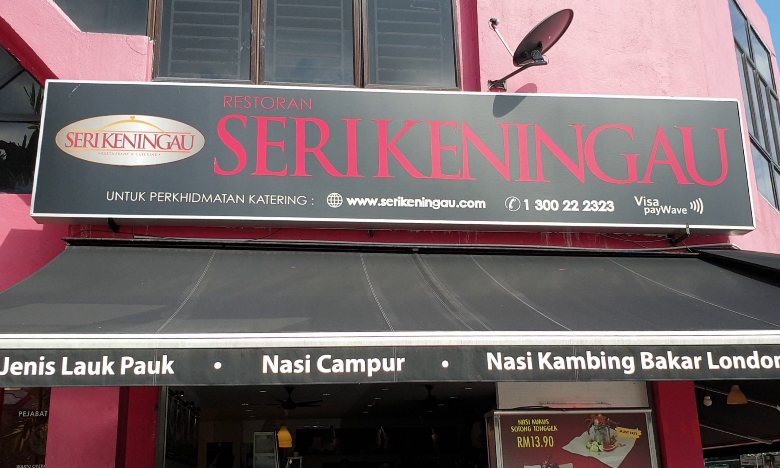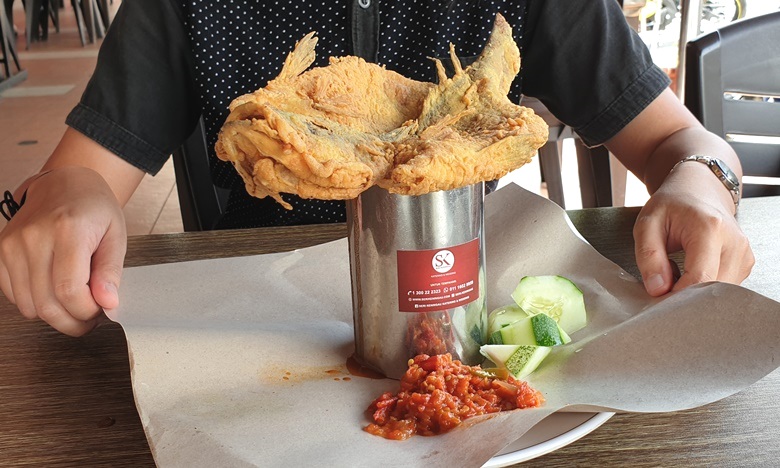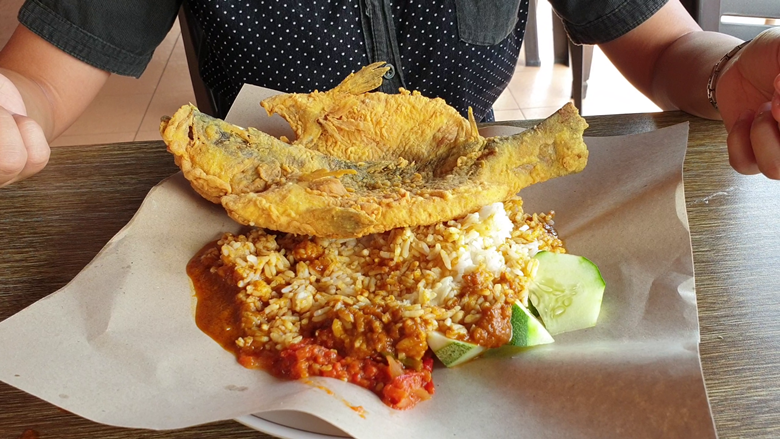 The difference between a regular Nasi Kukus and Nasi Kukus tonggek is that, the latter is served in stainless steel tins. The rice is firstly piled into the tin then topped off with the meat which later on is served with a generous amount of sambal on the side. The dish comes with either chicken, fish or squid.
Hours: 8am-10.30pm, daily
Address: No 28-A, Selangor, Jalan Pinang D 18/D, Seksyen 18, 40200 Shah Alam
6. Nasi Cikgu Sue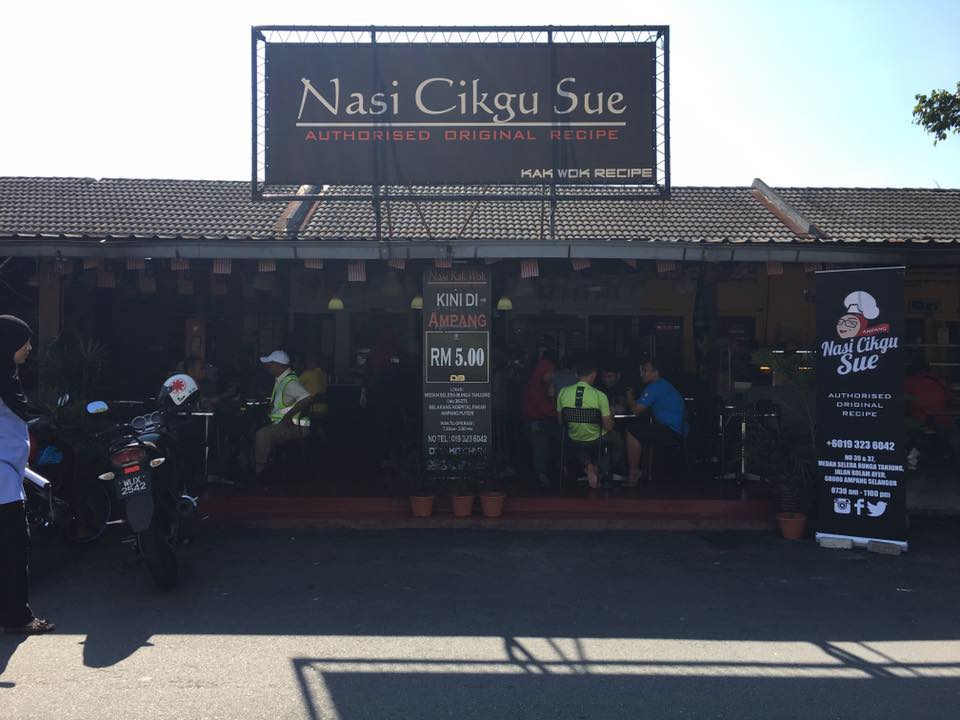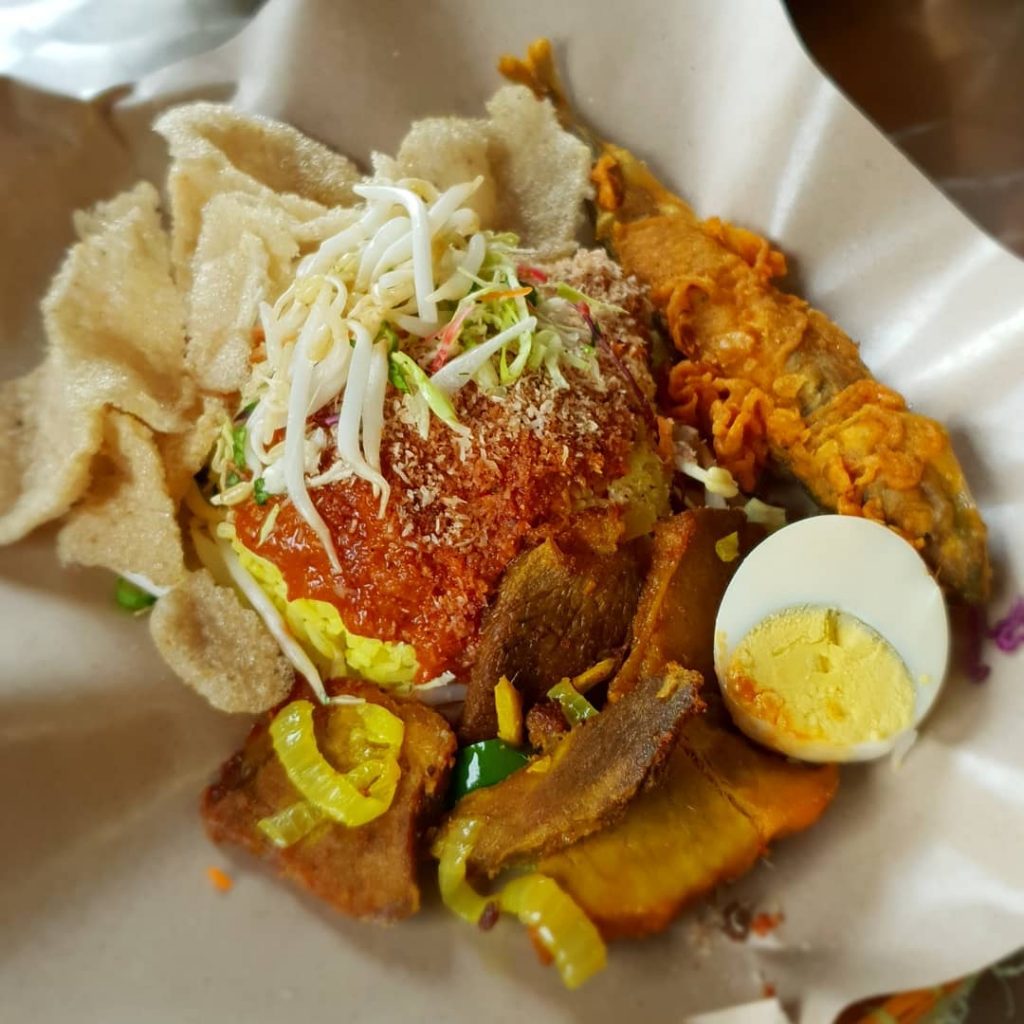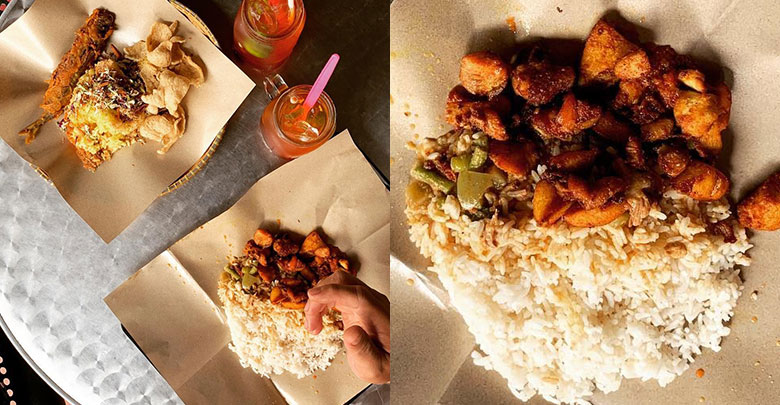 At Nasi Cikgu Sue, the recipe of Nasi Kak Wok is traced by to the late Mek Wook Hassan who served her own version of nasi berlauk at Kota Bharu. After her passing, her legacy has been carried forward by her family members and now it is all over Kelantan and Klang Valley. The dish comes with fluffy rice, with a creamy chicken dalca, long beans and aubergine. It is also topped with turmeric fried chicken with a side of spicy sambal belacan.
Hours: 7.30am-11pm, daily. Closed every third Tuesday of the month.
Address: 36 & 37, Jalan Kolam Air Lama, Taman Dato Ahmad Razali, 68000 Ampang, Selangor

7. Nasi Kukus Lejen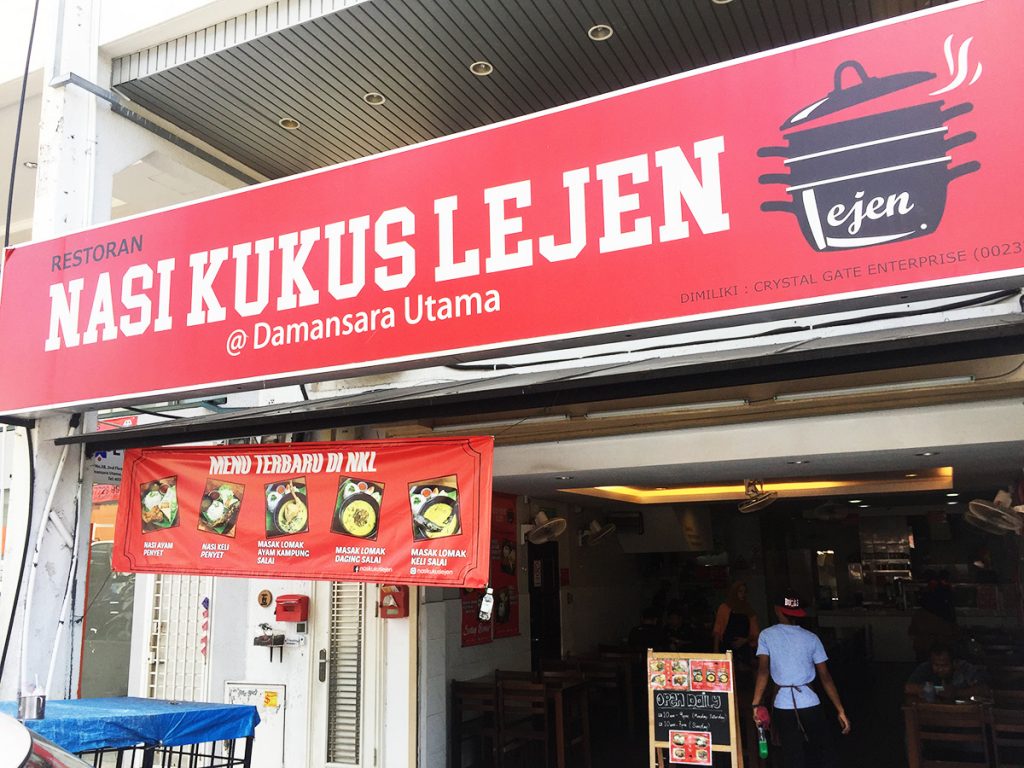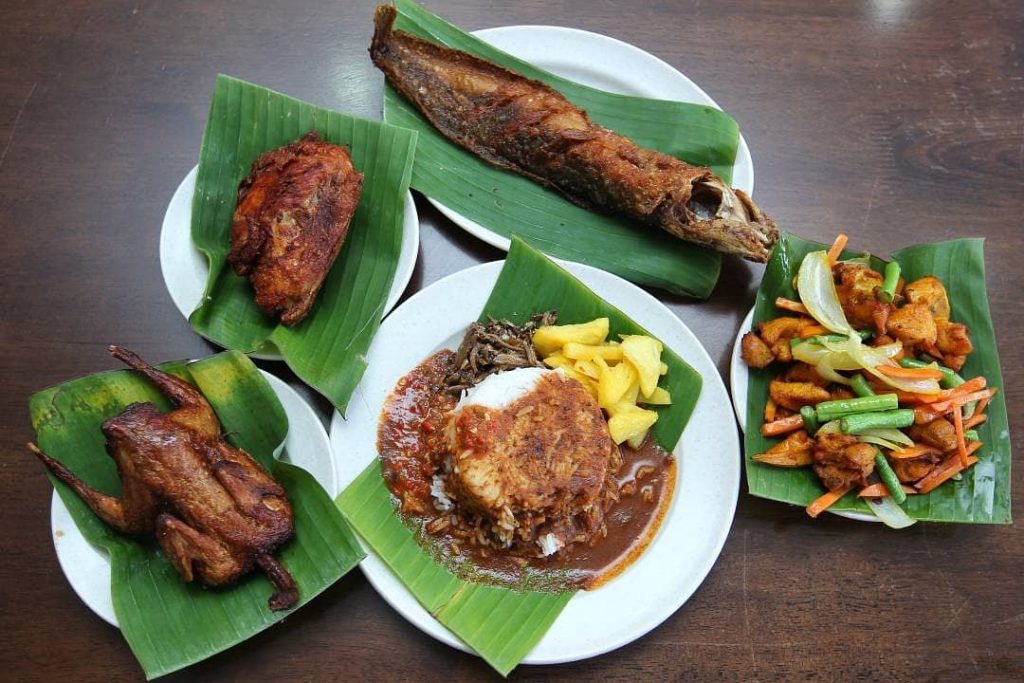 Enjoy a packet of hot steamed rice topped with spicy sambal belacan, fried chicken and chicken curry at this Nasi Kukus joint at Damansara Uptown. It is one of the most satisfying and affordable meals to have if you are around Damansara Uptown. You can either go for the regular ayam goreng berempah or ayam goreng kunyit.
Hours: 10am-9pm (Monday – Saturday), 10am – 7pm (Sunday)
Address: 3, Ground Floor, Jalan SS21/56B, Damansara Utama, 47000 Petaling Jaya, Selangor
8. Pok Nik Nasi Kukus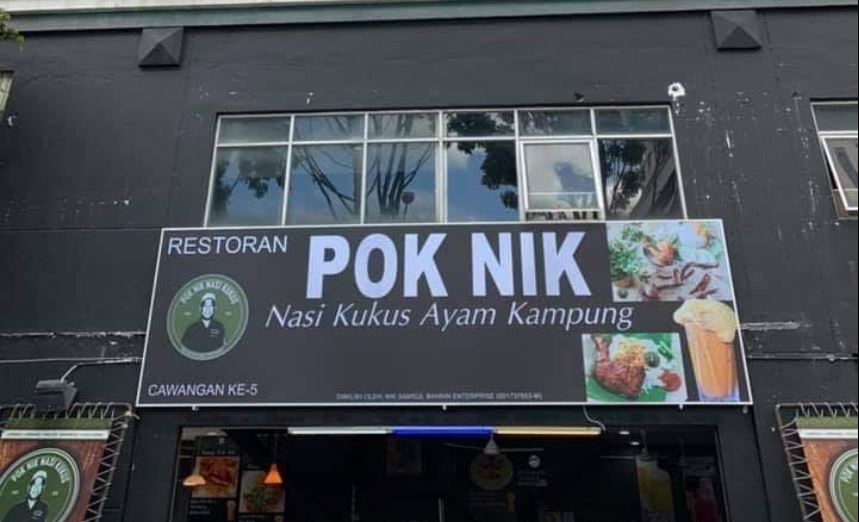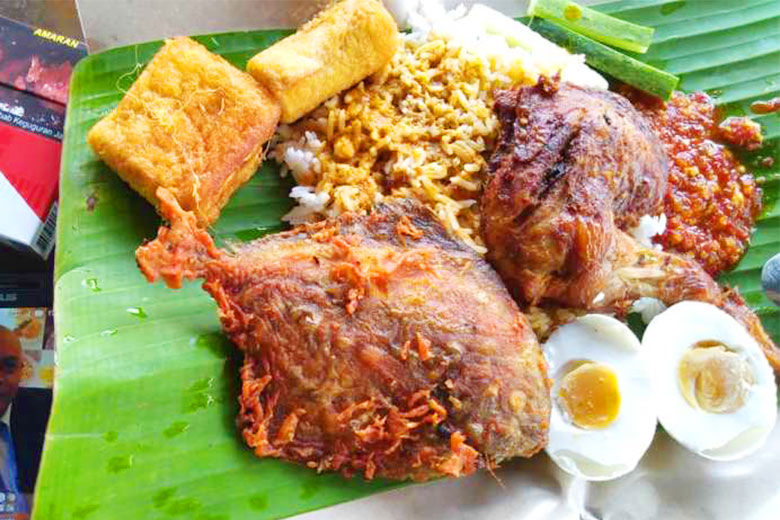 If you ever found yourself deep in Cheras and craving for a classic Nasi Kukus dish, then do drop by at Pok Nik Nasi Kukus stall. They prepare all kind of traditional dishes but their specialty has to be their Nasi Kukus Ayam Kampung. Besides the Ayam Kampung, they also serve Ayam Dara, Ikan Keli and Ikan Bawal.
Hours: 8am-4pm, daily except Sunday
Address: 3, Jalan Bukit Permai Utama, Cheras, 56100 Kuala Lumpur, Selangor
9. Nasi Kukus Kak Ma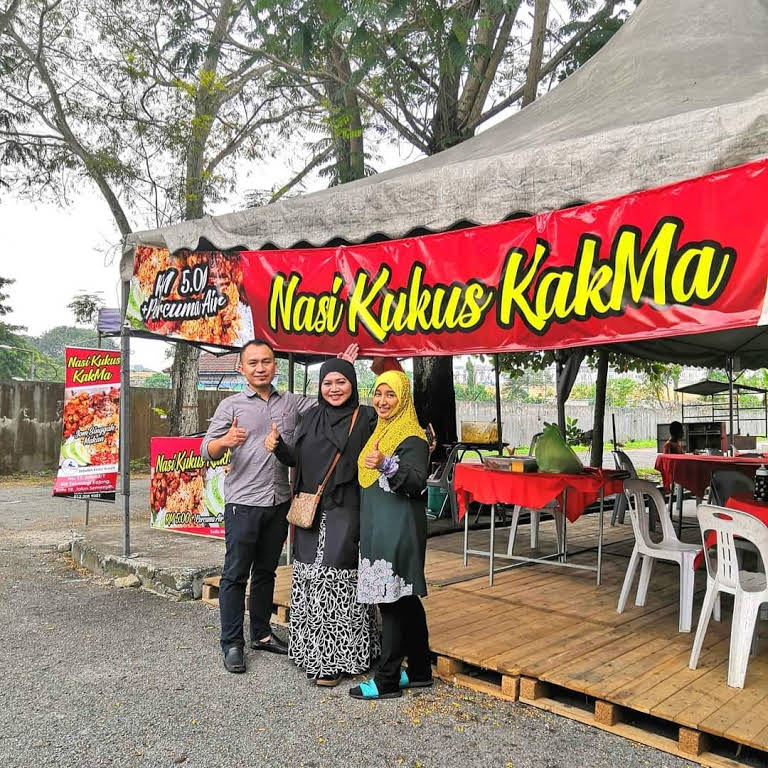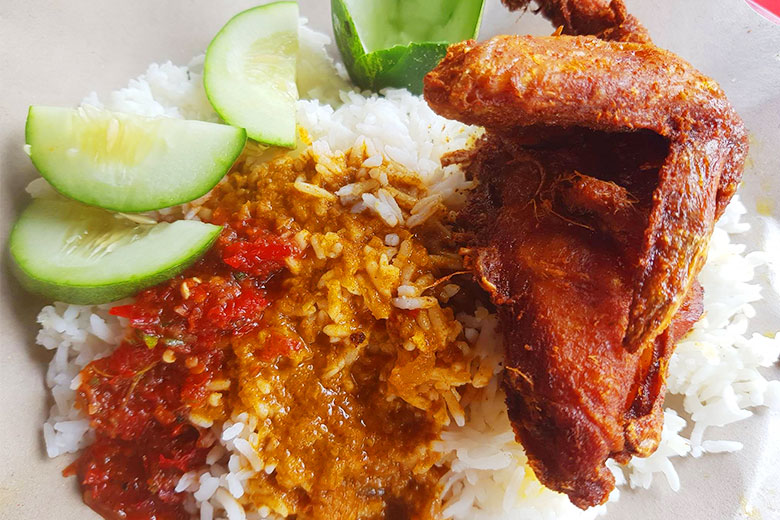 This Nasi Kukus hidden gem is not only affordable but it is delicious as well. Serving up to not only the regular fried chicken dish, but they also serve Fried Tilapia dish and Ikan Keli. To top things off, you get a free bottomless drink as well. The dish comes with cucumber slices, Gulai Ayam, Sambal Belacan and your choice of meat. All these at RM5 ONLY!
Hours: 8am-spm, daily
Address: 12, Jalan 3/1, Bandar Teknologi Kajang, 43500 Semenyih, Selangor
10. Nasi Kukus Malaya Ayam Cincang Puchong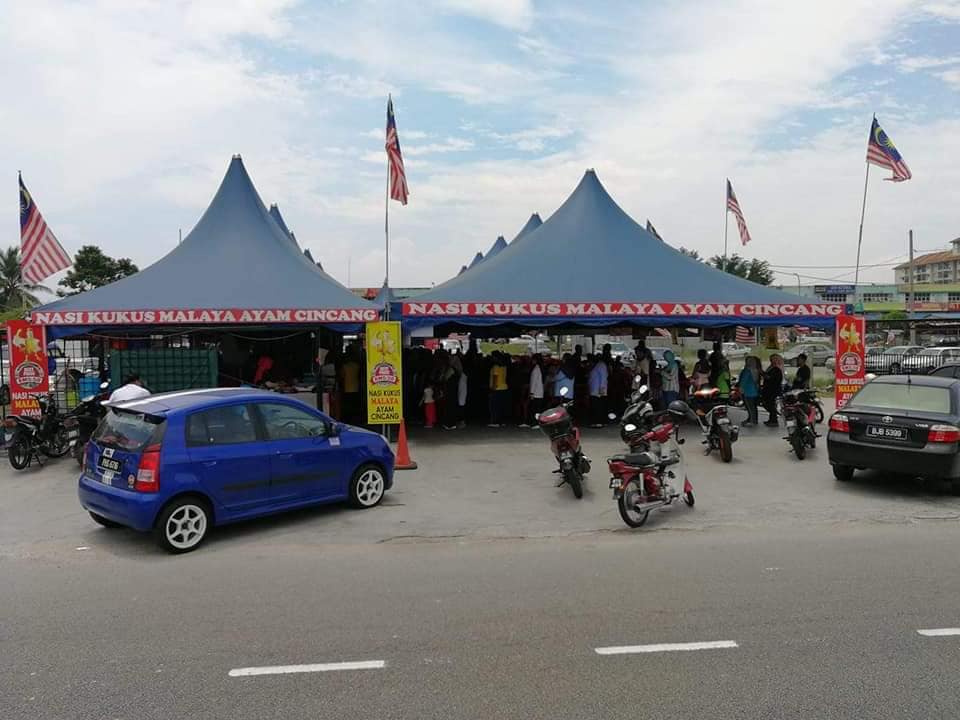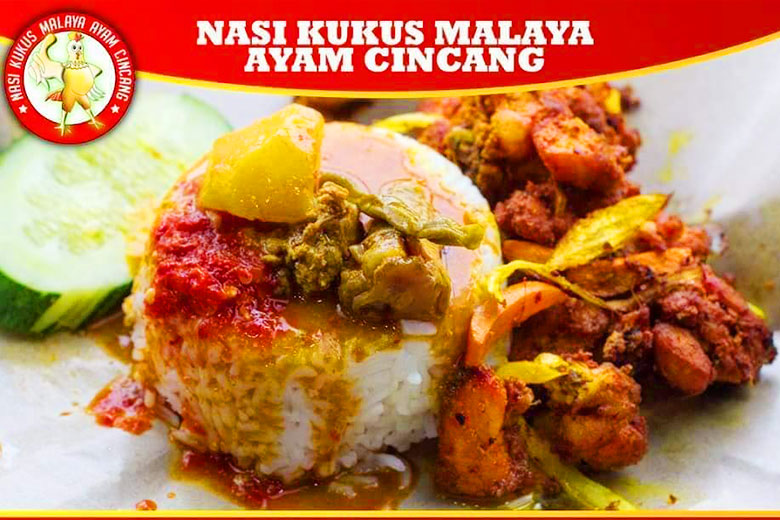 This typical Nasi Kukus joint comes with steamed white rice, fried chicken, chicken curry and Sambal Belacan. But what's best is that, it is always open, 24 hours of service which sounds pretty amazing. Not only it is cheap and it is open all the time, but it also pretty tasty for a simple dish. Their generous amount of portion should be way enough to satisfy your hunger.
Hours: 24 hours
Address: Persiaran Puchong Permai 47100 Puchong New Village, Selangor, Malaysia