Food & Drinks
10 Best Ikan Bakar Spots in KL & Selangor You Shouldn't Miss (2019 Guide)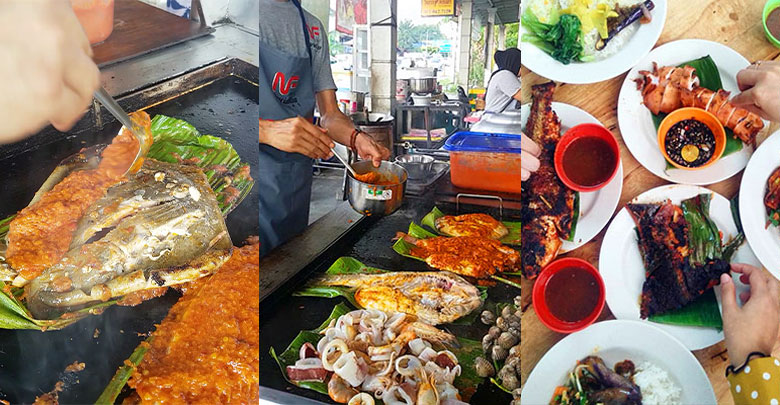 Ikan Bakar, while ikan means fish, the term usually refers to a medley of seafood from stingray, seabass, mackerel, squid, cockles, prawns and more, cooked over an open grill to charred perfection.
Listed in no particular order, if you're a fan of Ikan Bakar, do follow us on this journey where we discover the 10 Best Ikan Bakar Spots in KL & Selangor You Shouldn't Miss.
1. Gerai No 3 Kedai Kak Jat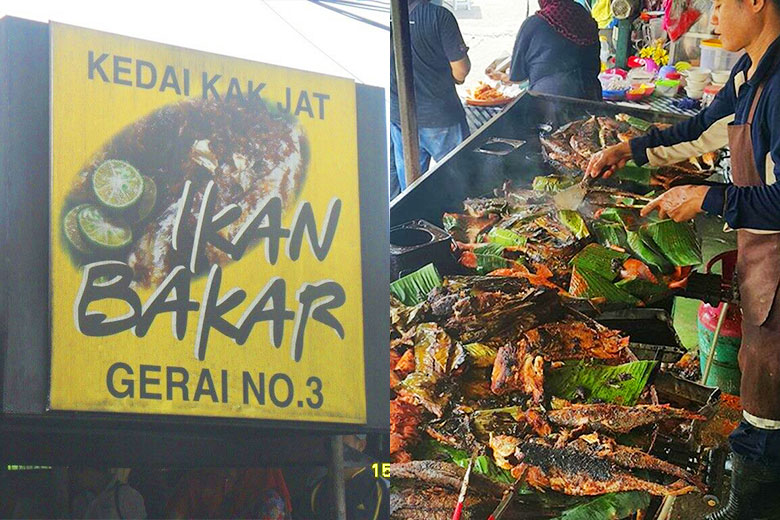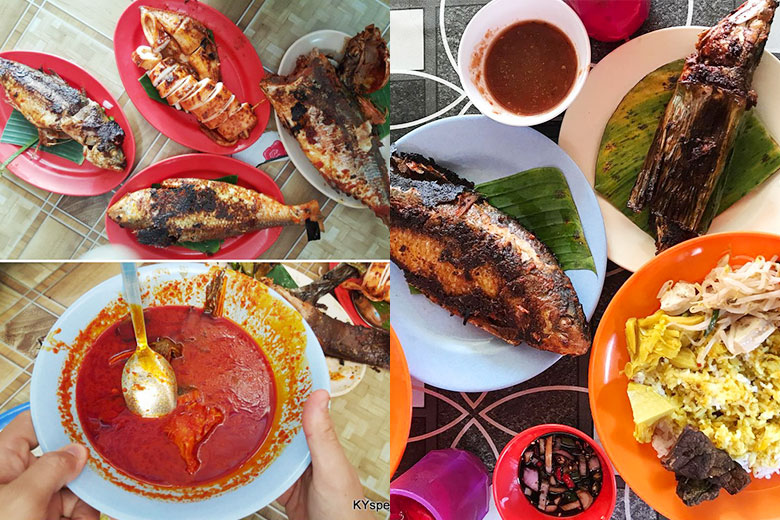 There is a whole stretch of Ikan Bakar stalls at Jalan Bellamy but which is the best among all of them? Go look for the stall named Kedai Kak Jat, and we promise you that you won't be disappointed. Their Ikan Bakar there is TO DIE FOR! Imagine the spicy yet crispy texture from their homemade marinade sauce combined with the freshness of the seafood.
Operation Hours: 10am – 3pm, daily
Address: Lorong Bellamy & Jalan Istana, Bukit Petaling, 50460 Kuala Lumpur
2. Mat Teh Ikan Bakar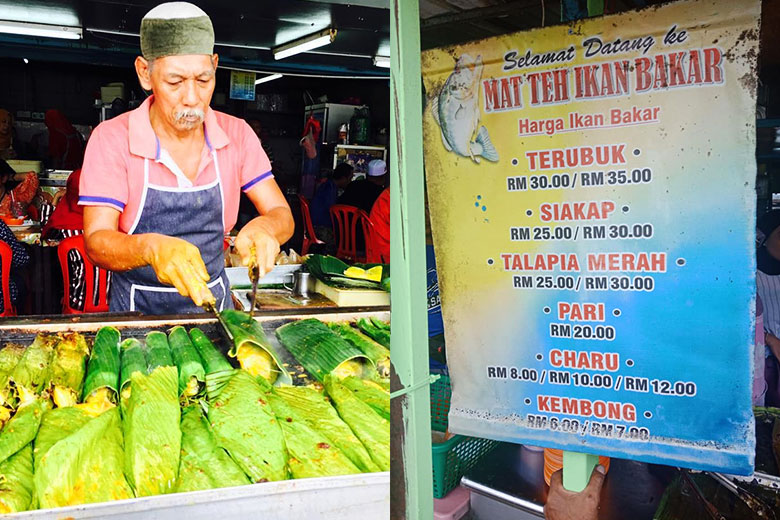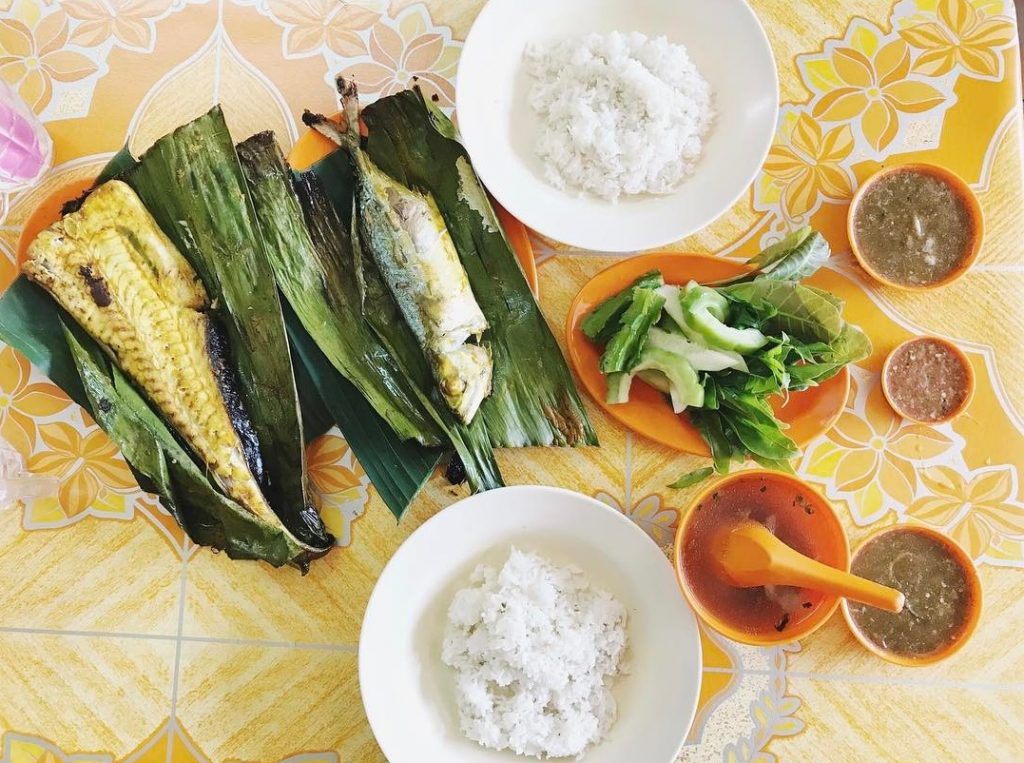 Located right beside of Dato Keramat LRT station, Mat Teh Ikan Bakar is one of the best ikan bakar in KL. It's a spot to grab yourself an affordable and delicious lunch. You can already smell the fish that are being grilled from afar. Their fish is soaked into their special turmeric sauce, then wrap with banana leaves before being grilled. The banana leaf adds another layer of aromatic fragrance to the fish. Definitely something to drool over!
Operation Hours: 11am – 4pm, closed on Sundays
Address: Kampung Datuk Keramat, 54000 Kuala Lumpur, Federal Territory of Kuala Lumpur
3. Ikan Bakar Terangkat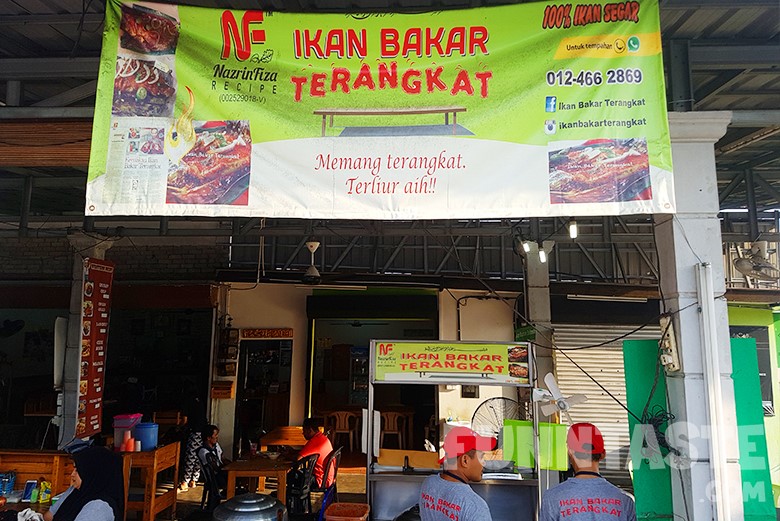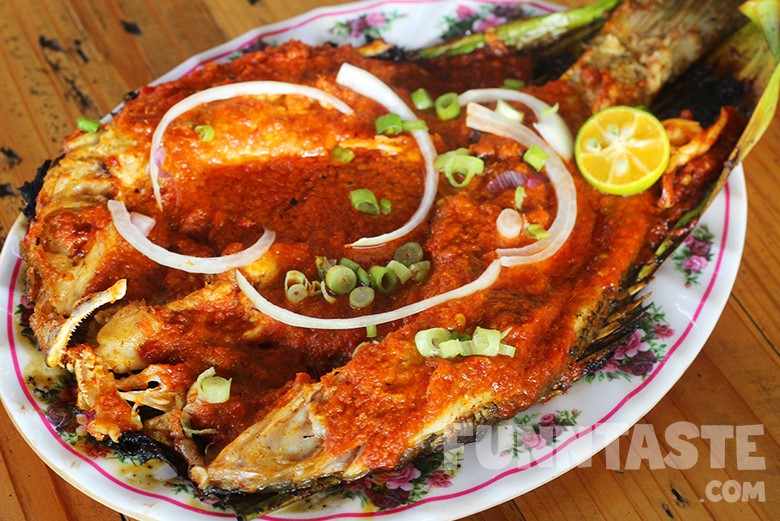 When comes to Kajang, first thing that comes to mind is Kajang Satay. However, we discovered there is a delicious Ikan Bakar in the Kajang, called Ikan Bakar Terangkat. Ikan Bakar Terangkat not only serve fresh fish that is brought from the nearby market but they also have a huge range of seafood for you to choose from. They have fishes, crabs, prawns, squids and even cockles for serving. Their grilled Stingray is their must-try dish. Topped with their homemade sambal, it is a match made in heaven.

Operation Hours: 5pm – 12am, daily
Address: 1, Lot 3083, Jalan Ayer Itam, Kampung Sungai Merab Luar, 43000 Kajang, Selangor
4. Liang Li Ikan Bakar (Non Halal)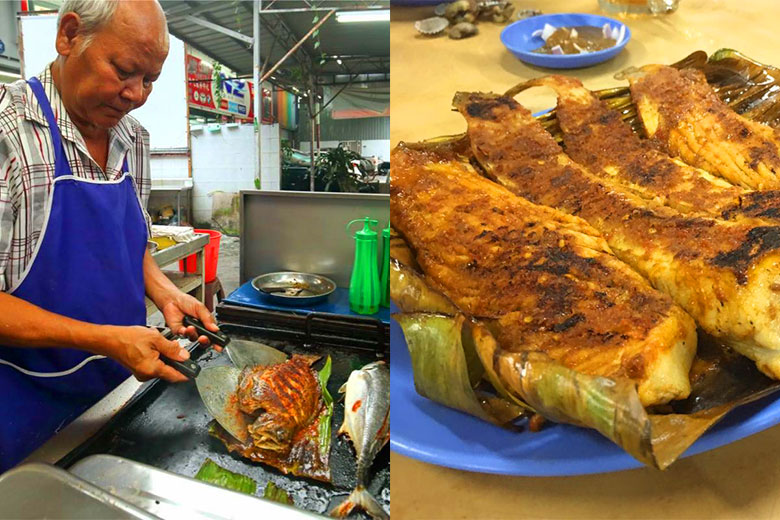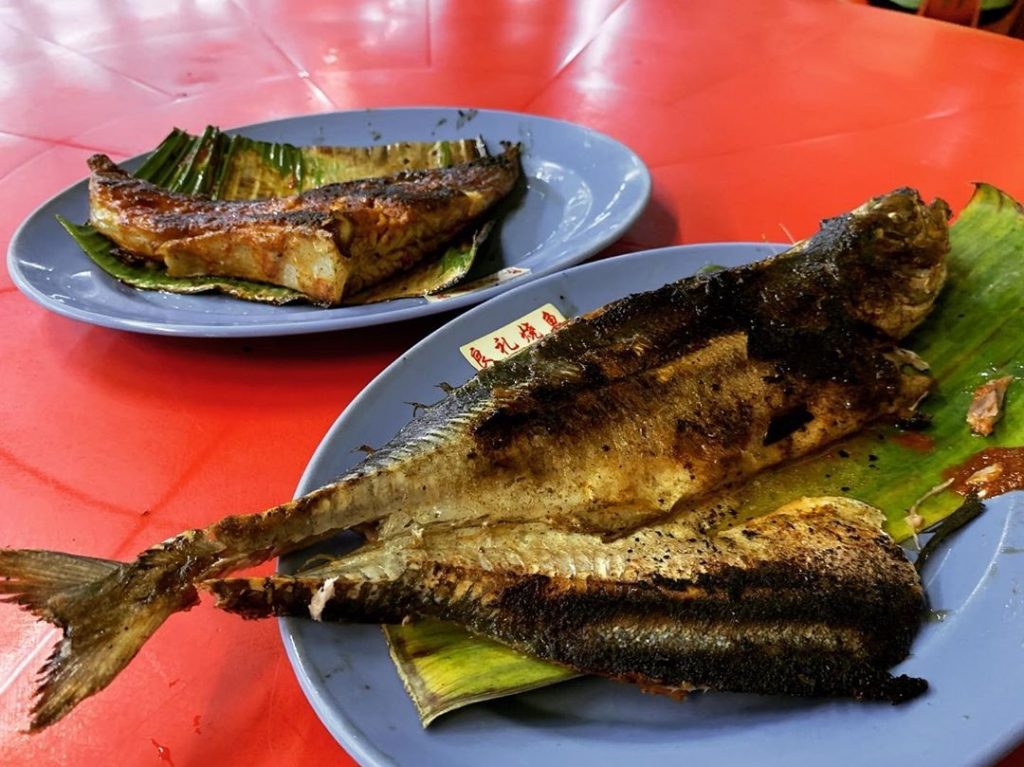 Liang Li Ikan Bakar may not have a huge variety when compares to others but when comes to the quality and flavour, they are top notch. They maintain their food quality by using only fresh fishes that delivered to them daily. All of their Ikan Bakar are marinated with Curry Powder and topped with their homemade sambal. The uncle also makes sure to change the banana leaf once in awhile to ensure the fishes do not lose its moisture while it's being grilled..
Operation Hours: 5pm – 11pm, closed on Tuesdays
Address: Restoran 168, Jalan Chan Ah Choo, Pandamaran, Klang
5. Bawal Power Ikan Bakar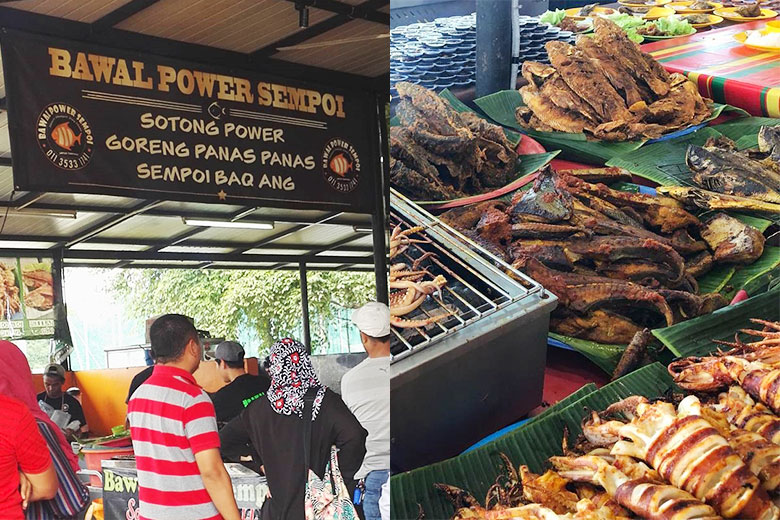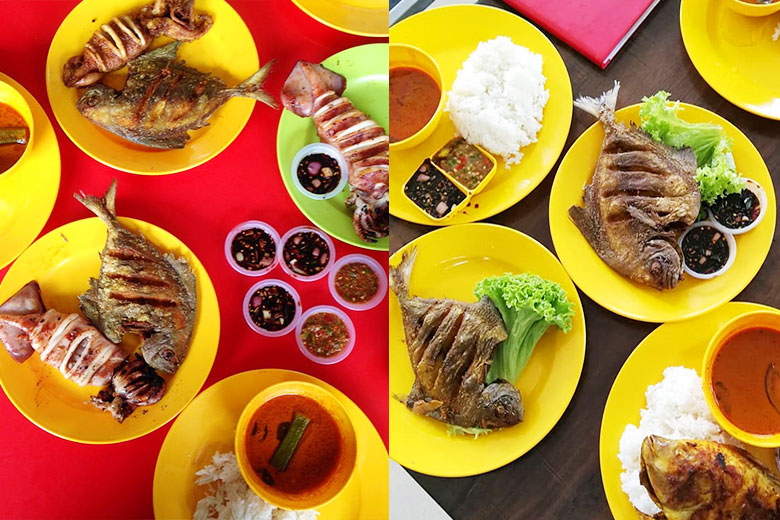 What to eat at Cyberjaya? I believe that many of us who work there has been repeating the same question for years. It doesn't seem like a place where there is good food to indulge. If that's your answer, then be prepared to be surprised! Bawal Power Ikan Bakar is a very popular place for Ikan Bakar and huge sotong. All their seafoods are dipped into their turmeric sauce before getting grilled to perfection.
Another star of the stall is their huge grilled sotong. The massive sotong are doused with their sambal and grilled on top of a hot frying pan. Just imagine the sizzling sound that the sotong will make and the fragrance of the spices in the sambal is making us drools.
Operation Hours: 10am – 4pm, closed on Sundays
Address: Futurise Centre, Block 3710, Persiaran Apec, 63000 Cyberjaya, Selangor
6. Restoran Seri Semporna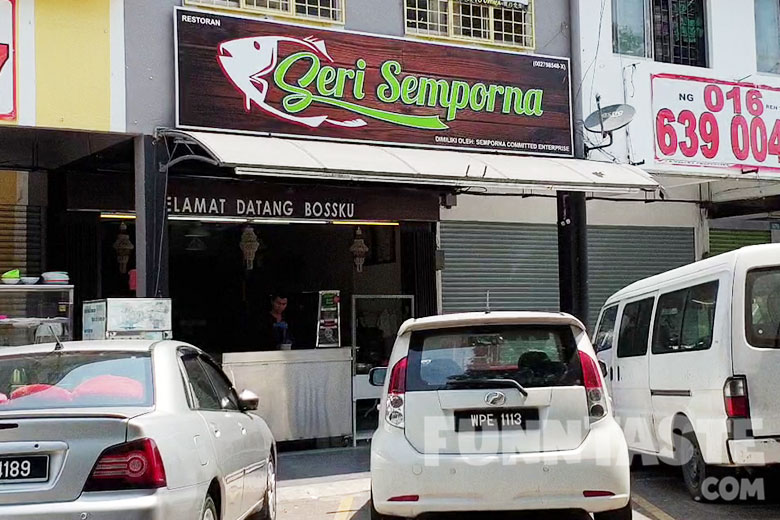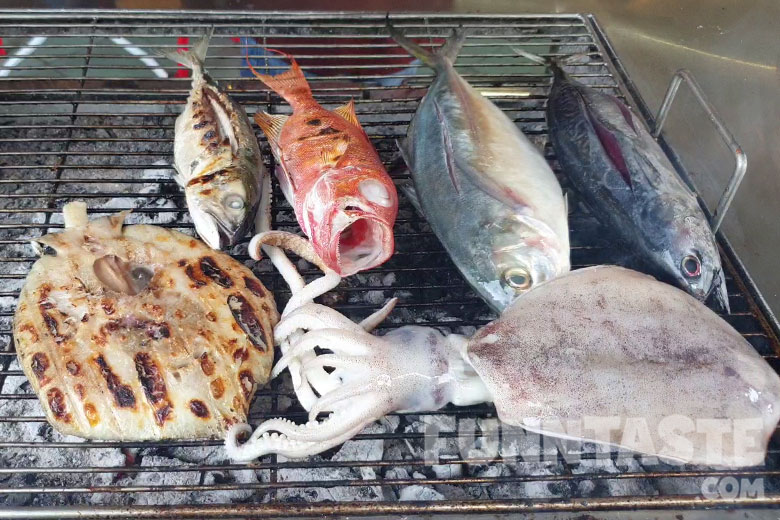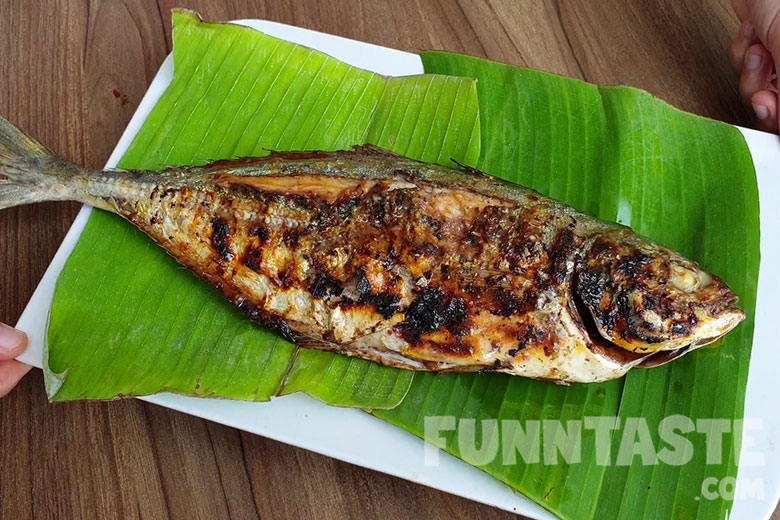 Have anyone of you went to Sabah before? We are pretty sure the ones who have visited Sabah have tried their wonderful hawker foods such as Ikan Bakar, Tuaran Mee and others. What if we tell you there is a stall in Kuala Lumpur that is selling the traditional and savory Ikan Bakar that you have been missing out on?
Run by a family originated from Semporna, Sabah, Restoran Seri Semporna has been in business since July 2018. They grilled their fish fresh and topped it with their secret sauce which is their mother's secret recipe. It really enhances the fish flavour. They also sell other Sabah exotic dishes, such as Sinagol and Sotong Masak Hitam. Both dishes have their own unique taste and something your taste buds can't get it here easily.
Operation Hours: 8am – 11.30pm, daily
Address: 50, Jalan 9/32, Taman Jinjang Baru, 52000 Kuala Lumpur
7. Ikan Bakar Kak Ton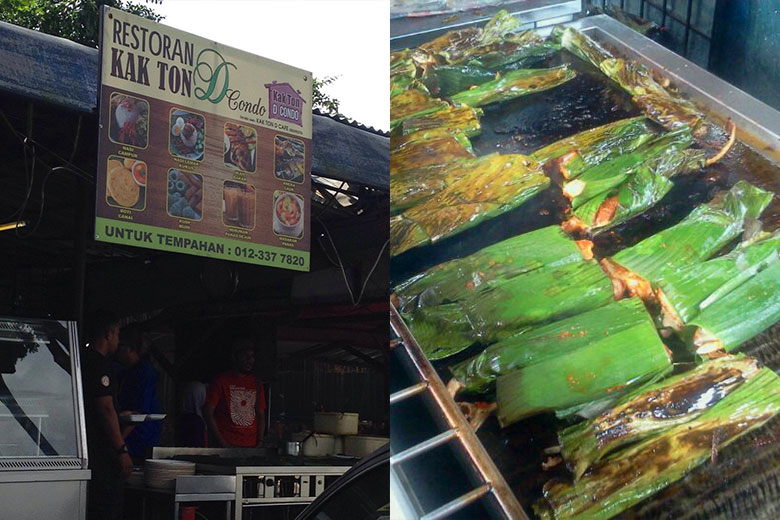 Ikan Bakar Kak Ton might look like a normal economy rice from the outside, but once you have tasted their Ikan Bakar, there is no turning back. Ikan Bakar Kak Ton grill their fish wrap with banana leaves to make sure the skin does not get charred but yet, still slightly crunchy. Pair them with your own selected vegetable and you will be enjoying the best meal of your lifetime. Besides the Ikan Bakar, this humble stall is also popular for their fried chicken and it is often quick to finish, extremely crisp and not greasy on the outside
Operation Hours: 7am – 12am, daily
Address: Medan Selera Taman Segambut, Jalan Dutamas Seroja, Taman Segambut SPPK, 52100 Kuala Lumpur.

8. Pak Din Ikan Bakar Tanglin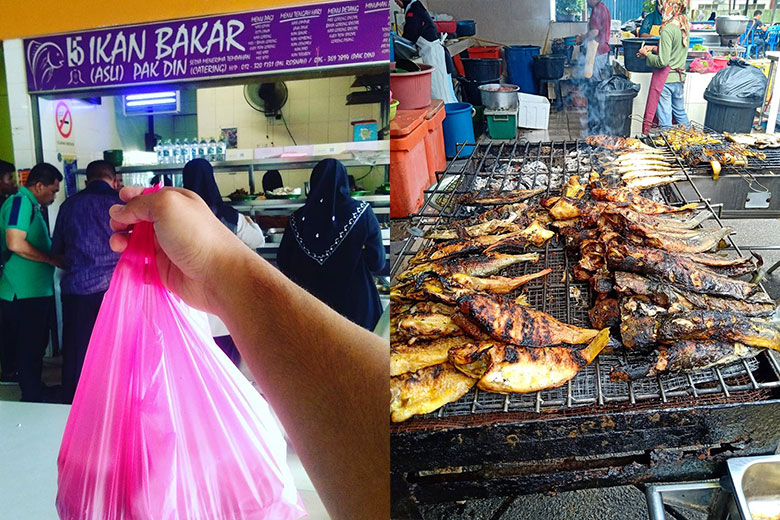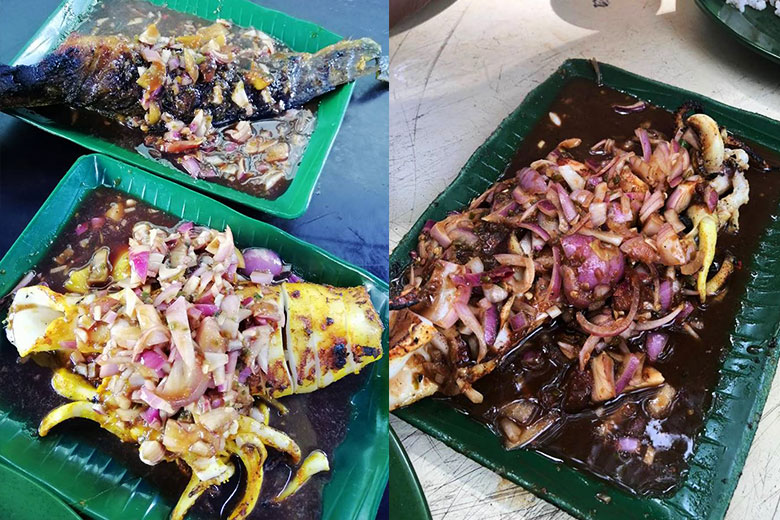 If you around KL Bird Park and looking for something local to eat then you must visit Pak Din Ikan Bakar Tanglin that is just around the corner. However their stall is very very packed during lunch time so we encourage you to go there slightly earlier to beat the crowd rush. Their Ikan Bakar is the star of the stalls. Their fish are grilled just nicely with just a slight charred surface. The meat itself is so tender that it almost falls off the bone. But the main thing that people kept on returning is the mainly because of the asam sauce itself. It is so sweet and savory at the same time, it goes so well with the fish.
Operation Hours: 10am – 4pm, closed on Sundays
Address: Perdana Botanical Gardens, 50480 Kuala Lumpur, Federal Territory of Kuala Lumpur
9. Ikan Bakar Tip Top (Non Halal)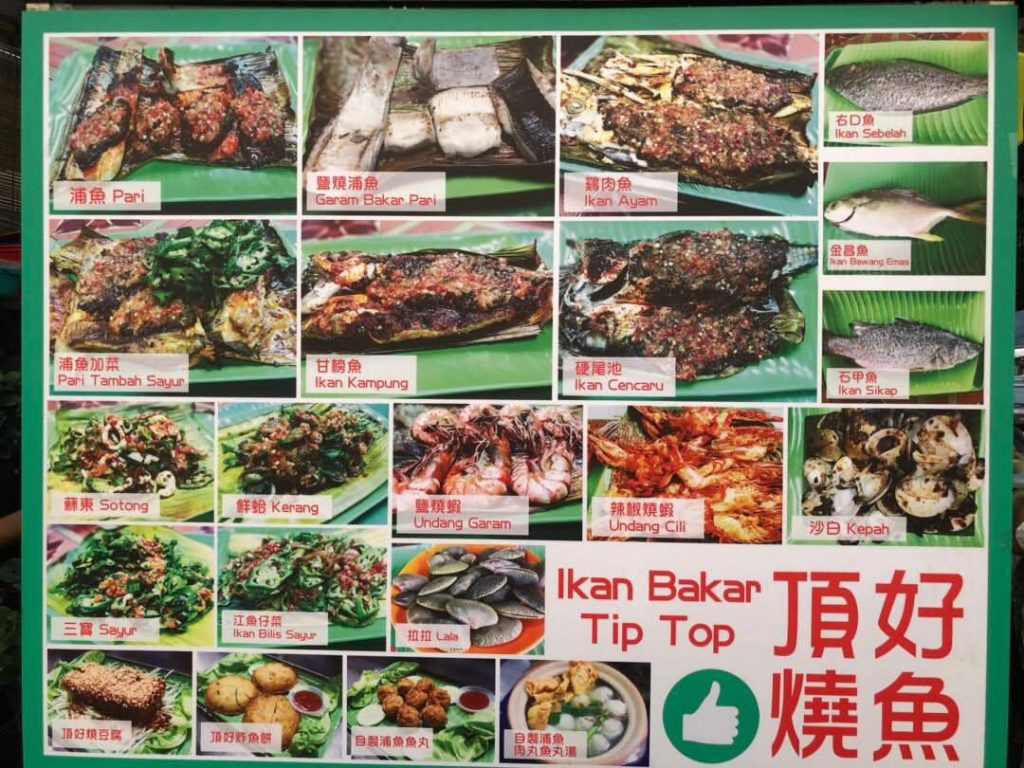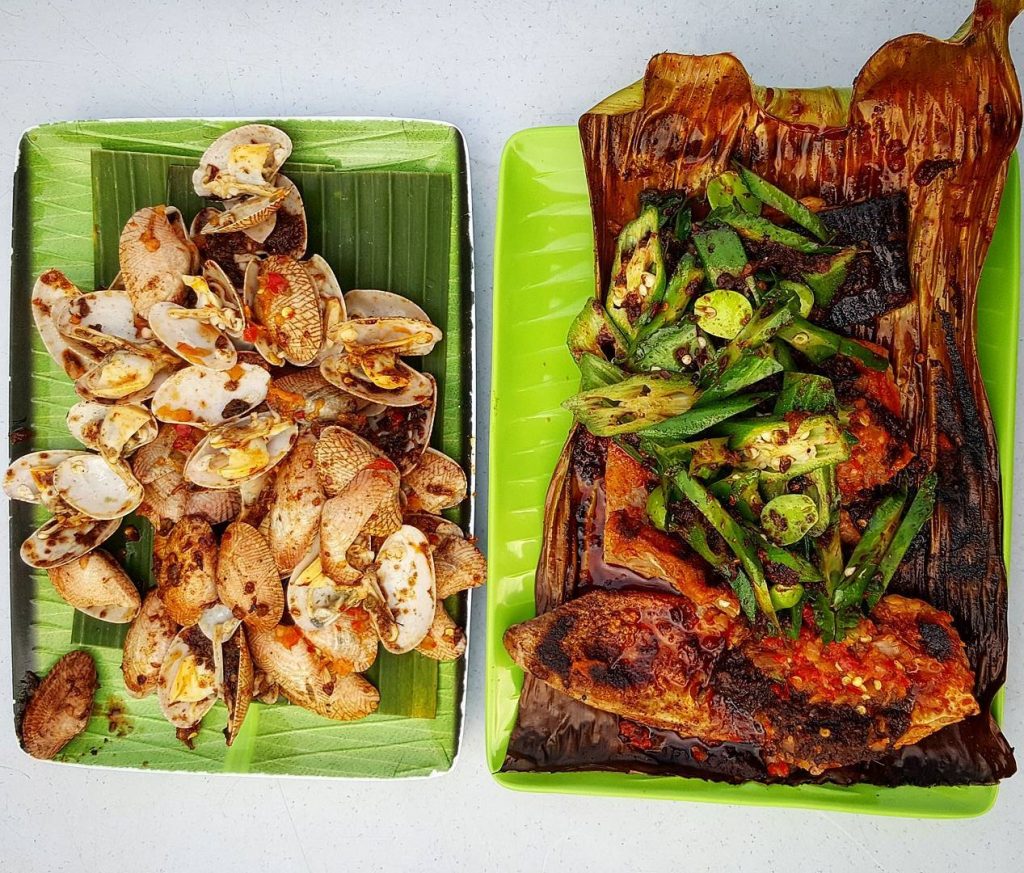 Ikan Bakar Tip Top has been operating for more than 20 years since year 1992. They serve a huge range of grilled seafood which includes squid, lala, cockles and many types of different fishes. Their grilled seafood stand out from the other restaurant because the owner have its own special formula to season the fishes. The fish is covered with chilli sauce before wrap with banana leaf. After grilling for several minutes on the pan, they will add in the other two homemade sauces to the fish which brings the dish to the next level! The fish umami, mixed with their sauces, Mmmm, FANTASTIC!
Operation Hours: 6pm – 11.30pm, daily
Address: 11, Jalan Bunga Tanjung 10, Taman Muda, Cheras, Kuala Lumpur.
10. Seri Banjar Ikan Bakar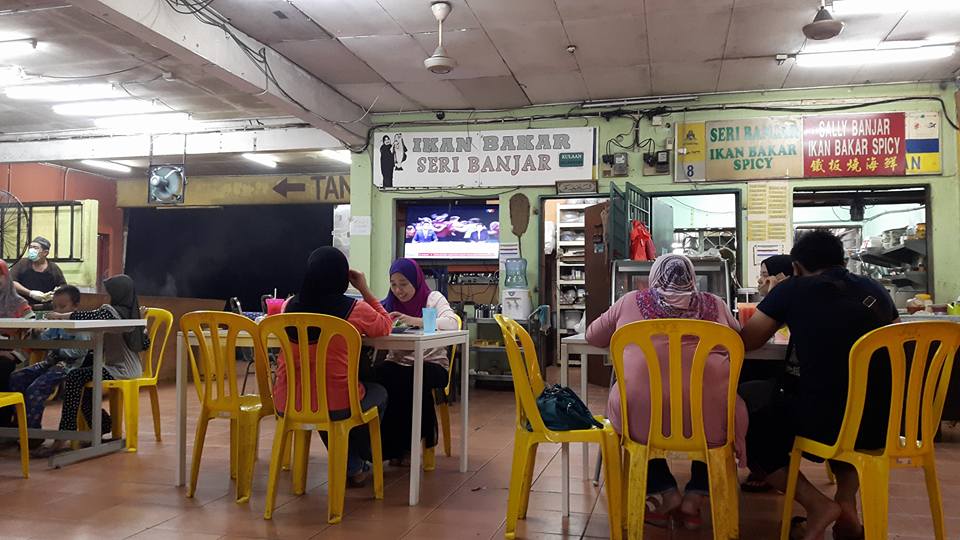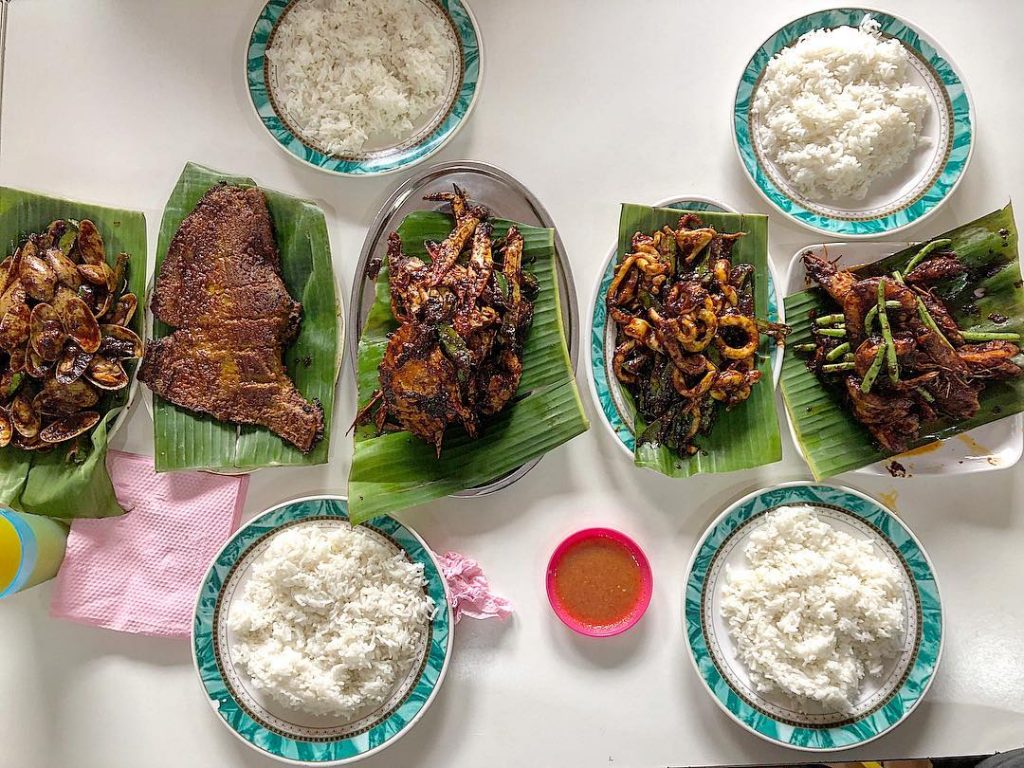 Ikan Bakar Seri Banjar at Batu Caves serve Chinese-style dishes cook by Malay chefs. Their signature is their grilled seafood, but they do have other familiar Chinese dishes such as Stir Fried Kailain In Oyster Sauce and Kam Heong Lala. Their restaurant focuses on only using the freshest ingredients and any seafood that is not fresh will be rejected immediately.
Their Ikan Bakar over there is one of the kind. They do not marinate the fish beforehand, but they dipped the fish into their special sauce before placing them on top of the pan. The special sauce created a thick layer of spicy skin on top of the fish which gives the fish a mild spiciness.
Operation Hours: 6pm – 11pm, daily
Address: Persiaran 2, Baru Selayang, 68100 Batu Caves, Selangor.