#PABLOmy: PABLO Cheesetart Is Having Buy 1 Free 1 Promotion

Highly regarded as the most popular cheese tart chain, PABLO Cheese Tart is now offering a Buy 1 FREE 1 promotion for their PABLO Mini Matcha every Tuesday.
The Mini Matcha cheese tart is currently priced at RM9.90, while the regular PABLO Mini cost RM8.90 and PABLO Mini Chocolate at RM9.90.
PABLO introduced its Matcha Cheese Tart back in January 2017 and it certainly excited a lot of matcha fans. Many have said, the matcha flavour is strong and fragrant and the savoury cream hits you hard on the first bite.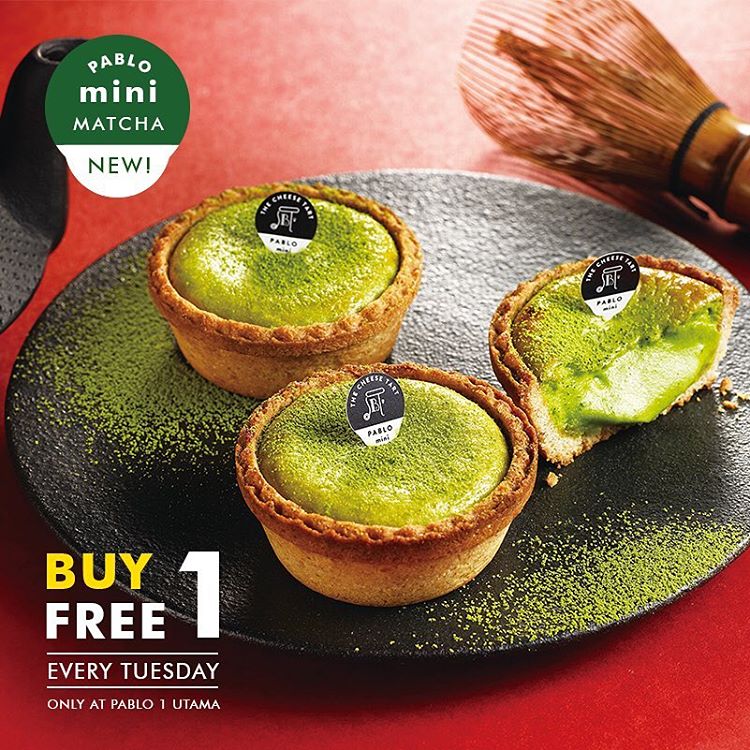 While some prefer to eat this tart after it has been chilled in the fridge while others would love to eat it fresh from the oven, which ever you are, if you are someone who loves matcha flavour then you definitely don't want to miss this promotion.
The eatery claims that all ingredients used in the making of their cheese tarts are fully imported from Japan in attempt to bring the authentic flavour of PABLO. It's also said that every 7 seconds a cheese tart is sold, which accumulates to 2000 pieces of cheese tarts sold daily.
Are you interested in PABLO Mini Matcha Buy 1 Free 1 promotion?