10 Food That Prove Ipoh Is Food Paradise Of Asia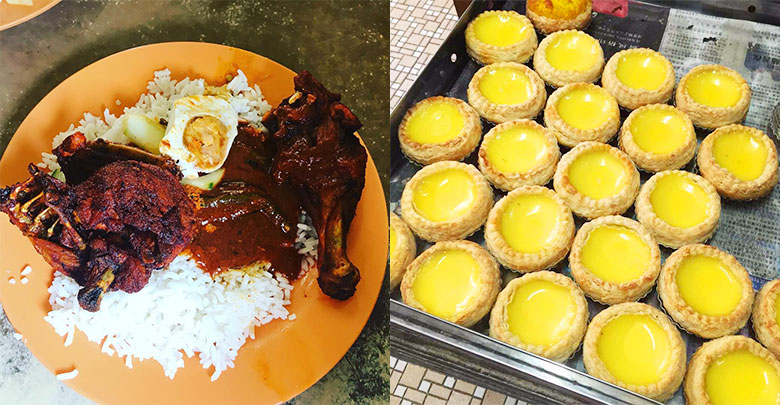 Ipoh, the capital city of the Malaysian state of Perak. This culturally-rich city packs a lot of fun for a weekend away. For many years it has been known as as a food haven to Malaysians and Singaporeans alike. Ipoh food is mainly Cantonese and Hakka-influenced, in contrast to Penang food with its Hokkien and Teochew roots.
Here 10 Food That Prove Ipoh is Food Paradise of Asia.
1. Egg Tart
Similar to Hong Kong Egg Tart, these delicious eggy treats are made fresh daily at most coffee shops in Ipoh. They are pretty small, have a thick custard filling in the middle and crisp exterior, which makes for the perfect grab-and-go breakfast.
Get it at: Nam Heong White Coffee, Jalan Bandar Timah
2. Kai Si Hor Fun (Kway Teow Soup with Shredded Chicken)
Nothing is more iconically Ipoh food-ish than a robust bowl of Kai Si Hor Fun. Served either in soup or dry version tossed in a dark soy sauce based gravy, Kai Si Hor Fun is a staple breakfast item in Ipoh and it can be found in almost every coffee shops.
Get it at: Restoran Thean Chun, Jalan Bandar Timah
3. Egg Custard
In France there's Crème brûlée. In Malaysia we have egg custard. This classic dessert is sweet to the mouth and soothing to the throat, the caramel syrup is tantalising and the custard is smooth.
Get it at: Yat Yat Seng Restaurant, Ipoh Garden
4. Curry Noodle
A regular bowl of curry noodle consists of yellow noodles, topped with curry sauce and a variety of poached or curried meats. The curry broth, despite light, has a distinctively sharp and fragrant taste of spices that's unique to Ipoh. It's totally different from what you get in Penang and KL.
Get it at: Kedai Kopi Nam Chau, Jalan Bandar Timah
5. Dan Zhi
The soft-boiled eggs on toast (Dan Zhi) is always best served hot with pepper and soy sauce. Poke the egg with the tip of a fork so that the runny yolk ooze out on the toast  making the whole thing extra delicious.
Get it at: Restoran Xin Xiang Er Nong, Jalan Tokong
6. White Coffee
You can't leave Ipoh without having a taste of Ipoh's famous drink. Ipoh's white coffee here is fragrant, rich and frothy, with a slightly bitter aftertaste that is uniquely Nan Yang.
Get it at: Sin Yoon Loong, Jalan Bandar Timah (The original white coffee, opposite the original Oldtown™)
9. Beansprout Chicken
Beansprout chicken (Nga Choy Kai) is widely available throughout Ipoh. The dish can be enjoyed either with rice or flat noodle. Side dishes are usually pork meat balls and stewed chicken feet.
Get it at: Cowan Street Ayam Tauge & Koitiau Restaurant
8. Dim Sum
Dim Sum culture is alive and well in Ipoh. Dim sum is still considered a treat to be eaten in moderation. Kind of like a Sunday ritual, many families head out on the weekends to enjoy a huge family style dim sum meal.
Get it at: Ming Court Dim Sum, Jalan Leong Sin Nam
9. Chee Cheong Fun
In Ipoh, the Chee Cheong Fun is served with steamed rice noodle rolls, a dash of soy sauce, sesame oil and crunchy pickled green chillies. For a heavier flavour, there's the sweet sauce that is drizzled over the Chee Cheong Fun.
Get it at: Sin Yoon Loong, Jalan Bandar Timah (The original white coffee, opposite the original Oldtown™)
10. Nasi Kandar
While Chinese food in Ipoh is extremely common, another one of the famous and most beloved meals to eat in Ipoh is Nasi Kandar. Nasi Kandar has come to refer to rice and an assortment of Indian curries and side dishes.
Get it at: Kedai Kopi Yong Suan, Jalan Yang Kalsom